The Defiant Spirit of the Muscle Shoals Sound
In the racially segregated American South of the 1960s, a small group of producers and artists built a studio that brought black and white soul artists together, and blended rock & roll, soul and R&B to create a regional sound that went nationwide.
If '60s Nashville was the South's musical Goliath, then The Shoals – the four cities of Tuscumbia, Sheffield, Florence and Muscle Shoals in northwestern Alabama, on the banks of the Tennessee River – were the stone: unassuming, but powerful. It was in Muscle Shoals that Rick Hall and his Florence Alabama Music Enterprises (FAME) Studios became responsible for the "Muscle Shoals Sound": soul music signified by the bloodletting belting of the region's gospel singers, and funky instrumentation marked by cranked-up bass and drums.
Almost uniquely for the era, Hall arranged for black singers such as local bellhop Arthur Alexander and Jimmy Hughes to play and record with local white musicians, and became responsible for one of the most notable independent singles of the era. When it was released in 1961, Hall and Hughes's collaborative single and labor of love, "Steal Away," defied the racial segregation of the times and wove FAME Studios deep into the story of soul music in the South.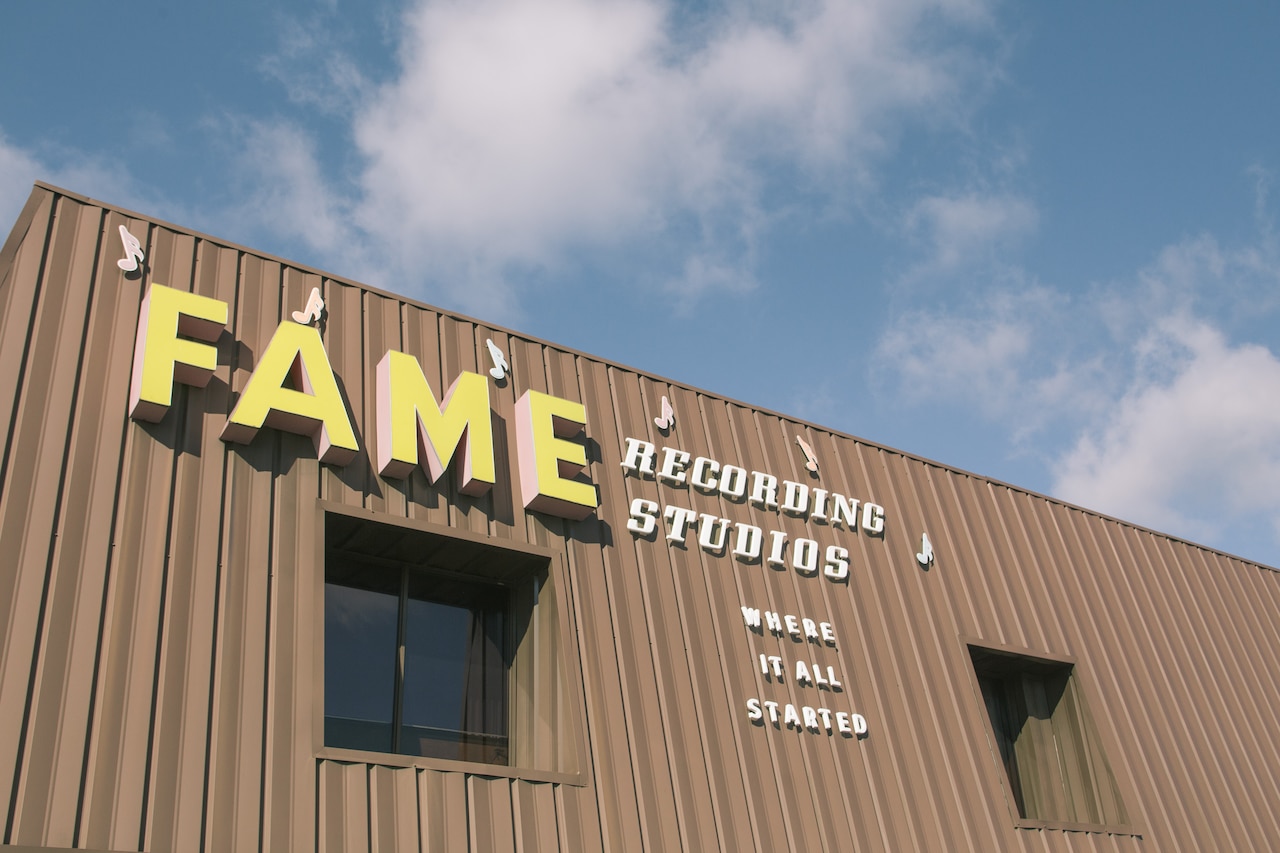 Hall wasn't the first music business impresario in the region, though. Jud Phillips was the brother of Sam Phillips, who set up the legendary rockabilly and rock and roll incubator Sun Studios in Memphis, TN, where Elvis Presley and Jerry Lee Lewis cut their teeth. Jud himself founded the short-lived Judd record label in Florence and would go on to be a monstrous force on behalf of Sun Studios. The success of singles such as Johnny Cash's "Get Rhythm" and Elvis Presley's "Blue Suede Shoes" are widely attributed to Jud's flair for promotion.
In the same year that Presley released "Blue Suede Shoes," James Joiner founded Tune Records and Tune Publishing in the back of his family-owned bus business in Florence. This was the beginning of many firsts for the "Muscle Shoals Sound." Tune was one of the first Alabama-based publishing companies with a demo studio, and Joiner wrote the first big hit to come out of The Shoals, "A Fallen Star," launching the singing career of local high school student Bobby Denton, who was later christened "The Singing Senator" during his 22-year run in the Alabama senate.
This regional success drew the attention of small town players like Hall and his friend Billy Sherrill – who played bass and sax in rival dance bands, The Country Pals and The Rhythm Swingers, and before joining forces for rock & roll band The Fairlanes – and the surly but ingenious singer-songwriter Dan Penn, who briefly fronted The Fairlanes. For all three, it was the financial promise of catching Nashville's eye that attracted them. They'd all regularly write and shop tunes to Joiner in the hopes of a $50 paycheck, and at times it would work out: Joiner published a few of their early songs, like "Sweet and Innocent"; recorded in 1958 as a single by Roy Orbison, and then in 1970 by Donny Osmond.
Soon after Phillips cut the first side by Arthur Alexander, "Sally Sue Brown," in 1960, James Joiner decided to focus on the family business and ride the royalty wave courtesy of folks who would cover "A Fallen Star," as well as other cuts from his publishing roster – but not before introducing Hall and Sherrill to Tom Stafford.
An eccentric local who managed two movie theaters in Florence, Stafford had caught the music publishing bug from Joiner and was was known to have a strange demeanor. "Tom was born with a hunched back, and he liked to sit on a stool with his legs doubled back underneath him," Hall recalls. "Dan Penn once said that Tom reminded him of a bat with its wings folded up."
His pitch to Hall and Sherrill was convincing, though, and it didn't hurt that Stafford's father had offered up three dilapidated rooms above the City Drug Store that he owned as a DIY live-work space. It was here in Florence that Hall and Sherrill set up a ramshackle demo studio: soundproofing one room with egg cartons, stapling carpets and curtains onto the walls and windows, and fitting plexiglass between two of the rooms. They would toil away at their songwriting, and sleep on cots when they needed to.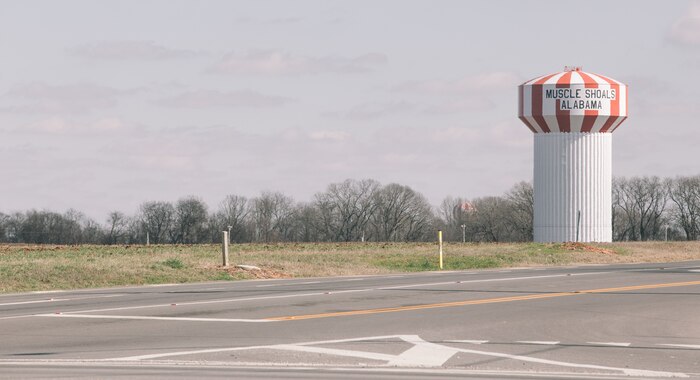 Their portable tape machine was a hand-me-down from James Joiner which recorded in mono, meaning that if anyone screwed up they had to start the take all over. Hall was the only one with any studio experience and even that seemed like a stretch, as it was mostly the product of self–taught tinkering at local radio station WERH, in Hamilton, AL, where he had worked a short stint as a younger man. Even so, he appointed himself as the head engineer as radio studio and recording studio setups were very similar then. "No one would ever mistake one of our demos for a master or a hit record but, dumb as we were, we believed the quality was equal to or superior to the records on the radio," Hall said.
Unlike the romanticized warehouse lofts and art communities of more metropolitan cities, Florence was not a great source of pride for two near-broke musicians squatting above their buddy's dad's store. But despite Stafford's bohemian outlook being oddball for 1959, Joiner's success had attracted a handful of songwriters to the area and it suited the musicians looking to use The Shoals as a launch pad to Music City. It was here that Hall first auditioned Arthur Alexander's gospel quartet, The Heartstrings, about a year before Alexander cut "Sally Sue Brown." Though it ultimately went nowhere, Stafford felt that Alexander had great potential as a singer and writer and signed him to their publishing arm, along with Penn and another local musician called Terry Thompson.
Hall took to his new digs with fervor. He would drive their catalog back and forth from Nashville as the trio's pitchman and wait hours to meet with the likes of Owen Bradley at Decca, Chet Atkins at RCA or Shelby Singleton at Mercury Records. Since Nashville's burgeoning country and pop music scenes were somewhat insular communities in 1959, before the attention of a wider cultural cognoscenti set in, it wasn't unheard of for a nobody from nowhere to pitch to such monolithic producers. Nearly any songwriter with the patience and spare time could take a seat in the lobby, and wait for for his or her shot.
"Once through the door, Owen, Chet or Shelby would put my tape on, listen for about 15 or 20 seconds, then fast forward the tape to the next song," Hall said. "If you made it past the first verse and chorus, you were doing pretty well. If they didn't listen to the second verse, you were dead in the water."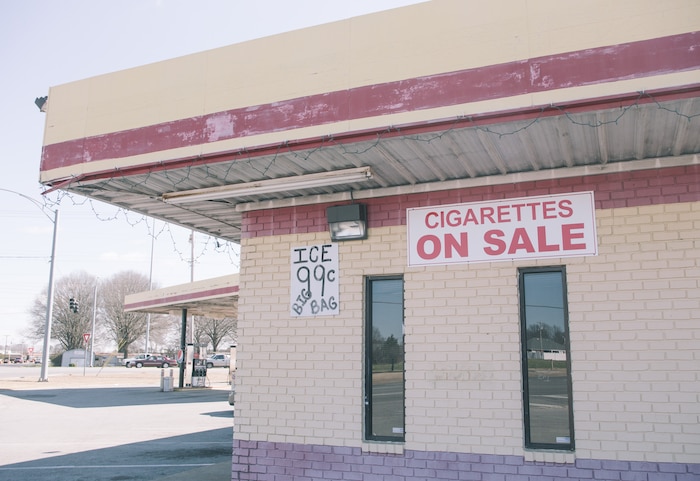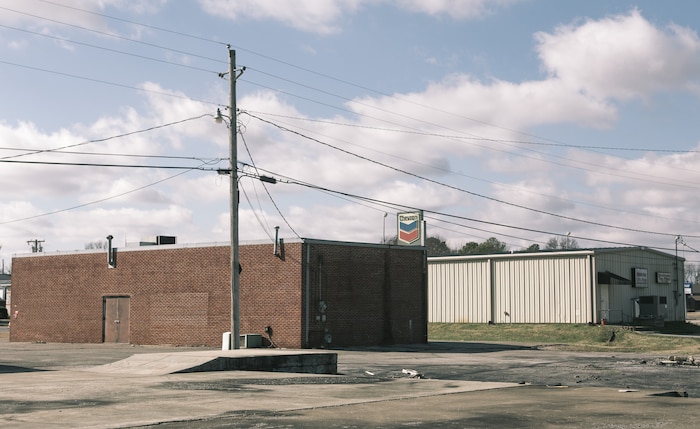 Though Hall's unrelenting work ethic was initially energizing for the three friends, a year later it was polarizing. Stafford and Sherrill confronted Hall, citing his hard-nosed tendencies as the reason why they wanted him out of the business. "Billy wrote some songs, but he and Tom seemed more interested in socializing and spending untold hours holed up in the balconies of The Shoals and Cinema theaters," Hall said. "I don't think I saw three movies the whole time we worked together, but I'll bet Tom and Billy saw 50."
Stafford emphasized that he and Sherrill desired an amicable split, and meant Hall no harm, but Hall still felt the sting of rejection. After negotiations, Stafford and Sherrill sold the FAME name to Hall for $1 and retained much of the songwriter roster, including Arthur Alexander, for their own publishing company, Spar Music. Sherrill eventually split from Stafford and in 1962 headed north to manage the Nashville base of Sam Phillips' Sun Records, and Penn and Thompson opted to head out on a new adventure with Hall.
Deflated but not defeated, Hall packed up and headed to a former tobacco warehouse on Wilson Dam Road in Muscle Shoals to form his FAME recording studio, and found the FAME publishing company with Penn, Thompson and himself as the in-house songwriters. With steady income from writing jingles for local businesses and playing on weekends with The Fairlanes, the blow from the Stafford and Sherrill ousting began to heal. And it was a good thing, too, because it wasn't long until Stafford came knocking again.
In 1961, Stafford rang up Hall with a fortuitous hunch. He thought that Arthur Alexander had a written a hit, "You Better Move On," but Sherrill and himself had little studio experience and didn't know how to cut it. After hearing it, Hall agreed to help produce it. The potential for money and fame now outweighed his bruised ego. "When I heard 'You Better Move On' for the first time, I thought that Arthur's melody would fit perfectly with the rhythm pattern of my old favorite 'Stand By Me,'" Hall explained. "I altered the bassline just a little, then I used an open sock cymbal with room echo from the bathroom for that loud, metallic effect."
Everything of that era was recorded live in mono. After securing a mixing board, organ and piano for the studio, Hall hung a Telefunken microphone in the bathroom in the back of the building and used the space as an echo chamber. This microphone would capture Alexander's vocals and Montgomery's acoustic guitar at the same time and – because he couldn't control the volume between the two – Hall would move them forward and back, six inches or so, until he achieved the sound that he wanted. The remaining, lesser microphones in the studio were arranged one each, in front of the snare drum, kick drum, piano and electric guitar.
"I believed then, and still believe today, that any more than three microphones on a drum set is senseless and counterproductive," Hall said. This DIY session ignited Hall's fire. Since he had never produced or mixed a record before, he did it by trial and error. His determination cemented his reputation as a dogged fireball who was unwilling to compromise. "Rick Hall lived with that record like a hermit until he had it just right," Alexander remarked. "He knew exactly what he wanted, and he wasn't going to stop until he got it."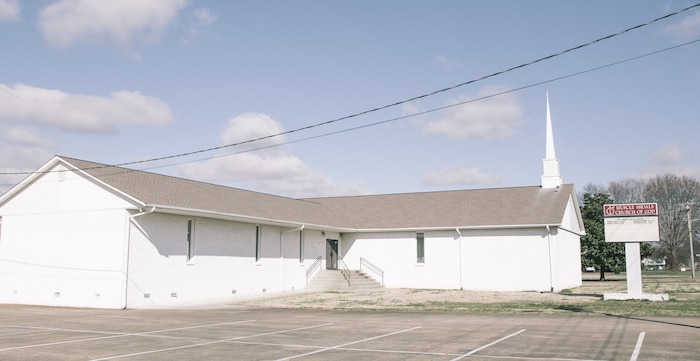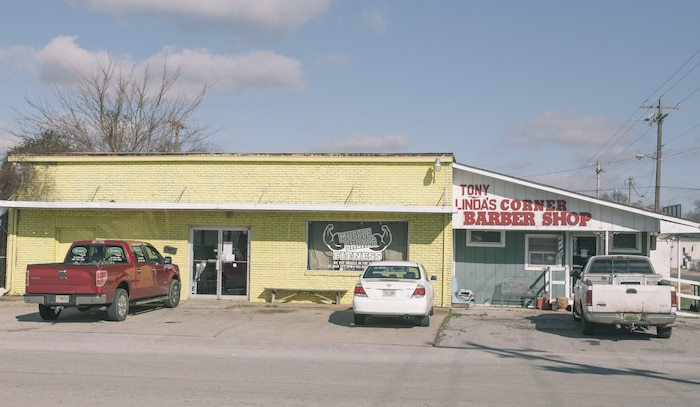 By 1961 songs like Elvis Presley's "Are You Lonesome Tonight?" and the doo wop version of "Blue Moon" by The Marcels had topped the Billboard Hot 100 Chart. Racial segregation remained in full effect in America's Southern states, despite the organizing efforts of civil rights activists participating in marches and sit-ins at segregated universities and other public spaces. The Freedom Riders were just beginning to challenge the status quo by boarding interstate buses, and embarked on their inaugural journey from Washington D.C. to New Orleans.
Without enough money to press the record, Hall took "You Better Move On/A Shot Of Rhythm and Blues" to Nashville with hopes of selling it to a big label. Instead, he encountered one rejection after the next. "Most said it was 'too black' for country [music] and 'too country' for black [music]," Hall said. It's hardly a stretch to imagine that a comparatively raw R&B track by an unknown black singer from north Alabama was a hard sell in a musical epicenter dominated by white country, rock & roll and pop artists, and to a lesser extent the more polished, metropolitan sounds of black artists from the north. When Hall had almost given up hope, he pitched the song out of desperation to a producer, Noel Ball, at local pop radio station WMAK. Ball heard the potential and had a relationship with Randy Wood: the founder of Dot Records, which had recently moved from Tennessee to Hollywood.
Wood scooped it up and offered Hall and Alexander three percent of the sales royalties each – which boded well for them. As the song climbed to #22 on the national pop charts it eventually made its way to England, where it was covered by The Hollies and The Rolling Stones in 1964. But Arthur Alexander was Tom Stafford's artist. After the success of "You Better Move On," Stafford and Ball brought Alexander to Nashville, without Hall, to record a long player. Hall never worked with Alexander again.
Hall's wife Linda remarked that once the owner of the warehouse caught wind of Hall and Alexander's successes, he attempted to raise Hall's rent from $65 to $365 a month, forcing Hall to explore other spaces. As the story goes, Hall took his first $1,900 royalty check from the sale of "You Better Move On" to build the permanent walls of FAME at 603 East Avalon Avenue, in Muscle Shoals; once a lonely structure in the middle of a field, neighbored only by a local diner. Hall built a new studio with help from Countrypolitan hit maker Owen Bradley. It was the largest room that Hall had ever worked in: 45-feet long, 20-feet high, 20-feet wide.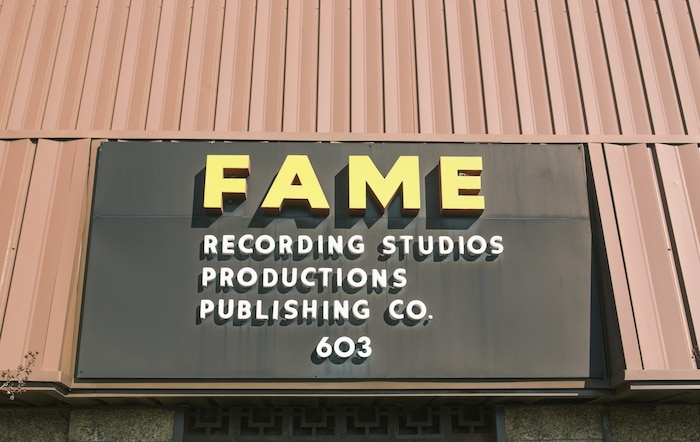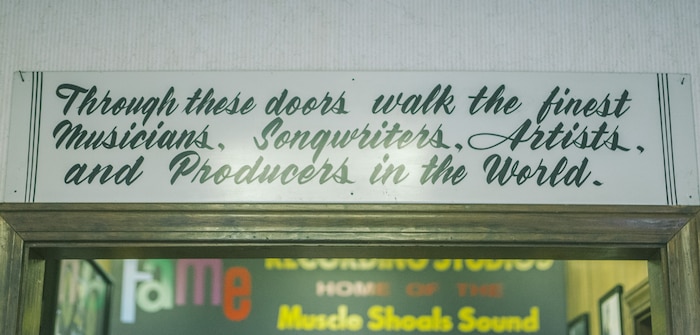 "Owen firmly believed that the key to building a great sounding studio was to have a tall ceiling and no echo inside the main room," Hall said. "This was done with acoustic tile, louvered walls and baffles." Bradley taught Hall how to build a proper echo chamber out of hard plaster, with all of the rooms edges rounded off. It measured 8-feet wide, 10-feet long and 8-feet high. While the new studio was under construction, Hall met the man who would ultimately cement him as a legendary producer in an unlikely locale.
Jimmy Hughes was the older cousin of the then-unknown Percy Sledge. He sang in a local gospel quartet called The Singing Clouds until his bandmate and friend, Carl Bailey, had the idea to introduce the seraphic-voiced singer to Hall – the new record producer in town. "Carl and I were raised up together in Leighton," Hughes said. "I don't know how he actually first got in touch with Rick, but he came and told me that he knew this guy who wanted to record some artists – but I was happy with The Singing Clouds and so I told him that I didn't want to do it."
Hughes' tune changed when he noticed the former hotel bellhop Arthur Alexander cruising around The Shoals in a new Lincoln Continental. Hall recognized Hughes's star power from their first meeting. "Just like his idol Sam Cooke, Jimmy Hughes was an extremely handsome young black man, with a unique and sensational high tenor voice," he said. "Nobody could ever hit those high notes Jimmy Hughes could hit as a singer, and they certainly couldn't milk the emotion and soul from the lyrics like he could."
The first single they cut, "I'm Qualified," written by Hall and local radio disc jockey Quin Ivy, was licensed in 1962 to Philadelphia's Guyden Records. The single did well locally, but didn't cause enough of a stir nationwide to chart. Undeterred, Hughes began to sing his new R&B songs around Alabama (on the weekends, when he wasn't working in a rubber factory) and it slowly crossed over from the gospel world into the secular singing world.
Then, Hall had a game-changing idea. Despite the lukewarm reception to "I'm Qualified," Hall asked Hughes to come back after he'd written a few songs of his own. "That was strange, in a way," Hughes says. "I'd never written any songs before. When he told me that, I just started thinking up words and lines and so forth. It took me about two weeks to write 'Steal Away,' but it came fairly easy once I finally got into it," says Hughes. "That was the first thing that I [ever] wrote."
"Steal Away" would be the single that would finally give Hall the confidence that FAME Studios could operate as an autonomous hit-making factory. It became a wildly successful hit that would go on to be covered by Ann Peebles and Wilson Pickett, but what's often left out of the story is that the demo was shelved for a couple of years before Hall recut it. "It was Dan [Penn] that convinced my dad that it was a hit," Hall's son Rodney explained. "There are two versions of 'Steal Away,' but the one recorded at the new studio [at the latter studio on Avalon Avenue, as opposed to the original Wilson Dam Highway studio] that became the hit."
Despite Penn's conviction that "Steal Away" would be a smash, Hall was concerned about the lyrical theme. Could a song about infidelity by a black artist really captivate a Southern audience deep in the throes of Governor George Wallace's reign of terror? But after Hughes re-recorded it with most of the musicians from Alexander's original "You Better Move On" session, he became more than convinced.
"When Jimmy's velvety high tenor voice kicked in, and cried the pleading lyrics, 'Please, please steal away,' big chill bumps rose up on my arms and the hair on the back of my neck stood straight up," he said. Hall couldn't believe it when Hughes hit the high notes near end of the track: begging "I know it's late, but oh I can't wait / So come on and steal away," without a falsetto. "I watched Jimmy rear back, dig in, and with passion and determination written all over his face, nail it."
Hall had captured lightning in a bottle on his own, and deepened the pain of Alexander's pleading soulfulness from that of a mere bump to a forceful punch. He shopped "Steal Away" to Nashville, but it was met with the same reception as Alexander's "You Better Move On." After losing Alexander to a short-sighted handshake deal, Hall was determined to tip his songs into the hit realm on his terms.
The pair loaded up 2,000 self-funded 45s and lots of clear hooch into a borrowed station wagon, with aims of pressing a copy of "Steal Away" and a bottle of vodka into the palm of every regional black disc jockey who'd have them.
By now, in 1964, Governor George Wallace had staged his "Stand in the Schoolhouse Door" at the University of Alabama in Tuscaloosa, a symbolic act of his commitment to racial segregation. President Lyndon B. Johnson signed the Civil Rights Act that same year, but despite federal legislation segregation remained the norm in many resistant Southern states. Police forces and pro-segregation groups attacked civil rights activists in the streets. "It was a dangerous time, but the studio was a safe haven where blacks and whites could work together in musical harmony," Hall said. "If I had any fear of danger for me and my family, it would have come from whites who objected to my close friendship and working association with black people."
In a metaphorical act of retaliation against the popular music machine, and the even bigger systemic racial oppression of the still-segregated state of Alabama, Penn and Hall set off on what became known as "The Vodka Tours." The pair loaded up 2,000 self-funded 45s and lots of clear hooch into a borrowed Ford station wagon, and spent nine days driving from Tupelo, Mississippi to New Orleans and back over to Atlanta, with aims of pressing a copy of "Steal Away" and a bottle of vodka into the palm of every regional black disc jockey who'd have them.
"Steal Away" became increasingly sticky on airwaves as the 45 sold out in batches of 650, over and over again, in a series of deals Hall struck with regional, independent distributors as far north as Washington D.C. "Being an independent producer and working outside the major labels was nearly impossible back then," Rodney Hall added. "Jimmy was the first multiple-hit artist for the label that was from this area. That was a real point of pride for my dad." Hughes could then finally quit his full time job at a rubber factory. "They told me I had a hit on my hands and – oh, it made me so happy, I didn't know what to do," he said. "I was making more money and to know that I was a star, something I never really thought I would be, was a tremendous feeling."
Ultimately, Hall would license "Steal Away" to Vee Jay Records in Los Angeles: retaining all of its rights, and cashing in on big royalties as the single climbed to the Top 20 of the Billboard Hot 100. But, perhaps more importantly, it gave Hall the confidence to press on with his own label and original FAME studio band, establishing what would become the sound known as Muscle Shoals.