Neil Landstrumm Party Flyers
The prolific Scottish producer and pillar of Brighton techno digs into his deep archives
With more than two decades of innovative productions to his name, Neil Landstrumm has proven to be an enduring presence in electronic music. With influential techno LPs in the early '90s on Peacefrog and Tresor, Landstrumm became an in-demand performer, leaving behind DJing in favor of improvised live sets where he wrings intense beats from his battery of machines. With later albums on Planet Mu that touched on grime, dubstep and assorted other genres, as well as releases via his own label/creative house Scandinavia, Landstrumm has been a restless producer, not content to just recreate the sounds he first made his name on. Comfortable as he is leaving styles behind, Landstrumm is still an archivist at heart, with an extensive collection of flyers and assorted memorabilia from throughout his career. Here, Landstrumm digs into his archives to highlight memorable experiences from across his varied career.
Pure - Glasgow, Scotland - 1994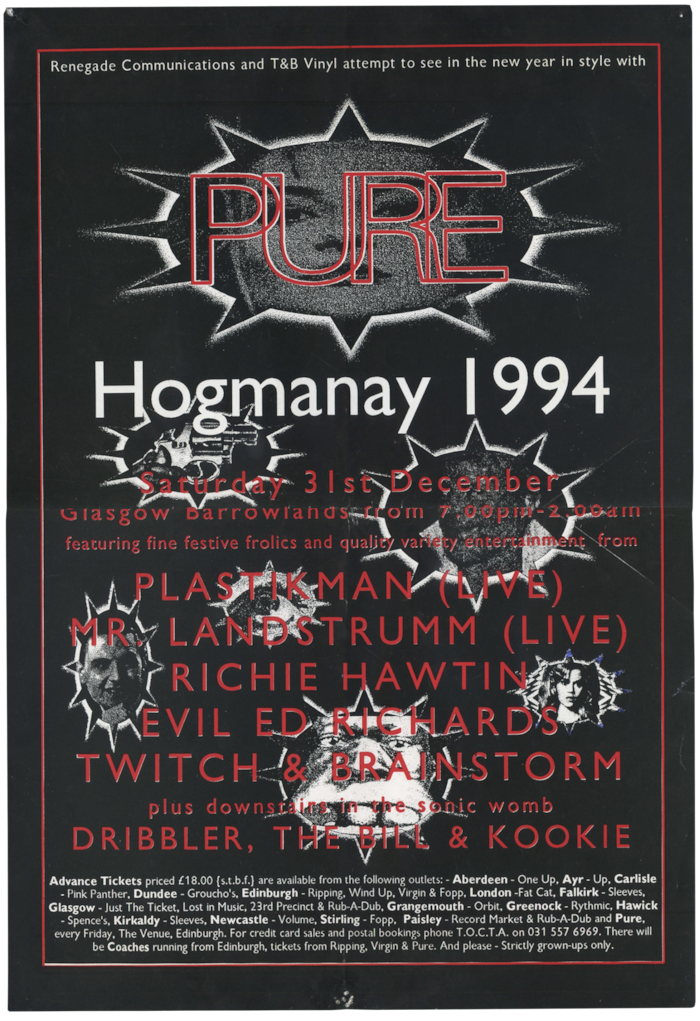 This was my first big gig and it was the first European live show of Richie Hawtin's Plastikman project. Not a bad gig, then. The Barrowlands is a classic Glasgow venue, so even playing there to a crowd of 1,500 was a big deal for me at the age of 19. I remember during soundcheck that Richie's TR-808's memory had wiped during the journey to the UK and he had to spend ages reprogramming all the rhythms. He wasn't very chatty or interested in partying. Pure was an institution in Edinburgh and I have many, many good memories of nights in that club with Twitch and Brainstorm at the helm.
Sativa - Edinburgh, Scotland - 1995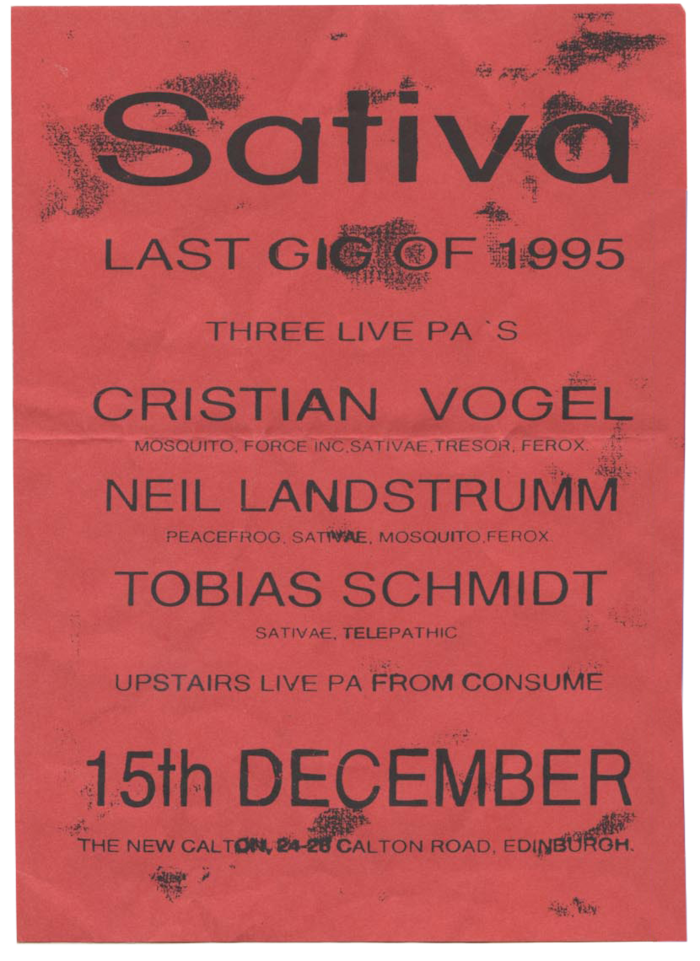 Sativa was the regular techno night in Edinburgh that I got caught up in and involved with. It was more born from the UK free party / sound system culture, with a much heavier / edgier sound than Pure. It was through Sativa that I met Cristian Vogel, Dave Tarrida, Dave Clarke, DJ Hell, Adam X, Tobias Schmidt and all the other characters in the scene that were to be pivotal in my journey.
Sativa was quite a spectacle in its prime. One of its many slogans was "Cane those rocks." It was through experimenting with live sets at the club that we developed our signature sound of abstract, funky, heavy-but-fun grooves. Sativa never took itself too seriously. It was about a community feeling and died before it burned out. Very little evidence of it remains.
The Orbit - Morley, UK - 1995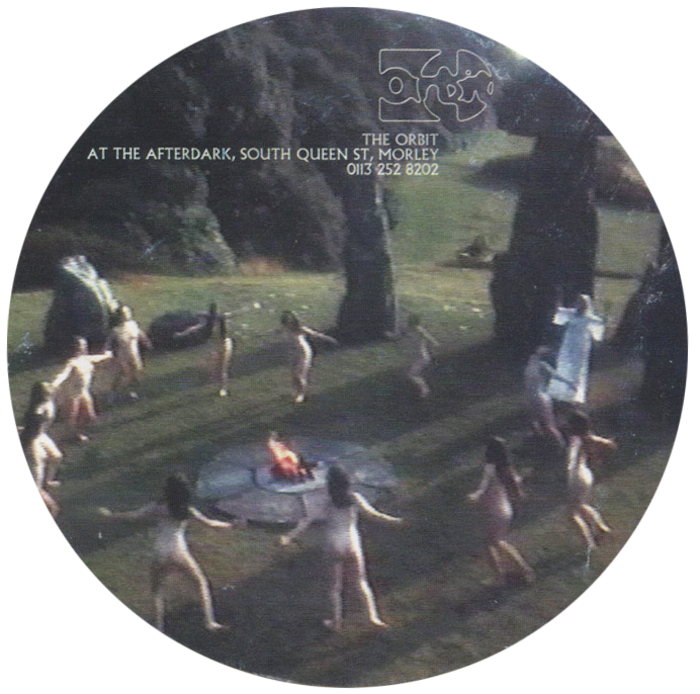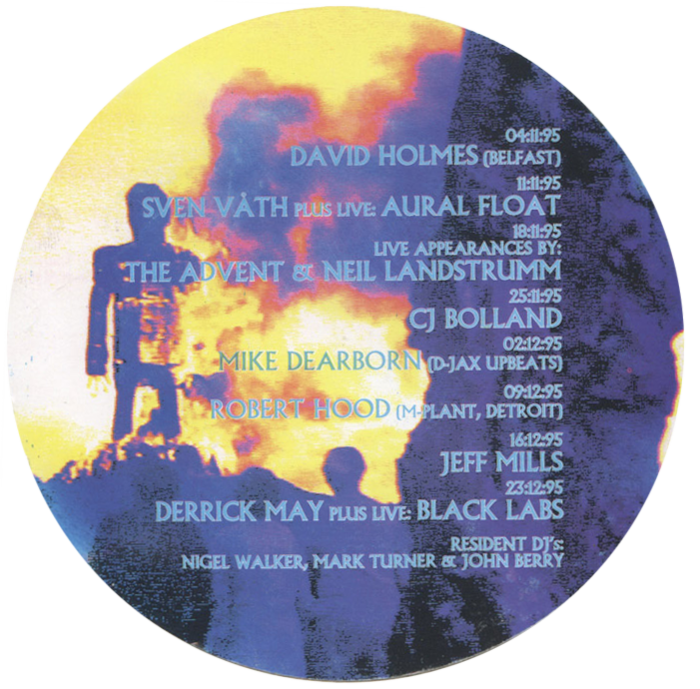 A legendary UK techno club which ran for a good few years and was the pinnacle of many people's clubbing in many ways. You really did have to experience the energy of the after dark venue or the car park afterwards for that matter. A sweatbox full of mentalists, and not a crowd who suffered fools or bad techno gladly. Very much a baptism-by-fire if you were playing, but if you got the crowd on your side, the energy was amazing. Not a bad company of techno artists to be on the same flier with, either.
Peacefrog Records Night @ Liquidroom - Tokyo, Japan - 1995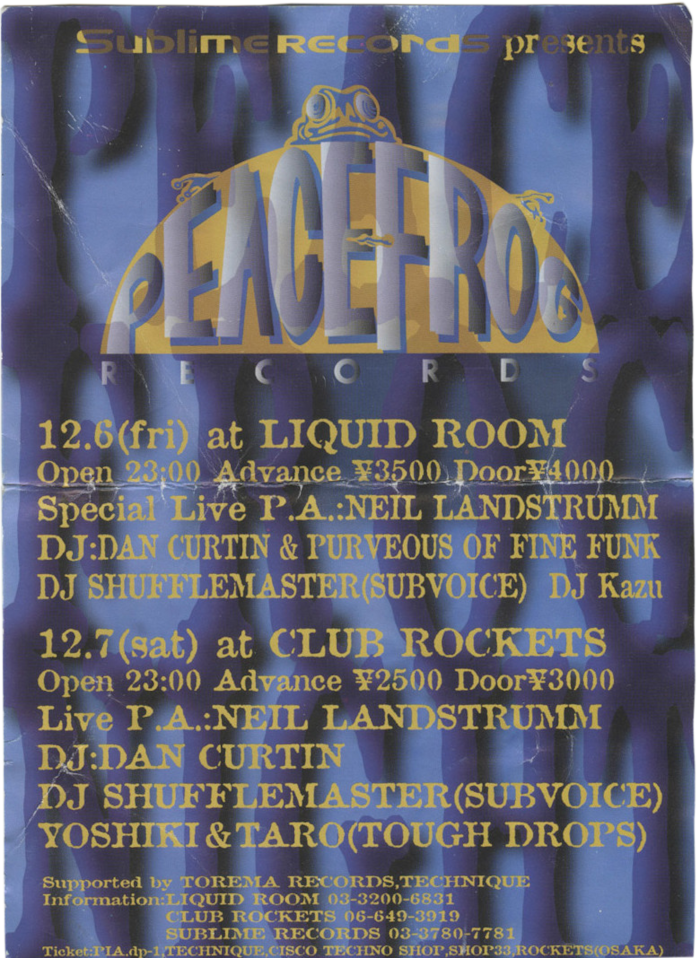 My first long-range mission after the success of those early Peacefrog 12-inches. I forget how massive Peacefrog records were in the mid-'90s and how it released a good cluster of genre-defining releases during that period, like DBX's "Losing Control." Japan was a massive eye-opener – it was a huge gig and experience travelling with Dan Curtin. A local lady even baked a Peacefrog cake for me with my name on it. I didn't eat it though – it ended up in the bin at the hotel, which I felt really guilty about.
Ultraschall - Munich, Germany - 1995
My first foray into Germany, age 19. Ultraschall was in the old Munich airport kitchens and everywhere was white tiles. Week in, week out, Peter Upstart was bringing techno and house talent from all around the world and the Munich youth couldn't get enough of it.
Looking at this flier again, the week after I was playing Armando from Chicago was there, which just goes to show you. I remember being really nervous before this gig as it was my first time travelling with a load of equipment. I remember getting pulled outside the Munich airport by some mullet-wearing undercover cops who tested the equipment for radioactivity – very strange.
Aufschwung Ost - Kassel, Germany - 1996

The UK Underground Invasion was a good way to bill this gig. Aufschwung Ost was a kingpin of the '90s techno scene in Germany and visiting clubs like this really opened my eyes to how other cultures embraced and welcomed techno, rather than treating it as like a subversive, dirty scene as in the UK.
We all flew over from Brighton and really overdid it all in the club that night and in the mini-bus to the airport the next day, culminating in a Kafka-esque nightmare in Frankfurt. It did mark the start of the recognition of the No Future / Brighton techno sound in Germany as something different and alternative to the same old boring samers.
Subsonic Groove Inside the Brooklyn Bridge - New York, USA - 1996

One of the most memorable parties I played in New York with the Sonic Groove records crew (Frankie Bones, Adam X, Heather Heart, Carlos Tera and Reade Truth). This event was held inside the Brooklyn Bridge Anchorage so it was about as Brooklyn as you could get. Cristian [Vogel] and I were exhausted, having had a failed attempt getting to New York the day before with a bust plane. I remember sleeping underneath my equipment table at one point. It was a killer gig and represented the real techno sound of New York at the time. I moved there the following year.
Growth, some manky shop basement - Shoreditch, London - 1996
These were the events run by Phil and Jason from Subhead, and they were a pretty alternative thing for techno then in London. Funnily enough, it was in a very dead and uncool part of town called Shoreditch… Funny how things turn around. Si Begg managed to completely blow up my TR-909 with his live Akai S950 being wired wrong after a botched repair. My 909 lived to tell the tale but with a £500 repair bill. Si being Si, he gave me a TR-606 as an apology! I may have ended up sleeping on the floor there after the gig.
The House of God - Birmingham, UK - 1999
A club which has been a longtime supporter of my music, and I'm proud to call all the crew involved friends. No nonsense or bullshit, just good production values, bookings and visual ideas. Chris, who runs the night, once threw a wizard out of the DJ booth. He felt bad about it afterwards though, as he was trying to help. Chris doesn't like wizards.
Tresor Night @ Limelight - New York, USA - 2001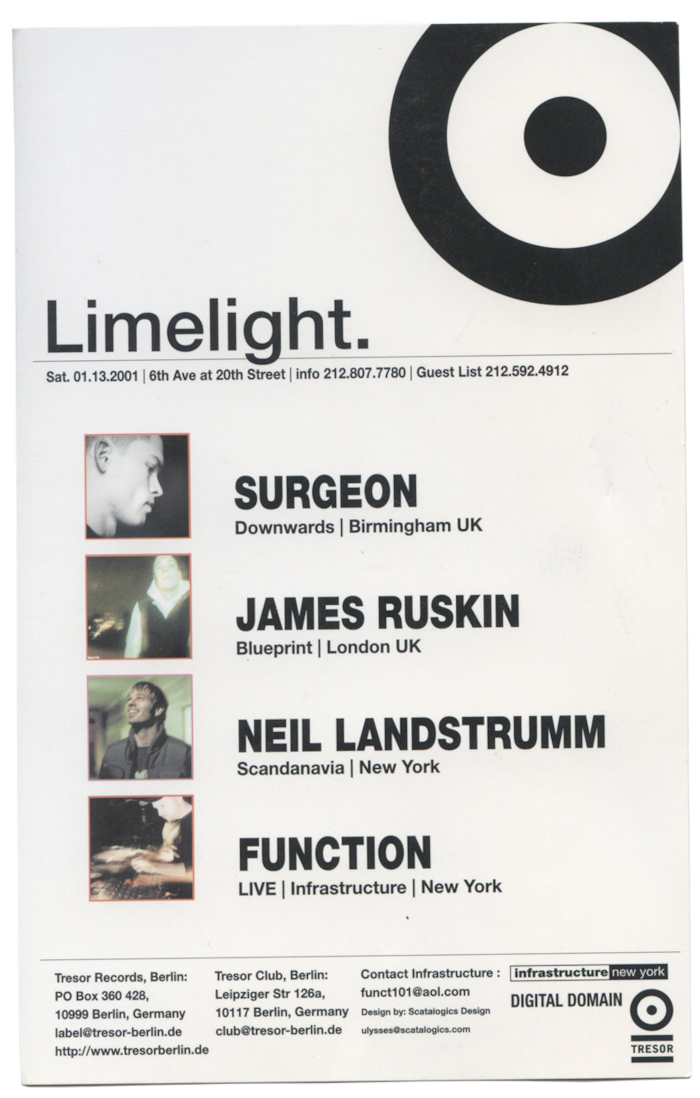 Limelight is a legendary and infamous New York club which I played on several occasions, and I met Peter Gatien and Arthur Weinstein at those gigs. This may have been the peak of Tresor's global reach, when it all worked so well with the label and club.
It did feel like an invasion of the UK techno sound in all its flavours, with Dave Function holding up the New York side. I haven't seen Dave for years, but I'm glad he went on to huge success with his music. We met whilst he worked in Rogue Music dealing in secondhand synths, and he was always willing to help out.
I don't remember too much about this gig other than it was about the last time I DJed. I never really was 100% comfortable being a DJ and always preferred to do the live hardware thing. I wasn't shit or anything – just not a natural selector.
Neue Heimat - Stuttgart, Germany - 2001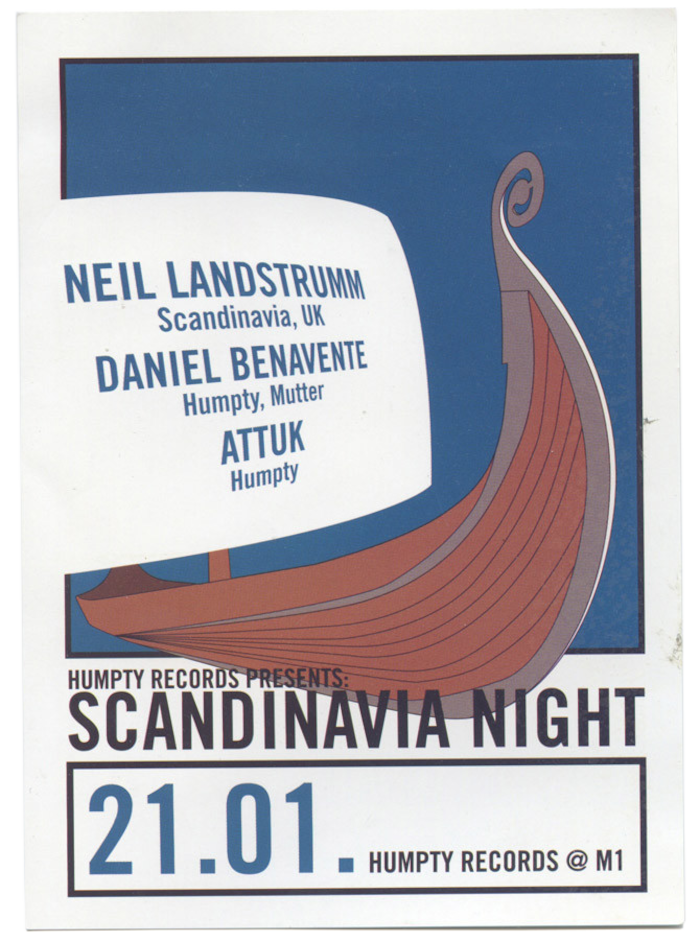 Long-term supporters of the UK techno sound, Humpty Records put on many a good night at Club Prague in Stuttgart. Daniel Benavente, Tanja and Achim were always super hosts and organised some of the most open techno nights I have been too. Stuttgart was a real stronghold of my label Scandinavia, and the Sativae and Mosquito labels got huge support from the Humpty record shop. Stuttgart was probably the only German city to really "get" what we were trying to do with the sound.
Numbers - Glasgow, Scotland - 2005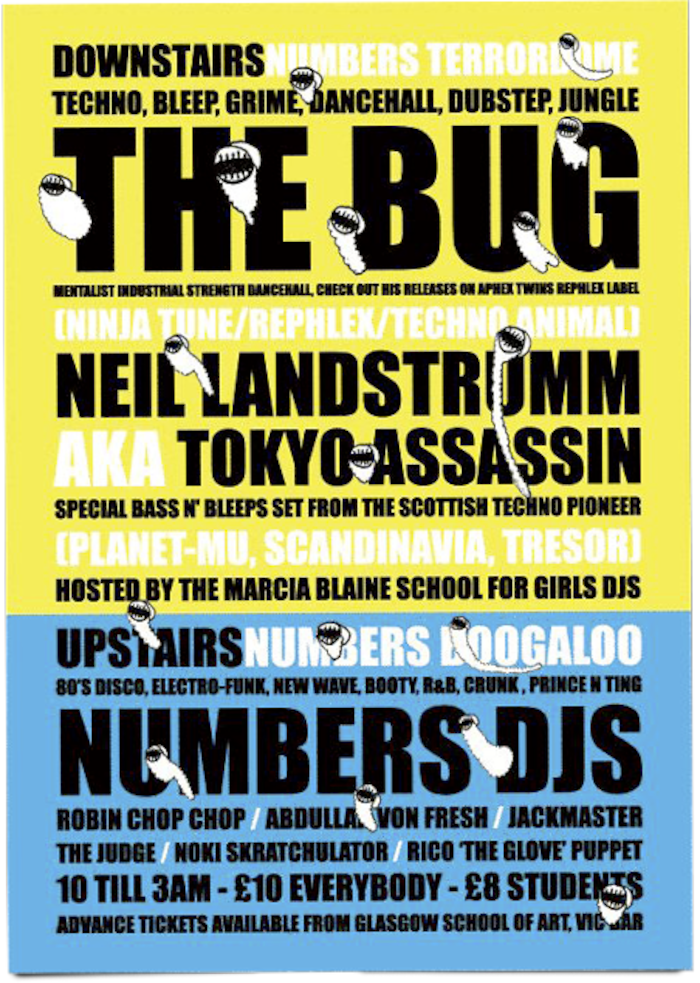 I could be wrong, but I think this may have been the first or second Numbers party in Glasgow. Numbers has gone on to be a big thing, with the label and club night launching Jackmaster's career, which has now gone stratospheric. I remember eating a takeout curry with the Bug in the backstage and then fixing his laptop, which refused to start up.
Leechrum (SAI Festival) - Country Leitrum, Ireland - 2007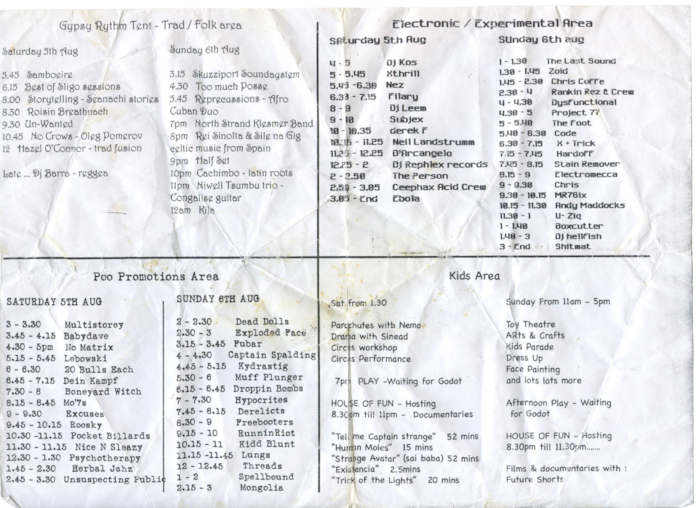 A small festival in the middle of a bog in Ireland which was very memorable and kick-started my love affair with Ireland. I met so many good people through this gig. This was right at the start of my Planet Mu records period and where I first played out the "ravestep" tracks from the Restaurant of Assassins LP, which went down very well and gave me the confidence to develop that sound further. I enjoyed myself so much at this festival I came home with chicken pox, which I can tell you was fabulous to get at 33.
TodaysArt – The Hague, Holland – 2007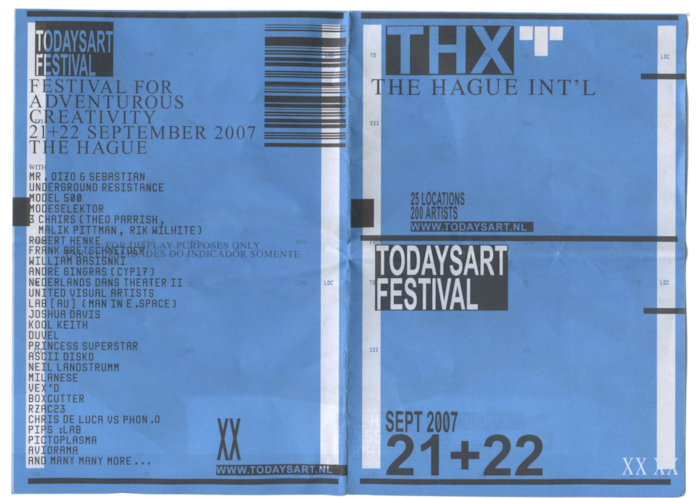 Mid-Planet Mu era. This was a mixed arts festival in the Hague, which I remember more for the visual installations and for meeting Mad Mike from Underground Resistance in the hotel foyer. There was an amazing landing strip simulation along the main shopping street, with lights and speakers emulating the take-off sound of a jumbo jet – you could feel it travel along the strip and through you.
Mad Mike was also someone I had always wanted to meet. I was stunned that he knew me and that he had sold many of my records in the shop in Detroit. We got chatting about American muscle cars, particularly the Punisher, which was his. By street drag-racing it for money he helped fund the early UR pressings. I also got to meet the Vex'd guys, whose early 12-inches and album on Mu had really inspired me to change my sound up and follow my heart.
Meltpac 10 - Antwerp, Belgium - 2007?

I just love this flier. It's one of the best ones I've picked up over the years and before the whole cassette tape thing was cool again. Also a good party from my memory, and a crew of people that supported my music through thick and thin. It just shows the effort that went into making this event, putting that much thought and time into a flier.
Planet Mu 200 @ Corsica Studios - London, UK - 2008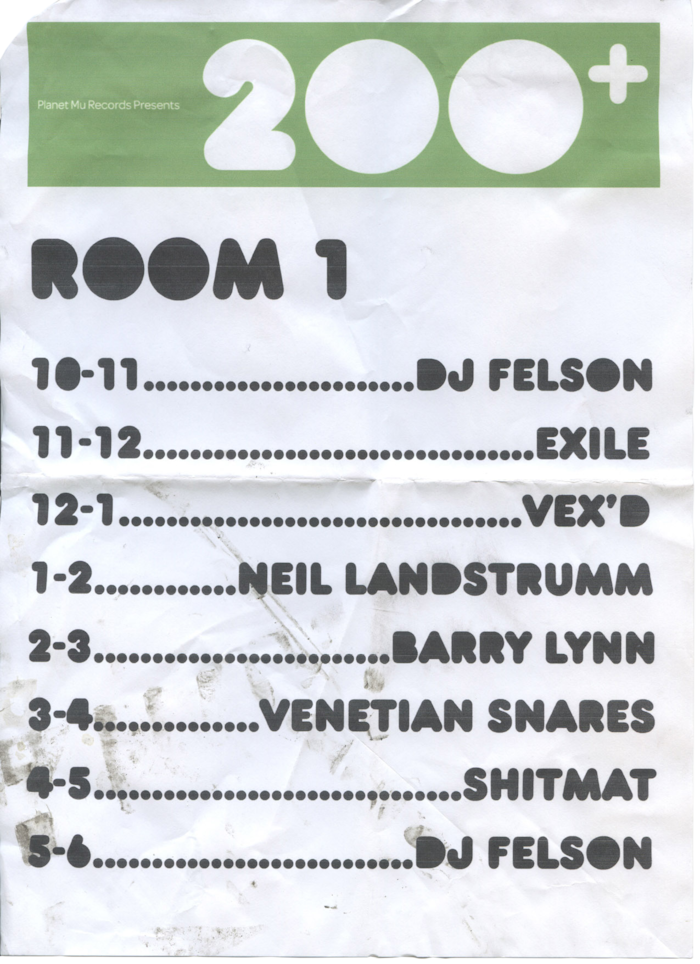 Planet Mu events, although few in number, are always interesting nights. Diverse music and dedicated fans make for an electric atmosphere. Corsica has always been somewhere I end up once a year since it opened as an arts space. Tim Exile pissed in a gin bottle in the backstage and left it on the table.
Kievbass - Kiev, Ukraine - 2008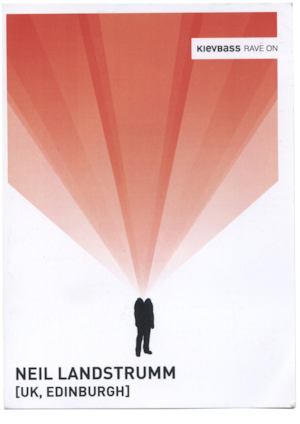 Kiev did seem quite far from home at the time, but it was a fantastic gig in a very concrete, Brutalist bunker sort of space. The event was covered in Time Out and a few other fashion mags, so it was interesting to see that coverage of the Mu LPs so far from home. I remember being given a bunch of roses by an enthusiastic woman after the show, which was a first and last. Great people, totally and utterly up for a UK rave.
Neo (Nuit d'électronique et d'Opera) - Liege, Belgium - 2008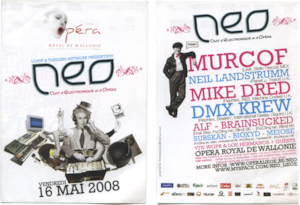 An absolutely stunning venue. I couldn't quite believe it when I arrived. Yes, it was in the state opera house, although I don't remember the promoter ever letting that fact out. Unfortunately, the power went off during the peak of my set. I blamed Mike Dred (wrongly) and we got into a bit of brouhaha. This is also where I met Ed DMX for the first time. I never did recover the energy after the power came back on.
Sub:Stance @ Berghain - Berlin, Germany - 2009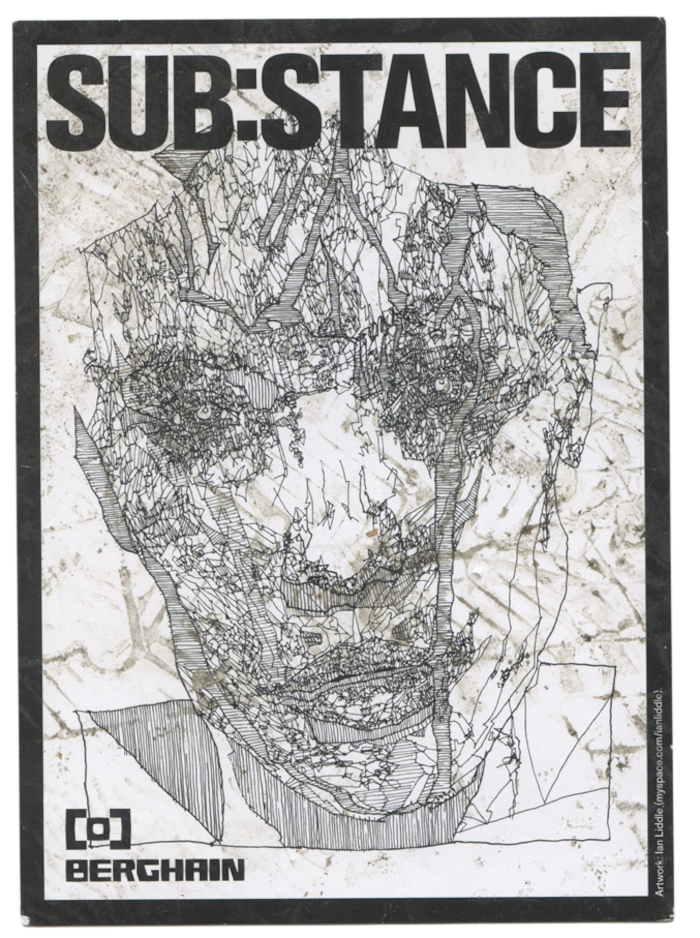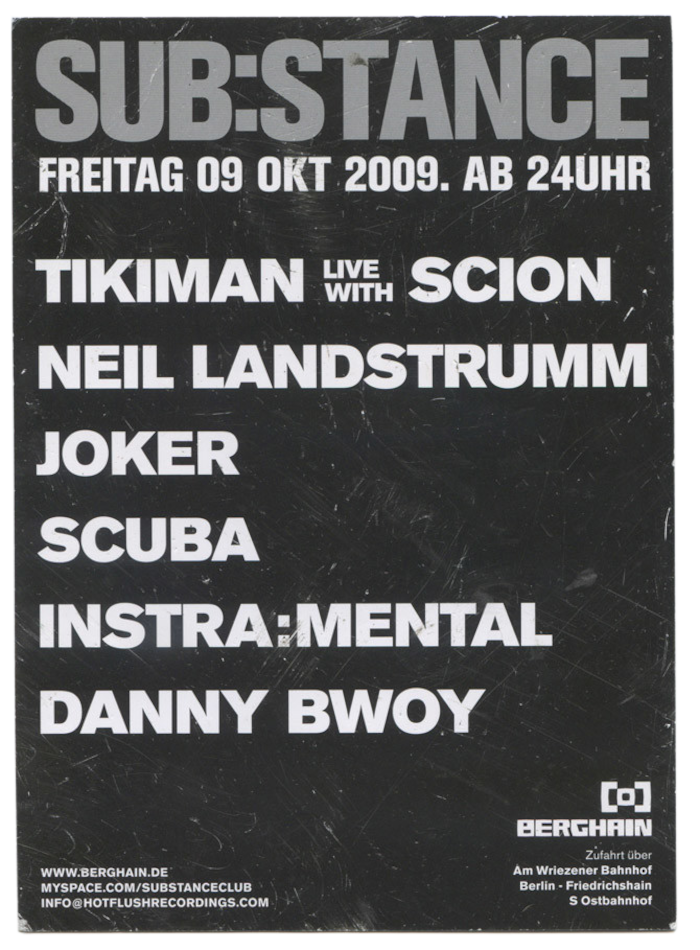 My only time invited to play Berghain (sniff), but cool in the sense that it wasn't for techno but for Scuba's bass music night. It was the tail end of my Planet Mu era and a pleasure to play on that big rig and hear some bass music loud and proud. I played with Joker a few times on the circuit around this time. It's been interesting skipping about on the fringe of scenes rather than being right in the middle. Sometimes you get more perspective that way and can stay a bit truer to your vision. Or, shape-shift before it's too late and you get dragged down with it. Still doing it 22 years later...