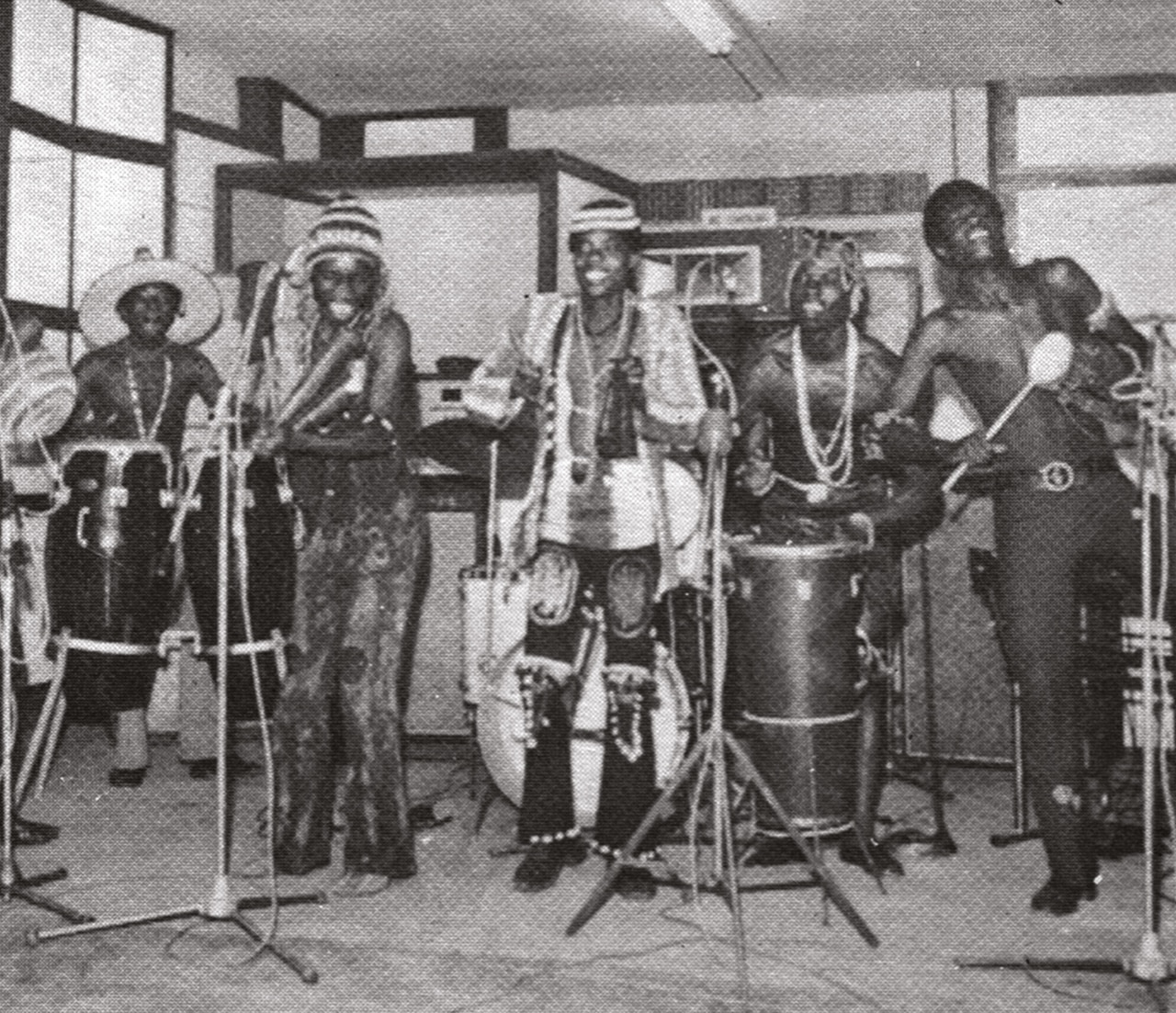 OFO The Black Company's Nigerian Acid Rock Cult
Few '70s psych rock bands got as heavy. Even fewer came from Nigeria. Uchenna Ikonne profiles the one-of-a-kind group
OFO the Black Company was undoubtedly the strangest band of musicians to ever emerge on the Nigerian music scene. The group was unconventional in its refusal to present itself as an entertainment ensemble with the attendant matching suits, coordinated stage moves and toothy showbiz grins. No, OFO was a "musical cult" with an image steeped in mysticism, stemming from its very name, which referenced ofo, a sacred staff that served amongst the Igbo people as a representation of ancestral authority and destiny, through its members' Afro-shamanic look.
Guitarist Ify Jerry remembers falling under the sway of OFO's "chief" (not leader, as every member was designated as equal), a charismatic musical conceptualist named Larry Ifedioranma Jr. "Larry was just a… different kind of guy," Jerry explains. "He thought in a way that not a lot of people were thinking back then. He was into the pro-Black philosophy and all kinds of alternative spirituality that I didn't even understand at the time. I had no idea what he was talking about most of the time! All I cared about was music, and he was into the type of hard rock that I wanted to play."
Ifedioranma's otherworldly progressivism, however, belied a considerably more conservative background than most would have assumed. Born in 1949, Ifedioranma grew up in a large musical family headed by a stern pastor father. As a sophomore at the University of Ibadan in the late 1960s, he was recruited into the Nigerian Army to serve as a singer and drummer in the wildly popular Ibadan Garrison Organization band. But as Larry entertained in a group of straight-laced military musicians, trading off leads with co-vocalist "Blackman" Akeeb Kareem on highlife hits and James Brown- or Wilson Pickett-inspired soul numbers, he dreamed of reaching for the outer limits of contemporary music explored by the likes of Jimi Hendrix and Deep Purple. His ambition: the creation of Nigeria's first acid-rock band.
Only after the set did Larry realize OFO the Black Company's musical cult had briefly included Carlos Santana.
Ifedioranma's dream took a step towards reality when he hooked up with Ibadan Garrison Organization guitarist Benna Kemfa to form a "black underground rock" quintet called the Silent Man as a sub-group of the military band. "Nobody understood what we were up to," Ifedioranma explained to Newbreed magazine in 1973. "Our music was too far ahead of the people then, so they couldn't dig. We packed it up for lack of encouragement." After the war, when Ifedioranma and Kemfa were honorably discharged from the army, they decided to give the underground rock group concept another go. "Benna and I came over to Lagos still determined to work for God and mankind through our kind of music," Ifedioranma declared. "OFO the Black Company is therefore the result of our determination."
OFO made their first big splash at Fela Kuti's Afrika Shrine on a bill headlined by Ginger Baker & Salt. OFO's mishmash of music, mysticism and theater blew the main act off the stage. With the legend of OFO's performance reverberating across Lagos, Decca offered the group a deal. The label outfitted with the group with state-of-the-art gear and a new youth-oriented imprint – Afrodisia – was built around them, complete with a vignette of OFO guitarist Popo Kamson's girlfriend's afro-haloed head as the label's official insignia.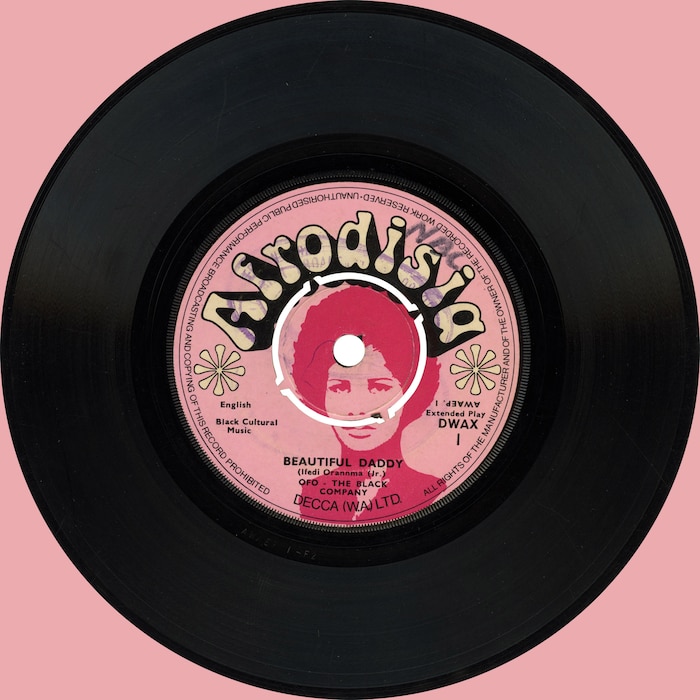 OFO the Black Company delivered on the hype with their first single, "Allah Wakbarr," a screaming, proto-metal orgy of ecstasy exploding around the traditional Islamic exhortation of the creator's greatness. "It's not like Larry was even a Muslim," says Ify Jerry, who played keys on the record. "He was just into embracing all kinds of spirituality." (The group would later record "The Book," a companion piece to "Allah Wakbarr," exalting the wisdom of the Christian Bible.) "Allah Wakbarr" was backed with "Beautiful Daddy," another slab of jam-heavy rock that opened with a simple organ statement by Ify Jerry. OFO was on its way, and so was Afrodisia.
Under manager Eddie Roberts' expert handling, OFO went from strength to strength. A second single on Afrodisia, "Love Is Me, Love Is You" b/w "Make Up Your Mind," kept the home front hot while Decca's release of "Allah Wakbarr" in the UK expanded their audience internationally. 1973 saw the Black Company selected to represent Nigeria at the 10th World Festival of Youth and Students in East Berlin. OFO the Black Company's psychedelic assault thrilled the festival audience and won the group a gold medal.
Perhaps the real prize, though, was an anecdote Ifedioranma would trade for years thereafter: During OFO's set, one of the hippies in attendance asked if he could join the group onstage. In the spirit of love and sharing, Larry let the shaggy-haired stranger sit in on guitar for a few numbers and found that he enlivened the OFO sound with his hair-raising solos. Only after the set, when the mysterious guest had been hugged and bidden farewell did Larry realize OFO the Black Company's musical cult had briefly included Carlos Santana.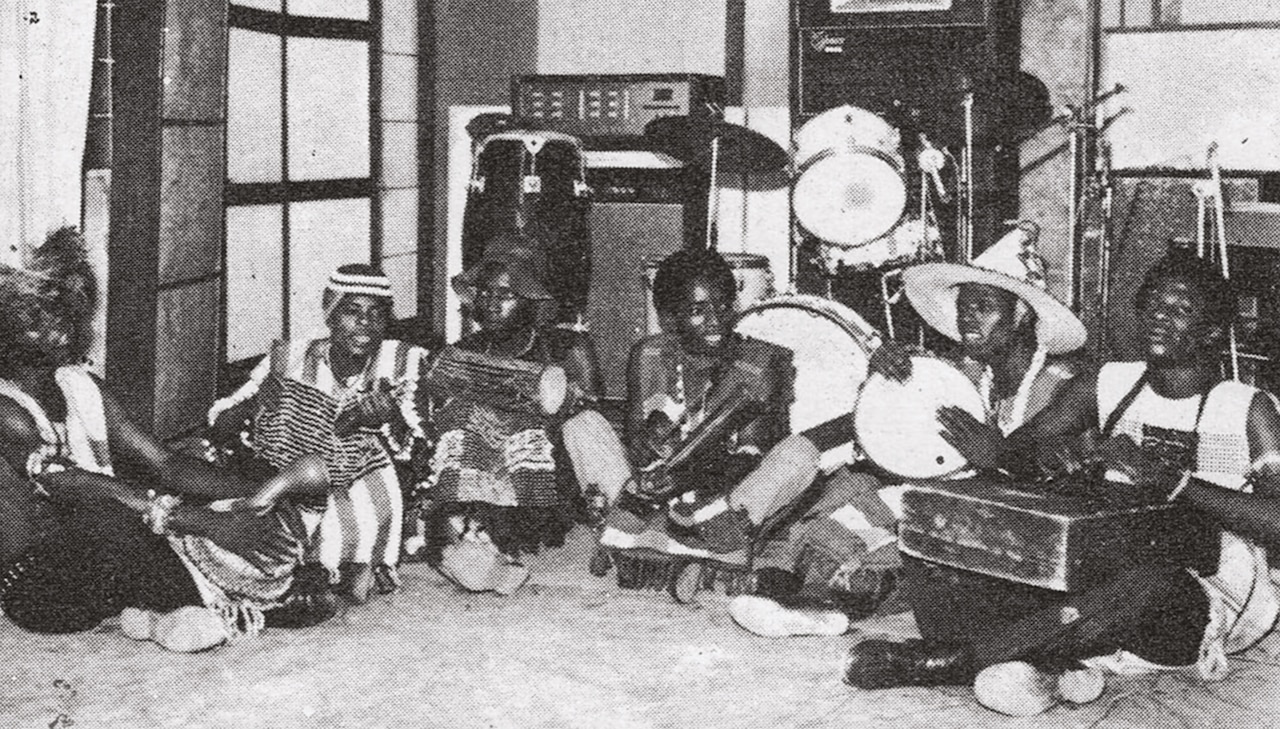 After that triumph it was onward west, to conquer the United Kingdom. "When I arrived in London, OFO had already been there for some months, and I desperately wanted to see them," says Dele Olaseinde, who left Nigeria to attend London Polytechnic in early 1974. Olaseinde was a veteran of the Lagos beat scene, having led the schoolboy quartet the Vampires in the mid 1960s before joining the Clusters. Now he was eager to reunite with OFO members Popo Kamson and Tokunbo Shotade, with whom he had played in a short-lived teenage rock & roll combo. "I looked all over town for them for months before I finally found them playing at the Iroko Club at Haverstock Hill."
Located in the chic Hampstead area, the Iroko Country Club was a ballroom owned by Ginger Folorunso Johnson, a Nigerian percussionist and bandleader who had been a fixture of the London black music scene since the 1940s. He became a popular figure in the exotic "freak" fringes of Swinging London, and is frequently credited as a progenitor of Afro Rock, having crossbred bluesy electric guitars with African drumming in the mid-'60s and having shared the stage with the Rolling Stones on a 1969 television special, his African group joyously throwing up a wall of percussion on "Sympathy for the Devil." The Iroko Club became a popular venue for Johnson's friends in the city's rock elite, amongst them Rod Stewart, Elton John and Pink Floyd.
Olaseinde had heard that OFO was an eight-man band, but by the time he caught them at Iroko, they were a guitarless quartet featuring Ifedioranma on drums, his brother Dediga "Johnny" Ifedioranma on percussion, Soni Makoko on bass and Toks Shotade on organ. "What I found strange was that after they played, as everybody was leaving the club to go home and the place was being closed, the members of the group were going back into the club," Olaseinde remembers. "So I followed them back in, and found out they were sleeping there in the club!"
I tell you, I still hear those chords in my head today and my mind is still blown.
Olaseinde soon learned that OFO's British sojourn had started out on a reassuring note, as Decca had installed the band in a comfortable farmhouse in Surrey, and they had won over the freaks in some energetic pub gigs. However, things soon went off course. Decca had little idea how to market an African heavy rock group to UK audiences, and worse yet, OFO's structural dichotomy had reached breaking point. "The group had split into two," Olaseinde explains. "On the one side you had Popo Kamson, Kemfa, Kingsley and Eddie Roberts. On the other side was Larry, Johnny, Toks and Soni Makoko. Larry and them left the farmhouse and moved to London, while Popo's side stayed behind in Surrey. I think they were trying to organize themselves as an alternate version of the Black Company."
Ifedioranma's group – now known simply as OFO, due to his concern that "the Black Company" might be too racially alienating to a mainstream audience – had during this time managed to record "The Book" b/w "Let's Go Where the Action Is." It was produced by session guitarist Pip Williams, best known at the time for his work with glam-pop boy band the Sweet and smooth American doowoppers-cum-black rockers Bloodstone. The record's gentle, quasi-tropical flavor, polite African choral chanting and loungey piano harmony represented a shocking castration of the elephantine power and quicksilver intensity that characterized "Allah Wakbarr" – suggesting that the label's vision for OFO was the same sphere of anodyne Afro-Exotica that Osibisa had begun to explore.
"OFO didn't have a guitarist at that time," Olaseinde says, "so Soni Makoko handed me a Guild electric guitar and I joined the group." With the addition of Olaseinde restoring the group's heretofore gelded heavyweight sound, they recorded the LP OFO the Black Company at Decca's Tollington Park, London studios in 1974. It appeared that the band was again on the rise, but elation became disappointment when they discovered that the album was unceremoniously dumped in the Nigerian market without so much as a token European release.
Still lacking support from the label, OFO continued to play Iroko, both as a headlining act and as Ginger Johnson's backing band. "We would play at night," Olaseinde says. "In the morning, we would clear out the club for Thin Lizzy and other groups to use as a rehearsal space." The band also backed Johnson on an album recorded at Pye Studios. "We were flat broke," Olaseinde adds. Still, Olaseinde says, he and the others stuck it out, enthralled by Ifedioranma's passion, talent and conviction that the group was bound for major success. "Larry's creativity was just so inspiring. He would sit down with the guitar and play some chord progressions... I tell you, I still hear those chords in my head today and my mind is still blown."
Without Larry on the drums, it just didn't sound like OFO... It sounded like any other rock group in Britain.
Unfortunately, dissent crept in as Ifedioranma's drive propelled him into directions incongruous with the group's peace and love philosophy. "Larry and Ginger took a drive to Surrey with their henchmen," says Olaseinde. "They stormed the farmhouse with like six big West Indian guys, overpowered Eddie Roberts, Popo and the rest, and snatched the equipment: guitars, Marshall amps… They took everything." OFO suffered another blow when Johnson died suddenly during a visit to Nigeria in July 1975, bringing an end to the band's tenure at the Iroko Club. With the loss of their benefactor and their home venue, the group played together less frequently, its members placing greater priority on scratching out a living from menial jobs. Olaseinde states that, at this time, "the group was psychologically splitting up."
Ifedioranma, however, never lost his momentum. He became convinced that the group's "blackness" was its fatal flaw, and a more racially integrated membership would remedy their woes. "He thought we could be more commercial if we distanced ourselves from the African thing," says Olaseinde. "So he wanted to bring in some English girl he was dating as a singer, and her brother to play the drums. It didn't sound right. Without Larry on the drums, it just didn't sound like OFO... It sounded like any other rock group in Britain."
After the gig there was an almighty bust-up! Marshall amps were flying through the air.
"Larry wanted a much heavier approach to the music," offers English guitarist Graham Gaffney, who had befriended Ifedioranma earlier in 1975. "He put the band's failure to maintain their African success in England down to their inability to compete dance-wise with the current charts." Gaffney was 20 years old, and had just been invited to join the 101ers – the London pub rock outfit that enjoyed a brief blush of regional popularity in the early 1970s. Impressed by Ifedioranma's steely focus and unfettered creativity, Gaffney turned down the 101ers gig and agreed to join a new OFO lineup: Ifedioranma on drums, Gaffney on guitar, Johnny on congas, Greg McLean on bass and a Jamaican percussionist known only by his first name, Keith. In the meantime, the current version of the group secured a very welcome spot opening for reggae star Desmond Dekker at a campus concert. "Goldsmiths College, August 1975," Olaseinde remembers. "That would be our last gig together."
Gaffney, who attended the ill-fated Goldsmiths date, remembers a tense scene: The audience ("made up of mostly design students," Gaffney snorts) appeared indifferent to the group's African-oriented sound, seemingly confirming Ifedioranma's conviction that the "Afro" identification was limiting the group's acceptance by a mainstream audience. Meanwhile, the presence of Gaffney and McLean waiting in the wings fueled the resentment amongst the other members. "The band knew that Larry was going to replace them with me and Greg, both of us with hair down to our waists," Gaffney laughs. "After the gig there was an almighty bust-up! Marshall amps were flying through the air and people were getting generally rather upset."
"We were carrying out the equipment after the gig," Olaseinde says. "Everybody was arguing. And when one of the expensive Marshalls was smashed, that made it worse and it turned into a big fight! After that, we went our separate ways." OFO the Black Company – the audacious ensemble of Nigerian musicians who just three short years earlier had blazed the way forward for Afro Rock – was officially dead. However, OFO – the multiracial, weirdy-beardy, prog-jam band – kept on rocking. "I always found that Larry had just about the thickest skin a musician could possess," said Gaffney. "Nothing would get to him."
OFO the Black Company were mostly an obscure memory when Larry Ifedioranma Jr. died in 2005.
With the addition of a second guitarist, Rob Pinnock, the group started gigging around the city, drawing enthusiastic crowds with their fusion of Afro, reggae and post-Bitches Brew jazz-rock. OFO's new direction finally reignited Decca's interest and the group was rushed into the studio to record a new album with producer Eddy Grant – himself well-versed in packaging rock fusion for the British public with his own band, the Equals.
"Larry wanted to re-do all the old Black Company songs in a more European way," Gaffney recalled. "We did a new version of 'Allah Wakbarr' titled 'A-Ya-Ya," and 'Let's Go' and other songs." Also recorded was a tune that had become a staple of their live repertoire, a floor-shaking rock stomper called "We Will Rock You" which Gaffney maintained until his death in 2011 was appropriated by the flamboyant British rock band Queen for their 1977 arena anthem of the same name. Decca, however, was less than impressed with the results. They deemed the album "too ethnic," and promptly shelved it.
After Decca's final rejection, disillusion again set in; Keith and McLean left, and eventually Gaffney drifted away to join Eric Burdon. Undeterred, Ifedioranma assembled yet another OFO lineup and took them to Nigeria for FESTAC '77 – the 2nd World African Festival of Arts and Culture – held in Lagos that summer. What was meant to be a triumphant homecoming turned into tragedy: one of the band members drowned while swimming in a river and Ifedioranma found himself in a dispute with bandleader Aigbe Lebarty which ended with Lebarty forcefully seizing all of Ifedioranma's gear, thus spelling OFO's demise.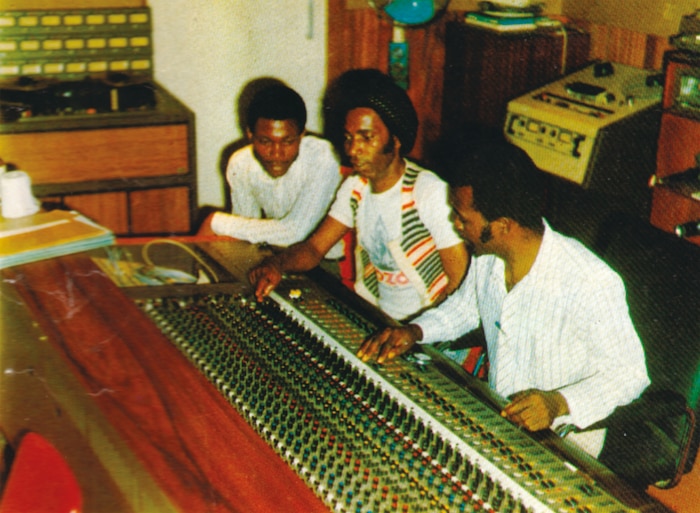 The ever-tenacious Ifedioranma, however, refused to relinquish his vision and denied all rumors of OFO's demise. Settling back in Nigeria, he released Fonkafrika, a dubious "live" album cobbled together from concert fragments recorded during the latter-prog era and heavily overdubbed with new studio performances. The album attracted little notice.
Ifedioranma still commanded a degree of respect among those old enough to remember the force with which OFO the Black Company had blown the doors off the Nigerian music industry a decade earlier, but by and large it was clear the business had moved on without him. Scoring a production deal for a while with the rising independent Tabansi label, Ifedioranma continued to work with other artists while he talked up his big plans to resurrect OFO, but it never came to pass. Larry Ifedioranma Jr. and OFO the Black Company were mostly an obscure memory when he died in 2005.
After Ifedioranma's passing, Gaffney reminisced fondly on his time with OFO: "I've been around a long time now, and I have never heard anything since which comes anywhere near to what we did then. For two years we lived together in each other's pockets, playing every day, sometimes all day... Larry was a very happy man and his composing was prodigious. He was 15 years ahead of his time. I learned a lot from him, and I miss him very much. His catchphrase was 'Music makes me happy.'"


Excerpted from the Now-Again Records release Wake Up You! The Rise and Fall of Nigerian Rock Vol. One, available April 15th via Rappcats and other retailers.