Brutaz: Warsaw's Unconventional Party
Elissa Stolman meets with Brutaz party co-founder Jacek Plewicki to find out how he's bringing a new energy to Polish nightlife
In the early hours of March 13th, 2016, Bernardino Femminielli stripped down to his white underwear and an open, star-spangled blazer in front of a dense semicircle of onlookers at Warsaw's Palace of Culture. The room was packed minutes before for a DJ set of jacking house, but it drained quickly when Femminielli started to ramble unintelligibly into a microphone over chintzy drums. A young guy in a button-up shirt, tie and sweater leaned over to ask if the performance was supposed to be good. He was unfamiliar with the culture at this party, Brutaz, but came that night on the adamant recommendations of his friends. So there he was, confused by the music but enraptured – and eager to come back next time.
Brutaz organizer Jacek Plewicki hopes to create such scenarios with his events, which occur almost weekly in different cities and venues around Poland. Brutaz grew out of Warsaw's DIY arts scene and now, in its fifth year of operation, it has achieved renown beyond its original cult following. The party confronts its expanding audience with rebellious ideals based on the underground intelligentsia from whence it came, seeking to provoke its partygoers into assuming responsibility for their cultural and political surroundings. It's a goal that has both excited and irritated their attendees.
"They see something that lasts for half an hour and they're disappointed for life."
"It matters to bring people who aren't necessarily your 'target audience,'" Jacek said 12 hours before Femminielli's set. He was sitting at a table positioned on what would later become the dancefloor at the palace's ornate Cafe Kulturalna, an awkward but somehow fitting location for a trendy night with roots in the DIY and noise scene. "I want a confrontation and I want the crowd to be complex."
The crowd for Femminielli was certainly diverse, although regulars said that the party draws different crowds from one night to another and when taking place in different Polish cities. Imagine the partygoers on March 13th as a slab of granite, in which the base color consisted of fashion-conscious twenty-somethings dressed all in black, and the visible grains were those wearing colorful and casual street clothes: guys in pastel button-ups with gelled hair; girls in blue jeans and turquoise tops. I got the sense that the confused Varsovian and I were not the only ones who were there for the first time. The party has an apparent interest in obscure musical fringes, reflected in the single Brutaz-branded DJ mix on the internet and the unusual inaugural release on the Brutaz label, but so far the story of Brutaz's success follows of familiar pattern of enticing a cult following that eventually piques curiosity in wider circles.
Launched in 2012 as a noise and power electronics night by Kelo and Piotr Kurek, Brutaz quickly became a regular meeting point for the clientele at the DIY diner and bar it called home, Eufemia. "The audience was very much related to the people involved in the local arts scene," Jacek recalled. They were the kind of people who hung out or worked at Eufemia, which is located in the basement of Warsaw's Academy of Fine Arts – "the kind of people who go to a vernissage to get free wine," he said.
But the party outgrew the tiny space soon after Jacek assumed responsibility for organizing them in late 2012. Since then, he's shifted the musical focus further toward straightforward techno and expanded Brutaz, first to venues around Warsaw, then around Poland. In the meantime, he moved to Berlin for two years and worked at Record Loft, a low-key secondhand shop in Kreuzberg staffed by fellow DJs who influenced his own tastes, such as DJ Richard and Gatto Fritto. In December 2015, four months after he had returned to Warsaw, he hosted the series' international debut at OHM in Berlin, which also served as the release party for the first record on the Brutaz label, Jules Ventirini's No Reference EP.
As the parties in Poland attracted bigger crowds and enthusiastic praise, it also drew criticism for its erratic programming and inflammatory politics. "It's fashionable to say you've been here and seen it, and it's fashionable to say that you hate it as well," Jacek said at Cafe Kulturalna. According to him, Brutaz's main detractors belong to Warsaw's contingent of purist dance music clubbers who turn sour when their expectations of attending a straightforward techno party are disrupted by experimental performers like Femminielli. "They see something that lasts for half an hour and they're disappointed for life," he said. "I have failed them."
But this is part of Jacek's explicit plan. "You should fail people," he said. "My main goal is to find binary oppositions of emotions, sounds – everything. I want to give people something really positive and something extremely negative at the same time; to give something extremely straightforward and also complicated and abstruse. That's where you get people to say what they really want. That's how you get people to feel that they have a responsibility in saying what they think about the music, the party, the people or the venue."
Controversy seems like an unavoidable consequence of a party that purposefully challenges its clientele and courts a political dimension. For Jacek, Brutaz is a device to enact political change, by inspiring or inciting people to take initiative in defining their environment and by providing a safe space for those who are usually marginalized on Polish streets or in Polish nightclubs. "The Brutaz agenda is basically never to accept the environment that you're in," he explained. "Never accept the music you were given. Never accept the conditions of the party, which are always unjust, in the sense that going to a party means you have money to spend on it that could potentially be spent on more 'productive' things." He spent the first few hours of the March 13th party hovering around the entrance so that he could pay the three euro door charge for friends who couldn't afford it.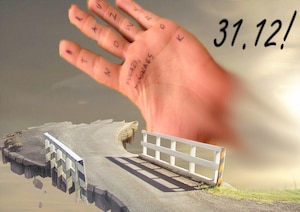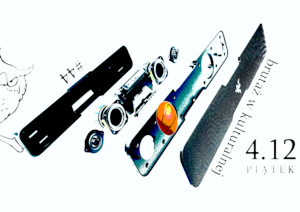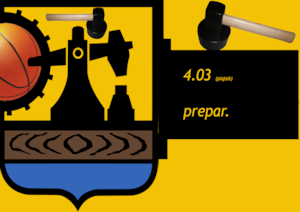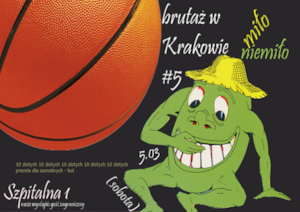 "I would really love for the party to be as inclusive as possible," Jacek said. That means he aims to make the party friendly to groups that are usually treated poorly at Polish clubs, particularly women and gays. But it also means that those who are responsible for their marginalization come, too. Being a lone young woman at Brutaz involved regularly rejecting obnoxious advances more common at commercial nightclubs than underground DIY parties. A man about my father's age poked me repeatedly on the dancefloor until I escaped to the bar, where I avoided two guys who attempted to sidle into my line of sight to catch my eye as I waited for a drink.
"It has really changed the definition of what's possible in a club in Warsaw."
The context of Poland's hostile nightclub environments, where Plewicki says violence, harassment and hard drug use are common, creates a backdrop of nasty mainstream behavior for Brutaz to defy – as does the current political context of Poland at large. While Jacek spoke at Cafe Kulturalna, thousands gathered at the central train station a few hundred meters away to protest the conservative government that took power in October. The rally was part of a swelling tide against the Law And Justice (PiS) party's efforts to change the country's highest court, which the opposition sees as illegal and unconstitutional moves to centralize power.
Jacek's politics promote individual agency and action, but he stopped short of claiming an anti-PiS stance. "I don't want to tell people what they have to do," he explained. "I want to ask questions, like, 'Do you really want to do that?' If you're in a major European city, think about what you can actually do with the people around you. You're at a party where people are dancing and everyone's in a certain mood, so let's think about what we can actually do with that."
Plewicki's unspecific, non-programmatic agenda with Brutaz challenges the idea that parties are superfluous expenses, especially for people with tight budgets who "should" spend their money on other things. Taking on cultural ideologies is a heavy burden for a party, but Jacek is confident that he's been successful so far in challenging Varsovians and creating an event that attracts both casual clubbers and devoted fans of the music he books and plays. Still, Brutaz's deepest impact so far has happened on an individual scale. "Brutaz has genuinely affected certain people's lives, including my own," he said earnestly. "It has really changed the definition of what's possible in a club in Warsaw. It has definitely changed the notion of what you can actually do in a club."