Choice Mix: Apeiron Crew
From Copenhagen's sweatiest clubs to your headphones: the four-strong techno crew goes in on this week's Choice Mix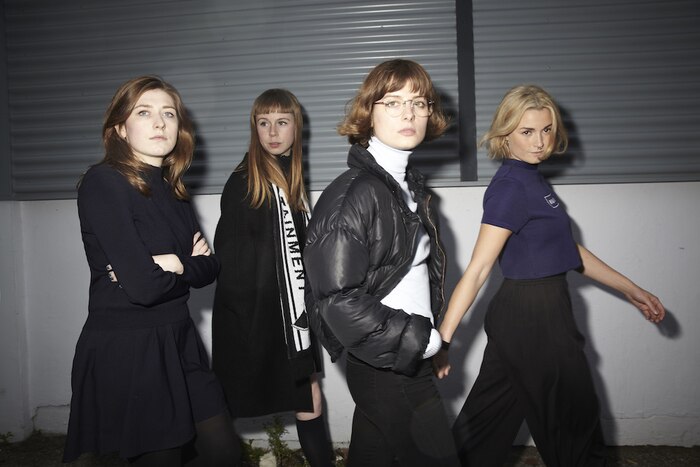 "The club scene has changed a lot since I've been here," says Emma, reflecting on moving from Glasgow to Copenhagen five years ago. Then the dry Danish humor cuts in. "And it's all thanks to you!" says Sara. Speaking to Apeiron Crew - Emma Blake, Simone Øster, Sara Svanholm and Najaaraq Vestbirk - the phone line frequently roars with laughter. They decided to play techno together first and became best friends later. Now, the crew represents a tactile, mutual love for music, and for one another. "I can't imagine us having met and gone to dinner before putting Apeiron Crew together, discussing every element of our lives," says Sara. "We almost started off in a professional way, but people get that our love for one another is genuine."
The four women call the tight-knit techno scene of Copenhagen home, and Sara cites the now-closed club Dunkel as their original stomping ground. "A friend sent me crowd photos from back in the day, and you can see all of us in the same photo when we didn't even know each other." Gradually, they crossed paths. Emma and Sara met while working in a record shop, Emma met Simone on the Dunkel dancefloor, and then Najaaraq folded herself in, as Emma warmly remembers. "She came up to me at Culture Box [club] and basically said that, 'You know me and I know you, so we're going to make shit happen together.'"
Najaaraq has certainly made it happen over the years. She worked as a promoter at Dunkel, after starting to DJ in Copenhagen around ten years ago. With international guests regularly behind the Dunkel decks, she decided to interview them, put the recordings on Soundcloud, and call it Dunkel Radio. It eventually became a FM show on Friday nights, which has since ended, but it got Najaaraq thinking about what the Copenhagen scene had to offer – or more pointedly, what she could offer it. Being a promoter, DJ, radio host: there was a clear path to becoming a voice for the scene, and bringing the four voices together has made for a harmonious grouping.
In this small city, Apeiron Crew have become recognisable faces by taking an ambitious yet pragmatic approach to how the scene does and can operate. "When I started going to Dunkel," remembers Emma, "I would talk to locals and they would be like, 'Man, you're in the wrong place if you like electronic music, there's nothing happening here!' And I would say, 'Well – we're at a party right now, and there's an after-party on that even I know about, so I really don't get what you mean!'" Observing that they could bring different scenes together – techno, punk, noise, hip hop – they've used their divergent tastes as a unifying force. Last summer, the crew lit the dying embers of Copenhagen's illegal rave scene by throwing a 1,000-person, 24-hour outdoor party.
We all curate one another's selections in the moment, so that our sets really represent us as individuals.
"I mean, it was legal, but it also definitely wasn't," laughs Simone. The skateboarding and graffiti crews hung out with the techno ravers and noise-punk outliers, watching live hip hop and electro acts in the day and dancing to hard techno DJs through the night. "Everyone can meet in the middle with electro, with a big funny snare," beams Emma, noting that her love for old school Detroit sounds has proven to be a local crowd-pleaser. "It's like how the techno and punk crews can meet in the middle with EBM. Maybe it's because we play so many different styles in our DJ sets that it's been easy for us to make these musical circles overlap in the city. We've not been doing it too deliberately, but it's been amazing to see it happen because it makes our parties so much more interesting."
Their own parties take place mostly at Copenhagen spots Culture Box and Bakken – even though all four of them can barely fit in the booth in the latter. While the back-to-back DJ set is a familiar sight, seeing four women weave swiftly between backs, bottles and blends is an unusual one – and a joy. "I'll pick a record out of my bag, turn to the others, and do this weird eyebrow-raise move, as if to say, 'Uh huh? Is this record a good idea right now?'" says Emma, "and I might get 'Yeah, go for it!' or 'That's a banger, but maybe play it in an hour?' We all curate one another's selections in the moment, so that our sets really represent us as individuals."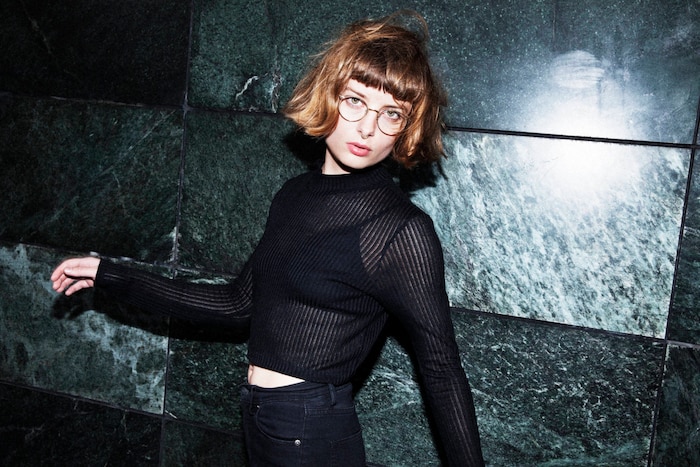 In the middle of the night, what sounds make up this crew of individuals? "We focus on slamming, energetic tunes," says Sara. "They aren't always smash hits, but they're our hits. A friend of ours once joked that 'If it's slower than 140BPM, it's fucking hip hop,' but in turn, we joke that we're the Wu-Tang Clan of techno." Sara loves dub-influenced techno, and Simone focuses on UK-centric sounds with more quirky, break beat-focused patterns: rave, jungle, acid and garage. Emma is the electro lover, and Najaaraq settles on "techno that sounds like it's made for spaceships."
These subtle strands make the Apeiron Crew sound playful and energetic, and that energy is being channelled into other projects close to home. Sara and Najaaraq are launching their own label this spring, called Ectotherm. "I'm studying medicine and next summer I'll be a doctor," says Sara, "so starting the label is a way of securing my relationship with music in the future and stay in touch with the scene." They talk with a keen awareness that lush scenes grow from seeds. There are young people putting on events in weird venues, like 50-person parties inside former World War II bunkers. They also praise the growing online community of gear nerds, who swap production tips and sell studio equipment through dedicated Facebook community pages.
It seems that, years in the game, all four of them continue to be heartily surprised by their surroundings. Ectotherm seeks to give back to and represent a scene that has welcomed them with open arms. "We operate as the more 'public face' of the scene because we're out there playing the parties, but there are a lot of people working on music behind the scenes," reflects Sara. "We want to stay united. I feel very lucky to be putting out this music."
It's the underground techno equivalent of etching a fist-bump into the vinyl run-off.
As they talk of how the first release is mixed, mastered and almost ready to go, Najaaraq enthusiastically cuts in. When she was a participant at Red Bull Music Academy 2014, she met German studio engineer Rashad Becker. After "falling in love with the way he works," he's now currently mastering the label's second release. Working with Becker is a deft touch for a new label. Having recorded, mixed, mastered and cut records for boundary-shredding labels like PAN and Staalplaat, among many others, it's the underground techno equivalent of etching a fist-bump into the vinyl run-off.
Into 2016, then, Apeiron Crew feel bolstered. They're balancing international bookings with home shows, the label's ready to go, and every day there are new records that they want to buy, swap and blast out together. It's a multifaceted bond that keeps it moving forward. "We've established who we are and what we're into," affirms Emma, "so it's basically about having sleepovers and playing records with each other now."

Listen to Apeiron Crew's Choice Mix on RBMA Radio here.