Interview: Henri Belolo, Disco Producer and DJ
From the DJ History archives: The man who co-created the Village People speaks about his lengthy career in dance music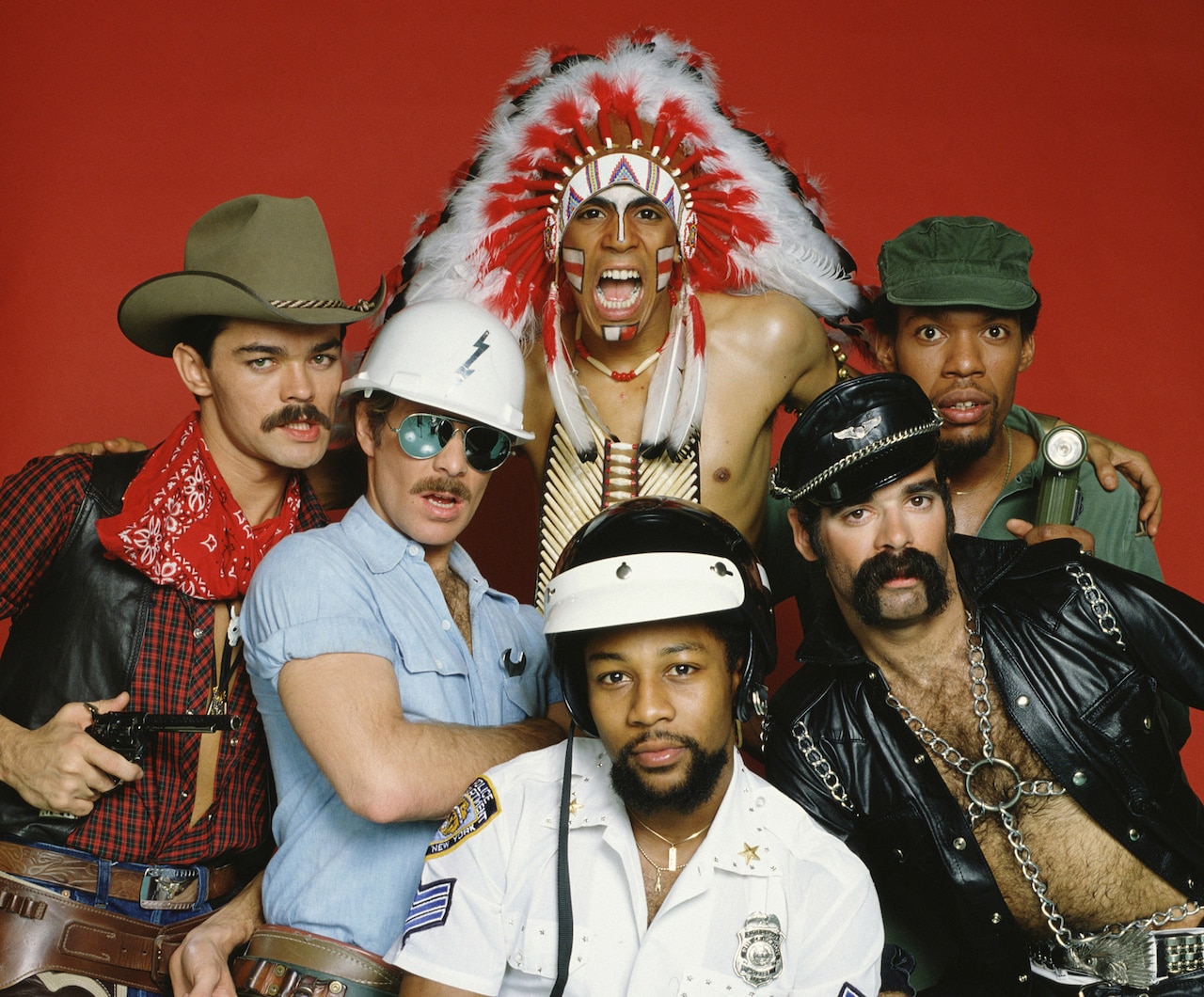 Henri Belolo's most significant contribution to music began on the back of a napkin, writing down male characters he thought would be relevant to the gay community. Primarily known as a co-creator of the Village People, Belolo, alongside Jacques Morali, soon went on to recruit the group's original members as well as working as co-writer and executive producer on their biggest hits. Introduced to gay nightlife via Fire Island tea parties and the harder leather scene at New York clubs like the Ramrod, Belolo found in gay discothéques the musical energy he'd been pursuing all his life, and recognized the power of the crowds he increasingly found himself lost in. The Village People were an active attempt to court that gay disco audience, but Belolo wasn't sure the provocation would pass internationally. He was sorely mistaken. The Village People became one of the biggest commercial successes of the late '70s and early '80s – politically subversive, perhaps, but also dancefloor dynamite.
Belolo's musical journey began in Moroccan discothéques before he conquered Manhattan's gay scene. Born in Casablanca, Belolo received his musical education in Parisian jazz clubs. After a chance encounter with famed label owner Eddie Barclay, Belolo was dispatched to back to Morocco, where he refined his DJing skills while managing one of Barclay's independent imprints. Hungry for recognition, Belolo relocated again to Paris, becoming a producer for Polydor before launching his own label, Scorpio Music, which is still active to this day.
When he moved to America, he opened a small office in Philadelphia as well as New York, pursuing a love of the Philly sound and production duos like Gamble and Huff. Fellow Frenchman Jacques Morali came to Belolo in 1975 with an idea for creating a dance hit based on American musicals from the 1940s, and that song – the Ritchie Family's "Brazil" – ended up being a smash in America. Belolo's hot streak continued through the next decade, as the Village People crossed over to straight audiences and both their coded imagery and songs became firmly embedded in American popular culture.

In this interview, conducted in Paris in 2004 and published here as part of RBMA's partnership with DJ History, Belolo discusses his life in music in swashbuckling style, including what it took to be a DJ in 1965, his favorite clubs from the early days of Parisian disco, the etymology of the word "discothéque," collaborating with the United States Navy and leaving an influential – if unintentional – legacy.
Tell me about your early days in music.
Born in Casablanca, I was exposed to American music. My father was a sailor before, and he settled, married my mother, who was a model, and he was working in the harbour at Casablanca. Working there, he had a lot of ships coming from around the world, a lot of American ships with American sailors. I was born in 1936, so when the war started there I was six, seven years old. The American troops came to Morocco around 1943, because of the Germans invading North Africa. They opened American army bases with radio. So I was a youngster going there and listening through the loudspeakers to Glenn Miller and "Moonlight Serenade" and jazz and blues. That's how I started – really young, being exposed to the American music.
On top of that I was exposed to the rhythm, because in Morocco we had a tribe of black people, Muslims, called Gnawa. They came from Ghana. They play heavy percussion, and when I was young I'd hear that in the street, and the combination of the American jazz, blues, gospel and this, I assume, grew inside of me, and made my ears and my mind open for melody, percussion.
When did you come to Paris?
I studied in Casablanca – business. Out from university, I was 22. I had to decide what I want to do in life. So I decided to come see Paris, spend six months going to see my favourite jazz clubs. You know, jazz life was very, very, very bright in those days. That's where I bumped into a man called Eddie Barclay, who runs a very famous record company called Barclay – the first man in Europe to represent American companies. For example, he started to work with Quincy Jones when Quincy was really a youngster.
Anyway, I bumped into Eddie Barclay because I was playing music in jukebox in cafe. I was choosing anything from Otis Redding to Louis Armstrong to Dizzy Gillespie, and to the premises of rock & roll, and my choice was so good, so sophisticated, that that man came to me and told me, "Hey, your music is good. From where are you?" "I'm from Casablanca." "What do you intend to do?" "I don't know, I might go back." He said, "Why don't you open my record company there?"
And here I am, at 23 now, flying back to Morocco, and opening my first record company, independent. I was just an agent for him: importing records, selling them to the stores, and promoting them. And promotion was through the radio at that time. And the clubs, it was very new, but we had very good clubs in Morocco, in Casablanca. So I started to promote my records, and to do so I was going every Saturday night in the famous club and seeing the DJs and playing my own records. I was only 23, and I'm talking about the year 1959. So I started being a DJ 50 years ago.
Morocco, it was Africa – we always had rhythm feeling.
Did you have any musical training?
Not at all. The music came naturally in my ears, and naturally from my ears to my heart and my brain, and from my brain to the people. I was used to seeing the percussion, I used to sing, to play percussion, bang on things. My mother was going crazy, because I was trying to imitate the Gnawa in the streets. I bought a double tumba, and my left hand did the kick, the bass drum, and the other hand was doing [he taps out an African rhythm].
What were the clubs like?
Clubs in Morocco, and especially in Casablanca, were very international and trendy for that time. They were really advanced, because we had that unique combination of American troops living in Morocco, French people living in Morocco, and that mixture was giving an incredible result that the people in the clubs were a mixed population, and the taste of each one was slightly different. And we had to find a link, to put all those people together on the dancefloor. So as a DJ I was perhaps playing Charles Aznavour, in the ballad, but also I was playing Bill Haley, or bluesmen, or rock & roll. It was a unique combination. At that time in Paris, in clubs they were playing mainly French pop, American rock & roll and jazz, but the combination was not so ethnic. Morocco, it was Africa – we always had rhythm feeling.
Did you play African records?
Oh yeah. I used to import records from Ghana and Senegal, and I was trying to mix them, but we didn't have the technology at that time.
What did you have in the booth?
I had a small turntable, just one, and one day I decided to try to mix African drums from Ghana with rock & roll. "OK," I said, "I can't do it, I just have one turntable," so I asked the owner of the club if he may be kind enough to let me buy another one. He didn't understand why, but I said, "Let me try." So I bought the second turntable.
What year was this?
It was '61, '62. And I tried to link them to one amplifier, but it was very hard because it only had one entry for one turntable, not two. So I ask a man that was a specialist, so we did a bizarre link between the two. We had a lot of noise, but it was working – but I had no fader.
So it was all or nothing.
Yeah. My cut was plain. This is why I was playing something like [hums a rock melody] and suddenly I cut into the drums [hums a tough African beat], and back to the other one, but I was not able to cross-fade.
So it was a cut. That's still mixing.
It was really working a lot at that time.
What was the name of the club?
L'Abreuvoir, because that was where the horses went to eat and drink. Another one was called the Zoom Zoom.
When did you move to France?
I was five years running my music business. Morocco is a small country. I wanted to move to Paris to start working for the industry. So I was lucky to be hired by Polydor Records. At that time, it was a label on its own – not a major – and Polydor had an extensive catalogue of pop, rock, jazz and classical, and so on. During a few years I worked at Polydor, I have to say, humbly, I raised very fast from go-for-the-coffee to one of the youngest general managers of a major. By doing so I learned how a major company works. I learned how a production system works, because I was going to the studio and I was producing, myself, big French stars and selling millions of records. But here I am in the year 1960 becoming a very important man in the recording industry, but my salary was not so extraordinary. So when I produced two or three albums that sold, each one of them, more than two million copies, I did not sleep.
Which were those?
A French man called George Moustaki and another movie star called Serge Renée, who died not long ago, and a French movie star called Jeanne Moreau. We were mainly in French pop, French rock/pop.
So, local signings?
Local signings for Polydor, but I was taking care of the Bee Gees through the international licensing, I brought James Brown to Paris at the Olympia, bringing jazz musicians, and so on. I was really immersed in that life.
But you wanted to break out on your own.
In the middle of the year 1960 I decided to be independent, which was very new for that time. We had no independents in France, so I resigned from Polydor and I formed my own record company, Scorpio Music, which it still is today. That's when I started to produce my own records and to be attracted by dance. For example, I was the one that signed for France such early beginners in dance like "Kung Fu Fighting" by Carl Douglas, through my friend Henry Stone at TK Records in Miami, George McCrae "Rock Your Baby," Gwen McRae, KC and the Sunshine Band. Here I was, with all my background, suddenly rediscovering dance.
Where did you find out about these acts?
I was going out every night to the clubs, friends with the DJs, they showed me what was buzzing.
When did you go to the States?
Immediately after France, what is the next goal? America. I moved to America in 1973. I dared opening my own record company, called Can't Stop Productions, which is still there. Can't Stop the Music. I always was attracted by the sound of Philadelphia. So I opened my office in New York, and I opened a small talent scout office in Philadelphia.
I looked at him and said, "We're not gonna go to London, we're going to go to Philadelphia."
What attracted you to Philly?
Gamble and Huff sound. Teddy Pendergrass, Lou Rawls, all this combination of lush strings, drumming by people that were from the gods, like Earl Young, the first drummer, or Charles Collins, the arranger. Vince Montana was playing vibes for me in the arrangement of my first recordings. All of them were there. I became friends with them. I said to myself, if I ever have any idea to do something I would come back to Sigma Sound [Studios].
How did you meet Jacques Morali?
I wanted to be a producer in America, but I was looking for an idea. And in January '75 I bumped into a young guy called Jacques Morali. He came to my office because, on top of being a producer in France, I was also a publisher. Very good writers in my roster. Jacques was a salesman at the record shop at Orly at the airport, then he was hired at 24 as an A&R at Polydor for French artists. So he came to see me, looking for a good French song. I gave him the song, that song became a nice success. It was not dance – it was pop – but we became friends.
He told me, "I am always dreaming of going to do a recording in England, because I want to have a record that may work in the dancefloor in St. Tropez." In France, when you want to start promotion with a record, you start with St. Tropez in the summer, and after it crosses in the fall into the main cities like Paris.
One month later he came back and said "OK, Henri, do you remember the musicals of the '40s in America?" I said, "Of course, Busby Berkley" – things like this. He said, "Yes, I watched a movie on TV yesterday of Brazil with Carmen Miranda. Why we don't do this for the dancefloor for this summer in England?" I looked at him and said, "We're not gonna go to London, we're going to go to Philadelphia."
And then here we are in March at Sigma Sound doing a casting: hiring the three Ritchie Family, the three girls, going to the studio with an arranger called Richard Rome. (That's why we called the girls Ritchie Family.) Vince Montana, the vibes, Earl Young, the drums – the best. I cut the record, I go back to New York, try it in the clubs, enormous success, and here we are on the road of success.
Which clubs did you break it in in New York?
Well, mainly at the beginning in the gay discothèques, like the Ramrod, the Saint. We were played in all the underground clubs in San Francisco, Los Angeles, Philadelphia, but the record crossed to the radio station, thanks specially to a radio station in New York called WBLS, with...
Frankie Crocker, that became a friend. Frankie fell in love with that record and here we were en route for stardom. Crosses to pop, first success, '75, "Brazil," Ritchie Family. This record become success worldwide.
He was the link to radio success.
He was the link, exactly. He liked the record, and to bring in the ears of the radio listeners that new sound. And it was adopted by the people that, when we started to do the crossover from club charts, dance, disco charts, to the mainstream, through the local radios that were brave enough to play it. And when they saw the success of this on WBLS in New York, the big radio networks in America started to play disco music. That's where it exploded and became what they call mainstream.
What was the process of putting the Ritchie Family music together?
We write together – Jacques was writing the music, I was writing the lyrics. My English was okay, but not to the point where I would understand all the meanings of everything. This is why I was always writing lyrics hand-in-hand with local American adapters, lyricists. So if you look at the labels you will see Morali, Belolo, Victor Willis; or Morali, Belolo, Peter Whitehead.
And the arrangements, where did all that come from?
In France we have this tradition of beautiful, lyrical melody: the chanson. Then, when you add these melodies to the hard dance rhythms, more of Africa, that is why French disco is so strong. We were French, but we were so much into dance and club and we were exposed to the African rhythm. Also, I was in love with salsa and Latin music and percussion. In order to put the French music of Morali in a way that it would sound American or English, we were using American musicians and an American rhythm section, but the melody was very strong.
I was listening to the hits of the month on the dancefloor, but it was not really something pushing the people to dance to the point where they were screaming.
What reference points were you thinking of?
I started to go to discothèques in Morocco when I was 16. What I was missing on the dancefloor was the beat that will give me that "1,2. 1,2. 1,2." And all the records at that time were mixed for radio, and I was always frustrated that they were really scared to put the rhythm too much in front in the mix. That's why we recorded in Philadelphia, and at the mixing we were pushing the bass foot and the snare, and the guitars and the strings went in the holes, and the combination between the drums, the tambourines, the guitar with their picking and the way we were mixing it, you had to jump from your seat and go on the dancefloor. And we punctuated our mixing with gimmicks like "Hooooo" that were typically gay at that time, and we started to write lyrics about the joy of dancing.
This was radical, because working in the industry you knew that the way to make money was through radio. Especially in America.
Totally.
What made you realise you could do it through the clubs?
I was going very early to America, starting in '72, '73. I wanted to go out in the clubs, and I heard no music done for the clubs. I was listening to the hits of the month on the dancefloor, but it was not really something pushing the people to dance to the point where they were screaming.
I'd love to know more about the early nightclubs in Paris.
You had three big club owners in Paris that really were among the first. You have Régine. Régine's was called Jimmy's. Around the same time – we're talking about the end of the '50s – a very important man called François Patrice, and you had a third man called Jean Castell, that had a club – still has a club – called Castell.
When did French clubs start to play records instead of having bands?
This goes with the emergence of the recording industry. Really, the vinyl started to take off at the end of the war in France. One of the first men to bring vinyls to France was Eddie Barclay and his wife. He already had a small record company and was used to going to America very often.
He discovered the vinyl there, brought it to France, and because he was importing vinyls, they were in stores and people were looking for the vinyl, and the first vinyl factory started to open up in France and Europe. In clubs they were not able to play the first 78s – they were no good. At the end of war, between '45 and '50, we had more records available. The turntable factories resumed and with the invention of vinyl, they had to invent a turntable that was able to turn at 45, not 78.
But with the vinyl, you were able to import the music. It's as if you were importing the bands, 150 different bands. So the band started to disappear and they started to play records. At the beginning it was a mixture: band playing an hour and we are playing the records for half an hour.
And the more new records we had, the more the bands left the dance scene, and really, the DJ was born. Because to spin the record, the owner was doing it at the beginning, but very soon he realised that he needed someone. So, that someone was not a pro DJ, it was a young guy in love with music, that learned his business "in vivo" – on the dancefloor. So he was pushing the records. That's what I used to do in Casablanca in the '50s.
So you would DJ in between bands?
Yes, there were bands as well, and I was going, doing my set. The band were a little jealous because I was playing a record with a 50-piece band, who were mixed, and they were live. And the clubs were not really equipped to play a band live. You need amps for everyone, so the sound of the band was not so good.
The records sounded better.
It sounded better.
Which records did the bands particularly not like?
Rock & roll, when we started with Bill Haley & the Comets and things like this. The band were not able to play rock & roll. I mean...they knew how to play jazz, but not rock & roll. The drummer, the bass player, they had to learn. And in the meantime the record was so magic, you don't need the band any more. That's where the first DJs started to come into the scene.
Which were the first clubs, then, that really emphasised records instead of bands?
The clubs I mentioned never had a band.
All three of them had only records?
Never had a band. They started at the beginning of the '50s, directly with the records.
They were quite small places.
Small places, private, so already you had to fight at the door to get in.
Did you go to any of these?
Yes, when I was a youngster coming to Paris. Going to jazz club, I was going to Jimmy's, and Castell, and François Patrice.
Can you describe them for me? Describe Jimmy's.
Well, what I may call a caricature of a dance club. You already had the round, the what-you-call-it...with a spot on it, the boule...
Oh, the glitterball.
The glitterball, yes! Banquettes, a small DJ booth, not too big. A big counter where people are drinking. Very amazingly, everyone was seated. At tables and at the bar, everyone was seated. No one was standing except the people in the bar.
And the dancefloor?
On the dancefloor, people were dancing. And when the DJ started, the record people had to go from one table to another table to invite the girl.
OK. Very formal.
Very formal. And everyone was standing in line doing the same dance, when it was called the Twist, La Bustel or the Madison. You had a kind of combination between the people, because it was very convivial.
These were private members clubs.
Private, but of course, you can get in. Depends how you dress and if you know already another very important man or woman, the doorman. The what-you-call-it, the "physiognomist." And also, the music was not too loud, except on the dancefloor.
And the DJ set-up was two turntables?
Two turntables, on a table, a pile of vinyls, and that's it.
Of course, something we should never forget: we were, and we still are, going to clubs to cruise.
And what mixer set-up?
He was not mixing one record into another. Fade out, fade in with the new, or stop playing
They would never fade one over the other or segue them?
No, the technology of blending records was not available yet. That technology came, I believe, at the end of the '60s.
That was Jimmy's. Were the others the same?
They were all very much the same. The interior design was different. [suddenly remembering] There was a fourth club. I should not forget this one, because it is very important. Called Keur Samba. That club was very particular. Why? Because that club was owned by a black man from Senegal. He was very tall, very good-looking, and in that club you had a very trendy population of people, black and white mixed together, very good-looking girls. And we were going there because the blacks were dancing very well, and in that club they were playing trendy records, but also Latin and salsa music already.
What sort of year is this?
'63? '62, '63. It was in Saint-Germain-De-Prés. All the girls were falling in love with Keur Samba, and the ambience was really different from Castell, Régine and St. Hilaire. It was less formal. Much more like this, but very trendy. Because salsa music and Latin dance was quite new for us too, the way you were dancing cha-cha. And the combination of the salsa music and the trendy records was unique.
The dancers were incredible, and you can see some of the guys in the first black and white movies that France did at that time, with Brigitte Bardot. A movie called Et Dieu Create Femme – And God Created Woman.
It was filmed in that club?
No, it was filmed in a club in St. Tropez, but Keur Samba was in that movie, as one of the dancers does incredible salsa music, very lascivious and erotic, with Brigitte Bardot, and Brigitte Bardot's fiancée is really jealous. Roger Vadi, who did the movie, used to go to Keur Samba, and took from his memory what he put in that movie.
Did you know Régine?
I knew a lot of them because I was in the music industries. At first, I was bringing my records to the DJs. Second, I was a trendy guy: young, good-looking, with a good income, and cruising. Of course, something we should never forget: we were, and we still are, going to clubs to cruise. To dance, but to cruise. To meet people to socialise, but to cruise. We always go back to the same thing and if people are honest they will tell you, seduction, what a unique way to meet people, and what a unique way to share with a girl, or a man that you invited, depending if you like girls or men, something that you do in common: dance.
When did you first hear the word discothèque? When did they start using that?
When we had that shift from the place where you had a band. They were called "dancing" because you were dancing with bands. Strangely enough, even in French it was an English word. "I go to le dancing." And in France it was bands playing mostly accordion, because the dance at that time was musette, the waltz, tango. People were dancing – they were always dancing.
When we started to play records we needed something with a sound more appropriate, and more cosy. That's how the first places that will be called discothèques started to be built and designed. End of the '50s. So you had to give a name to those places. "Dancing" was not representing what it was – it was those big places where bands were playing. So they called them discothèque, because discothèque means...Like a bibliothèque means shelves with books, discothèque is also a French word, meaning a place where you store your records.
If I tell you, "Come see my discothèque," you're gonna see two things. You're gonna see a physical place where I store my records, but it means, also, the amount of records I have are my discothèque, my library. So it was obvious to be called discothèques. That's where you played disques.
When did it get shortened to disco?
To be quite frank with you, we already would use this, us French, as a contraction of discothèques. Very often, in slang, when we are talking amongst us, instead of saying the long word, we just say "we're going to the disco." It was a place.
One story is that the first discothèques were in Marseille. Do you know about that?
I don't know. As far as I'm concerned the trendy place, the starting place, was Paris, but it is true that on La Côte d'Azur, and perhaps even more St. Tropez or Cannes or Nice, the people going in the summer after the war were dancing in outside places, not inside – in outside place, with bands. And they were very trendy, because that's where you were going during the summer. I'm sure you heard about it.
In the '40s, early beginning of the '50s, Marseille was known as a cosmopolitan place, and it is possible, because when the Americans and the English came to deliver France, they started with the south. Marseille was a big city, so perhaps the mixture of the American music brought by the GIs triggered something there. It's very possible. But I'm not quite certain. I really think that the entrepreneurs that believed in it were based in Paris and were emigrating every summer, as they still do, to the Côte d'Azur. At one point Régines had a winter place in Paris, but she had a summer place in Monaco.
Which of the club owners is still alive?
Régine. Eddie Barclay, François Patrice. Jean Castell died a few years ago, but his club is still open.
How about the guy from Senegal?
Keur Samba? Quite frankly, I don't know.
Hugh Hefner's parties were nothing compared to the ones Eddie [Barclay] used to throw.
Tell me about Eddie Barclay.
Eddie Barclay was a tall good-looking man. He knew how to play piano. He was a jazz fan, and he was one of the first amongst the music and the people in the industry in France who dared to go to America. His English was barely good. I ask him, "How did you make yourself understand?" He say, "Well, I have a translator with me." Anyway, he was a good-looking man, very attractive, and his wife was also very attractive. His wife at that time, because he had eight wives.
Seriously.
Yes, he got married eight times.
And he started the modern record industry in France.
A lot of record companies, who were not already the majors, gave him their representation for France. So in France he was really the trendy man, and he stayed like this for 50 years. He gave the biggest parties and all the stars were in his house. Mick Jagger, Otis Redding, James Brown – you name it. He sold his company, I think, 15 years ago to Polygram, and that became Universal, and Barclay is still a label, a part of Universal.
Did he teach you a lot?
He taught me by the way he was, and the way, unconsciously, I wanted to be. He told me one day, "Wow, God, you did something I was never able to do. You are successful in America." And I told him, "I am successful in America because some of my challenge was to do better than you." He said, "You're right – you did it, son." And we were back in business, many years after I was his employee, when I produced Patrick Juvet with "I Love America." Big hit.
So you gave him his hit in America.
Exactly. And Barclay loved America, always.
How did he get into it?
Well, he had a bar. He had a bistro, we call it, so his family was coming from a region of France called Auvergne. He was an Auvergnier a lot of bistro here are run by Auvergniers. So he always used to go by night and play pianos in piano bar. He loved to play piano. So that's how he started to get acquainted with musicians, and he started to hire some of them to have his first record company. And he told me that the records he was selling to the few stores himself, with a bicycle and some trolley behind it.
He started like this to become one of the most successful men in the recording industry, even in America. If you speak to [Ahmet] Ertegun, anybody, they will tell you that Eddie, he's the guy with big cigar. He had the best chef in his house, his parties were splendid. Hugh Hefner's parties were nothing compared to the ones Eddie used to throw. So he was really the man in the recording industry. And he was used to go dancing. Every night he was at Régines or Castell.
What about Régine? What was she like? She was the hostess?
No, she was less than the hostess at the beginning. She was at the door. She was doing the door, and hanging the coat check. And she had that reputation to be a bitch at the door. It was very difficult to enter.
This is which club?
This is Jimmy's. She became successful because she's a very talented woman in public relations. She was good-looking, she was cruising a lot, and she started to be very trendy, and in the jet set cycle, very soon. The Duke of Windsor and the Duchess of Windsor used to come and learn the Twist on her dancefloor. So when she formed her own name, Régine's club, and ended up ultimately with Régine's in New York, and in Florida with Régine's, she was not only a club owner: she was also a PR inside, she was dancing with everyone.
She was, I think, one of the first who invented the notion of having a restaurant inside the club. That was very new. We were going to clubs to dance, and suddenly we have a club where we can eat near the dancefloor, or you can stay seated at your table and go dance and come back, or from your dining table go into the VIP area near the dancefloor. She was among the first to create a club with a dining room and a dancefloor, and it was Régine's.
That was the place for the Nouvelle Vague.
Yes, of course. If you wanted to be trendy, you had to go to Régines.
Can you remember going there?
I was trying to dress well, because contrary to François Patrice at St. Hilaire, you had to dress wel. You needed a tie, at the beginning. You needed to be well-mannered. She did not like someone behaving strangely. But the most beautiful, good-looking girls of Paris were there, the most trendy people. When I had a record company, it was important for me to go there because I was meeting all the newspaperman, the people from the radio, the TV. Everyone was there. So it was a very strange place, where you were the actors of a night scene and everyone was watching the other and cruising the other and making his business with the other. We were going out from the club only when it was five, six o'clock in the morning.
And the dancing was wild?
Yes. Very wild. Always. A lot of ambience on the dancefloor. Everyone dancing. Of course, you are taking out your tie and your jacket and you go out dancing. And you are dancing near Jeanne Moreau, Brigitte Bardot. For us, we were not known at that time. We were so proud we mixed with those... Like, when we are going to Studio 54, and there you were with Bianca Jagger, Andy Warhol, Steve Rubell doing his thing, everything.
So tell me more about working with Jacques Morali. The story of the Village People.
Morali was gay, I was straight. We were getting along very well. I was lucky, because through Morali I understood the gay attitude and the underground scene.
So he would take you clubbing.
Yeah. Very hard clubs sometimes, on the West Side. God, leather and... But the music was very good.
Can you remember any in particular?
One was the Ramrod. It was a leather hardcore club but the music was incredible. The DJs were very good. Only men, dancing between themselves. I was dancing with everyone. I didn't care at all. But through that I understood the gay scene, the gay mentality, and how interesting it was, because those people were very alive, enjoying life, enjoying the nightlife.
What other places?
He took me to Fire Island, in the tea dance party – incredible. The best DJs in town, the sunny terrace. We were four, five thousand people dancing on the terrace and looking at the sea. It's Ibiza of today. We were watching the sunset, and the DJ, as the sun set, went from uptempo to midtempo. The Ice Palace, because we put the name on one of our first songs, called "Fire Island." It was a thank you. Jacques told me about the bushes on the beach where people go there to do their thing.
The "meat rack."
That's where I wrote, "Don't go to the butchers, don't go, someone might grab you, someone might stab you." It was a double entendre.
And where did you get the idea for the Village People?
Jacques, because he was gay and always wanted to do something for the gay community. "One day, I will do something." We didn't know it would be a group with male characters. Around '78, the big one. We were walking down the street in the Village. I think it was Christopher Street. Jacques and I, we heard bells, and this man dressed like an Indian passed by, and we saw him with his foot bells going into a bar. Jacques look at him, very interested and told me, "Oh God, he is good-looking, I'm thirsty!"
So we entered into the bar, and the Indian is Felipe, young and skinny. He was a bartender there, and every 15, 20 minutes he was going on top of the bar and doing disco stuff in his Indian attire. There was a DJ in the bar and they were mixing the music between disco and some Indian tribe music.
So we're looking at the Indian, and on my left I saw a cowboy, like the Marlboro cowboy. Stetson on his head, a moustache, good-looking, looking at the Indian dancing. And Morali turned to me and said, "Oh God, are you thinking what I'm thinking?" I said "Yes, but two guys only, it will be vaudeville," so we started to think about the male characters that mean something to the gay community, with that double entendre. So we took a piece of paper.
You actually wrote it down.
Yes. We even thought about putting in what Jacques was calling the man-next-door or the boy-next-door. Very good-looking, preppy. The plain straight guy with his attaché case, the businessman going from Wall Street. But finally, we end up building the six characters of the Village People on the piece of paper. Jacques was very outspoken and told him, "Hey you, Indian, you want to be in a group?" That's how Felipe was the first one to join us.
For the American record industry it was a revelation, because we were showing them that we were able to sell 100,000 albums with no play on the radio.
Then we did a casting. We put an advertisement in the Village Voice, and two nights later we were in a big warehouse. It was madness. We had around 60 people all dressed up because we said what characters we wanted.
So you had a bunch of policemen, a bunch of construction workers.
Exactly. I remember a guy came up to me, said "Sir, this is not Halloween." I said "No, we want to form a group." Finally, we had five characters, we needed to find the sixth one, the lead singer, that would become the cop. So the night after we were invited to a play on Broadway called The Wiz. And that black guy on stage had an incredible voice, Victor Willis.
He was the Wiz?
Yes. We went backstage. He was straight, not knowing anything about the gays except that he was not really liking them. And we told him what we wanted to do, and at first he said, "Go to hell." Until he heard some of the music.
The first Village People album, we launched it through the clubs. It was very new at that time to have the groups going to the clubs and playing for free. We shot the video clip outside of New York in the Catskills. We sold 100,000 albums like this, just through the clubs. And for the American record industry it was a revelation, because we were showing them that we were able to sell 100,000 albums with no play on the radio.
What attracted you to Casablanca Records? Was it because you'd grown up in Morocco?
With the Ritchie Family, Patrick Juvet, Dennis Parker and a lot of our acts, we went to Casablanca. It was a very trendy label. Neil Bogart was known as an entrepreneur who had the guts to take risks, and he was a very good promoter. He had a very good relationship with the radio pluggers and things like this. So I called him one day. He said, "I'm glad you called, do you have something for me?" I said, "We just finished an album – I cannot explain on the phone what it is. I'm coming to visit you with Morali."
So we fly to Los Angeles, we go to the Beverly Hills Hotel, in the grand manner, and the night before going to that meeting, we tried the music for the first time in a club. At three o'clock in the morning I see 3,000 people on the dancefloor. The DJ links the Village People "San Francisco" to another record, and we watch it from the DJ booth, and we are scared like hell. Half of the people leave the dancefloor. Thirty seconds later, when the hook comes, we hear a big scream and the people got back to the dancefloor, and that DJ played that record twice, one after the other, and the people were screaming. So he looked at us and he said, "You got something, guys."
So you can imagine what state of mind I was in the day after when I was in Neil Bogart's office. I look at Neil Bogart and I say "OK, why did you call your record company Casablanca?" He said well, "Because of the movie Casablanca. My real name is Bogarvitz, OK, but because of Humphrey Bogart I called my record company Casablanca." I tell him, "Well, you know I'm born in Casablanca." So I took out my wallet to show him my ID: born in Casablanca.
He pushes the intercom and tells the 45 employees, "You gotta come here. I've got a surprise for you." So here we are, 45 people looking at us because I'm born in Casablanca. But I was very lucky, because I had all the staff in the same room, so Neil played the Village People. He played the whole album. And everyone was raving and shouting at the end of the play. Kissing. And that's how we started with Casablanca. We were lucky, because he really knew how to promote the records. And he was hot with Kiss, with Donna Summer, I mean, he was really on top of it at that time.
There was a lot of craziness at the label.
Yes, definitely.
Sex and drugs and rock & roll?
Surely true. At regular hours a car would go in the parking lot and some delivery of pizza or something, and some plate with sugar on it. I was not into it. And I said, "Oh, I understand why so many people are rolling the one dollar bills." That's how Casablanca was. But, on top of it, it was a very serious record company. We were very lucky to be with them.
Did you feel you were being subversive, because of the Village People characters?
Not only subversive, also provocative.
Did you think about the political side of it? Gay liberation and things like that?
Not at the beginning, not really. We were keen of doing something for that, because Jacques was gay, and I was feeling that an injustice was done to the gay community. And I did not like that American mentality of bigotry and hypocrisy. And I didn't see why these people would be treated like this. Like black people, as well – I did not like the way they were treated. So I was not doing this, really, as a businessman trying to make a fortune, and it happens anyway, after. But I always say what comes from the heart goes to the heart. I really did it as a provocative, subversive way of telling you, "This is the way it is."
But I have to say, in the group, in all honesty, not all of them were gay. I'm not asking someone his sexual preference. They were very natural about it. "I'm gay, I'm gay," and that's the way it is. When we had the success with "Y.M.C.A." and Casablanca Records asked us to do a real live show and the movie – Hollywood started to be interested and wanted to do a movie about disco music – Jacques and I we really went deeper into the double meaning.
And did the U.S. Navy really use "In the Navy" for its recruitment ads?
Video clip was something very new, you know. I was in my New York office and I had a call from an advertising company that was in charge of budget of the American Navy. The recruiting was going down and they wanted to do some advertisement for young people to engage in the Navy. They told me, "We love your song. We think it can be a perfect spot for Navy recruitment."
So I am having the nerve to say, "I have nothing against it, but I want the Navy to help me. I don't want any money. I want them to give me a loan, I want a warship and 200 navy men. And five planes." He said "OK, I'm going to call you back."
Here I am later, at the Pentagon, meeting this admiral and his aides and going through the campaign and what is needed. They showed me pictures of big warships that were in the naval base of San Diego, California, and they said, "OK, which one do you want?" So I picked out one, and I wanted 200 navy men. "And you want planes?" I said "Yes," because in the clip I want the planes to be like a star.
So we do the video clip, the Navy starts their advertisement campaign, I'm back to New York and same week: Catastrophe! The New York Times, The Washington Post make the headlines that "The American Navy is using the tax money of the people to finance a video clip of a group with unknown sexual..." So, the Navy cancelled their advertisement, and they said that it was for budgetary reasons.

He shows a framed certificate from the U.S. Navy.

"To Henri Belolo of Village People, in recognition of the outstanding contribution of your new release 'In The Navy' to the morale of USS Reasoner, to the cause of Navy retention and the support of Navy recruiting, the commanding officer USS Reasoner takes great pleasure in designating you an honorary Reasoner sailor with all rights and privileges, none of the duties and responsibilities that go with it."
It's hard to believe that America really didn't realise what the characters represented.
Yes. That's how we took fantasy to the dancefloor, and up to today people are dancing to "Y.M.C.A." and "Macho Man," and strangely enough, all those gay stereotypes ended up in Friends, in Terminator with Schwarzenegger, with Eddie Murphy in Dr Doolittle dancing to "Macho Man." The miracle was in Morali's melodies. They were so popular. The melodies are so strong, they have a strong virus and hook in them, that when you hear them what stays in the mind of the radio listener is the melody and the hook. It became pop history. And it's part of culture, of American heritage. And people are often surprised to discover that two French guys were behind it, amazingly enough.

This interview was conducted in Paris in October 2004. © DJhistory.com