Interview: Karl Xtravaganza
The House of Xtravaganza member and former bartender at Tracks shares tales from the frontlines of vogue in New York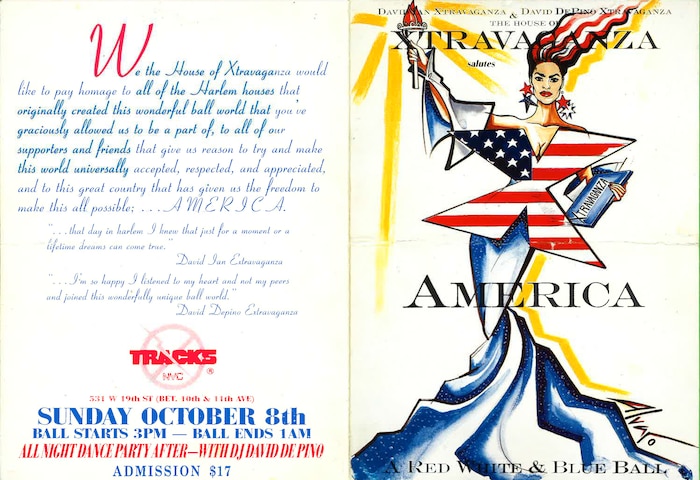 Back in the mid-1980s, David DePino's Tuesday night sessions at Tracks in New York became a launching pad for voguers who later made Sound Factory their home in the early '90s. It was at the Chelsea club that vogue families like the House of Xtravaganza brought the competitive artistry of the ballrooms in Harlem and Brooklyn into the downtown clubs en masse for the first time. Founded in 1982 by Hector Valle, The House of Xtravaganza went on to become the most prominent House at both Tracks and Sound Factory. Thanks to Jennie Livingston's film Paris is Burning and Madonna's "Vogue," the Xtrava's, or Ganzas (as they are known to members), also reached far beyond the underground.
Karl Xtravaganza joined the House in 1986 and has been an active member ever since, working behind the bar at Tracks and participating in many of the balls and battles at the club. In this interview, he shares some of his memories from this fertile creative period. With the sad and untimely passing of many of the vogue legends due to AIDS, his words serve as a tribute to those who brought the ballroom scene to Tracks.
How important was Tracks in bringing the artistry of the ballrooms into a club?
Ballroom and Tracks collided at just the right moment, and [David] DePino was the catalyst for it. In the late '80s, Elks Lodge in Harlem, the traditional ballroom home for many years, was no longer available to host balls. At the same time, Chi Chi Valenti and Donald Suggs were putting a spotlight on the ballrooms in articles for the Village Voice, Details, The Face and other publications.
It was David DePino who got the management of Tracks to agree to host their first ball in 1988 [the Xtravaganza Black & White ball]. That allowed the balls to move downtown just at the moment when awareness of the ballroom subculture was beginning to spread. Because Tracks balls were hosted in a proper nightclub, the production values were higher than the earlier DIY balls in Harlem. The club always made sure there was a fashion show-style raised runway, helped design the flyers, had a great soundsystem and proper security, so things wouldn't get violent. These are things we take for granted at many balls today, but they were a huge evolution in ballroom for the time. If you watch the footage from Paris Is Burning of the balls in Harlem, you get a sense of how different bringing the balls downtown to Tracks was from those earlier uptown balls. All of that helped to bring in the downtown club kids, fashionistas and people in the music industry.
In short, what Fab 5 Freddy was to the hip hop scene, David DePino was to the ballroom scene. He bridged uptown and downtown and helped to create a new synergy in the process.
How important had the Paradise Garage been to the House of Xtravaganza?
The House of Xtravaganza was started in 1982 and made their first ballroom appearances in 1983, overlapping with Garage's zenith of creative influence. The Xtravaganza founding members didn't come from other houses, but rather were recruited from hanging out at the Christopher Street Pier and clubs like Garage. Many other ballroom kids went to Garage. However, no other house displayed the sense of unity and sheer force of size that the 'Ganzas did in the club.
Each ballroom house is a bit like its own nation; each has its own unique culture and personality. Without doubt, Paradise Garage helped to establish the culture of the House of Xtravaganza that was in many ways different from all other houses of the period. Production values were very high at Garage; the shows, the décor, the bringing together of different creative talents. All of that made an impact on the House of Xtravaganza in defining their own tribal culture, and still reverberates in the House today.
The unique thing about Tracks was that kids weren't waiting for "voguing records" to come on. They were voguing all over the club and to everything!
Ballroom culture, by nature of it being a closed subculture, was generally not very receptive to outsiders. By contrast, the House of Xtravaganza was very open and interested in building bridges between the ballrooms and the larger world. This was markedly different from other Houses – and because the Xtravaganza's were very visible in clubs like Garage, with strong allies like David DePino, Junior Vasquez, Freddy Bastone and Peter Rauhofer, they were in a unique position to take advantage of opportunities not available to other houses. That's not to say that there were not individuals members from other houses open to opportunities outside of the ballrooms (Willi Ninja being a prime example). However, only the Xtravaganza's approached it as a collective House. Part of the reason House of Xtravaganza members are the most credited in Paris Is Burning is because they were far more open to working with director Jennie Livingston when she began attending balls in 1986, whereas many other ball kids were suspicious of outsiders.
The influence of Garage also helped to plant the idea of the House of Xtravaganza as "a brand," both in and out of the ballrooms. So whether you were a clothing designer, drag performer, DJ, singer, model, dancer or visual artist, you publicly used your Xtravaganza name and House association. That individual achievement helped to shine the light back on the House as a whole.
Had you seen voguing at the Garage?
There was voguing at Paradise Garage – usually off on the sidelines or perhaps very early on Sunday morning after the dancefloor had thinned – but it wasn't really a voguing club in the way Tracks was.
Would you say that Tracks was the first club where you saw serious vogue battles?
There were other clubs where ballroom kids would gather and battle, such as Midtown 43 and Better Days. Tracks was the first club that put the vogue battles front-and-center, and really catered to the ballroom kids.
Tracks is most associated with Xtravaganza. Why did it become such a predominant House?
The Xtravaganza's owned Tracks! If you needed proof, there was a sign, designed to look like a street sign, which hung over the dancefloor from the staircase that led up to the DJ booth. It boldly proclaimed to everyone in the club: "XTRAVAGANZA BLVD."
If a DJ is not really into the ballroom scene and enjoying it, it's probably a nightmare. It's not something your regular dancefloor DJ can pull off easily.
By the time David's residency at Tracks started, he was a member of the House. Several other House members also worked at the club. The first ball held at Tracks was the Xtravagaganza Black & White ball in September 1988. So while a wide mix of ball kids came to the club, and the club would eventually host balls for several houses, it was clear that Tracks was Xtravaganza territory.
Public interest in the balls was growing, we were open to the interest, and the Xtrava's had the talent to hold the interest.
Why was Tracks so popular with the Houses?
I would say that pretty much from the start of DePino's residency at Tracks in 1985, the ball kids were there. There was no doubt many factors in why that was. Location was certainly a big part; the ball kids hung out on the Christopher Street Pier and Tracks was only a short walk away up the West Side Highway. Paradise Garage closed a year later, and David's residency at Tracks was a place to go and continue to enjoy the music and many from the Garage crowd. Tracks was also a fairly inexpensive place to go and hang out; it didn't cost much to get in and drinks were cheap. Security at the club was there to prevent violence, but just about anything else was overlooked, and it was a very chemical-fueled crowd (like most NYC clubs of the period). More than anything else, it was the first big club where the DJ really played specifically for the voguing kids. In most clubs before Tracks, kids would vogue off to the side or in a secondary room or lounge, but at Tracks voguing was front-and-center. David gave the voguing kids an incredible platform to show off to one another, as well as to the wider crowd that had started to come.
Looking back on it, to this day it amazes me that David would get 2,000 people in Tracks on a Tuesday night – and the club would be pumping until five or six in the morning. Every Tuesday, without fail! That is a great testament to the loyalty David elicited from the ball kids and others who went to hear him spin at Tracks.
What were the big Tracks vogue records?
The mid and late-'80s were what we might now consider the golden period for voguing, so classic tracks like "Lovebreak," "Let No Man Put Asunder" and "Trans-Europe Express" would be prime for battles. House tracks like "Koro Koro (No Smoke)" and "Break for Love" were huge voguing records at Tracks; the breaks and drama perfect for voguing. It was also the beginning of "bitch tracks" such as "Just Like a Queen," which were basically custom made for voguing. There was "Elements of Vogue" by David Ian Xtravaganza, which DePino did with Johnny Dynell. The track was basically a step-by-step instruction in the art and attitude of voguing.
The unique thing about Tracks was that kids weren't waiting for "voguing records" to come on. They were voguing all over the club and to everything! I remember kids in Tracks voguing to Soul II Soul – so it wasn't limited at all to what would be played at balls.
Can you describe David DePino as a DJ?
The word that most comes to mind when I think of David spinning is "generous." He gives all of himself to the crowd: his humor, his drama and his love for a good party. Unlike many DJs, he always looks like he's having just as much fun in the booth as the people on the dancefloor. He's up in the booth dancing, laughing, posing, singing loud. He's having a blast and there is a contagious factor in that. And he never selects tracks to show off his knowledge of some obscure song – it's always all about moving the crowd and keeping them happy because he, in turn, feeds off that energy.
His aesthetic as a DJ was very much shaped by his apprenticeship with Larry Levan. Of course, many New York-based DJs were influenced by Larry, but they were generally aspiring DJs who looked to Larry as a role model. David didn't originally aspire to be a DJ, but rather he fell into it almost by accident, because of their unique friendship and the trust Larry placed in him. A night with David in the booth is steeped in R&B, disco and house classics but, like Larry, he is not limited by those genres. During the years at Tracks, I remember him mixing in songs like Wham's "Everything She Wants," Sting's "Set Them Free," Steve Winwood's "Higher Love" and "Paid In Full" by Eric B. & Rakim – all without anyone walking off the floor.
There were also differences in the way Larry and David would spin. With Larry you were on an emotional rollercoaster tied to how he was personally feeling at the moment, for better or worse. With David it was always joy – pure joy. Even in an emotionally difficult moment, David would never take it out on the dancefloor. I remember a night shortly after David's mother passed away. He ended the night with some amazing mixing of "I'll Always Love My Mama" by the Intruders. If you knew David, you understood what was going on inside of him and why he was ending the night on that track, but it was done in a way that was a celebration on the dancefloor – it was pure joy, as any night with David in the booth always is.
What other Houses would go to Tracks?
You had kids from all the other houses going to Tracks, which is what made the battles so fierce: Africa, Chanel, Dupree, Ebony, Field, Labeija, Magnifique, Montana, Ninja, Omni, Pendavis. They were all up in there. It's important to keep in mind that while there are rivalries between houses and the battles can be intense, there is also a lot of camaraderie.
Can you describe a vogue battle at Tracks? Are there any particular ones that stick in your mind?
The unique thing about Tracks is there wasn't a specific "battle zone" – there were battles happening all over the place. On the main dancefloor alone there were three prime areas for vogue battles – and sometimes they would spill over and merge together. I can recall one night when exactly that happened.
It was the area under the DJ booth, which was the prime battle zone for the Xtrava's. Danni Xtrava and David Ian Xtrava was voguing together – not really a battle, but more friendly competition. There was a big battle happening in front of the raised stage, with five or six kids from different houses going at it. Somehow the larger battle migrated across the dancefloor to the Xtrava area, the five or six kids from other houses forming a kind of "voguing circle" around Danni and David Ian. Danni and Ian, who had spent countless hours voguing together, instinctively turned back-to-back, facing the kids all around coming for them. Danni and David seemed to vogue in perfect unison, despite their being back-to-back and not being able to see each other. One by one they picked off the kids circled around them until they were done. It was an amazing display of grace and intuitive coordination, the likes of which I've never seen again.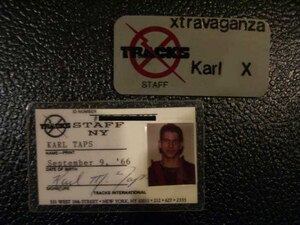 How different were the battles at the club compared with the Ballroom?
Dancefloor battle can be much grittier than a ballroom battle, since they happen outside of the "rules of the runway" and anything can happen. On the flip side, there is less at stake, so dancefloor battles can also convey more camaraderie than when a grand prize is at stake.
DJing for a ball is also very, very, very different than DJing for the dancefloor. Categories tend to have specific tracks to accompany them, certain well-known walkers have particular theme songs, and the DJ has to know all of these ballroom specificities. He also has to pay very close attention to the direction from the MC and continually start and stop the music. If a DJ is not really into the ballroom scene and enjoying it, it's probably a nightmare. It's not something your regular dancefloor DJ can pull off easily. Today Vjuan Allure is the best ballroom DJ in the scene – he also recently worked on the new RuPaul album – but ballroom DJing is a true specialty.
Would you say Tracks was as important to the Houses as Sound Factory?
Both Tracks and Sound Factory were important to the Houses but in very different ways. Even though people like Patricia Field, Leigh Bowery, Keith Haring, Grace Jones and Andre Leon Tally would come to Tracks, it didn't have the sense of being a glam club. Tracks was "family." Tracks was where we polished and refined our skills. Tracks was a launching pad. Keep in mind that Tracks with DePino spinning was Tuesday nights, and later also Friday nights.
Sound Factory was something very different – the club was designed and built on the Paradise Garage model. Tracks was big, but Sound Factory was cavernous. The big night was at Factory was Saturday, which always draws a broad crowd. Madonna's "Vogue" and Paris is Burning came out as Sound Factory peaked, so the ballroom scene was no longer an underground "in the know" thing. Junior Vasquez loved the energy of the voguing and runway kids and many of his own tracks of the period were really written for voguing kids ("Dub Break," "Just Like a Queen," "Gotta' be a Drag," etc.) – but he also had to balance that with playing for a much broader crowd.
For the Xtravaganza's we were fortunate to have a close relationship with Junior Vasquez, as we did with David DePino. Again, it was the Xtrava's openness to be a bridge between the ball scene and the larger culture that provided that opportunity. In addition to the Sound Factory being a showcase for the House of Xtravaganza, it also resulted in Junior Vasquez's classic house track "X," which was inspired by and dedicated to Mother Angie Xtravaganza.
Are there any balls at Tracks you remember?
I attended nearly every ball hosted at Tracks and also walked in quite a few. The 1989 Xtravaganza "Red, White & Blue" Ball is particularly memorable, as it was one of the first balls which has a theme which carried through all the categories. I remember Keith Haring coming to support, even though it was just a few months before he passed. Patricia Field and all the crazy creative House of Field members came to walk. It was a moment of amazing anticipation and in some way we sensed that the scene was about to explode – it was the last moments of being "underground." Just a few months later Madonna did "Vogue" with Jose & Luis Xtrava, Paris Is Burning was released, and then the whole world was watching.