Interview: Sonic Youth's Lee Ranaldo
The experimental instrumentalist, visual artist and Sonic Youth co-founder on his early days in New York City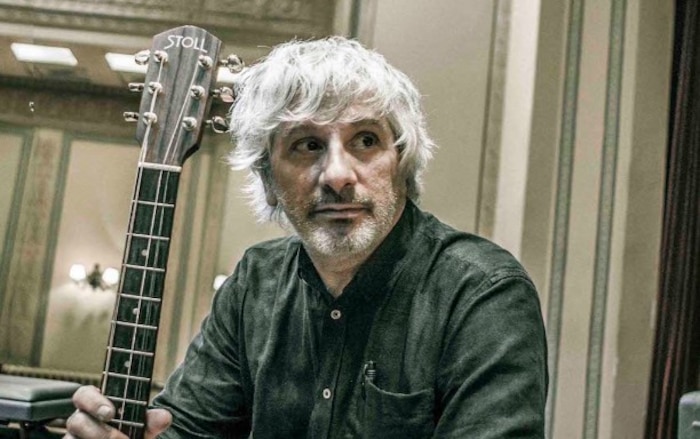 A musician, composer, visual artist, writer and producer, Lee Ranaldo is best known as part of seminal underground rock outfit Sonic Youth. Growing up on Long Island, he developed a love for psychedelic rock and early punk before finding his way into New York City's thriving avant-garde and No Wave scene in the late '70s and early '80s. After performing in a number of groups, including Glenn Branca's electric guitar orchestra, he later co-founded Sonic Youth alongside Thurston Moore and Kim Gordon. During the band's 30 year run, Ranaldo's role was often understated, but absolutely essential, as his textural guitar work provided a counterweight to Moore and Gordon's hypnotic back and forth.
Although Sonic Youth was his primary gig during those years, Ranaldo always found the time to release his own work – his debut solo LP, From Here to Infinity, surfaced in 1987 – and collaborate with other artists, including Christian Marclay, Alan Licht, Jim O'Rourke, Nels Cline, William Hooker, his wife Leah Singer and countless others. Many of these endeavors were experimental in nature, but following the dissolution of Sonic Youth in 2011, some of his more recent offerings, including 2012's Between the Times and the Tides and 2013's Last Night on Earth (with new band the Dust) have been relatively pop-oriented. Outside of his own musical compositions, Ranaldo has also produced albums for several bands, written numerous books and exhibited his audiovisual work at a variety of galleries and museums around the globe.
In this excerpt from a recent conversation with Arno Raffeiner for RBMA Radio, Ranaldo reflects on his earliest years, touching upon his surprisingly musical childhood in suburbia, the fertile creative environment of late '70s/early '80s New York City and his time spent freaking out European audiences on the first Sonic Youth tours.
Growing Up
I grew up in New York state on Long Island in a pretty typical American suburban situation. I had a pretty typical late '50s into '60s suburban upbringing, a middle class upbringing.
My mother was a pianist, so there was always music in the house from a very early age. I remember watching the Beatles on Ed Sullivan. My father brought home those early Beatles records, the very first ones that they did in America. There was always music playing on the radio in the kitchen. From a very young age, I had a record player and 45 RPM singles.
I started playing guitar seriously when I was about 13 years old. When I was a teenager, I started playing with friends in my neighborhood – little combos, little bands and things like that. I played music a lot through my high school years.
Music was a very serious part of my life from the Beatles and British Invasion stuff – the Kinks, the Who, the Stones and things like that. Then a little bit later, in the late '60s, the music coming out of the San Francisco psychedelic scene. The Grateful Dead, Jefferson Airplane, Quicksilver, and bands like that were very, very important to me. They seemed to be combining the kind of rock & roll I'd heard on the radio with a more improvisational technique that you maybe would have thought of as coming out of the jazz world or something like that; it was open-ended, free-form, and had what some would call jamming or extended musical sections, which I found really interesting.
College Transformation
I went to university in the mid-'70s. I didn't really have any expectation of the idea that one could actually have a career in music. It seemed like something that other people did. I was a pretty good student and I was being geared towards a career in science and math or something like that. I'm not really sure what that was going to be.
You had people talking about music and art, and trying to do pretty radical new things in both of those areas at a time when nobody was successful, and everybody was just kind of striving for something new.
When I got to university, I got very involved in visual arts, which had also been an important part of my youth but, again, something that I never took seriously to the extent of thinking that it was something that I would do as an adult. At university, I found that the only people I saw around me that were happy with what they were doing in school, that weren't slugging through textbooks and beating their head against the wall to try and prepare for exams and stuff, were the friends of mine who were art students. It renewed a spark inside me about visual art.
I transferred into the art department at my university in Binghamton, New York. It really opened up an entire world to me to think that I could seriously pursue visual arts as a vocation. It was really quite remarkable to move in that direction, because it opened me up in so many ways and was a very important and influential part of my life, those years of studying visual art.
Punk, No Wave and New York City
In my last years of school – 1976, '77, '78 – punk exploded in New York and in England. It was very intense, and it was very moving. It was obviously being made by people who were nearly amateurs in many cases. They weren't people with chops like Clapton or something like that. I started playing music seriously again.
We were listening to what was coming out of England: Sex Pistols, the Clash and stuff like that. We were listening harder to the things that were coming out of New York: Patti Smith, Television, Richard Hell and the Voidoids and all of those bands that they called the No Wave bands that Brian Eno put on that No New York record: Teenage Jesus and the Jerks, the Contortions, DNA, Mars and a bunch of others like that. Those were the groups that were playing in New York when I first started coming to the city, first coming down on weekends from my school and then later moving there. I was able to see all of those bands play in New York before things shifted. The No Wave bands had a very brief career, and I was lucky enough to see all of those bands before they all kind of sparked out and died. That was all very, very influential.
It was at a time when the art world was also exploding. New York was the capital of the art world and all of this really interesting stuff was happening in New York. The Metro Pictures artists like Robert Longo, Cindy Sherman and people like that were coming to the foreground.
In that period when I moved to New York, it was really interesting, because both on the fronts of the art world and the music world, you had all these young people that had moved to New York to do various things. Most of the people that I've met playing music had also moved to New York as artists. You had people like Glenn Branca or Arto Lindsay, who had come to New York to do theatrical-based stuff and ended up in the music world. You had people like Robert Longo that ended up becoming pretty well-known in the art world, but had started out in New York playing music in the clubs, in different bands.
You'd go out at night and there'd be Jim Jarmusch, who was playing in a band but also starting to make films, or someone like Vincent Gallo, who was playing in bands but trying to become an actor, or Jean-Michel Basquiat, and all of these people were on the scene at the moment. You had people talking about music and art, and trying to do pretty radical new things in both of those areas at a time when nobody was successful, and everybody was just kind of striving for something new. It was a super inspiring time in New York, before people got famous and started to separate out into their separate streams.
Sonic Youth: The Early Years
I moved to New York with a couple of friends. One of them was an instrument builder and the other one was a cinema student. I was a painter and a printmaker. We moved to New York to start playing in bands and we played around New York, played at CBGB and played at Max's Kansas City a few times right before it closed.
That band was called the Flux. We were doing our thing. Then it fizzled out right about the time that I met Kim Gordon and Thurston Moore. We joined forces and started this band called Sonic Youth.
During this period, there certainly wasn't an internet and there wasn't a network of music papers or anything like that were distributing information about things that were happening in Manhattan. There also weren't really any record labels to let that music out, which is why Glenn Branca started his label, Neutral Records. He had some funding from a partner from the art world, a guy named Josh Baer, who was a gallerist and whose mom was a famous minimalist painter. Josh put up the money and Glenn decided he was going to start a record label. He saw a very early performance of Sonic Youth.
When Sonic Youth started, we played with just the three of us – Kim, Thurston and I – without a drummer for, I don't know, six months or eight months. We did a whole bunch of gigs in art galleries, just the three of us kind of bashing on guitars with drumsticks and playing very primitive early songs.
We didn't realize how freaky the music we were making was. People were really freaking out.
Then we got this drummer, briefly, this drummer Richard Edson, who later went on to star in one of Jim Jarmusch's first films called Stranger Than Paradise and kind of left the music world to become an actor. Glenn saw the first gig we did with a drummer and immediately asked us to be the first record on his label. We had this very early opportunity to make a record and get music out there and distribute it. However small-scale the distribution was, it still started to get our music out to America.
I was also playing with Glenn Branca. Thurston started playing with him as well. By 1983, we were touring in Europe and Sonic Youth had made a second record for his label at that point, called Confusion Is Sex. Everywhere we went on that tour, we were making connections to come back and play as Sonic Youth in that same year. That allowed us to play in Europe two or three years before anybody else in New York was able to get over to Europe, just because we were here with our feet on the ground and talking to local promoters.
When Glenn's tour was over, Thurston and I stayed in Europe. Kim and our second drummer Bob Bert flew over, and we did our first tour over here. The music we were making at that time came out of all of this stuff that we were absorbing in New York. We were going to see bands like DNA, the Contortions, the Lounge Lizards and Teenage Jesus and the Jerks – all this really radical, weird music was being made in New York. Everybody making it was a musician or an artist trying to push limits in one way or another. That was very much a normal state of affairs in New York.
We didn't realize how freaky the music we were making was. People were really freaking out. They'd never heard music like that, in particular the way we were tuning our guitars to all these weird tunings or playing with drumsticks and screwdrivers under our strings, and things like that.
I remember those earliest tours in Europe, honestly, freaking out audiences. They had no idea what to expect. They thought we were going to be punk in the mold of the Clash, the Sex Pistols or the Ramones. What we were doing was combining elements of all of these different things, all of that music, for sure, but also things we learned from these art music composers like Rhys Chatham, Glenn Branca, Philip Glass, Steve Reich, La Monte Young, John Cage, Stockhausen and things like that.
To us, it was all just a part of life in New York. That was the kind of thing that was in the air in New York. We came out on tour and realized that wasn't the normal situation in other parts of America, and certainly not in Europe. The gigs were so powerful because, not only was the music we were making pretty incredible at that time, but it was coming from a place that nobody had any expectations about. The music we were making was just very strange to people, and we were really just knocking out audiences everywhere we went. It was very exciting.

Listen to Lee Ranaldo's Fireside Chat and much more on the Beta version of the all-new RBMA Radio. Sign up for an invite code here and log in to listen.