Key Tracks: Marvin Gaye's I Want You
Producer Leon Ware and Gaye's wife Janis discuss the making of the influential LP
The 1970s were a decade of resurgence for Marvin Gaye. In the early part of the decade, the famed soul artist had released a series of smash albums, beginning with his epic opus What's Going On in 1971 and continuing with Blaxploitation film soundtrack Trouble Man and Let's Get It On in 1972 and 1973, respectively. It was this trio of successes that set the stage for Gaye's next musical revelation.
After meeting Motown songwriter and producer Leon Ware, and impressed by new music Ware was producing for his own solo album, Gaye decided to strike up a production partnership. During the recording process, the love of his life, Janis Gaye, also provided a constant source of emotional inspiration. The resulting LP, I Want You, became another signature album in Gaye's sterling collection of releases, exploring themes of sensuality, seduction, eroticism and carnal passion. With the assistance of Ware and Arthur "T-Boy" Ross, as well as an assemblage of top-notch musicians, Gaye was able to reach new creative heights, firmly cementing his status as soul music's leading man in the minds of both contemporary artists and his fans, who celebrated LP singles like "After the Dance," "Since I Had You," and the number one hit "I Want You."
In celebration of what would have been Marvin Gaye's 77th birthday on April 2nd, 2016, RBMA spoke with Leon Ware and Janis Gaye about their important supporting roles in the creation of I Want You.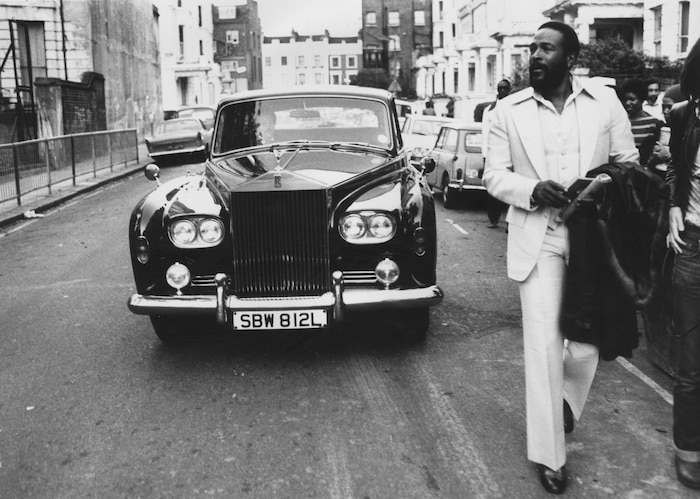 When and where did you first meet Marvin Gaye?
Leon Ware
This should be in the movie about this album. I met him at his apartment in an area called Brentwood. When we met, I was sitting in his apartment for a good 20 minutes. I already smelled the welcoming aroma in the place. I had a joint in my pocket, so I pulled it out and started smoking it. As soon as I lit the joint, he came in the room and I reached over and gave it to him. We smoked a good joint before we even introduced ourselves to each other. We were always on the same page.
Much of the music for this album came from your own work, Musical Massage. How were you chosen to produce this album?
Even though our music was called sexual and sensual, it was as religious as any piece of music ever created. – Leon Ware
Leon Ware
I was working at the time with Arthur "T-Boy" Ross. I had a song called "I Want You," plus we had written two or three other songs. Out of the four songs, there were three that we loved. As it turned out, while we were doing the demo, Berry Gordy came in and he heard "I Want You," and took it directly to Marvin. Marvin fell in love with the song. Three or four days later after hearing the song, we were in the studio. In the process of doing "I Want You" in the studio, we were talking and having a good time. When he and Jan[is] were in another room, I started playing songs I did with Minnie Riperton. Marvin came in and asked me, "What is that you're playing?" I replied, "It's my new album." He proceeded to stay in that room with me for a couple of hours. We listened at least four or five times.
When he was leaving the room, he turned to me and asked, "Who wrote those songs?" I replied, "I wrote them all myself." He said, "I love this, man. Would you do my whole album?" I replied, "That is a great idea, but Berry will never go for that." He turned around with this look in his eye and said, "We don't have to tell him." [laughs] That collaboration turned out to be the most enjoyable, important and enduring experience of my entire life. I'm very happy that, after hearing my album, Marvin made the decision to make it his, and really, ours.
Can you describe your collaboration process with Marvin during the making of this album?
Leon Ware
There was no opposition or any negative comments that came from us working together. It took us 13 months to complete the process of making this album. For five of those months, we had a lot of fun. [laughs] I never had so much fun on one project. There are certain things from that time I'd like to keep personal, and I'm sure Marvin would appreciate that. I was a big Marvin Gaye fan. I was always in awe of how easy everything came to him. He was into how I played my chords and the way I played the piano. Nothing was planned.
Marvin was a very interesting man. He was very deep, talented and had a very unique ear, as far as how he listened and how he applied his harmonies. It was special. Even though our music was called sexual and sensual, it was as religious as any piece of music ever created. People like to categorize things and it limits our appreciation and respect for the art. The album was created with so much love, romance and highly heated sex. People were saying we went a little too far with our sensual expression. A friend of mine in New York told me that a DJ told him he couldn't play our record for his audience. When I'm asked why my music has such a sensuous connotation, I tell them it's because I'm a messenger. I'm a messenger of love.
Take me into the studio atmosphere. What was it like recording with Marvin and Arthur "T-Boy" Ross?
Leon Ware
We were surrounded by the things that made magic. The space itself was Marvin's new studio. It was the first project he worked on there. We didn't limit ourselves on time. We worked when we felt like it, and we played when we felt like it. There was spontaneity and that's what I loved about our process. When I was working with Marvin in the studio, he kept saying throughout the whole project until the last couple of weeks, "I know I didn't write this music, but the chords go from one chord to the next like me. I feel like I'm listening to myself." T-Boy was the same. We were feeding off each other's talent.
Marvin became a fan of my chord progressions. When I met Marvin, I had a magical piece of work that probably would've done well for me as an artist. But when he added his voice, it went deeper and to another level. He told me he wanted to do this album because he thought it was going to be one of the biggest, most meaningful and most musical albums he would ever do. He knew more than I did. After listening to two-thirds of the album, Berry Gordy stood up and asked me in the middle of Motown's quality control meeting of 30 people, "Leon, how did you do this?" Everybody in the room knew what he meant. I replied, "It wasn't my choice. Marvin heard something that moved him, and he fell in love with it."
Many people refer to this album as the "Janis album." Tell me your feelings about being the subject of the recording.
Janis Gaye
I haven't experienced a feeling like that since then. I have certain feelings about Let's Get It On, but I Want You was more of a sensual opera. It was like a suite of songs that were all laced together. Not to say Let's Get It On didn't do that, but I Want You did it in a way where, since it was a collaboration between two men who were both crooners and had similar singing styles and lifestyles, it worked. They were both highly sensual and sexual guys, not to mention T-Boy [Ross] being very attractive and the girls all loved him – so there was sensuality, sexuality, love and lust in the air. It was all good. There aren't many artists who could pull off using the word "head" and have it be elegant.
A lot of the lyrics he would sing directly to me, and I would get embarrassed. He'd say, "Dear, please don't be embarrassed. There is nothing to be ashamed of." – Janis Gaye
For the time period, this album was considered a bit risqué.
Janis Gaye
Well, it was considered very risqué. [laughs] We used to argue about it. I used to tell Marvin, "You can't say that on a record. What's wrong with you?" He'd reply, "I can say whatever I want, dear." That's who Marvin was. Some of the youngsters that have come after Marvin think what they're doing is risqué, but Marvin was singing about these things 35 and 40 years ago. He was very classy, tasteful and slick with his approach, though. He had a lot of double meanings, but you knew what he was talking about. He had such a great way of putting things. It came across so well on a record. He knew what he was doing. He and Leon [Ware] were a great team. T-Boy Ross was also amazing. He was a great producer, songwriter and person. I loved him to pieces.
How was Marvin feeling about the prospects of this album after collaborating with Leon Ware?
Janis Gaye
Once they settled in and knew who the players were going to be on the album, as well as knowing Art Stewart was going to be the engineer and Fred Ross [T-Boy and Diana Ross's brother] as co-engineer, they felt good about it. To be perfectly honest, the right weed and right people coming through at the right time was really important. They helped to keep Marvin's spirits up and it allowed him to do what he did. I was there for most of the recording process because I couldn't leave. I didn't want to miss anything. What I heard was so amazing. What they did together as a team was special. I had never heard Marvin record like that. He was always sensual, but the sensuality of that album was the most sensual of all the albums he did.
Of course, there was a huge sexual aspect to it, but it was so smooth and elegantly done that people couldn't say it was vulgar. I told him, "You can't use the word 'head.'" He replied, "Yeah. I can do that. Just watch how I do it. It's not what I do; it's how I do it." He was absolutely right about that. When you look at the inner sleeve of the deluxe version of I Want You, he had the word "head" printed and put on the board, so he could remind himself of what he was thinking about. It was a celebration of his sensuality and sexuality without feeling inhibited. A lot of the lyrics he would sing directly to me, and I would get embarrassed. He'd say, "Dear, please don't be embarrassed. There is nothing to be ashamed of." I'd respond, "Well, everyone is hearing you and not just me." His process on that record was something really special to watch, and I'm grateful that I was blessed enough to see it and hear it.
What is the story behind the construction of Marvin's studio, Marvin's Room, where this album was recorded?
Janis Gaye
Motown paid for the studio to be built, but Marvin came up with the design for it. He picked out all the materials, including the wood and the colors in the control room. He loved every minute of it. He designed the apartment upstairs where we lived because he loved architecture and fancied himself as a designer. He was really good at it. To this day, it's still one of the most beautiful studios I've ever been in. It was like going into a temple. When you walked in there, you immediately felt his spirit.
They started building this studio in late 1973. It was always a work-in-progress. He kept adding things. He built these parquet floors that were absolutely beautiful, and he had to have them stained because the color wasn't right. It took him a couple of years to get it exactly the way he wanted it. By the time he finished it, it was almost time for him to lose it to the IRS. It was a very depressing time for him, but it served him well, as far as finishing the I Want You album and doing the Here, My Dear album and it being our home.
This record is really a series of odes to you. There is a deep love that resonates from every recording on this album. Do you remember how the songs transpired in the studio?
He'd be singing to me and I'd be there sitting looking at him and he'd start looking like a piece of prime rib. I'm not sure what I looked like to him. Maybe a cupcake? – Janis Gaye
Janis Gaye
On this particular record, Marvin lived in the studio. He didn't want to leave. He wanted to make the record. He and Leon were two-of-a-kind. T-Boy [Ross] brought his own energy. Art [Stewart] would be the one to keep to everyone on track. Sometimes, it would be something that Leon came up with and Marvin would take it and "Marvinize" it. "After the Dance" was something that Marvin wrote with Leon, but it was a Marvin-driven song. When you listen to Leon sing – and some of those songs are on that album – they were so much alike. They were in sync, literally. Leon would sing a part and ask Marvin to sing it a certain way. Marvin might take his opinion and put his own spin on it. Depending on what sound he was looking for while he was harmonizing, he would go into the restroom, lie down on the floor or go into the closet to record his vocals. Whatever it took for him to get it out, that's what he would do.
What is your favorite song from this album?
Janis Gaye
I can't really choose one. I love different songs for different reasons. I can listen to a song like "Soon I'll Be Loving You Again" and it takes me right back to being in the studio and sitting on his lap and him whispering in my ear making me feel like I was on top of the world, because I had this beautiful man whispering what people would call sweet nothings, but they were a little bit more than that. [laughs] It was like peeling a beautiful onion and watching all the layers unfold, song by song. When he sang "Feel All My Love Inside," that was one of the songs where I asked him, "Are you really going to call the song 'Feel All My Love Inside'? What do you think people are going to actually think you're saying?" He responded, "People can think what they want. That's the beauty of it, Jan." He was a master of interpretation and allowing people to interpret for themselves. What do you mean by "All the Way Around?" It was another song that had a hidden, double meaning and it was appealing. This is how brave he was. He knew how to lay it down and make people love it. And to top it all off, he had an iconic album cover. It was the icing on the cake.
How did Marvin choose the famous cover art for this album?
Janis Gaye
My mother used to date Ernie [Barnes], and she was the one who introduced him to Marvin. He and I went over to Ernie's gallery on La Cienega, and we were looking at all these incredible paintings of football and basketball players, lovers and twisted sheets. When Marvin saw The Sugar Shack, he asked Ernie if he could alter it to include the call letters for the station and put his name on it and call it I Want You. And of course, Ernie did do that. If you remember right after that, people saw the painting on the show Good Times, at your local hair salons and anywhere else people went. Marvin gave Ernie a huge boost to his career, but Ernie did the same thing for Marvin by leaving him with this iconic cover. To this day, the original is still in Eddie Murphy's bowling alley. There was another copy that Jheryl Busby had commissioned. It wasn't quite the same but it was very close. Ernie was amazing.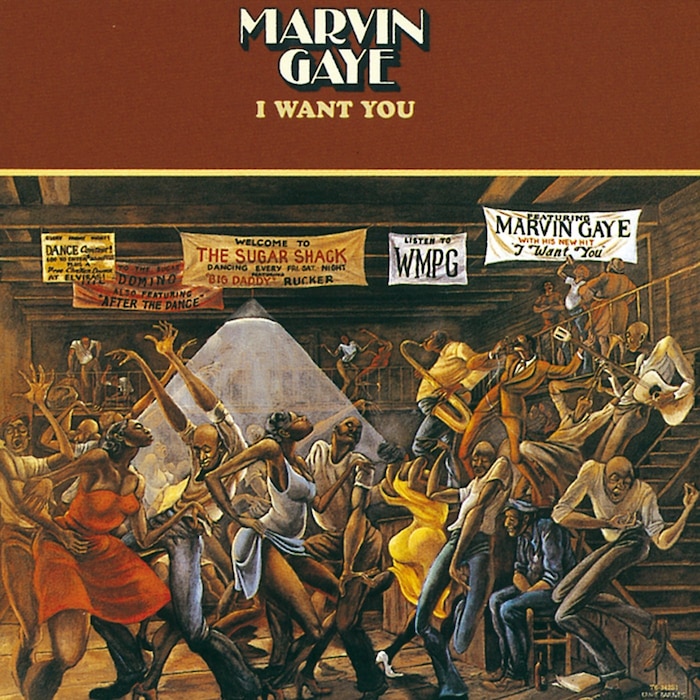 Are there behind-the-scenes stories or fond memories that stand out during the making of this album?
Janis Gaye
Well, to be perfectly honest, there were times while he was recording, and since we had an apartment upstairs, we would both get ourselves worked up because I'd be listening to him, and he'd be singing to me and I'd be there sitting looking at him and he'd start looking like a piece of prime rib. I'm not sure what I looked like to him. Maybe a cupcake? I don't know. [laughs] But we would excuse ourselves and retire to the apartment. Then, we'd come back down, and he'd sing this really incredible vocal afterward. [laughs] We were entitled to do that. We were within our rights to excuse ourselves and express some of the passion he was putting down on the record in real time. I have very fond memories. The older I get I feel so blessed to have these memories. It's a wonderful thing.
Were there any famous people or artists coming in during the recording sessions?
Janis Gaye
Everyone knows that Don Cornelius stepped in during "Got to Give It Up," but he was in the studio at times during the making of the I Want You album. Jane Fonda popped in once. Marvin really liked to keep it close to the vest. He just wanted his musicians and family in the studio with him on that record. It was a personal thing for him, not personal in the way Here, My Dear was, but personal in a sexually joyful way. He didn't want too many people around. He didn't want the distraction of trying to entertain while he was trying to create.
Can you take me on a visual tour of Marvin's Room?
Janis Gaye
Typically, we would come in through the back door because the parking lot was in the back, and Marvin had a basketball hoop set up back there, so he could go and shoot some hoops when he felt like it. When we came through the back door, we'd go down five steps into the waiting area where the musicians would hang out before it was time to go into the studio. I remember vividly the colors he chose because they were typical colors from the 1970s: rust, gold and wood. It was very Topanga Canyon-like. They were the colors of autumn. The parquet floors that he had installed were in a herringbone pattern.
As you went by the waiting area where the musicians hung out, if you made a left, you would go down this tiny hallway into the control room. The control room is where Marvin spent most of his time because he was either usually behind the board or in front of it. He didn't like to go outside of that area, even though he had this huge room that an orchestra could fill behind the glass. When he would be getting ready to go out on tour, that is where he would have rehearsals and it'd be filled with people. When we had our parties, it'd be filled with people. We liked to have our parties in the studio.
In the front area, there was a security area, but he would leave the front door open. My brother was the security guy, but not really, because he was pretty lax in that department. If people wanted to come in, typically, Marvin would let them in. When my father came around, he was the other security person. Between my brother and father, they weren't the best security guards, but they had great vibes. Also, Marvin's brother, Frankie, did security as well. It was a three man team of non-security guards. They were so much fun to be around, though. If Marvin had a moment of feeling melancholy about anything or if we thought he was going to slide into being depressed about the record, those three guys were always there to pick up his spirits as well as Leon [Ware]. Leon had an infectious laugh, and whenever he and Marvin started laughing together, everyone would laugh.
How was Marvin feeling after the release of the album and how did he feel once the public started embracing it?
Janis Gaye
Whenever he released an album, he'd say, "Oh. This one is going to tank." One of the things he'd always say to me or an artist that was within earshot was, "Unless you're going to put out something that's a smash, you shouldn't waste your time." I asked him, "What do you mean?" He replied, "Well, there's a difference between a hit and a smash. I like to go for the smash." I said, "You may have a few of those on this record." He said, "I believe I do." It wasn't like the first few notes of "Let's Get It On" where you immediately knew what it was about. I'm pretty sure if you took a poll of how many babies were born in 1976, 1977 and 1978 most of them listened to this album at one point or another [laughs].
I still hear artists of today trying to emulate this record, like Robin Thicke and Justin Timberlake. Many artists love Marvin's music. With artists like D'Angelo and Maxwell, you can tell they really love Marvin and his music. For many artists, I Want You is their favorite album. He innately knew what other people needed to hear because he needed to hear it himself. He was able to share those feelings and emotions with and through Leon, T-Boy and a little help from me, maybe. The interesting part of this, too, is that our kids were really young at the time, so there were many times where I had to take the kids out and tell them to go upstairs and close the door. Having Marvin singing about certain things and having two little munchkins running around was a bit awkward at times, but we dealt with everything that came our way with the most love and appreciation.