Interview: Suishou No Fune
Pirako Kurenai of the Japanese psych-rock experimentalists on transitioning from painting to music, listening to nature and collaborating with Keiji Haino
Ask a guitarist from a popular psychedelic rock band why he or she plays a Gibson SG, and the answer may have more to do with Japanese acts like High Rise, Les Rallizes Dénudés, Fushitsusha or Suishou No Fune than Angus Young or Tony Iommi.
Those Japanese artists grew up worshipping foreign performers, but the direction of fandom has reversed in their favor – they are now more admired by heavyweight musicians overseas than mainstream fans in their home country. Despite an almost exclusive diet of western music, the sound created by this Japanese avant-garde remains profoundly, transcendently original, and its influence is keenly felt all over the world. Minus the inspiration of Japanese art-rock, the sound of Swans, Sunn O))) and Sonic Youth would be virtually unrecognizable.
Experimentalism defines psychedelic music. It's self-discovery through the expansion of consciousness, exotic music as food for the imagination, and it's potentially for this reason that the Japanese tradition holds such fascination for musicians.
An especially notable source for introducing this music to a wider audience is P.S.F Records, who also were instrumental in helping Japanese psych experimentalists Suishou No Fune ("The Crystal Ship") gain the reputation they deserved. P.S.F founder Hideo Ikeezumi featured the band on his Tokyo Flashback Vol. 5 compilation, and Suishou No Fune harnessed that momentum with recordings for overseas labels including Holy Mountain, 8mm Records, and Sloow Tapes. The band's ability to conjure transportive soundscapes of unparalleled beauty reached new heights on When You Wish Upon a Star, released in 2015 on P.S.F.
In this rare interview, Suishou No Fune guitarist and vocalist Pirako Kurenai examines the period when she and partner Kageo first "traded brushes for guitars," working with Keiji Haino and the influence of nature on their music.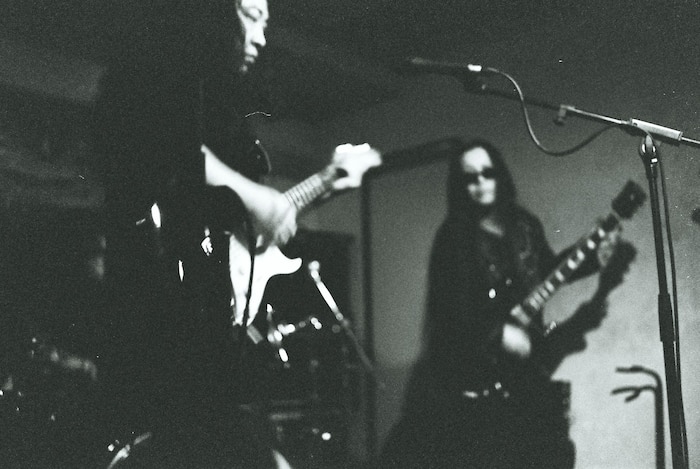 What made you first pick up the guitar? Do you remember what your first guitar was, and where you bought it?
I was 13 years old when I got my very first guitar. Folk songs were booming at the time, and I was so inspired by the musicians' style of making and singing songs by themselves. I bought a Martin acoustic guitar in Ochanomizu – it had a flaw in its neck, so it was heavily discounted. I felt so lucky being able to get an acoustic guitar at junior high school age.
My first electric guitar I purchased when I was starting Suishou No Fune. It was a Les Paul-shaped cherry-sunburst-colored one and I got it at a secondhand store in Nishi Ogikubo near my house. I sang about that cherry-sunburst guitar in my song "Cherry" [from 2008's Prayers for Chibi]. My lovely white cat named Chee Milk had passed away at the age of 18. So along with playing and singing the song and improvising, the feelings I have about that guitar combine with my longing for Chee Milk.
When you first started performing with Suishou No Fune, were you concentrating on music only, or were you involved in other artistic activities? When did you realize that you could communicate best with music?
I was painting watercolors and making dolls before I started playing in Suishou No Fune. For me, it was not so much artwork as it was experimental life work. I'd been into drawing abstract images, like a view of my dreams while sleeping, or the radiated energy of the human soul. I'd also been making and selling a lot of dolls of imaginary animals. Around that time I met Kageo for the first time. He was a painter and had been painting in oils for a long time.
Kageo and I used to meet after work and play noise guitar at maximum volume for about three hours together, from midnight to dawn, for about two months after we met. It was around that time I came to believe that music was the best way of expressing ourselves. I felt the vast possibility of potential artistic expression in the raging storm of noise that I hadn't experienced before.
That's how Suishou No Fune was born, trading our brushes for guitars. The sound created by Kageo and I is like the world of paintings. We improvise to create the world of Suishou No Fune using sound as colors, mixing colors and imagination. And we mix grooves with it to make it more powerful as a band sound. I feel the joy of living.
Humans are a foolish animal that injures nature, friends and themselves.
Did it take a long time to develop confidence playing live, or did you immediately feel at home on stage?
I've never thought about having or not having confidence to play live. Luckily, we had a chance to play a rock event three months after forming Suishou No Fune. We approached our own music on stage like wrestlers in a ring. I think performing live is always like a fight with ourselves.
Right after that it felt necessary that we play more shows. If it was midnight or deep in the winter season, we went downtown to play in front of the train station whenever we felt like it. It was very exciting to play on the street. But sometimes there was trouble, like with the police or with strangers interfering, that kind of thing, and we'd have to stop playing in the middle of a song. So at that time, playing on stage made it easier to concentrate and to express our world, so we gradually shifted to performing on stage.
Your music is strongly evocative of nature, and many of your songs are named after the sea, flowers, sky and the rain. Is nature a big influence on Suishou No Fune? Do you feel optimistic that humans can look after the planet better?
It's very much influenced by nature. Kageo and I love nature. We can't separate nature from our life. Often, natural scenery starts to expand in our imaginations when Kageo and I spin sounds. I feel like I'm in a dream whenever I sing. It's like a shamanic sense – something possesses my body and words fall spontaneously in drops.
Feeling close to the soil, the sky, the wind, the clouds, the rain, the ocean, the mountains, the sun, the moon and the stars, words are born impromptu and transiently. And the words change to songs, little by little.
Nature is magnificent. It's like my utopia, a paradise where humans and nature harmonize and live together. But in the real life, humans easily sell nature by the slice. It looks like nature has been broken without speaking. But I think the God of nature is strong and is an invisible gigantic force. The destruction of nature will return to human beings as another form of damage some day.
Humans are a foolish animal that injures nature, friends and themselves. Unless people's desire vanishes away, war will never end. Peace is just the interval between wars. A prayer for peace is so beautiful and sacred. But unfortunately, in this material world, it sounds like a refrain or prayers for war.
Your music seems full of sadness and captures feelings of pain and longing. This style of expression seems distinctively Japanese. What led to you developing this?
Exactly – Suishou No Fune's songs, sounds and words are often born from heartrending feelings like sadness and pain. For us, the music is life itself. That is to say, the kind of environment we grew up in and what we have been thinking about and feeling is reflected or embodied by the sound of Suishou No Fune.
One thing Kageo and I have in common is that we had very few sympathetic supporters. We had no good friends in our childhood. Kageo used to play with flowers and my only friend was a cat. In due time, Kageo and I came to know each other and became sympathetic partners. Because of our personalities, nature and animals affect us more than artifacts. And we've got to know a lot about love and affection.
Sometimes the best art contains a powerful message; has something to say – an attitude. Do you think the style of music Suishou No Fune plays has an "attitude" or political point of view, or is it simply artistic self-expression?
I think musicians are not politicians, but artists. If you want to change society, it's more effective to be a politician than an artist. The purpose of an artist's work isn't to incite people to revolution, but to live in a stream of society, feel something, and create artwork from those kinds of feelings and thoughts. As a result, one seems to sympathize and harmonize with others.
We do not like intentional, explicit or artificial expression in our art. The musicality of Suishou No Fune is highly individual. We hope to express the natural. Humans can expose the naked reality of soul when they are relaxing, because that state is furthest from untruth. The innocence and lack of deceit at the core or soul of humans is something that's free from national boundaries. It has a very profound meaning.
You have played as a duo, as a four-piece, and also collaborated with other bands such as Bardo Pond. Which format do you get the most enjoyment from?
It's hard to rate, because all of them are special. There's no limit of time and space when we play as a duo – we don't know what kind of sound and lyrics might be generated. I can enjoy how that the deep world of mind appears in front of our eyes.
Playing as a four-piece makes me feel like I'm swimming in space. It's enjoyable. When we jam with Bardo Pond or Numinous Eye, the freedom and the joy of intercultural musical communication is expressed. And we released it on the albums. I really appreciate that we got to meet them.
The interesting thing about touring is that I am really affected by the air and the soil and human energy, and it becomes sound.
I wanted to ask in particular about Keiji Haino. You have jammed a lot together and I was wondering how that experience was, and whether at first you were nervous. Were any recordings of these sessions made?
Suishou No Fune has had a lot of sessions with many great musicians. We were so excited to communicate with musicians and bands that have a similar vision through sound.
We had some long sessions with Keiji Haino. All of them were at gigs played at concert halls. During every live performance together, we played and expressed ourselves in the session freely, equally. We communicated with each other in our own language: in the rumble of sound waves. I felt like I was standing on a boat in a storm. I felt no nervousness in session with Keiji Haino. I remember it as a very thrilling experience. But we haven't released anything from those sessions with Haino-san – for us it was meaningful enough to just experience the sessions with him. We never actually thought to record them.
As musicians, it meant a lot to have communication through sound – not only with Haino-san, but also with other great pioneers. How they sound is how they live their lives as musicians. We experienced it and were rewarded with uncountable precious things.
Two former bass players of Les Rallizes Dénudés have played in Suishou No Fune at different times. How big of an influence has the band been on you personally? How do you feel about the fascination many people have for the band, and for Mizutani in particular?
Suishou No Fune started in 1999, but Les Rallizes Dénudés had already broken up by then. Unfortunately, Kageo and I have neither seen Les Rallizes Dénudés live nor met Mr. Mizutani. It was very hard to get a CD of them at that time. It was actually maybe 2004 before I listened to Les Rallizes Dénudés for the first time.
In the summer of 2002, we had a chance to meet Mr. Doronco, a former bassist of Les Rallizes Dénudés. He listened to some recordings of Suishou No Fune, he liked them, and we started talking. Sometimes Suishou No Fune did gigs with Doronco's band [DAS]. Once at his house I asked him if I could listen to a Les Rallizes Dénudés record, but he said he didn't have any of them. I was amazed, but at the same time I was curious. You know, I think that fact in itself says a lot about the legend of Les Rallizes Dénudés.
There was a period when there was no proper bassist in Suishou No Fune, so Mr. Doronco kindly helped out playing bass, and we played quite a few shows together. His bass playing was free, easy and natural, and powerful enough to support the entire band. I usually adlib lyrics, and his energy with the bass truly inspired my imagination when we played, especially when jamming on one chord or one riff continuously. It felt like a picnic in a world of sound and I enjoyed it so much.
In the winter of 2003 we met Mr. Yokai Takahashi [ex-Les Rallizes Dénudés] at a gig. After the show he told us that Suishou No Fune's sound was similar to his. And after a while he saw us play live. His playing and "sense" was so unique, it felt like Suishou No Fune, so we asked him to join as a full-time member. Like osmosis, his bass playing harmonized, and we went through a stage of playing live a lot together.
He also didn't have any Les Rallizes Dénudés records.
Around 2004, we finally had a chance to listen to Les Rallizes Dénudés. My friend played me an unreleased record. I was shattered. The sound was like a volcano. Volcanic ejecta of energy, an uncontrolled spectrum of colors, magma gushing out, sound of chaos and confusion. And the lyrics of Mizutani coming to the surface… I felt Les Rallizes Dénudés was precious for me.
And then I kind of remembered that Mr. Doronco and Mr. Yokai had been members of Les Rallizes Dénudés.
You have travelled around the world playing music. Do you have a favorite country to visit? Has travelling changed how you feel about Japan?
Every town and country we visit inspires us. Wherever it is, we are interested in it and find a lot of joy. I love and find inspiration in every single town I go to and in everyone I meet. As soon as we arrive at a town, I feel like I should give something – like a salute, you know – the sky, the ocean, the mountains, a river, plants or animals, an old cemetery, temples. If we are accepted by the spirits of the area, I believe they will let us play well.
For example, in San Francisco, Jacumba and Albuquerque, we felt like we reflected the intense sunburn, dry wind and soil, and our playing became more powerful and wild. In Hong Kong, where there are a lot of rivers and oceans like in Japan, and in Minneapolis, which has a lot of lakes, and in the U.K., where it rains a lot, I felt comfortable in my body and mind with the thought and feeling of water, and I could relax and play.
The interesting thing about touring is that I am really affected by the air and the soil and human energy, and it becomes sound. It's a very inspiring and meaningful thing for musicians who create songs by improvisation.
I feel we're Japanese when I tour abroad. It's good and bad, I realize there are differences. But my body and soul was born in the soil, water and air of Japan. My ancestors were born and died in the country as well. It's precious to me. Coming back home and standing outside the airport, every time the soft, humid wind caresses me, I feel like a fish swimming in the water, and people walking around me look like fish, slowly swimming. "Yes, it's Japan, Tokyo."
It's lovely, small things like that. And while living my daily life in Tokyo, I'm glad to find myself surprised by tiny "Japanese" things around me. It affects the music of Suishou No Fune and it's so good to see and feel my own country with brand new feelings. The music of Suishou No Fune is based on this sense.

Translation by Memetabla. This interview originally appeared on Brown Noise Unit in October 2015.