Interview: The Outfit, TX
The Dallas-based rap trio go deep on the Dallas scene, looking to Outkast for inspiration, exploring "possessions of the spirit" and reclaiming the Confederate flag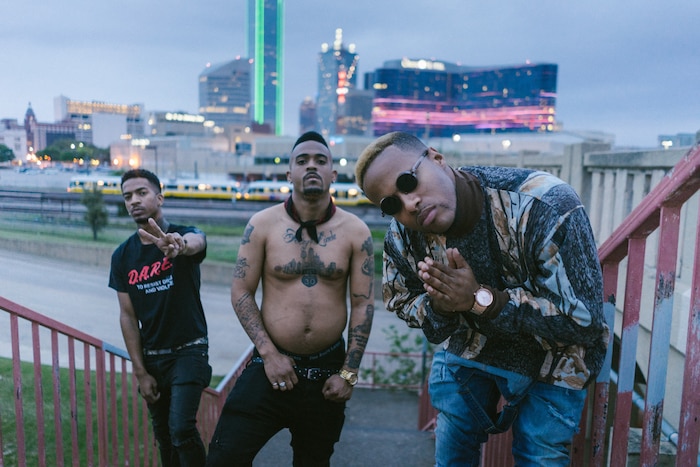 Southern rap is not a monolith. This is hand-to-forehead obvious, but not always explicit in regional rap discourse. There are shared sonic and topical traits, but every "Third Coast" state offers a varied and distinctive crop of rappers that could not exist elsewhere. The Outfit, TX put their state in their name so you'll never forget. Of course, you only need to hear one Outfit song to know where they park the slab.
Since 2010, the Dallas-bred trio of Mel Kyle, Dorian Terrell and JayHawk Walker have released an extensive and perennially evolving body of work that reimagines the aural hallmarks of Texas rap with increasing returns. Consistency without repetition is elusive for most, but they've cracked the code. More importantly, the group affirms and enriches Texan rap tropes as much as they subvert them.
Comparing 2012's Starships & Rockets and 2015's Down By the Trinity best illustrates the group's evolution. The former is an alien's guide to Dallas, a candy-painted ride over another red turf. The synths are spacey and the low-end is sinister. It's an attempt to commune equally with E.T. and E.S.G. Down By the Trinity, however, articulates a crisis of faith in self, community, country and the divine over dark, spectral suites. The message isn't always clear, but the feeling is visceral and undeniable.
I spoke to the Outfit, TX in Dallas, a few days before they performed multiple shows at SXSW 2016. At the group's request, the interview took place at 2 AM Dallas time, just after they'd finished hosting a local party. Despite the late hour, the trio covered topics ranging from their career evolution, Texas rap history, the inherent problems of contemporary Southern rap coverage and more.
To accompany the extensive Q&A, RBMA Daily is premiering The Hymns: A Chronology of TOTX Thus Far. 33 songs from their continually expanding catalog, the compilation is the perfect entry point for the uninitiated and a reminder to anyone who might've forgotten: The Outfit, TX are the best rap group in Dallas.
How would you characterize Dallas' Deep Ellum district?
Dorian
I would say it's more for the independent. The Bomb Factory, even though it holds that many people, is run by a more independent ticket buyer. They're getting local artist to open up for bigger artists that come through. Or they're booking more independent artists than House of Blues, who are only going to go with somebody that's backed by Live Nation. Deep Ellum, most of the venues down there, are like that. You can hear a lot of local bands or more up-and-coming bands.
Do all the rappers in Deep Ellum worth listening to appear on your Deep Ellum tape?
Mel
That's only a fraction of the artists around here really making waves. We sat down and took a long time to handpick artists that we wanted to collab with for that particular project. The only reason that those particular artists were chosen was because those are records we had at the time. No bullshit, there are at least 25-35 solid artists in Dallas right now.
JayHawk
They have YouTube channels, Soundclouds. They consistently put out music and do shows at clubs/venues, festivals. We're talking about people who actually have viable campaigns. It's upwards in the 30s.
Mel
All that Dallas is missing is a label and some real money. If you had $500,000 and music was your forte and you started a label here and chose three to five artists to push, you'd go up! Dallas shows up and shows out. It's like nothing else. I've been to Ham on Everything and Low End Theory [in L.A.], and that shit is dope, but it's nothing like a regular warehouse party in Dallas. There's just no industry here. There's no money here.
But to answer your question in short, the artists that were on Deep Ellum were just a fraction of what the city has to offer. This year we're still collaborating a whole lot. We're gearing up to put out a lot of one-offs, both sonically and visually, with different artists.
It seems like there are two big parties in Dallas, We Are Dallas and 16 Bars.xxx. Is that an accurate assessment?
Mel
We Are Dallas, for sure. 16 Bars is going through a brand renovation kind of thing. They haven't thrown a show in a minute, but I'm sure when they come back on the scene they'll have that hoe lit. But for right now it's We Are Dallas, Crit Life, Top Shelf – every Top Shelf show is live. It's like a party in and of itself. That's pretty much it.
How would you describe these parties? How do they compare to rap shows/parties you've been to in other U.S. cities?
Mel
Most of them happen in DIY venues. They were warehouses last year. The warehouse scene kind of died down because, sadly, we're still in Texas, in the South. So that's something that's a little unorthodox and hard for folks around here, like the fire marshal, to handle. Once word got out and the press got hip to the warehouse shit and they did features on it, it got shut down immediately. That's just Texas for you. The scene is shifting towards more DIY venues that aren't necessarily warehouses, but they allow you to smoke and do those types of things. Some of those have also been shut down by the fire marshal. The fire marshal is damn near on a "destroy the scene" campaign.
But now everything has moved to traditional venues that are more lenient. Green Elephant is a good spot where a lot of the more recent parties and shows have been at. My boy Tommy Jay, who is like the CEO of We Are Dallas, he's in the process of locking down another warehouse. My boy Rico Slice, he was the brainchild behind 16 Bars. Like I said, he's in the process of reinventing his brand as well. Right now the shows are where everybody is going until we get another warehouse going.
Even when we only had bottle service clubs, we'd pop pills and jig all night. We don't care, because it's a country town.
Dorian
The shows definitely have a party vibe, though. Nine or ten years ago when you would go out in Texas, it was a little bit dressy. Now everybody is doing their own thing and swagging their own way. Everybody has their own kind of flavor. It's more chill. Even though you have performances, there are DJ sets in the middle to keep people going. Usually there's a lot of energy, people sweating and throwing water, going crazy. They definitely show up and show out.
Mel
More than anything – I mean this with all due respect, having lived in Houston for as long as we did and partied and did that shit to death – the thing about us is that we just don't know how to act. We just country. That's a good thing. It's a different type of vibe. Imagine Ham on Everything without some of the pretentiousness and the awareness that's in L.A. Imagine that same ambience in a place like Dallas that don't give a fuck. Even when we only had bottle service clubs, we'd pop pills and jig all night. We don't care, because it's a country town. We got that country town mentality. These motherfuckers are going to show up and have a good ass time. They're going to leave it at the warehouse. L.A. has that Hollywood mentality. In Dallas we're going to mosh, rage, jig – we don't care who's looking.
Mel, you've described Dallas as the Bay Area of Texas rap. The Bay Area had a brief national moment in the mid 2000s with the hyphy movement, and another around 2013 with Iamsu and the rest of HBK. How do you think the Dallas rap scene can ensure that it remains relevant for an extended period of time?
Mel
Firstly, we have to collaborate. That's the engine behind any renaissance. You have to have every cog of the engine turning in unison. Secondly, we're going to have to have that initial artist who steps out and leads the pack. If you think about Atlanta, where would Atlanta be without Jermaine Dupri, Outkast and Goodie Mob? Atlanta without those iconic artists isn't the Atlanta we know of today. Dallas right now, we got the foundation laid. We have to continue to collaborate – not shoot each other and fight each other, because we are historically a very gangster city – and be creative. It doesn't matter if it's the Outfit, if it's Crit Morris, if it's Devey Stonez – whoever it is, we have to work together and get behind the artist. That goes for other artists, producers, promoters, graphic designers, and all the people that make up the infrastructure of any scene. One thing about Dallas is that we got all of that. There are so many young, talented artists. I'm talking about the graphic design, on the visual side, video-wise. Some of them end up moving. Honestly, we need an artist that breaks through and still [be] rooted here.
Houston also had a national moment in the mid-2000s. Slim Thug, Paul Wall, Chamillionaire and Mike Jones were all on the radio. You all were probably attending the University of Houston at that time. How did it feel to watch their rise? How did it feel to watch the national buzz go away?
JayHawk
To be honest, it feels good. A lot of those artist that you named are still in Texas making money and balling. We watched them and we're still watching them. Slim Thug still makes a lot of money. Paul Wall still makes a lot of money. Houston had a very different mentality than a lot of places. They had their business right. Chamillionaire is involved in some kind of tech company right now. He makes a lot of money. We watched all these Texas artists able to do what they want to do independently, make it big, be national, and then still be able to be here in Texas and be legends. We just want to take that to the next level.
Mel
You almost have to look at them like forefathers. You have to say, "This is what they did right and this is what they did wrong." What initiated the class of artists that really made that Houston wave were not Paul Wall and Mike Jones and them. You know that. Keke, Fat Pat, Screw, Big Moe – the shit that they did is really what made Houston what it was. That next regime that came up was able to take the baton and cross the finish line with it and finally get it nationwide.
We look at Houston and say, "Let's be honest. Have we had that initial wave that they had?" I think we can say, "Yeah." I think we can say that Tum Tum, Big Tuck, [Mr.] Lucci, [Mr.] Pookie and even Dorrough and the boogie movement have definitely laid down the foundation that we can look at and build upon. Now it's finally time for us to have our regime. Houston moved like a military. They learned from their mistakes. Between '04 and '06 they were moving like a machine. They were making records with each other and supporting one another. We just have to move in the same fashion.
There's so many times that we have interviews where we answer these types of questions, and it's almost as if Dallas is nonexistent. But I know I ain't crazy. I remember when "Caprice Musik" was number one on 106 & Park. I remember when "Mr. Hit That Hoe" was on top of WorldStar. I remember everybody was Dallas boogying. People in the NFL were scoring touchdowns and Dallas boogying. That's us. We've been seen. Y'all seen us. It's just that, for whatever reason, the flag wasn't planted. "Teach Me How To Dougie"? Come on, fam. The song starts off, "I ain't from Dallas but I D-town boogie." We've been here. Right now we got a wave of niggas that ain't going to let it be that. Ain't nobody fitting to keep the meat and spit the bone. We're here and we want a seat at the table. Whatever you need. You want the ratchet shit? We got you.
JayHawk
You want some hip hop shit? You want some rappers? We have every flavor that you can think of. It's literally like my boy Mel said earlier. If I had half a million dollars, it's a gold mine. What do I want to do? Which direction do I want to take hip hop? I could take any direction I want to because the talent is here. The talent is doing its job. They're putting stuff on YouTube, they're putting stuff on Soundcloud, they're doing shows, they're marketing on Instagram and Twitter.
Mel
We got a partner named Saint Clair. He doesn't even have a visual to his name on Youtube. But his Soundcloud, his logo, his soundscape, his show visuals and his merch alone are industry ready. Forget us for a second. If I have five hundred thousand, there are artists in the city that I would sign right now that only need a minor push. That's really the case for a lot of them. They need money, distribution and PR. What Coach K is doing in Atlanta with QC, we need that here in Dallas.
The first official Outfit project was We Are the Outfit. What year did that come out? How old were you? What was happening in your life?
Dorian
That was 2010. I was 22. Mel was 21. Norm was 22. Refund Check was cool, but there weren't a lot of attention-grabbing songs on there. So we tried to do something that we felt would make people take us a little more seriously as artists. We had packaged the whole project up. We bought a shrink wrap kit and basically put every little physical thing together. We were trying to make a new impression on everybody.
You all attended the University of Houston together. Did you spend more time recording or more time studying/going to class?
JayHawk
I definitely didn't spend much time at all going to class. Freshman year I spent a lot of time recording. We had a little studio on the second floor of the towers. That's how I used to do. Mel and Dorian were more intelligent. They were able to balance life better than I was. I was recording on a little RadioShack mic.
Mel
Fuck that! He bullshitting. This motherfucker was the reigning champ of the U of H Moody Towers freestyle battles. They're on YouTube right now. I know you're by a computer. If you fucking Google "Moody Tower Battles" he's on there rapping his ass off. You gotta put that in there. I only went to the first one. The rest of them ended up being riots waiting to happen.
You've all worked day jobs during your career. How difficult was it to do that while trying to record, perform/tour, and move forward all of your creative endeavors?
Mel
Really, really difficult. That shit sucks [laughs]. Seriously, it was difficult at times. I think I can speak for all three of us when I say that it's like going to the restroom at this point. When we've had to do it, we've gone and got it done. It's mindless. It's almost like going to an ATM for longer than you expected. But then we get right back to the studio or the road and we do this shit. It's just some menial-ass task.
We've gotten some attention and acclaim for it, but I think sometimes we ask ourselves, "Why isn't everybody fucking with this?"
Do you feel that Starships & Rockets: Cooly Fooly Space Age Funk is overlooked?
Mel
Simply put, yes. But if I can be frank, I feel like everything we've done has been overlooked. Especially Cognac/Four Corner Room. Starships & Rockets actually got more credit than Cognac/Four Corner Room. Down By the Trinity was two or three months ago and motherfuckers have already forgot about it. I feel like we've had a whole two, three year period that's the equivalent of what Reasonable Doubt was for Jay-Z. In ten years motherfuckers are going to be talking about Outfit shit from 2012 to 2015 and heralding it. But in real time people are/were so knee-deep in trap and up under Future's nutsack that they couldn't realize that there was other shit out there.
Dorian
You pretty much took the words right out of my mouth. I mean we've done a lot of things, and a lot of things that people claim they want to hear. We've gotten some attention and acclaim for it, but I think sometimes we ask ourselves, "Why isn't everybody fucking with this?" It's gotten to the point now that we just keep it pushing. We're going to keep knocking at that door until one day it finally comes down.
JayHawk
I feel like one thing that gives us hope is that most of our predecessors from the South went through the same thing. Even though acts like Outkast came out in '94, a lot of people didn't really start listening to Outkast until Stankonia came out. It's the same thing with UGK. They'd been putting out records since '92. For a lot of people, it didn't spread worldwide until they did "International Players Anthem" with Outkast.
You've been releasing music for nearly eight years. Do you think too much success early on would have stunted your development?
JayHawk
Real talk. There's an article that came out on Noisey called "Fuck You, I'm from Texas." It kind of touched on that. There are pros and cons of this underground Texas rap. The cons are that you don't get recognition until later in your career. The pro is that because we're underground we have to work. We have to work on our live show, we have to work on our sound. We're at home and we're broke, which makes us grind harder. It makes us better performers and artists. Most times, when you deal with artists that are from the underground, when they get that light shone on them, they're usually ready for it. When you get success right after you start making music, then the whole world gets to see your flaws and has to watch you grow and go through image changes. We've done all that behind the scenes.
Was the experience of recording Down By The Trinity different from past recording experiences?
Mel
Hell yeah. At the time, I was staying with my granny and helping her out at the house while saving money. We had to bend to those restrictions. She's older, of course. Hawk couldn't rap at my granny's house past a certain time. He's just too loud. A lot of those records I made by myself at four or five in the morning in pitch black. I was getting my emotions out about things I was dealing with. It was the first time we didn't all live together while we were making a project. It was just a very interesting process all together. [One time we recorded] and we came outside, and somebody had broken into D's car and stole his CD player. It was right outside. It was just intriguing all together.
The production on Down By the Trinity doesn't sound like anything I've ever heard from Texas. Were there any big sonic influences, or would you say that you were operating in wholly unknown territory?
Mel
Both. It's the first major project we made where I really had more of a foothold in the production. I made most of the sounds on there. For me, it was trying to find a novel way to convey some of the same emotions that I'd heard and felt in music before. I don't want to give away too much of the recipe, but a lot of it was manipulating sounds. Dark shit. A lot of it was finding creepy shit and trying to make it not blatantly creepy. At the same time, I know I was listening to a lot of Deftones, a lot of Soundgarden and a lot of somber shit. I know that as a band we were listening to a lot of that stuff. Hawk was listening to a lot of Scarface. You know, we listen to a lot of different shit. It's like we're inspired by a lot of things without being blatantly inspired by them.
JayHawk
There's still various subtle things that still represent the Texas sound. On "Fahrenheit 214," D and Mel screwed the snares. It's just little subtle stuff. We're still going to be Texas southern boys at the end of the day.
When did you guys decide to adopt the fiery Confederate flag as an emblem? What does it mean to you?
Mel
This is way prior to the whole Confederate flag hoopla. I remember thinking the Confederate flag was such a dope design. I'm not saying it's a dope flag. I just think, from a design standpoint, it looks very dope, and I definitely want to burn the bitch because of what it represents. I remember making this very rudimentary cover that had this highly saturated Confederate flag on top of black with neon flames. That was the cover of [this playlist of music we were working on/listening to] for a long time. There was just no explanation. The soundscape just kind of struck me that way, visually.
At the time, the playlist was so Southern. At the same time it was so alternative, so different. I think subconsciously I thought that the burning of the Confederate flag is about shifting the Southern paradigm. Burning down these old Southern conventions sonically. Like, just because you're from Texas you have to come down and jam Screw. [It represented] a way of moving forward and taking this shit to another place. So the Confederate flag stuff started late 2013. I even got it tatted on my arm in early 2014. It's tatted on my forearm on fire. That was a year and a half before the album came out, and a year before the whole Confederate flag hoopla.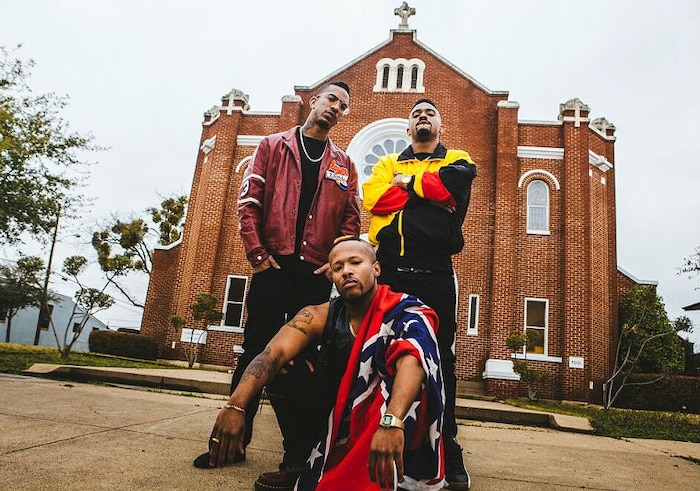 To me, the album represents a crisis of faith – faith in God, rap, your country and life in general – and an attempt at redefining the self through music and your shared bond as a group. What were your intentions?
Mel
On the record, we don't really want to say. I don't mean to be a douche. We really feel like the thing that makes Mulholland Drive the dope movie that it is is that you kind of have to continue to reinterpret it. It's the thing that gives Inception the kind of corny-but-dope ending that it has. You really don't know exactly what was meant. We kind of want people to try to understand it and feel it [long after we're gone]. We hope the people that go through what we were going through when making it can really feel it. It means a lot of things. It's a layered cake. On the surface it's definitely about oppression and the rage and frustrations behind that. It's definitely about pain. But we always say that there's an element of it that people overlook. It's the most blatant nature of the album. There's something in that album that, if you really listen to it, you'll get it. That's kind of how I put it.
Your short film for "Burning Trees" is explicit in its imagery, but the message is somewhat difficult to pin down. One interpretation would be that the video represents white America's attitude towards black people/black art. In other words, white America is only interested in engaging with black culture for potential profits made from exploiting it. Is that what you hoped to convey?
Mel
To a certain extent, yeah. We were saying a lot with that film. One of the things we wanted to get across was the relationship between the "black man" and the white world. That was a very tertiary element of it. More of a primary element was exploring possessions of the spirit – or vices, as we call them: sexual, drug addiction, abusive relationships or love, period. We don't really do a good job nowadays with all the social media and all the cynicism – there's a lack of spirituality. Fuck religion. We don't meditate. We don't take the time to discover ourselves. We don't take time to let the universe or our spirit or God talk to us. We're not even cognizant of what's going on with us spiritually. Nine out of ten of us don't know how we feel. We really, really don't. We try to convey these dysfunctional, confused and misunderstood emotions to others, and most of the time they come out like static. We get on the phone with our loved ones and we feel hurt, we feel fearful or all we do is argue. Or we get around this loved one and we can't really talk. It's like our chemistry is off.
We can't even consciously grasp what our spirits are wrestling with. There might be something going on inside of us that has nothing to do with friends or family. We might be at a point in life, like when you graduate from college, and you don't know what your life is going to hold and you're scared and everything you thought you knew is false and you're questioning life and religion and you're hurt and confused. All of these things are deep emotions, but because we're not in tune like we once were, we process them surface-level. We call it being stressed out and frustrated and we go to the party to get drunk and smoke the blunt and listen to the Future CD and we go on to the next day. We go on Snapchat and keep it moving. Because of that we're not able to combat a lot of the different spirits that possess us.
So we try to avoid that shit at all costs. We avoid church, we avoid old folks and anything else that makes us face that. At some point in life you're going to go through something that's going to make you face your fears, and you're going to get to know yourself real well. You're going to know your good, your bad, and your ugly. You're going to know what you're capable of. We think we're so good and so perfect, but what are you going to do when that shit hits the fan and you do something you thought you'd never do? Long story short, that's what "Burning Trees" is about.
What's one aspect about Southern rap coverage that you feel needs to change?
Mel
I would say that the preconceived notions need to stop. People really feel like they already know how we coming. All that is is a box. If you write about the South or you're from the South and you curate a certain thing based upon a certain preconceived notion, then what are you doing other than regurgitating stereotypes or aesthetics that already exist?
At this point, I know what we've done. What we've done is no different from what Kendrick Lamar and TDE have done. It's just that they're based on the West Coast, they're coming out of L.A. and they got more money than we got. Thus, Kendrick's art is able to be better received than our art. But we've existed in the same lane and the same vein. We've put out project after project, concept albums based upon inspiration and conscious topics, and they fell upon deaf ears around this motherfucker. You and Jeff [Weiss] and all our fam out there in L.A., y'all are exceptions to the rule. Down here where we live, these motherfuckers sleep on us.
We just put out a single two days ago and we seen the most buzz that we seen here in about three or four years. It's a single. It's cool. We didn't produce it. It's not what we're known for. I would say it's a fart. We literally made it in an hour one night, intoxicated off syrup. We just made it for the fuck of it. I'm not tripping at it, I'm just saying what's real. We deal with what you're asking us firsthand. Down here in the South, we came a long way and we're making lots of strides, but we're still behind in so many ways.
I know when this shit happens for us, and the masses know we exist, we're going to mash the gas forever.
Dorian
I think the people don't really take ownership over the power that they have. They don't necessarily realize that they have a voice and a platform that enables them to talk about what's going on in the South and in Texas. I think sometimes they don't realize it. I think sometimes they think the audiences are dictating what they put out into the world. Like, "My audience don't want to hear something that's a little bit left-of-center." But everybody else shows you otherwise. People are listening to Kendrick Lamar. He just dropped a surprise project and it's all up and down social media.
People are checking it out. To say that if someone from the South does something along the same lines, that people don't want to hear it, is a falsehood. It's just that the journalism doesn't want to get behind it. They feel like the South is just trap shit right now. Everybody wants to just follow suit. Nobody wants to step out on a limb and do something different, despite how they feel. I would venture to say that there are probably a lot of people out there who are aware of us, or people like us in the South, and they'll say something behind closed doors, but when it comes time to speak up about it they might not own up to it.
Mel
Not to contradict what my boy is saying, but a lot of the journalism down here has tried its damndest. We've been critically acclaimed down here. I don't even know if it's journalism's fault. It's deep, bro. It's the people. Say Cheese, Houston Press, Dallas Observer – they can write all they want to write about us. They can't change the masses down here from going to the strip club and wanting to hear that Young Dolph trap shit. I guess that's a departure from your question. But I don't know if I would change a thing about our route thus far. It was for a reason. I know when this shit happens for us, and the masses know we exist, we're going to mash the gas forever.
We've paid dues, like Outkast, UGK and E-40. It's so interesting that in today's game we talk about those forefathers, and it's always in retrospect. I don't know if we really believe that we'll ever have that again. That type of upbringing doesn't exist anymore. Nobody has to do what E-40 and Too $hort did and get out there and move CDs in the street like that. I would argue that our route as the Outfit, TX has been the digital-era version of that. We've put out project after project online, and visuals to match, and we've gotten behind it and pushed it. I've been to the shows of hyped artists and people that are on the top of WorldStar right now –horrid. They can't perform worth shit. I say this with all confidence. We bring the show. If you book us, you're going to get a motherfucking show. You're not going to get no corny gimmick flow. We know we're not alone. I think it's just a matter of time. Everything is cyclical. This digital revolution has taken a toll and affected everything, but know we're finally landing…
In short, I think the journalism does the best it can down here. It's just that nobody is going to understand life in the South other than Southerners. No journalist can really log that. It's a certain experience. It's hard to express. It's just one of them things.