Interview: Jessy Lanza
Ahead of the release of her second album, Oh No, Henning Lahmann speaks to the Canadian producer and vocalist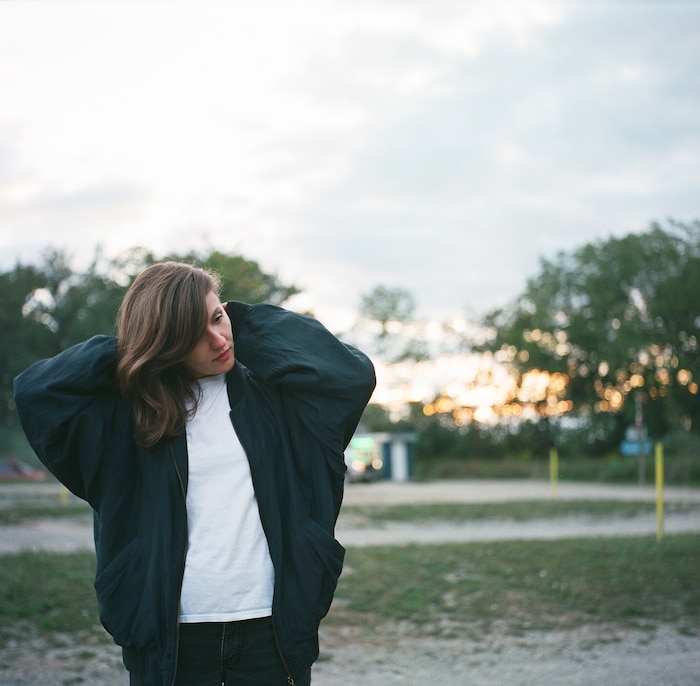 Jessy Lanza is the Hyperdub-affiliated R&B explorer who studied jazz performance and loves machine-made rhythms, and has been fueling her creative fires in a musical relationship with the Junior Boys' Jeremy Greenspan – a fellow Hamilton, Ontario resident. Lanza and Greenspan produced her debut solo album, 2013's Pull My Hair Back, which was snatched up for release on Hyperdub by Kode9. Since then, her talents have become a hot commodity: She was tapped to remix Matthew Dear, and lent her vocals to releases from Ikonika, Caribou and Morgan Geist. Still, it's her collaboration with Greenspan that continues to bear the most fruit, as the two teamed up once again for Lanza's 2016 sophomore album, Oh No. In this excerpt from her RBMA Radio Fireside Chat, Henning Lahmann speaks to Lanza about her journey so far.
Tell me a bit about life in Hamilton, where you live.
Hamilton is a rust belt city of sorts. It used to employ a lot of steel workers, like in the tens of thousands, but there are only a couple of thousand working now. Hamilton is rough and the levels of poverty are quite bad – I think the highest rate in Canada for an urban area – but there are really beautiful parts and it has improved in the past few years. As Toronto becomes very expensive to live in, a lot of people are moving to Hamilton for cheaper housing. There aren't that many places to go in Canada if you want to be in a city. I moved to Montreal for school and I have lived in Toronto on and off, but I was born in Hamilton and have lived there for most of my life.
I was fumbling around on Pull My Hair Back, trying to figure out what is it that I want this to sound like.
When did you start learning how to play instruments, and make music?
I started playing piano when I was maybe 6- or 7-years old. Both my parents are musicians, so I was always encouraged to perform at talent shows and go to dance lessons. I love singing and playing piano, so I started writing my own songs pretty early on. I don't know if you'd really call them "songs" so much, as it's quite embarrassing. I'd say that the majority of songs that I wrote even as recently as five years ago are pretty embarrassing. Some of the songs that I write now are really embarrassing as well – it's just that nobody ever hears them. My dad had a pretty crazy synthesizer collection. I knew how to play the piano, but the whole synthesizer thing was too complex for me and he didn't really take the time to show me, so I didn't appreciate the gear he had accumulated until much later in my life.
You went to school at Concordia, right?
I went to Concordia University to study jazz music. That exposed me to a lot of music that I wouldn't have necessarily listened to, and taught me how to learn other people's music and what to listen for. A big part of the program is transcription: picking a solo that you like, or a player that you admire, and then learning how to play the solo and write it out rhythmically. I didn't graduate from Concordia, though. I moved back to Hamilton, graduated from my master's degree in music history, and then went back to Montreal for another program at McGill. I dropped out of that program as well, though, and moved back to Hamilton again.
What did you do when you went back to Hamilton?
I had to work because I had no money, so I moved back in with my mom and that's when I re-established my friendship with Jeremy Greenspan. We didn't have much of a friendship in the first place, though – we were more just acquaintances – but that was around the time that he asked me to do some session work with him for It's All True. My session never made it onto that record, but we started working in the studio together after that.
When did you make the decision to turn that into what I assume became your first album?
We made a lot of songs that ended up being scraps, but we had four or five songs by the time that Jeremy ran into Kode9 at a show. Kode9 asked him, "What are you working on?" and Jeremy played him a couple of those songs. We didn't think anybody was going to be interested in putting them out, but Kode9 seems to like them and so we said to ourselves, "Let's make five more songs, and round this out into an actual LP." We managed to finish it, but it was a really nerve racking time for sure.
Where did you record the songs for Pull My Hair Back?
They were recorded in my own studio and in Jeremy's, which are a block from one another. My studio looks like a closet. It's really small, but since it's usually just me sitting in there, it's fine. I basically sit straight on, and on either side of me I have all my synths. I have seven synths. There's not enough space for all of them, so they have to be all patched in at once. I also have a vocal booth behind me – it's like having two walk-in closets.
You've described you and Jeremy's songwriting process as being a 50-50 split between the two of you. How do you pitch ideas to each other?
We usually start working independently. We each go to our respective studios everyday and mess around, and then if either of us come up with something that we think is worth showing to the other, then that's usually how the songs start to get fleshed out. There have been many times where I've started a song – chords, drums and a vocal melody – and I've given it to Jeremy and he's kept the vocals and the chords, but thought that the drums were crappy and did them instead. I was fumbling around on Pull My Hair Back: trying to figure out what is it that I want this to sound like. I had a clearer vision of what I wanted to do for Oh No, which was to write a pop album.
Do you write songs on tour?
I toured with Caribou pretty consistently in 2014. Whenever I write on the road it's always on my computer, and I feel like it sounds a karaoke MIDI rendition on YouTube. I just can't make it sound good. I need to be in my studio. I need my hardware.
You've talked about being perceived as the vocalist and not the producer. That's common in the music industry – "You as a woman must be the vocalist, and then the guy is the producer." Do you still encounter that prejudice?
I haven't encountered any sort of prejudice regarding what my role is lately, which has been nice. I think that people get it now. When I released Pull My Hair Back, I think that people made assumptions and I cracked at them. I don't know what the future holds in terms of having these redundant conversations, but it's been fine for the most part. People are more like, "Yeah, okay. We get it. You do this, and we don't need to ask this question anymore."
I've also read that you teach teenage girls in electronic producing, is that true?
Yeah – I did an electronic music workshop for girls specifically aged 14- to 18-years old with my friends Kristy and Naomi in Hamilton: about getting familiar with Ableton and the basics, which was really fun. It was a one-time thing and none of us have had time to do it again since, but hopefully we'll be able to do another round of it.
Do you feel that more needs to be done in order to increase the visibility of women producers?
Yeah. I think it is changing, but I don't think that that means that people can have an indifference to it. If you look at festival lineups and promotional material for any gear company, it's like women don't exist or use the products. It's about visibility, and there isn't much of it. In order for things to change, we need to be more proactive. I don't think a "let it happen" approach goes that far.
Why is there so much pushback when it comes to talking about equality for women all around, or talking about sexual discrimination?
Do you have suggestions for what would need to change?
Book more women. It's a tough question, because when you're talking about women in a male-dominated genre there's a larger context to consider, but why is it so uneven in so many respects? Why is there so much pushback when it comes to talking about equality for women all around, or talking about sexual discrimination? When it comes to booking festivals, there's a general laziness that centers on profits. Taking a chance on people who are lesser known, both men and women, or someone who veers away from the mainstream, is considered a risk. And that reflects on the music being made, in a way. In music, especially now, I think there isn't a lot of risk-taking because people are afraid of doing so.
Do you feel like bringing women together to learn music software and production skills is one way to do this – like your class in Hamilton did?
It is one way of doing it, and it is a good way to do it, too. You don't see that many women in technical roles because so much of music production seems a lot harder than it actually is. It can seem overwhelming at first, and like a boy's club, but if you just have a little bit of guidance then it's really easy to learn.
So, what's next for you?
At the moment, I'm planning for the Oh No release on May 13th and the shows that will follow. I'm playing with a drummer now, which is great: I'm trying to put together a good show, and will hopefully fit in some time to write some new music, too. Who knows – maybe I'll get better at writing on the road.