Shabaka Hutchings
Interstellar saxophone skills and a voracious work ethic have made Shabaka Hutchings one of the most celebrated young musicians on the U.K. jazz scene. Stewart Smith finds out what drives Hutchings to explore new creative territories in search of vibe.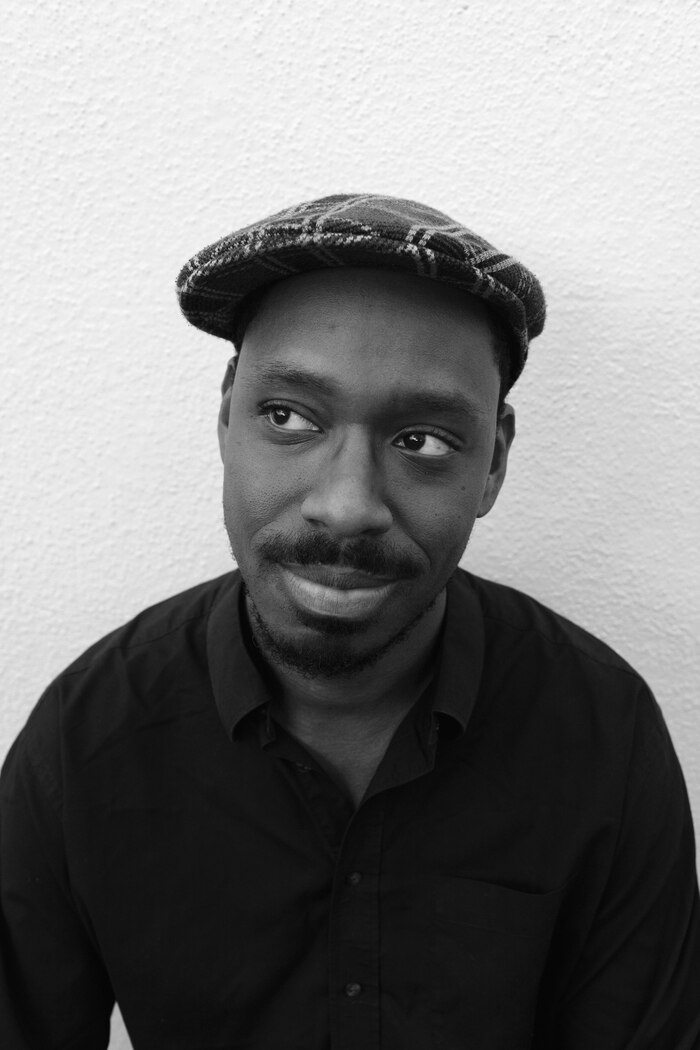 It's late 2015 at Dalston's Rich Mix venue, and Sons of Kemet are whipping the audience into a frenzy with the relentless African-Caribbean polyrhythms of twin drummers Seb Rochford and Tom Skinner. Theon Cross's tuba belches and throbs, while Shabaka Hutchings, standing over six feet tall and resplendent in a hooded silk cape, unleashes fiery saxophone vamps that burn through the ozone layer. The atmosphere is closer to that of a carnival or a rave than a regular jazz gig.
The tune they're playing, "Afrofuturism," is based on a traditional Barbadian tuk band rhythm, a style of music made for carnival. "I think for me the main influence from that Barbadian or Caribbean thing is wanting it to be kind of complex, but it's got this energy, it's hype," says Hutchings. "Those guys will be playing for hours and it's all hype – people want to dance. It's something we really try to get in the live setting. It's captured a bit on the album, but for me there are still places you can go with it – like, how do you sustain that energy and really keep it going?"
Hutchings' attempts to harness that energy have made him one of the most exciting players on the U.K. jazz scene. Born in London in 1984, he grew up in Barbados before moving to England in 2000 to study classical clarinet. His music is very much a product of multicultural London, drawing inspiration from the city's mainstream and avant-garde jazz scenes as well as the traditional and contemporary music of the African-Caribbean diaspora.
Sons of Kemet, whose second album Lest We Forget What We Came Here To Do was released to great acclaim in 2015, is Hutchings' primary project, but he can also be heard surfing the cosmos with electro space-jazz trio The Comet Is Coming, whose debut album Channel The Spirits came out on the Leaf Label in April 2016. Other projects include post-everything outfit Melt Yourself Down and hip hop-inspired jazz trio Thousand Kings. Much in demand as a sideman, Hutchings has played with everyone from Ethiojazz legend Mulatu Astatke and Afrobeat maestro Orlando Julius to Jack DeJohnette and the Sun Ra Arkestra. In an electronic context, he's worked with Leafcutter John and has plans to tour with Floating Points in 2016. Hutchings' partner lives in South Africa and he has immersed himself in the jazz scene there as well, playing with musicians such as Kyle Shepherd, Nduduzo Makhathini and The Brother Moves On. He's also received commissions to write pieces for orchestras and string quartets, and is currently working on an opera with Nigerian author Ben Okri.
Hutchings delights in moving between these diverse projects. "People just want to play good music," he says. "I guess it's more of an innocent view of music; if I like it, I'll play it. It's as simple as that." At college, Hutchings led a double life, studying classical clarinet by day and playing jazz saxophone by night with friends like Soweto Kinch. This was an ideal way to learn jazz, he feels. "That's what you need – to play. It's not really a music where you just stay in your bedroom and produce the work. You go out, play with people and figure out what works."
After graduating from Guildhall School of Music in 2007, Hutchings became more involved with the free improvisation scene around London's Café Oto, playing with peers like the brilliant pianist Alexander Hawkins and older figures such as Steve Beresford and the great South African drummer Louis Moholo. "It's always a challenge playing that kind of music," he says. "It's like, 'What's good for the music, and what's the whole music trying to do?' I really like going, 'Okay, this is the stuff that I know - how am I going to use it with these other guys?'"
Musically, my main concern was and always will be vibe.
Hutchings continues to play in avant-garde contexts, but in his own music, he tends to focus on melody and groove. His time with Mulatu Astatke and The Heliocentrics had a major impact on his compositional approach. "When I started in [Astatke's] band, I was at a point where I was really thinking about how to write melodies that are graspable, regardless of what the setting is. I think that's what Mulatu has. Most of the tunes are based on traditional Ethiopian modes, but they don't sound dated and you can tell stories within the limited note choices that you've got. That's the big thing that I learned [from Astatke]: how to actually construct melodies that go places, without being too much harmonically."
Hutchings explored the Ethiopian Anchi-hoye minor mode and chip chikka rhythm on Sons of Kemet's 2013 tune "The Godfather," but the group's main diasporic influences are Caribbean and West African. "Musically, my main concern was and always will be vibe," says Hutchings. "I wanted to get the atmosphere of the nyabinghi chanting of [Count Ossie and the] Mystic Revelation of Rastafari, the raise-the-roof bombasticness of a dancehall MC like Sizzla or Capleton, and the conversational drumming styles of West African drumming ensembles."
By filtering these influences through the band members' individual experiences, Sons Of Kemet create what Hutchings feels is a distinctly London sound, "with its melting pot of cultures: its hectic energy and moments of hazy reflection," he explains. "We're not trying to give you an image of tradition. We're trying to take this and completely re-contextualise what it means, considering the fact that we are in London and it's a multicultural band." Hutchings' comments about re-contextualising African-Caribbean traditions reflect his interest in Afrofuturism and Sun Ra's concept of Astro-Black Mythology: of subaltern cultures taking control of their history by re-imagining it through science-fiction, and creating liberatory visions of tomorrow in the process.
"It seems like, since we did the album, a lot has been said about Afrofuturism. This is great, but it suddenly seems like I've jumped on this bandwagon!" he laughs. "But I've always been fascinated with the word. I think I first heard about it from John Akomfrah's documentary The Last Angel of History, then looking at Afrofuturism and exploring what the context is. I watched it and I thought, 'What does it mean to me?' I went to a lecture by Kodwo Eshun - who I'm a massive, massive fan of - and he was talking about Afrofuturism as being a way of poeticising the past. That you recontextualise it and mould it in a way that gives you a power over history. I like that sentiment. It's essentially this Sun Ra philosophy that I'm really into: the fact that communities that have agency were able to form their own philosophical structures."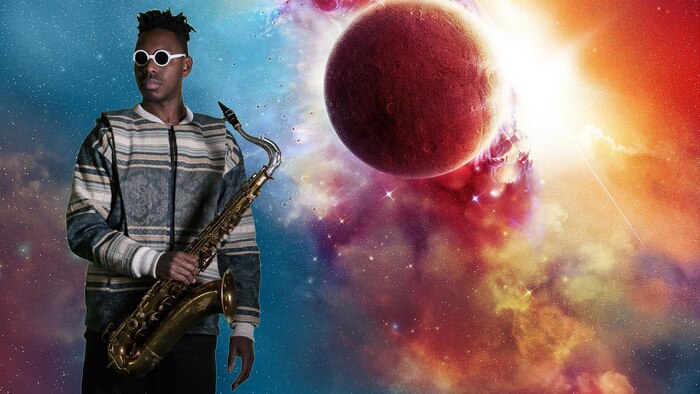 Hutchings' Afrofuturism is also linked to his interest in spirituality within jazz. At last year's London Jazz Festival, he organised a show playing and discussing the spiritual free jazz of John Coltrane, Albert Ayler and Pharoah Sanders, looking at what connects those artists and what the idea of spirituality means in today's more secular jazz scene. "[For them] the music is just one part of a whole body of thought. If you take away the word 'spiritual' and all the esoteric stuff, how can you actually negotiate our position as beings with that as a focus or not?" he asks.
"The way that I see it, it goes back to a book by [Afrofuturist author] Octavia Butler that I'm really into called The Parable of the Talents. She talks about the concept of God as not a 'being' or a 'non-being,' but as the process by which energy travels from one point to another," he explains. "The service of that God is acknowledging that change happens, and you worship said God by adapting to life." Is this the inspiration for Sons of Kemet's "The Long Night Of Octavia Butler"? "Her books put me in a mood," he reflects. "It's like a gaze comes over the way I see things. It makes you consider what it is to be in the reality that we inhabit right now. In some ways, it's not really 'The Long Night of Octavia Butler' - it's the long night of the reader after reading Octavia Butler."
With this interest in Afrofuturism, it's perhaps inevitable that Hutchings should find himself guesting with the Sun Ra Arkestra. Playing with them was "nerve-wracking," but he was inspired by their generosity and openness. "There's the whole legacy of Sun Ra hanging over you, but there's also a freedom of being able play. They don't want you to hold back. They'll call out the tunes - and they've got a massive pile of them - and it's in no order. You can either spend half the tune trying to find the [chart], or you can just play. And what you find is that it sounds great. At the end, Marshall Allen said to me, 'You did no wrong notes.'"
Has that approach influenced Hutchings' own music? "Definitely," he says, assured. "As a musician, you get wrapped in all these hypothetical minefields of whether what you're doing is suitable or not. But at the end of the day, it's like, 'Whatever - play the music and someone else will do the analysing.' I think that's the spirit of the Arkestra. They're happy to give music. All the energy is put into playing the music, and that's what I try to do with all my projects."