Van Gogh In Fuzz
Once utilitarian objects, Peter Holslin writes that the design of guitar pedals has become as loud as the sounds they facilitate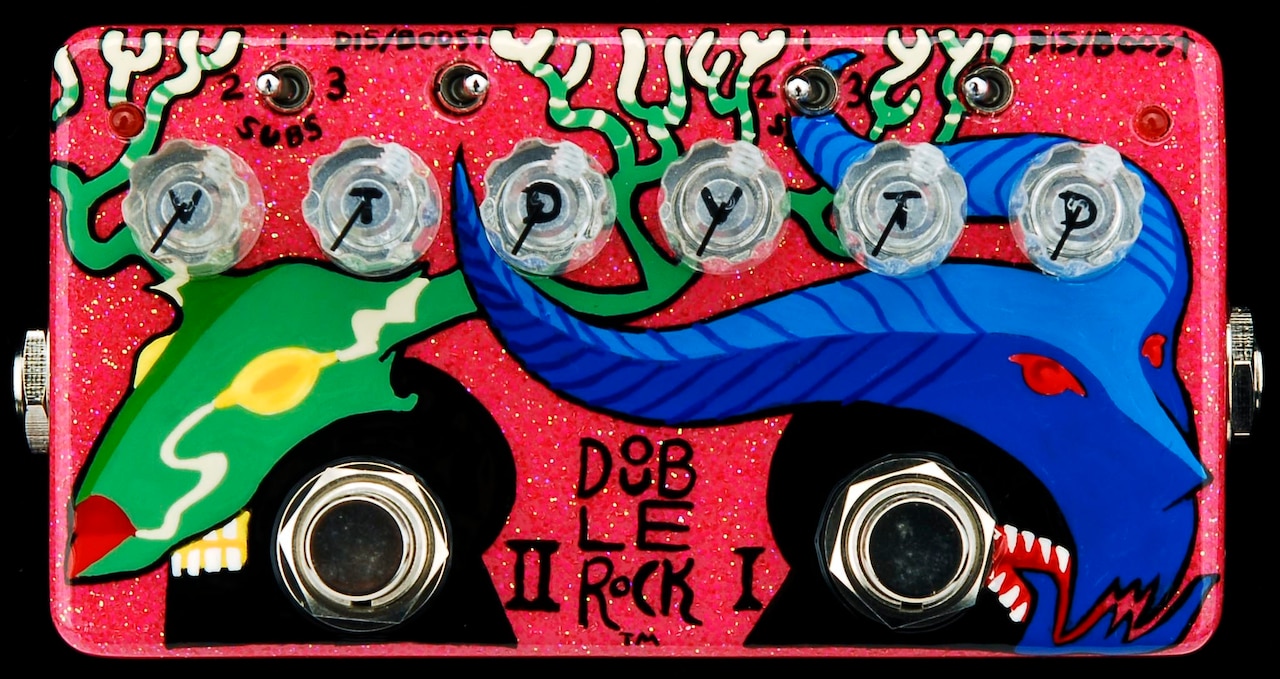 Nothing inspires obsession quite like a guitar pedal. To most people, these nifty little boxes simply make the riffs coming out of your amp sound better. To gearheads and circuit geeks, they mean so much more. Online forums and blogs are filled with endless stompbox debates – analog vs. digital, germanium vs. silicon. Onstage, pedals have been known to become multi-colored metropolises unto themselves, chained together with snaking networks of patch cables.
Guitar pedals have been in use since the 1960s, but in recent years there's been a proliferation of "boutique" pedal companies, accompanied by increased depths of infatuation. If in the past a guitarist's choices might have been limited to pedals made by large companies like Vox and Dunlop, now anyone with enough cash can avail themselves of all sorts of custom fuzz, reverb, delay and tremolo sounds.
These pedals don't just sound good. They look good, too.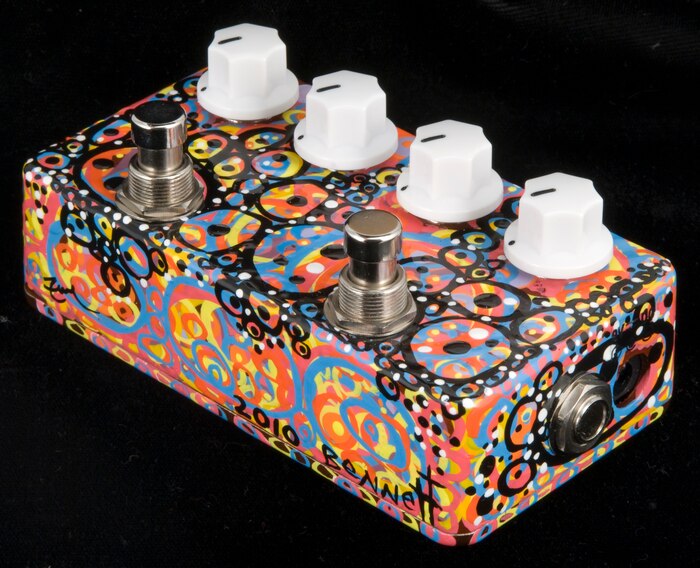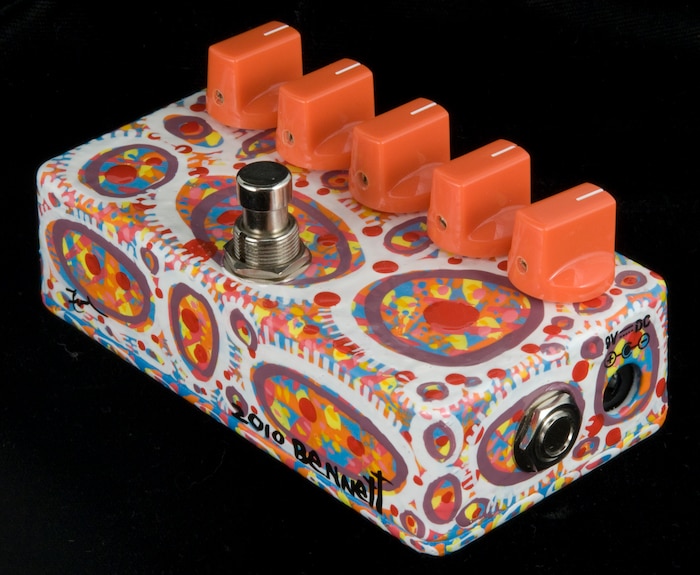 Graphics were never a huge part of the guitar pedal universe. In the past, design elements were often limited to cool-looking typefaces or functional considerations. The Maestro Fuzz-Tone, first released in 1962, was basically just an ugly black box. Jimi Hendrix's famous Dunlop Fuzz Face was designed to evoke a dopey-looking smiley face. As for Boss' series of popular pedals, they're color-coded by type of effect, so a performer can more easily know what they're stomping on during a live show.
"I think it's generally the last thing people think of when we make a pedal – what do we call it and what does it look like?" says Seth McCarroll, creative director and co-founder of Oklahoma pedal makers Old Blood Noise Endeavors. "For my part, in this company it's as important as what it sounds like – how we're going to present it, what it's going to look like, the vibe it's going to have."
Things began to change in the 1990s. That's when Jason Myrold, then a student at the Minneapolis College of Art and Design, first started doing pedal paint jobs for Minneapolis-based manufacturer ZVEX Effects. From 1998 to 2008, he served as the company's chief painter and artist, using a small room in his downtown live/work space as a site for industrial-grade pedal art production. Hunched over a desk next to a window overlooking a freeway entrance, Myrold spent six- to eight-hour stretches drilling holes into aluminum enclosures, spraying powder coats and hand-painting graphics using colorful enamel paints. He painted hundreds of pedals for ZVEX that way, all the while refining and developing new techniques. His work was instrumental in creating the company's now-iconic pedal look – bold and colorful, mixing DIY simplicity with psychedelic whimsy.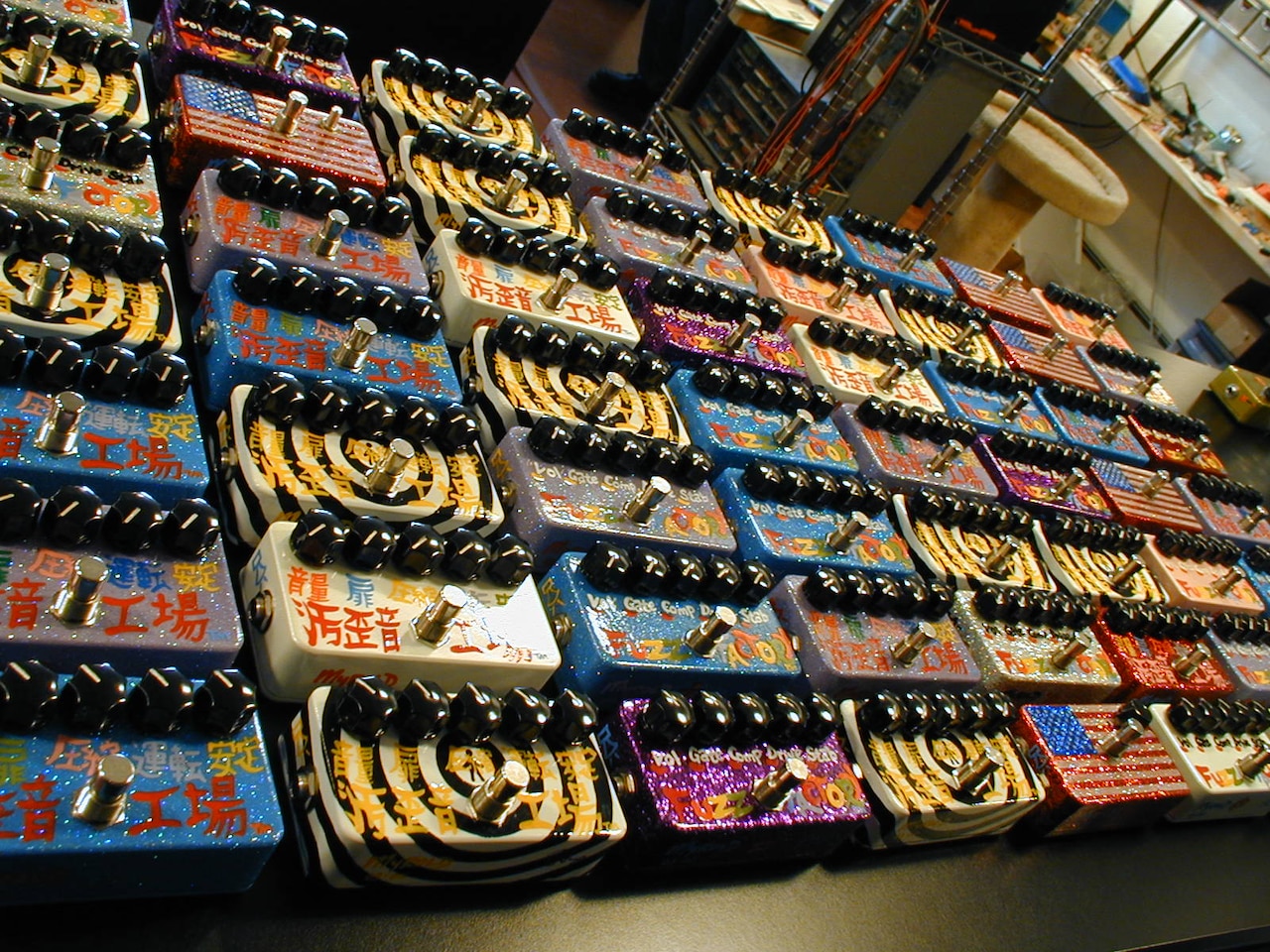 "I think it came out of something inherent in my personality," Myrold says of his approach. "I've always been attracted to artwork that was organized in a certain way due to color field. When I was younger, Van Gogh appealed to me, but it was because of the movement and the isolation of colors. It wasn't, like, a picture of something. It was how the colors that were organized appealed to me, and the fact that there became a refinement… [The painting] became boiled down to the least amount of things you needed to convey the meaning behind something."
In the time since Myrold's early years at ZVEX, a handful of other pedal artists have emerged. Many come from other fields in the visual art and music realms, giving stompbox graphics new styles and techniques. But artists have also shown an interest in balancing form with function – using graphics not just to make something that looks cool, but also to communicate what all those knobs and toggle switches mean.
David Medel, an artist in Detroit, creates elaborate, multicolored screen prints for pedals made by Catalinbread; some look almost like miniaturized psych-rock concert posters. James Granuzzo, the owner of Main.Ace.FX in Colonia, New Jersey, takes a more industrialized approach, following an acid-etching process to burn stark black graphics onto the pedals' bare metal surfaces – a look that reflects their harsh fuzz tones.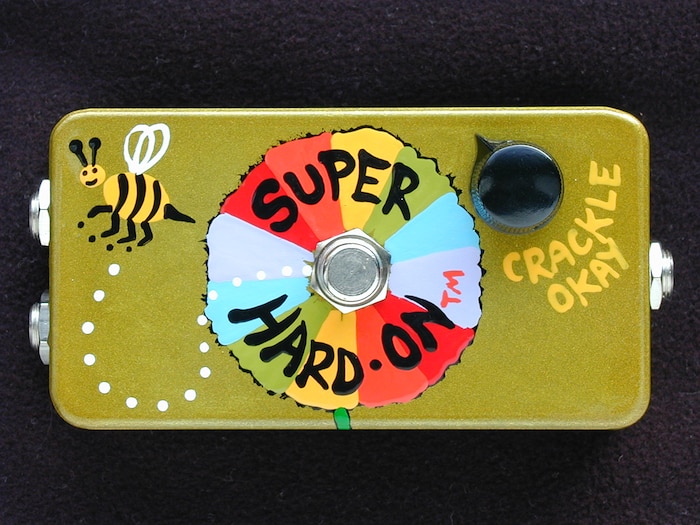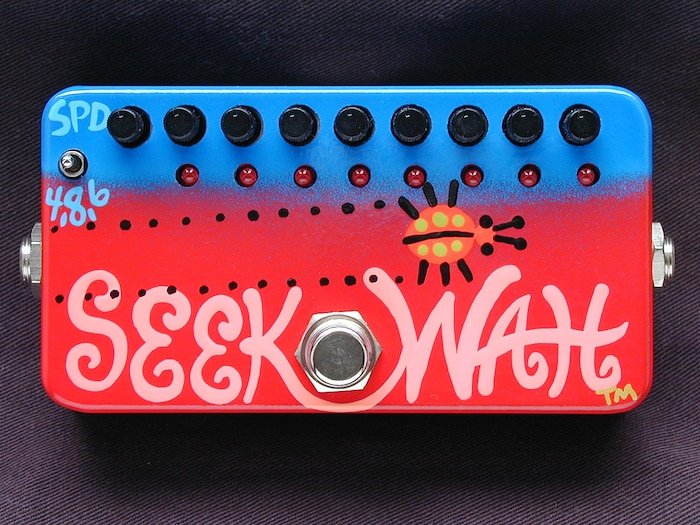 More transcendent is the dizzingly colorful pop art style artwork of Laura Bennett, a painter, musician and former employee at ZVEX. Though some of her pedals have the usual fonts and labels, others are covered top to bottom with zig-zags, textured dots, squiggles and lines – a look that's meant to evoke the patterns found in biology, zoology and vintage clothing.
"When I paint I'm kind of describing what music looks like, too," Bennett says, noting that her pedal art often reflects her works done on much bigger canvases. "I love fuzzy guitars and fat sounds, and so some of the abstract paintings I do I feel look like static."
Of course, not all pedal makers or pedal artists can afford to put so much heart and soul into the visual side of things. At the end of the day, guitar pedals are still primarily tools meant for, you know, sound; many companies take a more straightforward approach with their graphics, adding them on using UV printers. Even ZVEX has a Vexter series of pedals with less expensive screenprinted art for guitarists on a budget.
When someone has their big-ass truck pinstriped by an artist, it becomes a form of true folk art. It could be the same with pedals.
Still, custom pedal graphics have become something of a home crafts trend. YouTube is filled with tutorials for doing "swirl" paint designs, acid etching and other methods, while some pedal-makers pride themselves on how their pedals' aesthetics capture their company's DIY ethos.
"I think pedal artwork is a part of what they call 'Kustom Kulture' – like Von Dutch and all that," Pat Corrigan, an artist and pedal painter in Portland, Maine, wrote in an email. "When someone has their big-ass truck or bad-ass motorcycle pinstriped by an artist (oftentimes a sign painter), it becomes a form of true folk art. It has a function that is quite personal. It could be the same with pedals."
Over at ZVEX these days, the pedal painting process hasn't changed much. The base coats and clear coats are now done at a neighborhood auto body shop, but all the designs and paint jobs are handled in-house by two staff artists, Colin Bridges and Lisa McGrath.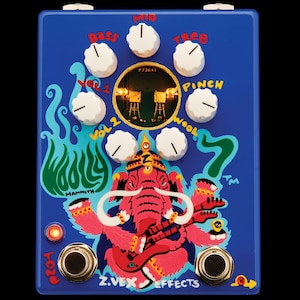 Recently, McGrath came up with one of the company's most brilliant visual creations yet – to bring to life the Woolly Mammoth 7, an epic fuzz processor, she painted it with a long-tusked Ganesha-style elephant rocking a double-necked guitar over a blue backdrop. It's a pedal that's almost regal in its intricacy, replete with 23-karat gold leaf around a small window for the pedal's transistors.
Of course, as ZVEX gets orders for the Woolly Mammoth 7, this is a design that McGrath and Bridges will have to paint over and over again, just as they do with all of the company's other pedals. But McGrath doesn't seem worried. She paints as many as 700 pedals a year for ZVEX, and she says that producing hand-painted works on such a large scale ultimately boils down to focus.
"I'm a fan of a repetitive task," McGrath says. "As you do more and more of things that I've painted many times, there's a lot of muscle memory. I end up listening to a lot of audio books and just kind of go into the zone."