Aldo Marin on Cutting Records
The label owner breaks down the imprint's simple philosophy
When it comes to influential NYC dance music labels, few can match Cutting Records in terms of both impact and longevity. Founded in 1983 by brothers Aldo and Amado Marin – the former was a rising DJ on radio station WKTU, the latter was a record store owner – the label kicked off with Hashim's "Al-Naayfish," which promptly exploded and is now recognized as an all-out classic.
Much of the early Cutting output centered around a similar hip-hop-influenced electro sound, but the label never stayed in one place too long. In the mid and late '80s, Cutting became a major hub for freestyle, issuing anthems such as Sa-Fire's "Don't Break My Heart," Giggles' "Love Letter" and Corina's "Out of Control." Later, as freestyle gave way to house and other forms of dance music, the label shifted again, providing a home for music from Masters At Work, Kathy Brown and countless others. As the '90s progressed, Cutting's diverse offerings have only expanded further, including the addition of Latin sounds from Daddy Yankee and Fulanito. Following the turn of the millennium, the focus has largely shifted away from new music into reissues of Cutting's many classics, yet the label continues to survive – a testament to the staying power of New York City dance music from the imprint's golden era. In this excerpt from a chat with Jeff "Chairman" Mao, Aldo Marin breaks down the label's philosophy.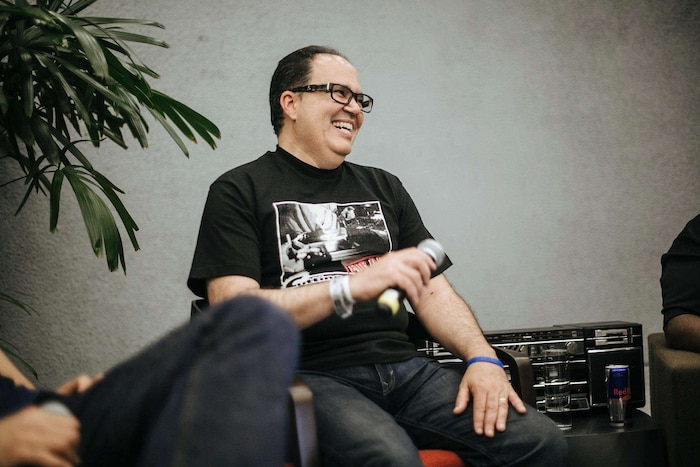 Cutting Records is simple: it's dance music. We started Cutting Records because I was a DJ, and I was pretty much at a level that I thought was where I wanted to be as a DJ, and the next level to me was to produce a record. We have all types of music, all international, local... We have Cutting Latino, which is our Latin division. We have Cutting Tronics. We've got Cutting Tracks, which is our more house, underground type of tracks. We also had Cutting Hip-Hop, Envy Records and Propane Music, which had rock music on it. Shocking Records, which had a lot of freestyle stuff on it. A lot of different labels, sub-labels.
A lot of our dubs were more done on a freestyle tip. I don't mean freestyle like the genre freestyle, like, anything goes. We would put on the two-inch tape machine and just go press all the buttons and do it on beat, and make different breakdowns and scratch things. Then I would take all that and edit it. That's where the dubs used to come out.
One of my first edits was "It's Your Rock" by Fantasy Three. I just went in and took the passes that they had and I edited. It was half-inch, and that was the first time I really edited on half-inch tape. It played faster, it was a little easier, but at the same time, I had to get used to it. The mixes and the sound of the mix were great. They had the bomb at the beginning. They just had it like a sound effect. I repeated the bomb, then we went into the beat. I added beats to Pumpkin's beats and then I added that little vocal piece. That was all edits, pretty much. I put a piece backwards, I just went all out. I was doing all the tricks on the first record.
I always looked at Cutting Records as an Arista, but on the dance side. Arista used to put out all different of artists. We did kind of the same thing. We flowed with what was happening in the street. We had the record store. We knew what was going to happen six months before it was happening on radio, so we had that time to develop and record and put it out. We didn't have this humongous machine where we had to wait six to eight weeks to put out a record; we could put it out right away.
One of our quotes was always, "Making you want to dance." I always say the phrase, "Keep 'em dancing." When they look back at Cutting, I want them to know it's a DJ culture, it's a dance culture, it's a good time type of culture. It's, "Let's have a good time." That's the type of music that I always wanted to put out.