Bush Tetras' Cynthia Sley Talks Nightclubbing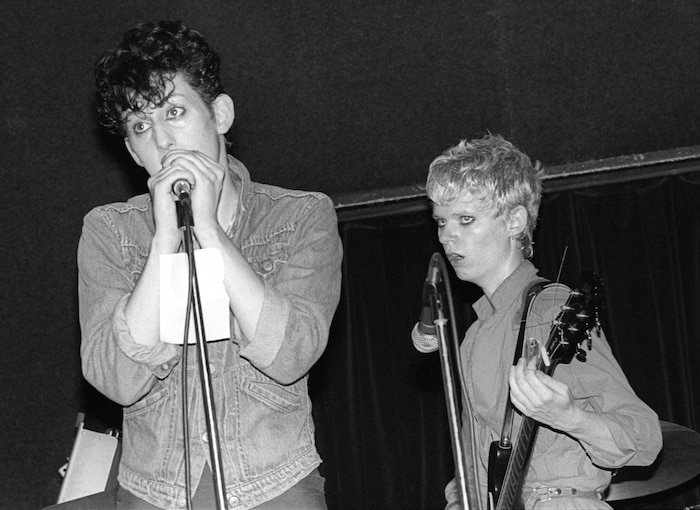 Best known as the vocalist of early '80s post-punk outfit Bush Tetras, Cynthia Sley fronted a group whose influence extends well beyond the years that the band was initially active. First formed in 1979, Bush Tetras debuted the following year with "Too Many Creeps," a single that to this day remains the group's defining song. Combining a funk-punk sound with Sley's half-spoken, half-sung lyrics, the band toured heavily, attaining a cult status before temporarily dissolving in the mid '80s.
Bush Tetras has periodically gotten back together and Sley continues to work on music in other configurations, but these days she also works as a grade-school teacher. Nonetheless, while the bands that emerged as part of the early 2000s post-punk revival might have sold a lot more records, it's clear that Sley and her contemporaries laid the groundwork a couples of decades prior. In this excerpt from her interview with RBMA Radio, Sley remembers some of the most famous NYC clubs from the Tetras' early days.
Bush Tetras played everywhere in New York City. What are your memories of the Mudd Club?
I went to the Mudd Club [in TriBeCa] a lot because I was with a Rastafarian pot dealer. I had a Mudd Club card. It was a really kind of more up-scale. I preferred Tier 3, but Mudd Club was where you could see Lou Reed or talk to John Cale. It was kind of a connection with the older crew. That was really a thrill for me. I saw the B-52's there and I saw some really great shows there. I remember one night I did something with Judy Nylon and that's when I met John Cale. I was dressed in a skeleton suit wrapped in netting and Judy had flashlights, she's flashing. Then these two women were cutting the netting off of me. Why? It's so embarrassing I got up there and did that.
But we didn't care! I would just about do anything. So anything could go on at Mudd Club, anything. They had great DJs so you could seriously go dancing. I would just go dancing for the music, not especially the band, even. You just go there to dance because they had awesome DJs and they had really nice people at the door. Richard Boch always let me in. I got free drinks! So that was a big pull. Dancing, drinks, get in for free.
Do you remember it turning from being something that was the anti-exclusive spot to becoming that?
I think because I came in late '79 that I missed the really cool time for the Mudd Club and CBGB. I caught the tail end of it. Really, for me, Tier 3 was the place, the clubhouse. It's so funny how, within two or three years, everything changed. So there were these little pockets of different scenes. Mine were like "post-punk." I missed that scene that was happening '77, '78.
What was appealing about Tier 3?
Well, they had great bands. It was so comfortable. It was like a clubhouse. They had an upstairs. It was very tiny, so it was comfortable to play there. This was like the early years of me playing. I think my second gig was at Irving Plaza and I played the guitar on standby because I was so nervous that I didn't even realize that my guitar wasn't even on. Tier 3 was a little bit more comfortable and we all played there and hung out there. We got serious free drinks there, unlimited free drinks. We did like, wrestling upstairs. We were kids, we were 22. We were really silly and doing silly stuff.
Did you spend any time at Danceteria?
I spent a lot of time at Danceteria, yeah. Which there were two. I went to both of them. I went to Hurrah a lot. Hurrah was really great. I saw all the English bands there. We played there a lot. Peppermint Lounge was amazing. Really good sound there. Peppermint Lounge was in Times Square first, then they moved to the 20s somewhere.
Did you ever go to the Roxy when they used to have their hip-hop nights?
Yeah. I went to the Roxy. I went to the Roxy after hours, too. I used to go after my shows, because it was all about dancing. I don't know if that happens now. I'm so old I don't really know if people go out dancing. But when we were in our 20s, that was the exercise. We would also, if we had a van, drive up to Harlem and check out bars. There wasn't really a division as much, I don't think. We mixed it up. Fab Five Freddy hung out a lot. He was a fan of the band. We'd hang out with him. It wasn't like it was completely mixed, but I think because there was so much music and art and the graffiti art was so big, that it just kind of melded together. I didn't find it was such a big division. But the Roxy was the best dancing place. That was my idea of perfect. That's what I loved about New York, a big, mixed up place.