Choice Mix: Joey LaBeija
Cultures combine in the New York producer's distinct musical hustle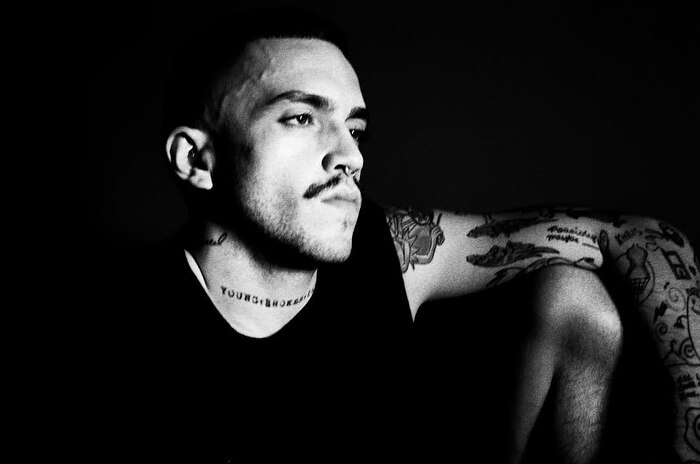 Joey LaBeija has "233" tattooed in the creases between his knuckles, for the block he grew up on in the Bronx, New York, in an apartment with his twin sisters, mother, grandmother and best friend Jessica. The inked band around his throat is a studded initialism of "young, broke and famous," his banjee battle cry in a city heaving with the stresses of growing up and surviving, never-mind 'making it.' Right now he's a full-time hair stylist, DJing, producing and throwing parties in his free time. He's about to move to Bushwick with his artist boyfriend Christian Velasquez, who he occasionally collaborates with on his music videos and productions, and is beaming about how things have come together. For a long time on 233rd Street, though, things were kind of crazy. "Oh, make no mistake," LaBeija says, "I grew up in the West Indian, Guyanese, Puerto Rican and Mexican hood, as the overweight little white faggot who hung out with girls all the time. Living here was mad-tough."
It's early in the morning, and LaBeija's curled up with a black coffee in one hand and a quick succession of joints in the other. With whichever hand is least occupied in the moment, he traces maps in the air of these city blocks and the people that he's fallen in love with on them: his Westchester Catholic school, where he'd hang out and listen to hip hop with the Italian girls; his sister's salsa dance class, where he'd sit in and watch the bodies move around; at home on Sundays after Mass, when his Puerto Rican mother would play merengue and other styles of Spanish music. "This neighborhood has had such a huge impact on my own music," he says affectionately, "because it is a hood."
During high school, formative sounds blasted from the windows and wriggled out from the cracks, often colliding in strange ways. When LaBeija "stopped fucking with the guido girls from Westchester in Juicy Couture sweat suits" and got into hardcore punk music, he swapped his school uniform for a septum piercing and neon contact lenses, and hung out in Manhattan's Union Square with "the other sort-of goth weirdos."
Then he got a job in a Bronx tanning salon, and the same guy would come by every week to sell $8 packets of Newport cigarettes for $5, and three of his own mix CDs for $15. "I wish I still had those mix CDs," he says, rolling his eyes at himself. "I was obsessed with them – they were probably the most important CDs I ever had for dance music." What kind of music was on them? "Like – church vocals and people talking crazy over tribal house tracks – bitch tracks, basically. It's just – rude, you know?"
"Rude" is the word that comes up over and over again when LaBeija tries to describe his own sound. "The music that I release online" – like last year's Shattered Dreams album, which he gave away to The Fader as a digital release before releasing it on vinyl months later – "has more of a core, thematic fundamental to it, of whatever I'm feeling like at the time, whereas my live sets are more of what I am: a New York house party that doesn't give a fuck. When I first started DJing I'd do more streamlined sets with club music, but that got boring to me. Now, I'm really in your face. I'll play Marilyn Manson at your techno party." Like the music of those long-lost mix CDs, but with a riff-laden underbelly and caustic sense of humor, LaBeija's production and DJ styles crash performative vocals into abrasive, genre-bending sonics. His friend and sometime collaborator Rabit called him up recently, pissed off – LaBeija had made an edit of one of his instrumental noise tracks with a Sade vocal on it. "But he totally loved it!" he laughs. If anything, LaBeija's style is deadly serious fun. Playing the role of the dancefloor puppet master is one that he revels in – particularly when it comes to framing contemporary ideas of taste as questionable.
If I were to DJ under any House, it would be LaBeija – they're New York royalty.
"I like to do so many different things at once," he says slowly, thinking of ways to explain himself. "It's disrespectful to put a sexy Beyoncé vocal over a hardstyle track. 90% of people in New York hate hardstyle, but they'll dance to it if there's a Beyoncé vocal on it. I'm there like, 'Haha asshole – you would never dance to hardstyle because you think it's deeply uncool, but I'm making it confusing and funny and totally serious for you by putting this Beyoncé vocal – the cool part – onto it." What does he want this dancefloor to do? "I know how to make people angry and happy in a club," he says, assured. "Girl – I've seen people suck dick and cry on the same dance floor at the same time. It's fun to see people break down what they think their standards are."
LaBeija's current attitude, of using music to shape his own identity and challenge others to consider their own, comes from two totems of New York City underground music culture: Susanne Bartsch, nightlife promoter and creative force behind the '90s "Club Kids" phenomenon and the Love Ball, who LaBeija worked for as a personal assistant for years before hosting his own parties, Iconic and Legendary; and the House of LaBeija, New York City's oldest ballroom house and "the most banjee House of them all," he sings. Through Bartsch, he met younger members of the House of LaBeija, and he suggested ripping the House name for a new DJ persona: framing himself as an outsider, but with a nod of prestige.
Intrigued by Joey, the members invited him to a House meeting, where he met "the old school girls that grew up with Pepper LaBeija, and had to walk a million-and-one balls to just be in the House," he says glowingly. "They were like, 'We love what you do and you're cute' – I'd just modelled for a Diesel campaign, too – so they were like, 'You don't have to walk any balls – this is a good look for the House.' In fact, it's the best look for me because if I were to DJ under any House, it would be LaBeija – they're New York royalty."
Ballroom culture, and particularly the music, is a subject that he speaks about with honesty and respect. "Because I'm part of a House people expect a lot of ballroom music from me, but now it's more about the aggression involved in ballroom culture that's shown in my music, rather than being more directly from the genre itself," he explains. "Ballroom music serves a purpose, but has been so overly appropriated by straight men that it's lost much of its novelty to me," riffing on the co-opting of vogue aesthetics, sounds and language in wider dance music culture. "Ballroom needs to be simple, aggressive – and that's it. There are a core group of people who are perfect at doing that, so I leave it to them. The influence will always be there, but the House of LaBeija is so much more than that. They are the culture of New York City, and we're losing it."
For every complaint that LaBeija may have about the culture of his home being gradually eroded – an increasingly expensive rental market that "wants your fucking blood, I swear," heartless music thrown up on Soundcloud for clicks, "bored bitches on their cell phones at parties" – he drops and flips into a decorative story about something crazy that's happened recently, and has given him hope for the eccentric and messy city that he's been in love with his whole life. He's DJed for fashion designer Telfar for his past two collection's after-show parties inside a White Castle burger franchise: after hours, opening up the upstairs dining rooms and basement storage units for a rave. At the last one he played, there was a heaving moshpit for his relentless cacophony of bitch tracks. "Like, a moshpit in a White Castle!" he roars. "I know how to fuck with people's heads and make them dance to the sound of cars crashing. I'm just a hood bitch like that."

You can listen to Joey LaBeija's Choice Mix on RBMA Radio here.