Detroit Sound Conservancy
From at-risk venues to fragile media formats, Kat Leinhart meets a local nonprofit fighting for the preservation of Detroit's neglected music history
The oldest recording studio in Detroit, United Sound Systems, opened in 1933. It's where Dizzy Gillespie ran his record label, John Lee Hooker recorded "Boogie Chillen'" and Aretha Franklin sang with the Rolling Stones. So when the expansion of freeway I-94 threatened to flatten United into asphalt, Detroit Sound Conservancy stepped up. The organization filed for, and won, historical district status from the city council, helping to extend the studio's living legacy. Then it rented a space in the basement.
But the building can't seem to catch a break. In mid-May, area papers reported that federal agents were threatening to seize United Sound, alleging it had been purchased with money from a cocaine trafficking operation. A few days after the news broke, the DSC fired off a newsletter, announcing it was moving out.
"As our collections continue to surface and grow, we have commenced the search for a more suitable space for our archives," the email read benignly. "Rest assured that in the interim, we are storing [them] in a nearby temperature-controlled storage space while we locate the next ideal location."
If you get into electronic music, you end up starting in the 1930s, and you're still catching up on a long story.
The DSC was founded by Dr. Carleton Gholz in 2012 in order to "increase awareness of and support to Detroit's musical heritage through advocacy, preservation and education in the spirit of vigilance and solidarity." Its vaults house a library of LPs, 78s, 45s and cassettes; oral histories; manuscripts and newspaper clippings grouped thematically into 'vertical files' (Jeff Mills has his own section). Securing the future of United was just one item on a lengthy docket of projects that the city can't prioritize.
"Officially we're not making any public commentary," Gholz said, when I asked about the move. "What I can say is that we were just gifted 1,000 music reference volumes from a local research library that was liquidating itself. When we're able to inventory this collection, we'll be the second or third-best music library in Detroit," too big for the space at United.
For a nonprofit that mostly runs on goodwill, outgrowing anything is a good omen, no matter the circumstance. Gholz seeded the DSC archive himself, with material he collected while writing his dissertation on the rise of electronic music in Detroit. He'd also covered music for the Detroit Metro Times and reported on the legacy of the late DJ Ken Collier, who ruled at Heaven.
"Underground Resistance, Tresor, all that stuff – that's inside of us," he acknowledged. Mike Banks and Dimitri Hegemann were both early supporters of the DSC, and local DJs like Interdimensional Transmissions' Brendan Gillen and Piranhahead sit on the board. But unlike other Detroit-based archives, which specialize in specific genres or subgenres, the DSC is concerned with the full continuum of music from the Motor City.
"If you get into electronic music, you end up starting in the 1930s, and you're still catching up on a long story," Gillen said. Blues and jazz clubs – the latter fueled by bootleg whiskey during prohibition – date all the way back to the Great Migration. Detroiter Paul Williams topped the first R&B charts in the late '40s. Funk and punk and rock & roll have been incubated here. And of course, there was Motown.
But many of the iconic venues that helped foster these scenes haven't survived. Gholz leads tours through the city, pointing out landmarks. A McDonald's has colonized a corner of the Graystone Ballroom, Detroit's "cradle of jazz." Graystone Hall, once a place for punk awakenings, is now a coin-op laundry.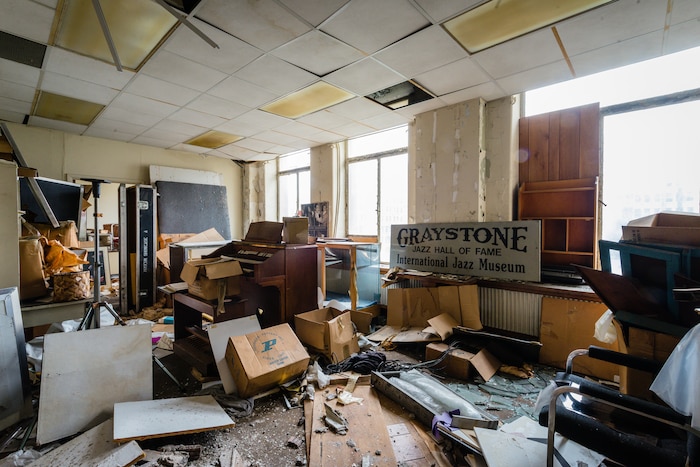 So despite United Sound's precarious legal situation, the DSC will "still work for the legacy of the building, because the legacy of the building is just bigger and more important than any individual," Gholz said. "If this was New Orleans or Memphis or something like that... those cities seem to have figured out that you can't do that kind of stuff and call yourself a music city."
United is not the only historical site to have benefitted from the efforts of the DSC. The Blue Bird Inn was one of Detroit's headiest jazz and bebop hubs. In 2015, DSC members teamed up with some archeologists from Wayne State University's Anthropology department to see what could be recovered from the dilapidated building. Bills and receipts from 1948 had been squirreled away in the rafters; the ceiling was caving in. They gave the venue a proper send-off and later salvaged the stage, which they plan to convert into a mobile unit for free public performances as soon as they can pull together the funding.
We used to pay taxes for libraries and archives because we believed that memory and preserving culture was a matter of public pride.
Everything, it seems, comes down to funding. Few would dispute the importance of Detroit's musical legacy, but getting them to invest in it is another story. "There used to be something called the 'public good,'" Gholz observes dryly. "We used to pay taxes for libraries and archives because we believed that memory and preserving culture was a matter of public pride. We now have to prove, from the ground up, that what we do and what we make is valuable."
Due to the national shift toward market-driven forces, he suggested, Detroiters have been left "holding the bag" when it comes to cultural preservation, despite the city's dwindling population and tax base. "We end up taxing ourselves more to make up the difference. It's a losing cycle."
The DSC's initial capital came from individual donors to a Kickstarter campaign, some of whose names have been inked onto acetate-free storage boxes. Gholz holds up a slanted signature: Anthony Shakir. But archival work, by and large, lacks the urgency or emotional mass appeal that can help a fundraising initiative really take flight. The DSC spends a lot of time toiling away on stuff that gets stored in the back of museums. A box filled with tea-colored clippings is "not exactly Diana Ross's gloves."
The organization needs a new model for making non-library science enthusiasts care about the work that it does. A crown jewel in its Ken Collier collection is an interview conducted the year before he died, in '95, for Kick! The original tape was donated to the DSC and subsequently digitized. Reel-to-reel, like the city's great radio, is ephemeral; sooner or later, magnetic particles will flake off tape as dust. What if the DSC rented a storefront on Woodward Avenue and parked someone in it 24 hours a day every day, digitizing a giant pyramid of tapes in the manner of a performance installation?
Of course, that sort of stunt requires money and equipment and a human taskforce. Currently, the DSC is in the home stretch of a pledge drive that will help cover monthly operating expenses, including the storage unit where its archives are now dozing in limbo. But a substantive grant, from a university or even Motown itself, would allow the DSC to "institutionalize" itself and bring many of its holdings online, like the Smithsonian.
"If you love Detroit music, you need to support its preservation," Gholz says. "You cannot assume Detroiters have the resources for us to take care of it for you."