A Tribute to Diamanda Galás
Marissa Nadler, Zola Jesus, Jarboe and more explain why they love the iconic avant-garde artist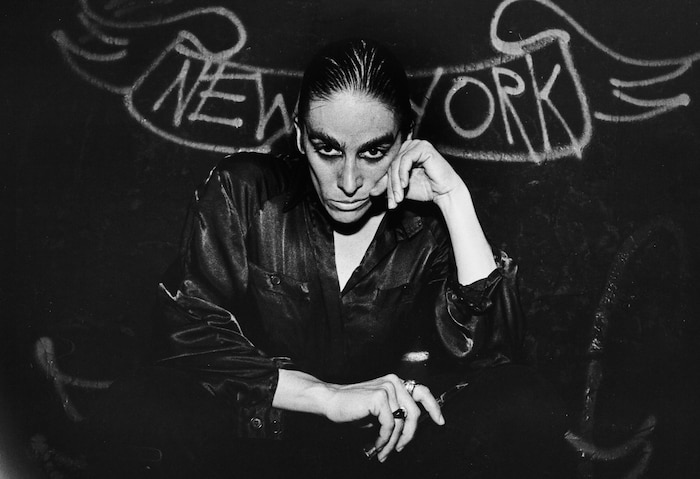 Oftentimes, the most interesting praise comes from those working in the same field. That's why, in advance of her performance as part of Red Bull Music Academy Festival New York, we asked five artists and producers to talk about their experiences with Diamanda Galás' work. The result is introduction, insight and a celebration of the avant-garde icon's many talents.
Jarboe
You are in for a treat. You are going to have an experience here and now. Leave all pre-conceptions behind. Lose yourself. Let go. You will feel very much alive in the moment now before you. And you will always remember.
In 1990, while seated in a pew near the altar inside Cathedral Of Saint John The Divine in New York City, I witnessed the Plague Mass of Diamanda Galás. I use the word "witnessed" because that evening was truly in a realm of its own, and powerful in a way that I will never, ever forget. This Diamanda Galás performance was a place of here and now. This was true power. As a witness, one moved through walls of perspective. The audio was multidimensional, with the surround sound of frequencies within the cavernous cathedral. The relationship of this audio to the visual of Galás emerging as a shape-shifter – at one point appearing topless but covered in a very sticky-looking blood – had an impact upon us as witnesses experiencing an absolutely pure, utterly raw and otherworldly presence.
Conveying what Diamanda means to me personally is no easy task, because she, as an artist, is without a living peer.
Conveying what Diamanda means to me personally is no easy task, because she, as an artist, is without a living peer. Therefore I've got no easily communicable elements to help me translate the experience of her art for you. If I may be so bold to attempt a comparison for you to potentially relate to before you strap in, to prepare you, if you are new to the stunning recorded and performance works of Diamanda Galás, may I suggest that you meditate upon the fiery recordings of the powerful opera singer Maria Callas, the deep blues vibe of the legendary John Lee Hooker and the sinuous, evocative traditional Greek and Middle Eastern styles of singing.
Having gotten to that elevated space of ultimate power, now add the muscular, expressive hands and veins of the strenuously disciplined pianist: May I introduce you to the one and the only Diamanda Galás.
Zola Jesus
As a child, I studied opera for ten years. I was convinced opera was my destiny. But as I discovered punk and experimental music as a teen, my 19th-century arias didn't feel quite as fresh as they used to. All of a sudden, that tradition began to crumble. It started to suffocate me like a straightjacket. The anxiety of perfection swelled within me and at that moment I just wanted to make noise.
This is the time Diamanda Galás entered my life. Upon discovering her music, everything inside of me made a volcanic shift. Here was a woman who operated at the same musical crossroads that I found myself pulled towards. She used the ferocity of the operatic tradition only to her benefit, shedding all the fat that weighed down the art. She taught me there was a secret passageway: use the voice to its fullest capacity, and to hell with the lovesick heroines.
Diamanda stands on an island that she clawed through the dirt for herself. She built a road where there was none. Before her, no one was truly exploring the edges of the voice as she had. She relentlessly and tirelessly resists compromise in her art. The conviction in her transgression has never once felt contrived, and in fact, there is an extreme vulnerability even in her most savage moments. The depths to which she descends into her inner world are so cavernous that it would take the bravest soldier to confront such a spelunk.
I will never forget the pitch black nights with Vena Cava in my ears, the back-alley walks with only "Wild Woman With Steak Knives" as my weapon. Diamanda's music empowered me on so many levels. Her Masque of the Red Death trilogy brought the AIDS epidemic to focus and Defixiones opened me to the horrors of genocide. She is a true enemy to all that is precious, and a warrior for all those who demand a voice.
Hal Willner, producer
How can one try to describe an artist who is indescribable? When first encountering Diamanda Galás' work, it's like putting your finger in a working light socket – after getting the strong voltage, some will come back again and again for more, while others run away screaming. But there will be a reaction...
The impact that Diamanda's art had on me was life-changing, as it has been for countless others. I have seen her transform so many environments, from Carnegie Hall and Joe's Pub to a hardcore venue and dance club. When Diamanda performed her monumental Plague Mass at St. John The Divine in New York, it became clear what a church is built for. It was so powerful. The walls vibrated long after the performance was over... the glass on the sound meter is still cracked.
Diamanda has a singular, recognizable style that she has invented – you can tell it's her on piano within one bar, or her singing with one note. Though she is considered an avant-garde artist, her musical foundation evokes traditions ancient and current, and one can feel the spirits of Monk, Son House, Brahms, Callas, Howlin' Wolf, Al Green, Bud Powell, Beethoven and Ralph Stanley in her soul.
When I was starting out as a gofer at Regent Sound Studios, I was beyond lucky to have spent time with many of the pioneers of modern jazz & comedy, one being the beautiful Betty Carter. Though they are completely different, I get the same goosebump shivers listening to Diamanda that I remember having watching Betty Carter approach a song – every word was sung with such passionate, dramatic phrasing and detail that one can't help being engrossed 100 percent. Two decades later, Diamanda brought me to the same place of high drama and beauty. Not one wasted note.
There was an eight to ten-year period of my life when I was in the position to give serious exposure to artists that the mainstream public do not get to see or hear. Of all I've been able to do within the last 40 years, I will always be so proud that I was able to put Diamanda on television in front of millions of people, and I'm sure many of them have not been the same since.
In an age where the endless fad of infantilized voices seems to have no end, listening to Galás' music can be a cathartic experience.
All hail the return of Diamanda Galás: the reigning queen of the cosmically weird, the baddest and most ferocious avant-garde powerhouse in the music industry. Her ingenuity and daring has paved the way for countless artists, myself included, and encouraged all of us to let our demons sit proudly alongside our angels in songs and elsewhere.
Galás has delivered album after album of profundity, delving into subjects far from palatable, with the rage of someone who actually wants to disrupt the "business as usual" flow of the world with their music. Whether she is singing of mortality or insanity, social injustice or hallucinations, she does so with such conviction that there can be no question of her sincerity.
Galás' genre-bending music has gone to the deepest experimental extremes in search for the true connection between the voice and the soul. She is elemental and pure – unafraid to tread the profane and the vulgar, reaching levels both horrifying and orgasmic. When she sings the blues, she truly becomes them.
That's what the blues are supposed to do: turn the voice into a conduit from the depths of a psyche to the public world. Raw and searing, she is one of the most jaw-dropping vocalists, songwriters and performance artists of the last century.
In an age where the endless fad of infantilized voices seems to have no end, listening to Galás' intense, theatrical and (at times) terrifying music can be a cathartic experience. It's apt timing that she's returning to the stage in NYC just as the political climate in America is reaching a fever-dream climax. I think we're all in need of a refreshing shock of intensity to match this state of delirium and panic.
Can Oral (Khan)
In 1992 I moved from Frankfurt, Germany with a couple of drum machines and synthesizers to Williamburg, Brooklyn to produce funky techno with Jimi Tenor. I already knew quite a few acid techno labels in Germany, like Force Inc. or Playhouse, for whom I was producing. So I wanted to expand my circle of contacts to the United States, and I guess I just wanted to get the fuck out of Germany. By 1998 I was living in the East Village and had an electronic record shop called Temple Records, inside the Liquid Sky clothing store on Lafayette Street in Soho.
The techno community was still kinda growing in the States. I was good friends with Aldo Hernandez from Throb Records, who also ran the infamous gay party "Meat" at the former Jacky 60s – and I knew where he stashed his drink tickets. We were best friends, so to speak. He introduced me to Diamanda, as the two had been working before. In the meantime I had signed to Matador Records and wanted to record a guest vocal album. My style at the time was a mix of rock and electronic music. I was tired of the stiff Deutsche Kraftwerk image that electronic music had, and wanted to work with rock and blues singers.
I designed a bunch of tracks for artists I admire. Vocalists that had created their own musical cosmos. Singers I listened to growing up. Freaks, if you like. I had already worked with Julee Cruise before and now I was planning to do a whole guest vocal album. On my list were Fred Schneider, Julee Cruise, Jon Spencer, Hanin Elias of Atari Teenage Riot, Stereo Total's Francoise Cactus, Andre Williams, Kid Congo Powers and Diamanda Galás.
Aldo gave me Diamanda's phone number and I called her up. She told me she had just received a demo by Fields of Nephilim and she was sick and tired of all this goth shit she was offered. "Who the fuck do they think I am?" she was shouting at me. I told her I was working on new material and I think she would be quite surprised by the track I had made for her. She agreed and sent her cute assistant over to pick up the track for a listen. Only an hour later she called me back to agree to work on our Turkish-Greek friendship track.
A few days later she was over at my place on Ave. C and 10th St to record. I set up a mic in the living room and she went into my bedroom to warm up her voice. I'm not sure if you can imagine what it's like to have Diamanda warming up in an apartment building at 5 in the afternoon? She would go from a basement growl up to a super high shriek that sounded like someone was being slaughtered and hacked into tiny little freezer bag portions. After 20 minutes my landlord, who was running a dry-cleaning downstairs, came knocking on my door to ask me if everything was all right. He thought maybe someone was getting hurt and he almost called the cops on us. I assured him that everything was fine in the name of art.
After a while things became more quiet and I thought Diamanda was ready for the recording, but instead she opened the door and came out with my underwear, asking me what this was all about. I had a pair of undies with my name printed on the ass. I was using those on stage to protest against the Guiliani "No Dancing" and "No Nudity" laws in NYC. I would strip down to my briefs, turn around, flash my butt with my name on it and finally finish my set by walking off stage completely naked. You can hear the final outcome of our session on Khan's No Comprendo.