Electric Indigo Party Flyers
The Viennese techno DJ and founder of female:pressure dives into her vault of flyers
When Susanne Kirchmayr AKA Electric Indigo first got into the music industry in the late '80s, she was a radio DJ with a passion for jazz, funk and hip-hop. However, the discovery of house and techno spun the Austrian artist's career in a radically different direction. Eventually moving to Berlin and working at the famed Hard Wax record shop, Kirchmayr's time in the city was instrumental in launching her own production career.
After returning to Vienna in 1998, she launched female:pressure, an international platform for female DJs, producers and artists involved in electronic music. Electric Indigo has continued to be an in-demand DJ all around the world ever since, and her ceaseless work has earned recognition from the Austrian Federal Ministry for Education, Arts and Culture, who named Kirchmayr an Outstanding Artist in 2012 and awarded her a national grant for composition in 2013. (She'll also be hosting a workshop at the 2016 International Summer Course for Music in Darmstadt).
Here, Electric Indigo digs through her vault of flyers to highlight choice parties from more than 20 years as an internationally touring DJ.
Ultraworld - Munich, Germany - 1992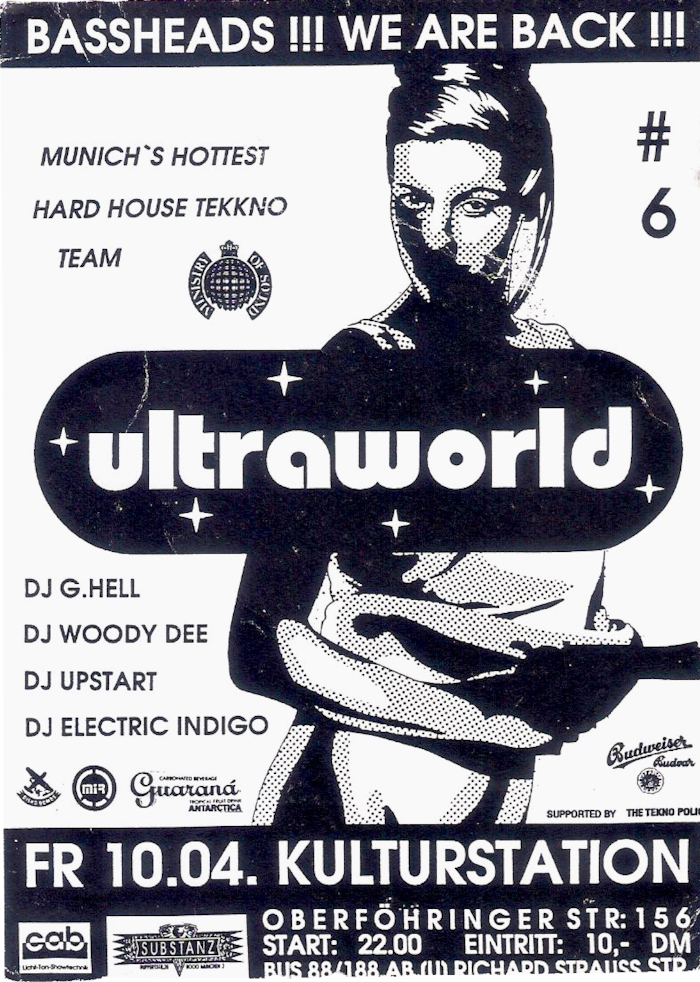 This was my first proper techno DJ gig abroad! Eternal thanks to Upstart for inviting me to the legendary Ultraworld in Munich, predecessor to the Ultraschall club. Having established myself as a hip-hop/funk/jazz DJ in Vienna from '89 to '91, I had no credibility in the small but vital techno (or rather, "tekkno") scene at that time. My former fans could not understand my turn from 1970s funk to contemporary techno, and I felt kind of lost in Vienna back in the early '90s. As soon as I learned about Hard Wax and the German techno scene I knew exactly where I wanted to proceed, and Ultraworld was the first step in that direction. On the backside of the flyer, I apparently made notes about records I liked.
Lovecare - Copenhagen, Denmark - 1994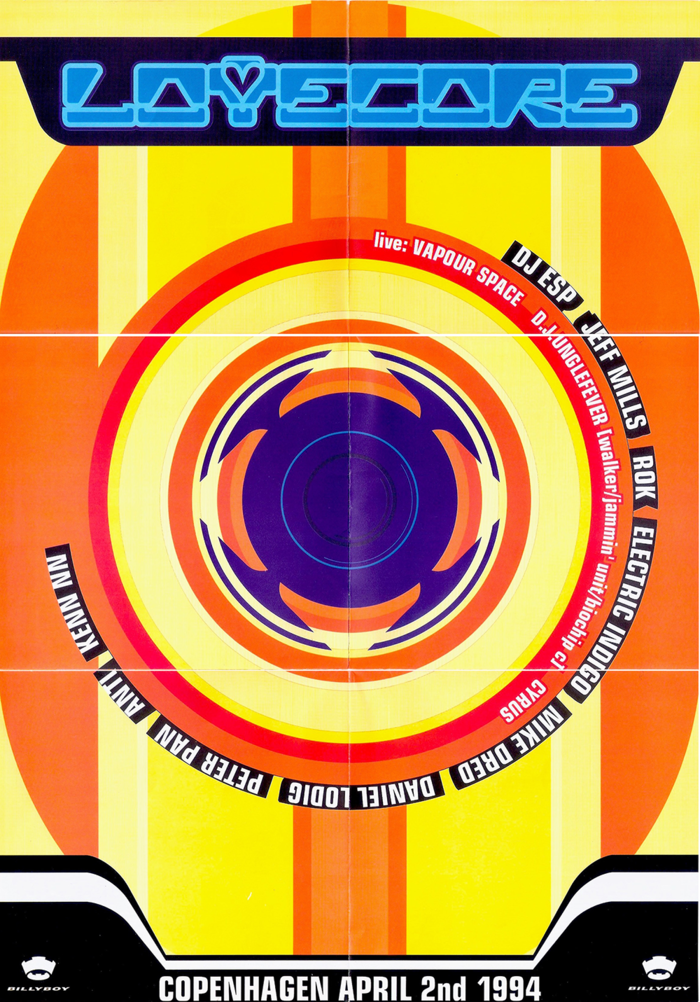 The best rave ever. As I was very close with one of the promoters, Kenn NN, I was able to make them book my absolute favorite artists at the time: Jeff Mills, Rok, D.J.Ungle Fever (Dr. Walker and Jammin Unit), DJ ESP, Dan Lodig, Mike Dred and – take note! – Cyrus AKA Mark Ernestus and Moritz von Oswald playing live. I really don't know how many times they performed together, but I guess the number is extremely small.
Robots - New York, USA - 1996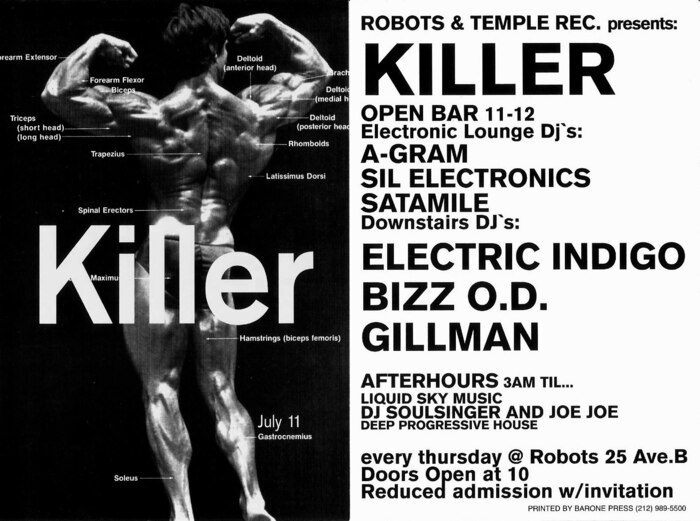 I DJed at most of the big 1990s techno clubs in New York: Limelight, Palladium, Tunnel, etc… That was very exciting – I love the city and was so blessed that I could go there so often. But the smaller parties I joined were more relaxed, nicer and actually based on long-lasting friendships. This party is a perfect example – I'm still friends with Bizz O.D. AKA Khan!
Kunstwerk Verein - Cologne, Germany - 1996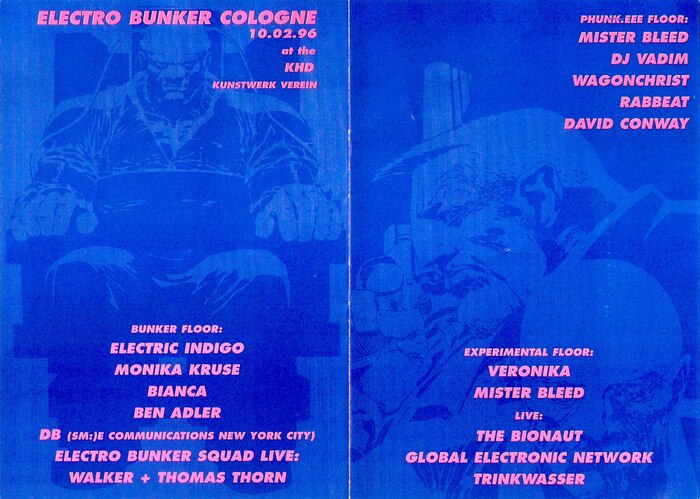 Electro Bunker was uncompromising and unrestrained – pretty much everything was to the max, with lots of 303 and distortion on top. The party clearly bears Dr. Walker's signature, as does the flyer artwork.
hard:edged - Berlin, Germany - 1997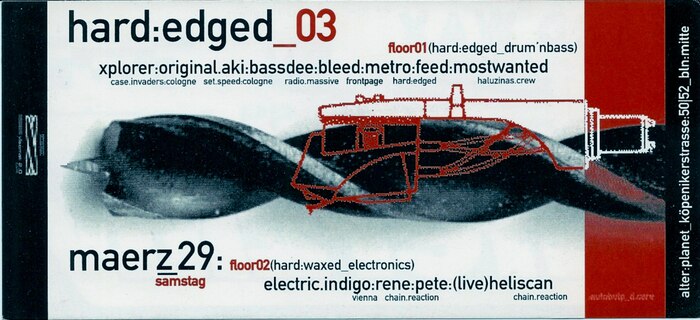 hard:edged were great drum and bass parties in Berlin coming from De:Bug magazine peripherals. They were usually located at one of the various WMF venues, and occasionally they also had a techno floor. Having worked at Hard Wax for three years until 1996, this one totally felt like a family reunion, as it took place approximately one year after I had moved back to Vienna. Robert [Henke], AKA Helical Scan, was not amused to see his name shortened to "Heliscan" on the flyer.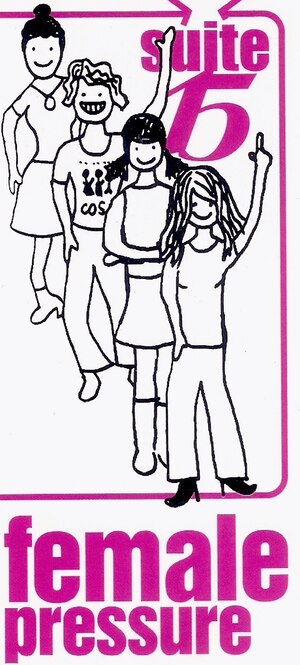 Präsidentensuite - Regensburg, Germany - 2000
When I was looking through the flyers I kept, I found many that were from female:pressure parties. This was an absolutely classic one with Acid Maria, Miss Kittin, Cassy and me, featuring a drawing by Miss Kittin herself on the flyer.
St. Andrews's Hall - Detroit, Michigan - 2001

This was another female:pressure party – note the date. It was really strange coming to the U.S. so shortly after 9/11 to try and pull off a party that had been planned long before. It was really special, and quite emotional, too. Al-Qaeda couldn't stop us from coming together at St. Andrews Hall: Minx (Detroit), Dinky (NYC at the time), DJ Heather (Chicago), Brenda Russell (London), Eva Cazal (Berlin), Sarena Tyler (Detroit), Jennifer Xerri (Detroit), Madame Buddafly (NYC), Laura Hardgroove (Detroit), AM/PM (Chicago), Mary Jane (Chicago).
Club Orange - Beijing, China - 2002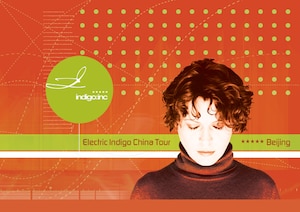 This was my first trip to China. It was very exciting and I loved Club Orange – it felt very original, underground and cool. The party got raided by the police, though. It was disturbing to witness the cops only bothering the Chinese guests and completely ignoring foreign-looking guests. Some were hauled away and their friends told me that it was uncertain when and how they'd be released. They seemed to be frightened and fatalistic at the same time. My Chinese friends there were also pretty reluctant, if not scared, to talk about politics. I experienced this combination of repression and consumerism in the most drastic way during this trip. Still, I find it truly amazing that there still is an underground for non-commercial electronic (dance) music. This potential to connect cultures and people is still a huge motivation for me.
Flex Club - Vienna, Austria - 2003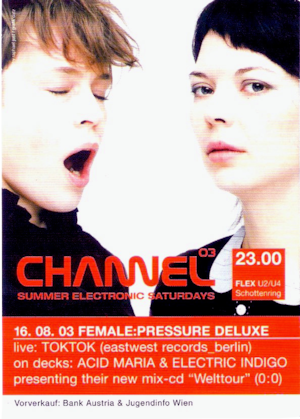 From 2000 to 2008 I had a monthly residency on Tuesdays at Flex Club. During this time, it was like my second home in Vienna. One of my highlights there was this party with my dear friend and companion Acid Maria, promoting our joint mix CD Welttour together with the Tok Toks from Berlin. It was not a regular residency, but an additional weekend gig. Back then, the police didn't care so much about closing hours which are, strictly speaking, at 4 AM. Especially on Saturdays in summer, parties went way longer and it was really pleasant, as the club is situated right next to the Donaukanal [Danube Canal] where no car traffic is allowed.
Elastic - Leipzig, Germany - 2006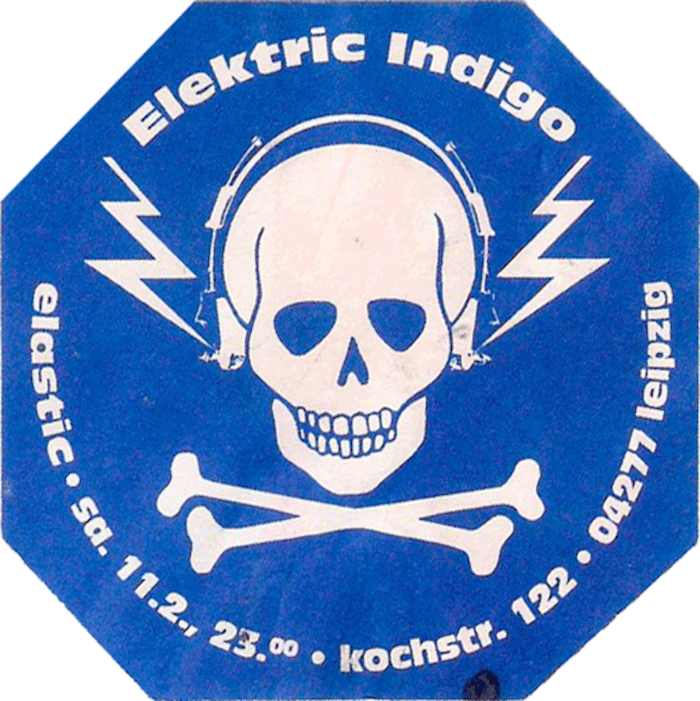 I guess this party was 2006 – there are too many flyers without a year. This is a flyer from one of the coolest party series in Leipzig, and I love the design with its handmade touch (such as the slightly irregular hexagon). Unfortunately, it also sports a typo that's way too common.
WMF - Berlin, Germany - 2009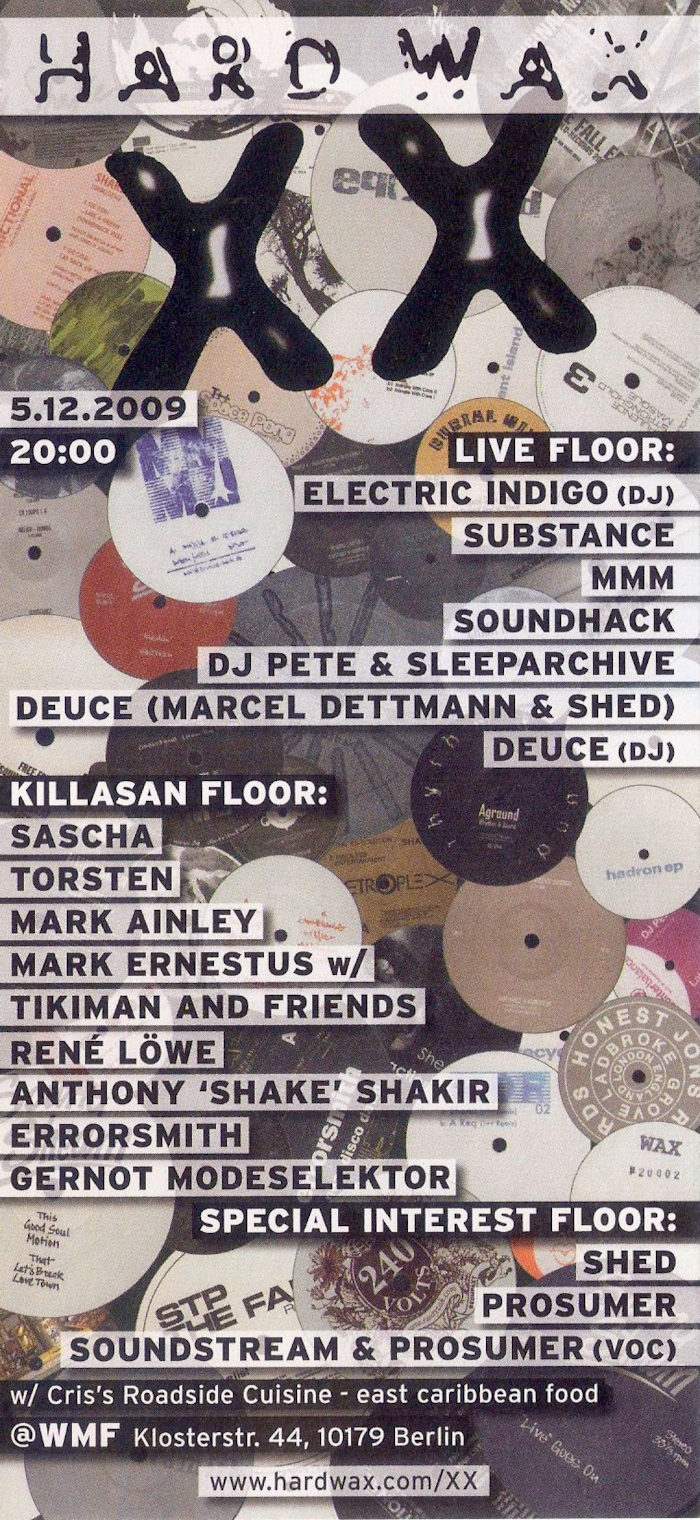 What an honor to play at Hard Wax's 20th anniversary party! I suffered a knee injury just before the party and was forbidden to put any weight on my right leg, so I walked on crutches and had a bar stool behind the decks. I had so much fun playing the warm-up set for the live floor that I started to jump around on my left foot.
Female:Pressure - Okinawa, Japan - 2009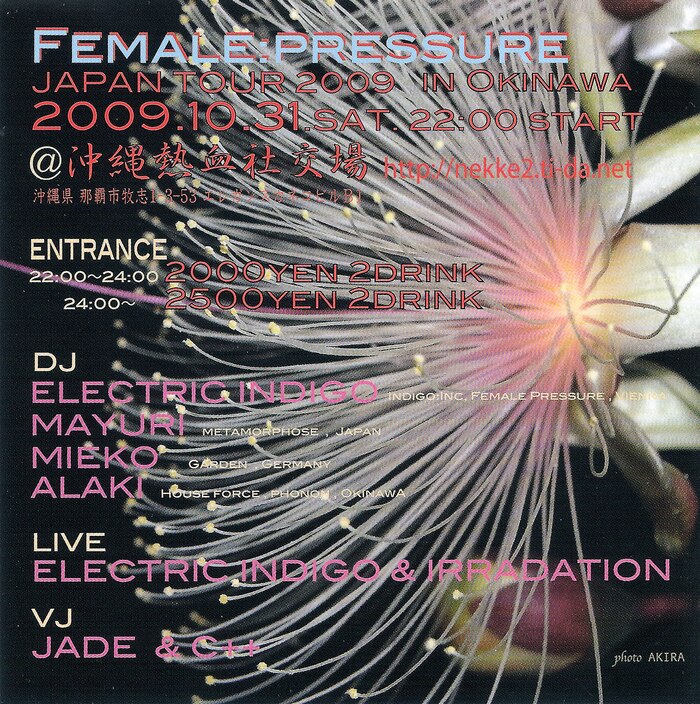 This was part of a female:pressure tour in Japan. The third stop was at a rather exotic place: Naha City, Okinawa. Okinawa is the southernmost island of Japan, kind of close to Taiwan, and it feels very different: more tropical than the larger, more populated northern islands. It has a special history, as well, and has been an important U.S. military base since the end of World War II – this might be one of the reasons you can find an active electronic music scene on such a remote island. The party was a blast, and Mieko played one of the best DJ sets I've ever heard.
Radialsystem - Berlin, Germany - 2015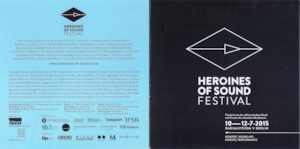 Heroines of Sound was one of the most amazing festivals I've played at so far. It's a pretty unique combination of contemporary art music and electronic music with a club or pop background. The program was very inspiring and the audience, remarkably, stayed for the whole range of concerts. Working conditions at Radialsystem IV are brilliant and it felt fantastic to present one of my experimental, multichannel pieces there! My personal favorites from the three-day program were Les Femmes Savantes, Mieko Suzuki (playing an experimental ambient DJ set), AGF, and, especially, Kirsten Reese's composition for Fairlight CMI and guitar.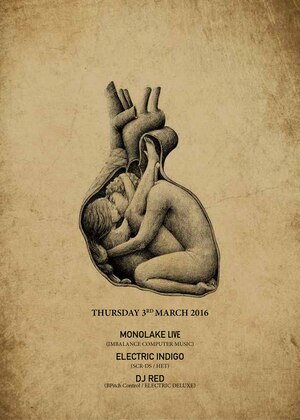 Goa Club - Rome, Italy - 2016
Italy seems to be a hotspot for the kind of techno I love right now. I chose this flyer because I love the artwork – and the lineup! Goa Club in Rome is great, with a very open audience in a pretty peculiar, retro interior decoration, with a blasting sound system and a caring crew.