Encounters: William Basinski & M. Geddes Gengras
RBMA Radio's Encounters is a series of conversations pairing artists that wouldn't normally connect. Following on from our 2013 book For The Record, we find that when artists meet up, they often find out that they have more in common than they might think. For this edition of Encounters, published in conjunction with the Shattered Streams site running throughout the 2016 RBMA Festival NYC, we invited two of that project's contributors – tape-loop maestro William Basinski and modular synth explorer M. Geddes Gengras – to explore and discuss the overlaps and divergences of their careers and working methods.
What was an early epiphany that sparked the direction of where your music started going?
William Basinski
I was in the University of North Texas, then called North Texas State University, which was a big music school – particularly jazz band, big band music, at that time.
I was playing saxophone. I was trained on clarinet and saxophone and I went there thinking I could get into one of the jazz bands. That didn't happen, because I was terrible at auditions, and basically just heard all these amazing players who would come off the road from big bands to just sit for a year at North Texas, and play really killer music and get stoned and do drugs and just not have to get stupidly taxed because their shoes weren't shined and shit like that.
I changed my major to composition and started making a bunch of really weird scores that were really conceptual and impossible to play. But then, in the contemporary music class I had – one of the most important classes for me – John Cage was the number one that opened up my ears, because anything goes. He used radios. He used prepared piano. He used silence. That was huge. At the same time – we're talking about '77, '78 – all my friends were record collectors and I never was, so I got to hear all this amazing new music that would come out. And everybody is typical 18-year-old music geeks. They had to have the most avant-garde, out-there stuff there was.
The second thing I heard was Steve Reich's "It's Gonna Rain," "Come Out," "Drumming." Those were his tape loop experiments. Then, when "Music for 18 Musicians" came out, when he transcribed that sort of phase-shifting kind of thing into that ensemble, it was just mind-blowing.
I moved to San Francisco the next year and Music for Airports came out. There was just a huge epiphany. There's the three points of the pyramid, you know, the triangle.
Jamie had everything. He worked at record stores and would come home every day with records. I got to listen to all the German experimental stuff: Klaus Schulze, Conny Plank, Popul Vuh. But particularly Fripp & Eno... I think it was Discreet Music, where on the back was the diagram of the Frippertronics, with the two tape decks and a tape delay. So I went to the local junk store around the corner and got two big giant old Norelco tape decks and a box of old tape for ten dollars and just started experimenting. I started getting results, so I just kept doing it.
I didn't know if I was a composer, but all my friends were painters and so they're painting, and I was painting in my own way, too. I had trained as a composer. I had formal ideas of things that I would try. So I just started and kept doing it.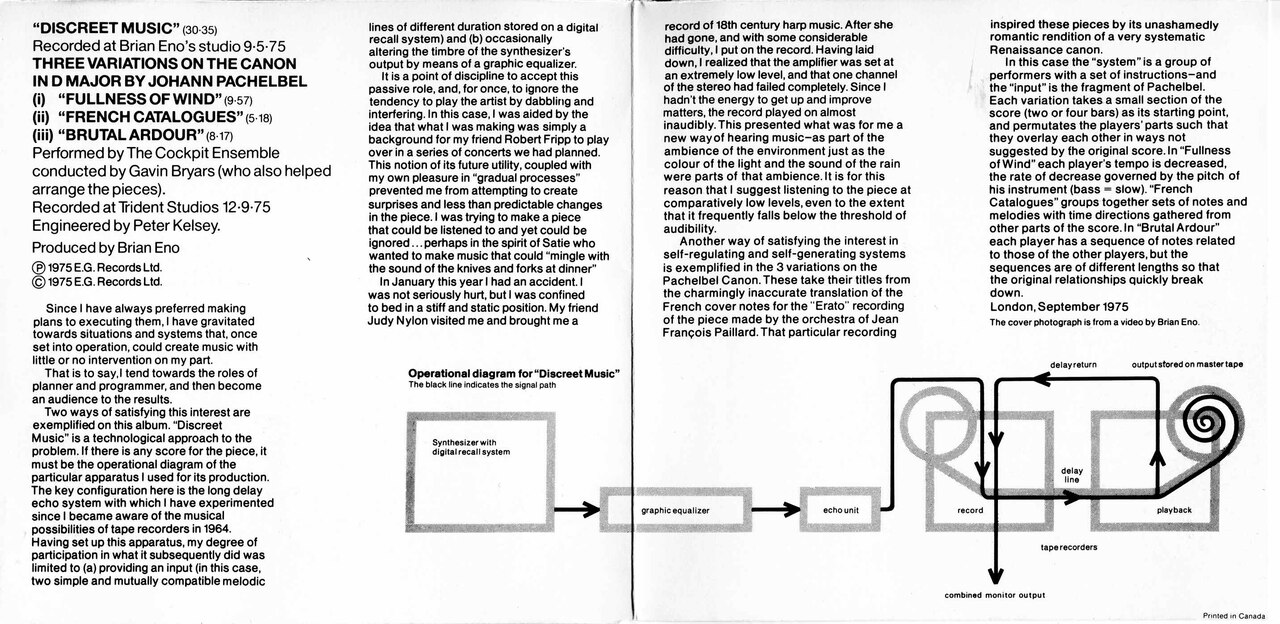 M. Geddes Gengras
My path is so different from that, because I found composition and new music through punk music and through hardcore. And I wasn't really interested in music as a kid. I didn't really listen to music actively or even willingly until I was an adolescent, maybe 14, 15 years old. I had no interest in anything like that.
I got really into hardcore, That was what was regionally going on where I grew up in Connecticut at that time, and I started playing in bands. I was also starting to mess around with sound. I got my first synthesizer around then, when I was in high school – a Moog Rogue – and I had a four-track and I just started playing, tape. At that point a delay pedal was something that you could get really easily, which I'm sure you would have killed for at that point.
I was never really a natural musician and, playing in hardcore bands, I would sing in them because I didn't know how to play anything. But I wanted to. Going to shows starting around the time I was 16, 17, I was just really struck at how the performers were right there on your level, and you're engaging with them in a real way. It was different from seeing shows the way you traditionally see when you're younger at a big space, and you don't actually get to meet the musicians – they're six feet above you.
Going to these hardcore shows, I was like, "Oh, this is something I could do. I could find people who would let me do this with them." It took a little while, but eventually I found some really cool, talented people. This is going to college, too. I started to find people who were interested in music, but I went to college as a theater major and at that point that was my plan.
In high school I'd done a really extensive program in theater, where I'd basically got a second high school diploma for doing 20 to 30 hours a week, in addition to the high school curriculum, of theater work. I was acting and writing for theater, doing technical design and sound and directing, and I really thought that that was what I was going to do with my life. I was already, at that point, hooked on performance, and the feeling you get when you do a good job and people respond to it. It's really deep.
William Basinski
It is, yeah.
M. Geddes Gengras
But, getting to college, I quickly realized the thing about theater is that there's so much infrastructure involved and music is something that you can do with almost none or, actually, with nothing. And around that time, while I was playing in these bands, I was also starting to make music by myself but not really knowing what it was. I had things that I was referencing but I was doing such a terrible job of even coming close to them that it didn't feel like anything that was in that same universe. It was just like playing with sound and having fun and synthesizers, you know. I couldn't really play the keyboard, but it's you could just wedge a dollar bill under the key and you play with all the knobs, and then you do another track and a different key and you play with the knobs for a while.
Hardcore sort of zeroed out at some point for me, where it was trying to get more and more intense and find more and more intensity in it, and you kind of hit a wall with that. You want something that's different and, at that point, maybe more musical, because you've been spending all this time thinking about music but you're not really thinking about musicality. You're just thinking about music as a tool for intensity or as a message delivery system.
William Basinski
Yeah, and if you destroy your ears at 21–
M. Geddes Gengras
Which I did.
William Basinski
There ain't going to be much music left after that, unfortunately.
M. Geddes Gengras
I do live sound and I try to mess with records and I'm like, "I really wish I had thought about that a little more fifteen years ago." At some point I wanted to hear new things. I think I found as intense as it was going to get and I wanted to do something different. But I was also really attached to how emotional that music was able to be for me, and what you could evoke with it. The power of the sound could pull things out of people's bodies. That was really intense.
But also, part of me was like, can you do that without volume? Can you do that without speed? How can you make people feel stuff like that without those tools, without those easy kind of things? That's when I started getting interested in making music on my own, and dropped out of school and was just kind of floating around upstate New York trying to figure out what I was doing. My bands all broke up and I just kept playing with synthesizers – because they never left me, you know – and playing with tapes.
Moving to L.A. was a huge thing – finding an underground scene that was really interested in experimentalism and seeing people's processes. There's a really healthy noise scene but it was also starting to change into more ambient music or ambient-influenced music, which was something that, at that point, I was really interested in and had been flying towards without really realizing it.
I always kind of blame the synthesizers, because I feel like they're the ones that brought me to those sounds. I would sit at these things and just immediately they suggest these very specific ideas to me. Especially the Moogs. As soon as I sit at this thing I just want to make the most beautiful-sounding thing I can. It always comes out weird and melancholy and maybe that's just because I don't know how to play the keyboard, so I'm just playing the same scales and chords over and over again without realizing it, but it just kind of ended up that way.
It kind of takes over your mind, and then as you get into this idea of just creating something that's taking that as far as you can again, and then playing with those tools, led to me thinking about music in an entirely different way and to me taking the solo practice of music really seriously and that becoming my thing. You know? Because bands are fun, but bands, everybody is always at cross-purposes and everybody's got ideas and–
"These were the tools I had in front of me at that time and this is what happened." An attempt to recreate stuff like that is just useless.
William Basinski
And personalities.
M. Geddes Gengras
And personalities, which is the worst. It makes amazing things happen but, at the same time, if there's something that's just yours you need to find it on your own.
William Basinski
Yeah, it's true. I played in many bands, too. By the time we got to New York in 1980, I was doing all my work and we had this big loft. Jamie was painting huge paintings and Roger was painting huge paintings, so I had my studio and people, our neighbors, thought we were from outer space. And we started meeting people in the art world and got a few little gigs here and there. I don't know if you know Hahn Rowe, but he's an amazing New York composer, violinist, guitarist, and we met really early on and started doing some things together. I started meeting other people and then started playing in bands and played in a band with Cynthia Sley from the Bush Tetras and Laura Kennedy, and Kathy Rey from the Bloods.
I did this one really big show for Creative Time in New York at the anchorage of the Brooklyn Bridge in Brooklyn, which is this amazing catacombs of gigantic, 60 foot high brick barrel vaults that hold up where the cables come down and are anchored into the ground. This is pre-9/11 – they would let Creative Time bring in crowds of people under there to have all kinds of art installations and shows. I had two nights there where I did all this amazing tape and saxophone music. Jamie did this huge set and we had fog, lights, smoke and everything. It was a very post-apocalyptic kind of thing. Sold out both nights, everybody from the art world was there and everybody loved it. Not a mention in the New York Times. Not a mention in the Village Voice. It cost me a fortune at the time to do it. I was so heartbroken, it was like, "God! What do you fucking have to do around here? Jesus Christ."
That sucked, but like I said, I kept playing in bands, kept making the music and worked a bunch of different crazy jobs. By the time The Disintegration Loops happened and my work fell apart while I was recording – thank God. I was at the end of my rope. I didn't know what to do with it. I knew it was a fucking masterpiece, but I didn't know what I was going to do with this five hour brick. Box set! Here we go! But I couldn't afford it. I just put them out one at a time and it hit. I never thought I'd live to see the day, really. It's all gravy now.
M. Geddes Gengras
It's funny. I feel like as an artist little things happen, and for a long time, every time one of those things happens you're like, "Things are going to be different now."
William Basinski
Yeah, I know. "I made it."
M. Geddes Gengras
Nothing changes. Until it does. Then you realize when you get to that point, "That thing was actually huge and I had been working on it forever and I didn't even realize it at the time." Or at least that's what I think happens, that's what I'm hoping.
William Basinski
You have to show up for work, you never know what can happen. That's the amazing thing.
M. Geddes Gengras
I feel like all the people I know who have had any sort of success, especially in experimental music, experimental sound, it's people who have just been like, "No, this is the thing that I do, I'm going to keep doing it."
William Basinski
You just keep doing it.
M. Geddes Gengras
Then you get good at it. Most people don't take time to get good at things anymore, because they're busy chasing whatever is going on.
William Basinski
That's something you have to figure out. It takes a while, but you have to find your own sound and dig in.
M. Geddes Gengras
It's kind of the only option. Otherwise what are you doing? It's like you're just running in circles around something. I would imagine you probably feel the same way. Anytime anybody asks me to do something specifically that's like something I did before, it's like, you can't do that. Anything that I made, I made it because I made it then and I made it at that specific time of my life. "These were the tools I had in front of me at that time and this is what happened." An attempt to recreate stuff like that is just useless.
William Basinski
Yeah. Frequently, people ask me to do an installation with some disintegrating loops, or something like that and it's like, how many years do you have? They don't do what I tell them to do. They just do what they want, so I can't guarantee that's going to happen.
M. Geddes Gengras
That's the thing I find really intriguing about your work, is that uncertainty that comes from working with tape and using tape as the main processing method.
William Basinski
It's physical and it's elemental.
M. Geddes Gengras
It's magnetic. It's also waves.
William Basinski
It's rust and it's earth and rabbit glue and oil-based plastic.
M. Geddes Gengras
Did you always love what tape did to sound?
William Basinski
Oh God, yeah.
M. Geddes Gengras
I've hated it at times.
William Basinski
Me too, I was terrible at recording. I was self-taught, I didn't have any technique. I might not have the levels enough, so it was recorded really low, so there's tons of hiss. I always hated that. Now everybody loves all that stuff. I'm still not sure about that. I was just saying the other day, someone asked me about Cascade. It's one tape loop and it should have been so easy to record, but we had the hardest time on it. We worked on it for months and almost threw it away three times. The tape loop was probably thirty years old, but it's a real special one. In my mind, it sounded the way I remember it sounding thirty years ago, and it didn't sound like that now. It was getting a little crunchy. We had to figure out ways to work on it. Preston, my engineer, kept sticking with it. He's a whiz in Ableton and we just finally got it and it turned into this jewel, which is what I wanted. The way you remember things sounding and the way they sound is two different things.
M. Geddes Gengras
That's good, otherwise you get pretty bored with your own work pretty quickly. It's nice to be surprised by it sometimes.
William Basinski
This is the thing that I've always had to have in a piece, is something that keeps my interest. I want to have something that I make it for me. I want to have something I can put on and fall into and leave it on forever if I want to. If it's redundant and boring that's not it. Something magic has to happen. You've got to wait for it sometimes.
M. Geddes Gengras
Do you listen to your stuff a lot before you release it? I have to listen to something, like, 100 times before I think it's good.
William Basinski
Are you kidding? I've sat on stuff for 20 years, darling. Then it's, like, "It's actually good."
M. Geddes Gengras
That's the process, though.
William Basinski
You've got to wait for other people. If you're not releasing it yourself, somebody else has got to get it.
M. Geddes Gengras
That's a whole other thing.
William Basinski
Sometimes it takes a while.
M. Geddes Gengras
Even for myself, it's getting to that point where I'm finally confident: "I've heard this thing a million times, I'm not bored of it yet." That means hopefully somebody else will be able to listen to it five times, ten times. Putting out a record, you don't want to release anything that anybody's going to get bored of. That's my worst nightmare.
William Basinski
No, because every time you do a release you put your head in the guillotine. It's like, "Okay, go ahead. Is it coming down?" Then maybe you get to keep it this time. You never know.
M. Geddes Gengras
With process music it's even more of a crapshoot, because you're like, "Did I even do this?" Or you're like, "How do I know that this is the one?" At least with me, any piece, I make thirty different versions of it. One of them is the right one, but I don't know why or where in my mind I make up that. Maybe I just have some weird emotional reaction to it some day because I ate something weird or I'm on tour and I'm in a bad mood or whatever. That's the one that sticks with me and it's decided.
You were talking about process music – there's some sense of control or honing in on the practice and the technique, but also with tape loops or even modular synth, they flex and they breathe. What about control, trying to control something versus letting go and giving up control? Do you guys have a thought on that within your music?
William Basinski
For me, it's like surfing, as far as control goes. Especially, for example, working with feedback. Feedback loops are a very profound thing to think about. Everybody kind of knows what feedback is – when a microphone is too close to the speaker it screeches and it makes an awful noise. When I was starting out and doing these loop and feedback loop things, certain frequencies would start to feed back. You have to ride that very carefully, because if you don't it will just destroy the whole thing. You ride it and then it will fade away and then maybe a different frequency will come up again a little bit later, and then you ride that, see what happens. There's control, but you also allow the elemental thing. You're surfing a wave and you could get killed or you can have an amazing ride.
M. Geddes Gengras
The thing that brings me back to modular synthesis is it feels like playing with another musician, but it's a musician that you have built. It's like your Frankenstein musician that you designed from birth and just trained to do your bidding. It doesn't have ideas. What it has is freedom within the ideas that you've defined. But that unpredictability, especially in performing live, it's what keeps me really interested in the process, because there's something to listen to, and I'm not telling everything. I'm not defining everything that's going to happen. I'm just suggesting paths that it could take. Those moments when you're surprised by it are the most exciting ones, because then you're having some sort of relationship with the gear, and it's like a real collaboration at that point, but at the same time, it's all you. It's you and your tools, you know?
This is war. We're not going to win it by shooting people, as much as we'd like to sometimes. This is what I can do. It resonates in people's hearts and it goes out into space.
William Basinski
I agree 100%. That's what makes it stay fresh.
M. Geddes Gengras
It also is what allows you develop any kind of mastery, learning that back and forth, learning how to respond to it. When I first started out doing live performance with modular synthesis, more times than I could count you plug in the wrong thing and it makes some terrible loud noise. You jump out of your chair, and everybody else jumps out of their chair. Then you try to pretend you meant to do that, and turn a knob, make a quizzical face.
William Basinski
Yeah, and everybody's like, "Wow. I loved it when you did that." "Oh, yeah. I meant to do that."
M. Geddes Gengras
That's your only job as a performer, is to sell the fact that you're as engaged or more engaged with this than they are, and give them the permission to then do that as well. Beyond that it could take any form, or be anything you want, but if you're really experiencing it fully, in real time, people are going to respond to that.
William Basinski
Absolutely, because we're listening. That's the most important thing.
M. Geddes Gengras
That's what I think is probably really similar about our practices. It's a lot of listening, listening to something else do something to your idea, and then being like, "Okay," and being the editor of that. Also, at least in a live context, knowing that sometimes you can't fully control all those aspects.
William Basinski
I always ask for a microphone on stage so I can talk to everyone, let them know I'm a human being, I'm so glad they're there.
M. Geddes Gengras
You're not just a technician who's preparing the stage for the next guy.
William Basinski
In big places where they think you're just some geek down there, and they're all like, "Hey, man. What's going on? What're you doing?" Jamie's like, "I'm listening to William Basinski." "Oh, cool." Whatever. So I'll talk to the audience, and tell them, "Okay, here we go now. Let me just get my girls in order here. Everybody get comfy. Turn off your phones, and all that stuff. Get real comfy, because we're going to go off on a trip now, and it'll be real cool if we all go together."
M. Geddes Gengras
If we go together.
William Basinski
It helps, because you got to get everybody, "Okay, we're starting." Especially if you're going to start quiet. I do start quiet.
What about when you're hitting the stage? Typically, how much of it do you have worked out, planned, or how much of it is just jumping into the moment and seeing where it goes? What's your ideal?
M. Geddes Gengras
I always have a plan.
William Basinski
It's a show. You're from theater. There's a show. There's a set. There's a setlist. It is theater, what we do.
M. Geddes Gengras
Absolutely, absolutely.
William Basinski
You have to think of it that way. You're putting on a show. It's show business.
M. Geddes Gengras
I think a lot of my biggest influences are more theatrical. Even though I don't really consider myself a theatrical performer, necessarily.
William Basinski
It's all theater. It's spectacle.
M. Geddes Gengras
The way I think about it, it's like creating environments and set design, in a way. You're creating a space for somebody else to put their own drama in, essentially. You're creating an environment and somebody else can bring whatever the fuck they want to bring to it from their own minds or their own place.
William Basinski
As long as they're not talking about it.
M. Geddes Gengras
Well, sure. Ideally, this is an internal journey.
What drives you to do it? What are you most thrilled about making music today? What is the thing that is that spark that keeps pushing you along?
William Basinski
Well, it's what I do. It's how I can fight the war. This is war. We're not going to win it by shooting people, as much as we'd like to sometimes. This is what I can do. It resonates in people's hearts and it goes out into space.
M. Geddes Gengras
Yeah, absolutely. I do it because I do it. It's just my life practice at this point. It's what I do, free therapy or whatever. Beyond that, though, I think the next level that keeps me engaged as much as I am is finding out how people react to it or how people use it, especially with ambient music, which is not necessarily the correct catch-all term for everything. There's a way where it becomes really functional music for people. I'm really interested to hear when people can be like, "Yeah, I have your record. I use it for this thing."
William Basinski
I hear that, too, and I love it.
M. Geddes Gengras
It's beautiful.
William Basinski
We're in service. We're serving people. We're in a service industry that has profound resonance.
M. Geddes Gengras
Just because people don't necessary understand the best way to act in those situations, doesn't mean that it's not your job to provide that service. I'm just consistently amazed that anybody is listening, that people care.
William Basinski
Me, too.
M. Geddes Gengras
To me, it feels so internal. It just wouldn't be of interest to anyone else because it's like, again, would you want to listen to my therapy sessions? It's probably not very interesting to most.
William Basinski
They do because we're all in the same boat. If someone is listening, if someone is wandering... In a way, the internet is great because people can find anything they might want, and they can get clued in. You never know when somebody is going to get reeled in on your drug. Then they can't get enough.
M. Geddes Gengras
That's the ideal. You get them hooked real fast.
William Basinski
Dope dealers. The good drugs.
M. Geddes Gengras
At least ones with minimal side effects, hopefully.