Fat Beats: An Oral History
For 16 years, a record store called Fat Beats was New York City's hip-hop Mecca. Opened by Joseph "DJ Jab" Abajian on July 14th in 1994, the spot was situated first in a basement on East 9th Street and then above a bagel cafe on 6th Avenue in the West Village. With records plastering the walls, signed promotional photos and posters covering the ceiling, and local DJs and artists working in the store, Fat Beats felt like a hip-hop junkie's paradise.
During its heyday, Fat Beats elevated itself from a retail venture into a hip-hop community hub. Upcoming rappers would hang out at the store, scheming to get their own releases on the wall, while major label artists and future stars would pass through to perform packed in-stores, with lines to see the likes of Eminem, the Fugees and Gang Starr trailing around the block (and often leaving mayhem in their wake). Fat Beats became a key part of the independent hip-hop scene of the mid-'90s, too, with the store stocking freshly pressed 12"s that fans would hear played on Stretch Armstrong and Bobbito's late night radio show.
During the peak of Fat Beats' reign, further retail outlets were opened in Los Angeles, Atlanta, Amsterdam and Tokyo (along with a label, distribution arm and website that still endure today) – but its spiritual home remained the spot above the Bagel Buffet on 6th Avenue. For out-of-towners and overseas hip-hop heads, a pilgrimage to Fat Beats was an essential part of any New York City trip, and stories of tourists dropping $1,000 on vinyl were common.
Here the store's founder and the artists who worked, shopped and spent their days hanging out and freestyling at Fat Beats reminisce over New York City's legendary "last stop for hip-hop."
The Birth Of A Hip-Hop Mecca
After a spell in the army, Joseph Abajian took a business class at college – a move which led him to take a chance on a grimy subterranean storefront in Manhattan's East Village that he styled as "a hip-hop enthusiast's bedroom."
JOSEPH ABAJIAN
Owner of Fat Beats, AKA DJ Jab
JOSEPH ABAJIAN
The first Fat Beats store was at 323 East 9th Street. I chose the location because of the rent. It was very cheap, around $500, and it was within my budget.
I used to have to go to four or five record stores to buy my hip-hop vinyl. This was in the early '90s. I was going to Beat Street, Downtown Records, Vinylmania… It was hard to get the 12"s that would come out. You'd listen to the Stretch Armstrong and Bobbito radio show and go out and search for the records. They'd play a lot of independent stuff that would force you to go to all the different stores. One day I was shopping and had an epiphany and a record store was what came to me. It was as simple as that: Having bad service at the record stores that were available and not having a one-stop shop for hip-hop.
Within the first three days I sold out of everything. I thought, "I think I'm onto something here…"
After I secured a location, I had about a month and a half to build the store out and promote it. The first store looked like a young hip-hop enthusiast's bedroom. It was posters on the wall and walls full of records. One of the first records I put up was the "(Hey You) The Rock Steady Crew" 12". I'm a DJ, a b-boy, so that represented both of those cultures. All the walls were graffitied, so even the blank spots had artwork behind them. When you came down, it wasn't just a store – it was artistic, too.
When I opened, I was stocking a lot of 12"s – Redman, Method Man, Kurious Jorge. I didn't have a full store – it was only about 50% full the first week – but within the first three days I sold out of everything. I thought, "I think I'm onto something here…"
From the start, hip-hop artists used to come down a lot, especially the independent guys. El-P from Company Flow used to hang out all the time; J-Live, Natural Elements, basically the whole Rawkus roster! The whole independent scene, Mighty Mi, DJ Eclipse, who ended up working at the store, Stretch and Bob used to come down a lot, DJ Riz, Jazzy Jeff came through, Cash Money. It was '94 and hip-hop was just about to go mainstream and blow up so everybody came through the store. One time Redman came down and was selling us things.
Fat Beats became part of the community. In New York, in 1994, if you ever pull out flyers for events, especially parties, you'd see like, "No hoods, no boots, no Timberlands," so it was very anti-hip-hop. When you went into Fat Beats, you weren't sweated by security – you were approached and given customer service. You know how kids are in hip-hop, they don't think too much, they'll go smoke a fat blunt in their car and then go shopping, they walk in the store and they stink like weed. Most stores will give those people problems, whereas in Fat Beats they were welcomed.
DJ ECLIPSE
On-and-off manager of the New York City store, also known for hosting The Halftime Show
DJ ECLIPSE
I was working at [the record label] Wild Pitch in 1994 to '95. Once Fat Beats opened, Joe sent a fax to all the labels announcing the opening of a new hip-hop store. I went down to the grand opening and I really liked what [it] was about. I'd go there every week to buy new music and support the store and helped set up in-stores and things like that. I really liked the vibe. When Wild Pitch closed in '95, Joe asked me if I'd give him a hand working on the weekends.
It felt like home. Joe's motto was: "It's a hip-hop store." There weren't any other stores in New York at the time that were hip-hop stores. There were stores that had hip-hop sections, but everything about Fat Beats was hip-hop. On the grand opening day there was a DJ spinning live, there were writers putting up graff on the walls, Joe was breaking in the middle of the floor – every aspect of hip-hop was going on at the time. That was the motto: We cared about the music and we cared about the culture.
EL-P
Company Flow, Def Jux, Run The Jewels
EL-P
The original Fat Beats – and later Bobbito's Footwork – was basically the basement of a building. It was small, with records lining every single inch of the wall and a small counter for the staff to stand behind. It pretty much felt like your cool friend's basement.
EVIL DEE
Black Moon, Da Beatminerz
EVIL DEE
I started shopping there probably the week they opened at the first store. That's where you got all the ill underground joints. Especially when I was on Hot 97, I'd go to Fat Beats to buy the underground joints to break them on Hot.
DJ PREMIER
I came up in the era of vinyl, that late '88 era, and you'd go to stores around town to dig for records to sample, but Fat Beats was a place to get records from artists you were around and would listen to. It was the place where you knew they'd always have 20 copies of Mobb Deep's "Shook Ones (Part II)" on the wall.
JUST BLAZE
Producer who's worked extensively with Jay Z
JUST BLAZE
My first time at Fat Beats was to the first location and also my first time going record shopping in New York City. I was in high school, and I did a field trip to all the major New York record stores and Fat Beats was the last one. I had already spent most of my money, but it was the best store I'd been to, so I was really upset I couldn't buy as much as I wanted to. I fell in love with it immediately. Once I moved to New York City later, going to Fat Beats became a weekly stop for me.
BUCKWILD
Producer in the D.I.T.C. crew
BUCKWILD
In the '90s, I'd go there and collect vinyl. That's when D.I.T.C. first came on the scene putting records out, so the first time I went there was when I was putting out some independent records. It was like the hip-hop candy store! I always tried to keep my ear to the ground as a producer and a DJ, but having Eclipse there helped. He'd always talk to you and recommend songs.
DRU HA
Co-CEO of Duck Down Records
Dru Ha
It was like the epicenter for hip-hop; it was like walking into the pulse of what was going on at the time. Anything that might have been happening or buzzing that you needed to know about, you could probably figure it out by being in that store and just browsing the records.
The Expansion Move
Two years after opening Fat Beats, Joseph Abajian moved his enterprise to a larger location at 406 6th Avenue, above a bagel store. A grand opening party in August of 1996 featured a nonstop stream of MCs performing, including a then-unknown Kanye West.
JOSEPH ABAJIAN
The first store was great, but it was small and a mad house. We couldn't put enough records in there. 6th Avenue and 8th Street was a very popular area, it was a big hang-out area and the rent was a decent price. The new store was upstairs, above a bagel spot.
PETE ROCK
Producer for Biggie, Kanye West and Public Enemy
PETE ROCK
You could see down onto the streets of 8th Street and 6th Avenue through this huge window.
JOSEPH ABAJIAN
Part of the hype was you don't know where the store is, you gotta find it. If we didn't have our signs out, you could easily miss it. It's a store for special people, people who like this sort of art and will seek it out.
PHAROAHE MONCH
Fabled lyricist and former member of Organized Konfusion
PHAROAHE MONCH
Fat Beats was like hip-hop's X-Men Danger Room in the sense that I always left there wanting to be even more on point after having all the up-and-coming hot artists and legends looking at you from all those 12"s. You were completely surrounded by classic hip-hop covers. I can imagine it felt good for legendary artists to see their covers on the wall so I can't even fathom what is was like for vinyl collectors and casual fans who strolled into the store.
EVIL DEE
It was cool in there, cats would be in there buying records and kicking it and hanging out. I call it the barbershop vibe.
ILL BILL
Non Phixion, Uncle Howie Records, Fat Beats employee
ILL BILL
Going to Fat Beats wasn't just like going to Beat Street or Rock And Soul and seeing a couple of records on the wall – you'd go in Fat Beats and ciphers would be happening.
Talib Kweli
Fat Beats felt less like a for-profit business and more like a community of artists. The employees came directly from the scene and they participated in the culture – some of the employees were great MCs, DJs and b-boys themselves.
DJ ECLIPSE
The grand opening for the second location, we had an all day in-store where we invited everyone we knew down. That was the one where Kanye West showed up. It was Al Tariq and Percee P and Lord Finesse and Chino Xl – the bigger names of the scene – then you had all these up-and-coming people like Kanye West, who was unheard of at the time but wanted to be part of the experience. It was just freestyles all day long. Kanye's was cool... It wasn't bad, but he came with Al Tariq and he was the nicest – he had this style and this flow that was awesome. Everyone who came with Al Tariq was good, but he was kinda above them.
PERCEE P
Golden age rapper known for selling his tapes outside Fat Beats
PERCEE P
The grand opening had a lot of people there, artists like myself, Lord Finesse, AL Skills, Bahamadia, Chino XL, Wordsworth and Punch, and I think Roc Raida might have been there. I didn't know at the time but Kanye West got on the mic. I looked back at some footage and I was standing right there; I got the mic right after him. Kanye was good, the beat selection at the time was what people considered underground and he was rhyming over the stuff you'd hear on a Stretch and Bobbito or DJ Eclipse show. A lot of people looked at him like he was on some boom-bap.
JOSEPH ABAJIAN
It was just MC after MC after MC. What I do remember – and it's unfortunate – was the cops harassing me. It was indoors but we had a speaker that was kinda facing outside – most businesses did that in the Village – but this is '96, and rap is still not accepted like it is now. I had these two cops come up and they were so angry. Rap music was playing outside on 6th Avenue and I had to calm them down and when they realized we're not just in here being stupid, it's business, there's major label artists coming through, there's limos outside. I was like, "Why are you so mad? This is the kind of music we sell, these are the people who like it, they're consuming and helping the economy. If I was playing jazz you wouldn't think like this."
Entering The Indie Rap Era
Fat Beats always stocked a wide range of hip-hop, whether commercial or underground, but it became renowned as an incubator for the New York City independent hip-hop movement in the mid-'90s. After tracks were played on radio shows like Stretch and Bobbito's, the store offered an outlet for fans to pick up releases from unsigned acts. The staunch commitment to supporting indie artists continued until the day Fat Beats closed.
DJ ECLIPSE
It was always our thing to try and propel the indie artists to do their thing. We wanted to show people that you didn't have to wait for a major label deal. In the mid-'90s, that was the thing. Everyone I talked to was like, "I'm trying to shop my demo." I was like, "Why? We'll sell it." Fat Beats helped establish the New York City scene with all those groups like Natural Elements and Jugganots and Arsonists and Non Phixon and Company Flow. We brought everybody together. We co-started that whole New York indie movement in the '90s by showing people they didn't have to wait to get signed.
JOSEPH ABAJIAN
The independent stuff was there, so when people came down to the store you'd right away see what they're buying – Nas, Method Man, Redman – and as a store owner I wanted to promote everything I had, so I'd hear about the independents and get them from the one-stops. I'd listen to them and think, "This is a good record but nobody's playing it." The only place they were played was Stretch and Bob and a couple of independent shows, so we'd play the independents in the store.
It wasn't a case of people coming looking for independents, but more us pushing them: "Hey, I know you like Redman and Nas and Beatnuts, but check out this record from Company Flow, this group that's just got this record out called 'Eight Steps to Perfection.'" "Ah, man, that's bangin'." Next week, "You got any more of that independent stuff?" Bam!
We started developing a community where people would come down and they'd already know the major labels, but they'd say, "Hey, I heard a record on Stretch and Bob last night and it sounds like this, do you have it? I don't know what it is." So I'd play it to them and we got known for pushing independents. At the same time, we always carried major labels – it was never us favoring independents, we just played them because people didn't know what they were.
A lot of times artists would send things to Stretch and Bob. I had a relationship with Bob where he'd call me and say, "I played these records last night and we got a good response. I told him to call you, he's gonna bring you some records." We kinda had that relationship going on. Bobbito really helped us out and pushed a lot of good records our way that I didn't really know and would only hear about on his show.
Q-UNIQUE
The Arsonists MC and Fat Beats employee
Q-UNIQUE
You'd tune in to Stretch and Bob and then you'd go to Fat Beats and buy what they played. That's how it worked.
DJ ECLIPSE
For indie artists, it was important to have your records in Fat Beats. Everyone knew that was the place to go. You wanted to be on the wall. There were definitely times when I had to get into issues with people if I passed on their record because they felt like we were being snobs. I had to tell people, "Our store is a fourth of the size of Beat Street and we can't take in every record." We had to take things we thought could sell. We wanted to make sure the stuff we were spending money on was stuff we could move.
MISTA SINISTA
Turntablist, member of The X-Ecutioners and Fat Beats employee
MISTA SINISTA
Back then, it you wanted an outlet, everybody was going to Fat Beats and it was the spot to go and hear anybody independent who's coming out. People from overseas would come and hear new music – if your record was up there, you got heard.
EL-P
For me, having a record in Fat Beats was the most important thing you could accomplish other than Stretch and Bob playing your shit. When we put the Funcrusher EP in and no one knew what I looked like, I would go to the store and spend hours just sug-gesting to people who came in to check out Company Flow.
BREEZE BREWIN
Member of The Juggaknots and Fat Beats store employee
BREEZE BREWIN
Fat Beats was a huge outlet for us [Juggaknots]. We had demos and we were trying to figure out what to do with it. I'd go down to 6th Avenue for open mics and in-stores and see so many people. You'd be able to have a real conversation with all sorts of people. The people working there at the time were Q-Unique and Eclipse and Ill Bill – you could go down there and chill with cats. It was cool to have my record on that wall.
TALIB KWELI
MC who came up during the indie rap era with Rawkus Records
Talib Kweli
At Fat Beats you'd experience a community that evolved into a business model. It was a pre-internet networking and meeting place where you could find others who loved hip-hop. It was so many working class MCs and hip-hop fans with blue collars on, stopping through to buy music or spit bars. Before the blogs, having your record in Fat Beats was the only way to survive for artists shut out of the mainstream. The mainstream was the underground at Fat Beats; the underground was mainstream. Fat Beats was supportive of Rawkus and vice-versa – so many of the artists who came through there were friends and family already, and continue to be.
JOSEPH ABAJIAN
I remember we stocked Jay Z's "I Can't Get Wid Dat / In My Lifetime." They came to the first store and sold us a box of 30 units and we'd call them to restock when we sold out.
Q-UNIQUE
At that time I was clueless to Eminem's existence, which is crazy because he's now one of the most famous dudes on the planet.
DJ ECLIPSE
I had a conversation with Paul Rosenberg not too long ago, and they claim I was a little reluctant to take Eminem's "Just Don't Give A Fuck."
Q-UNIQUE
Paul came to the shop with a small stack of vinyl and we picked it up on consignment.
PAUL ROSENBERG
Manager of Eminem, co-founder of Shady Records
PAUL ROSENBERG
I was in Detroit at the time and we recognized the store through the Stretch and Bobbito show. It was something I often heard referenced on there. So I walked in with a 12" of a record called "Just Don't Give A Fuck" and played it. They liked it begrudgingly, I think.
DJ ECLIPSE
We took some in on consignment and blew through them and had to order more. The rest is history.
Q-UNIQUE
I always thought it was amazing that his lawyer/manager was grinding in the streets like that. We sold out all ten records within two hours.
JOSEPH ABAJIAN
Having your record in Fat Beats kinda certified you, it gave you status. If we're carrying it, if Stretch and Bob and DJ Eclipse are playing it, this was validating you, that you're a real independent artist.
DRU HA
Man, seeing Duck Down records in there was incredible. It felt like you'd arrived. It was a stamp of approval.
ILL BILL
Even before working at Fat Beats, when I first started, I walked in selling my own stuff. It felt great on two levels: It felt great to have our records on the wall among a ton of legendary people we looked up to, and also it felt good to watch people buy the record without us necessarily pushing it on them.
The first couple of weeks a new record came out, we were aggressive; Arsonists drop a new record, Q-Unique is working in the store, we were pushing an Arsonists record, I'm not gonna front. But after a couple of weeks, there's always new records coming out, and just the satisfaction of being at the cash register and someone comes up with two copies of [Non Phixion's] "I Shot Reagan" that I didn't necessarily suggest, was a good feeling.
DENAUN PORTER
MC, producer, and former member of D12
DENAUN PORTER
I remember all the records on the wall, like they had Shabaam Sahdeeq and Soundbombing. It was a whole different world to the industry that I'd started to be part of. It was more organic and more tangible. It felt like the respect that sometimes you don't get from being in a huge industry.
Selling eight million records is different from selling 500 where you can literally talk to those fans. These people have real hardcore fans they can touch and see. I started off as totally backpack, I had no idea I'd sell all the records I've sold and have number one hits, because I just wanted to sell that 500.
DRU HA
I remember people were coming out to really meet and appreciate and get a taste of Black Moon when we did an in-store. You knew it was a really fanatic fan, a very educated fan, and you were speaking directly to that person that came out to the store. I remember thinking, "These fans are really thorough and dedicated to the group." It gives you a high and puts you on a pedestal.
AUDIBLE DOCTOR
Member of the Brown Bag AllStars, former Fat Beats buyer/manager
AUDIBLE DOCTOR
I think the crew at Fat Beats were responsible for moving a lot of people's records that otherwise might not have moved because there wasn't an awareness about them.
DJ PREMIER
Without a doubt it was the spot for DJs to pick up new and breaking records. You'd go in there, they let you listen and test everything. I picked up so many records that way. I was put up on J Dilla, Jaylib like that, the Madlib stuff, even Black Milk, that was from being in the store.
AUDIBLE DOCTOR
I remember specifically when Blu and Exile came out with Blow the Heavens. Nobody knew them – at least on the East Coast – and we were pushing it so hard in the store and playing it so much it took on a life of its own and the word of mouth just spread and would not stop. But the label messed up and they didn't press enough copies so we'd have people coming in for months trying to buy it but it was completely sold out.
HOMEBOY SANDMAN
MC, currently signed to Stones Throw
HOMEBOY SANDMAN
Being in Fat Beats was huge for me. I brought Eclipse five copies of my second album, Actual Factual Pterodactyl, and got them stocked on consignment. It meant everything to me to let people know they could pick up a copy of my shit at Fat Beats. I'd send people there instead of selling to them hand-to-hand – even though hand-to-hand paid better – just for the clout of having my shit selling in Fat Beats. I wanted the whole staff to be wondering who the hell this kid Homeboy Sandman was who all of a sudden people were coming in buying his shit.
DRU HA
I think it was important for indie hip-hop labels to be in Fat Beats. If Fat Beats didn't want it and they weren't ordering it, it was a clear signal that maybe something wasn't resonating and connecting to the fans. I think it was almost like the first test: When distributors go out and solicit a title, the store has to want to order it. It starts with the store saying, "Give me ten copies of those." If Fat Beats wasn't ordering your title, you probably had to go and rethink what you were doing.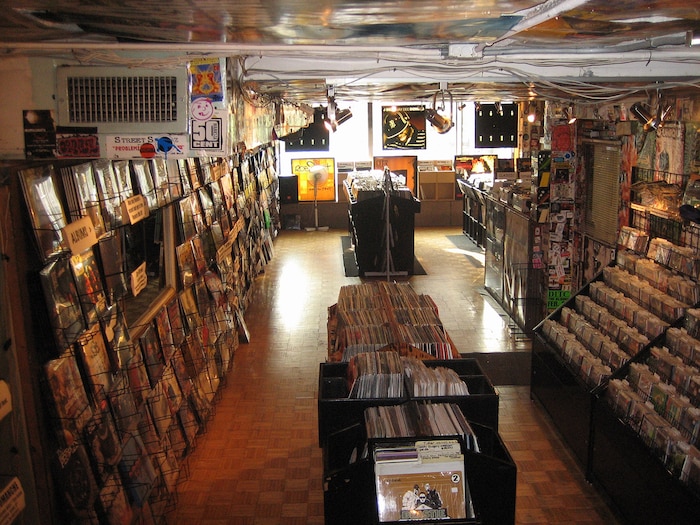 Staffed By Hip-Hop Monks
Fat Beats embraced a tactic of employing artists and DJs who were more renowned for their hip-hop knowledge and opinionated manner than any traditional approach to customer service. As ex-employee Ill Bill puts it: "What I learned coming to Fat Beats is, throw everything you learned out of the window – the customer is not always right."
JOSEPH ABAJIAN
Ill Bill and Q-Unique were just young guys in the game trying to get their place and they needed a job. It worked out. Mista Sinista worked in the store. It was great for those guys because they promoted their records like crazy.
Q-UNIQUE
Bobbito knew I was looking for a job. He told me to reach out to Eclipse. It was a rough time in my life. I was living with my Arsonists crew member D-Stroy and his family, so Eclipse gave me the opportunity to get on my feet.
ILL BILL
I ended up working there because Eclipse was the manager at the time and also my DJ in Non Phixion. It was the best job I've ever had. It didn't really feel like work.
BREEZE BREWIN
Eclipse told me, "Yo, if you need some work why don't you come through?" We kinda had a reputation for being on some hip-hop star shit ,like we'd turn up late for shit, 'cause we were young and stupid. He was like, "You can't do this, you have to be on time." He gave me a shot and was like, "Yo, we don't give a fuck what you did as an artist, you obviously know about the music, but just work hard and be consistent." He gave me a shot and before you know it I had keys to Fat Beats.
We'd stay late in there, me, DJ Boo and Eli Escobar, like we'd get in there and play all the records and make our own little mixtapes, just bug out. We was in Fat Beats chilling. We really should have been dirty dogs and bring some girls in there and do some malicious shit, but we didn't do that – we were on some hip-hop monks shit. Eclipse entrusted us with that and I respected it.
Did we have annoying customers? I mean, you know, the answer's yes!
DJ ECLIPSE
We always had staff that were part of the scene and people who shopped there were part of the scene, like Premier and Pete Rock. You didn't know who you were gonna run into. You went there, hung out and would talk hip-hop all day.
Tourists were probably like 50% of the customers. Again, it was the experience, knowing they're gonna go there and not only find something they were looking for but knowing they'd find something dope they didn't know about, or they'd bump into someone who was someone in hip-hop.
PETE ROCK
I used to go constantly and spend tons of money in there.
DENAUN PORTER
I remember almost spending $700 one day just buying shit.
JUST BLAZE
I remember one day calling the store looking for a record. I want to say DJ Eclipse answered the phone – I recognized his voice from his radio show – and I said, "Hey, I'm looking for a record…" Before I could even say what the record was or who it was by, Eclipse went on this whole rant like, "Whatever you do, don't start singing the record, don't start humming the bassline, don't start rapping the lyrics. You either know the name of the record and the artist or you don't. If you don't have that information, call me back when you have the information. I'm not gonna sit here and listen to you hum a record."
I was like, "Actually, I was just about to say the name to see if you have it…"
ILL BILL
Did we have annoying customers? I mean, you know, the answer's yes! The non-politically correct answer is absolutely. I think everyone who works in retail will say the same. Looking back on it, we were probably annoying store clerks. There was a certain aura and air about Fat Beats. I'd worked retail many years before, as a shoe salesman on Broadway in the Village, but what I learned coming to Fat Beats is, throw everything you learned out of the window – the customer is not always right. That was kinda like the party line; the protocol was come in and fuck with us and we're gonna show you what time it was. That's what it was and it was accepted.
Obviously when someone like Lord Finesse comes in the store, it's the opposite of that – it's show us something we don't know and we're super humble. On a day-to-day basis you'd have Q-Tip coming through or KRS-One or even Beats by the Pound were in town and would just come to Fat Beats. Funk Flex would be in once a week. Whatever you'd perceive to be the most mainstream to the most underground, everybody was coming through. It was like being at Mecca, being at the center of New York hip-hop every day.
You know how motherfuckers say they buy out the bar? These artists would buy out the fuckin' store! Q-Tip, even 15 years ago, he was DJing parties. He would come in and spend $300 on records and not ask for a discount. We'd hook him up anyway – but he wouldn't ask.
Beats by the Pound picked up literally everything, shit that you wouldn't expect them to buy like a scratch record or obscure shit. Beats by the Pound were buying straight up DMC scratch records!
J57
Brown Bag AllStars, FiveSe7en Music, Fat Beats employee
J57
Larry David made me late from my break once. He awkwardly stood in front of the staircase to the store and was looking at his flip phone and wouldn't move when I asked him to. Eclipse went from being mad at me for being late to running outside to try to meet him.
Step In The Arena
Over the years, Fat Beats gained a reputation for the impromptu freestyle sessions that would pop up in the store.
I remember Jin was one of those dudes that would come through to your in-store and try to hijack that shit.
JOSEPH ABAJIAN
If there were MCs in the store and it wasn't busy, we'd get out the mics and be like, "Yo, you wanna get busy?" Sometimes people would just start rhyming, like if we're playing a beat. So it kinda came with the culture. It wasn't an everyday thing, but towards the end MCs knew if you were at Fat Beats, you could get into a little cipher.
ILL BILL
Shit like that would happen every day, absolutely, whether it was a Last Emperor or C-Rayz Walz or maybe El-P would come by. That's just the era it was.
JOSEPH ABAJIAN
O.C. was one of the first artist in-stores we planned, then Kool G Rap, then we did Artifacts and Cella Dwellas.
BREEZE BREWIN
Sometimes it would be outside, sometimes we'd be spinning instrumentals and joints would pop off. I remember Invincible used to come through there and just put her foot in dude's asses. And I remember Jin, before the whole Ruff Ryders thing, he was really making waves outside the store. He was one of those dudes that would come through to your in-store and try to hijack that shit. Sometimes it was bigger, sometimes it was smaller, like you'd see cats in the corner huddled over, I'd run over, hear what they were saying, spit a quick 16 and run back to stocking records. It was real, it wasn't corny, I thought it was dope.
Q-UNIQUE
Hands down, the most memorable was the Gang Starr Moment of Truth in-store. That shit was live like a record release party at a club.
JOSEPH ABAJIAN
The Gang Starr in-store turned into a big rumble outside! Two kids tried to start some mess with some big bullies from Brooklyn and didn't realize what they were getting themselves into. A big mayhem broke out and the cops came.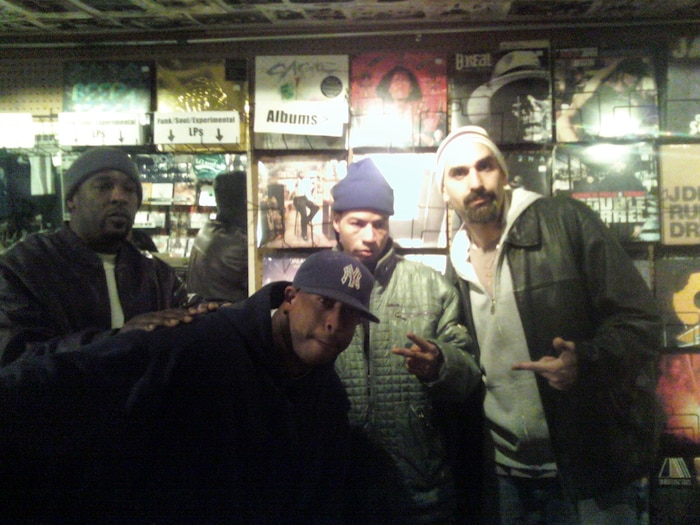 DJ PREMIER
Yeah, it was crazy, the line was around the block. It was tradition to pay respects to the culture with doing a Fat Beats in-store.
DAN GOLDBERG
The in-stores were important because they made the store a destination for all things that were involved in the culture. Going there didn't necessarily have to involve a transaction or a purchase every time – we wanted them to experience the Gang Starr in-store, the Hieroglyphics in-store, the Dilated Peoples in-store. In those days it was a little surreal to be this little shop on top of a bagel store that had lines around the block for people to come and see artists that most of the world had never heard of.
Talib Kweli
Fat Beats was the first place I received real time validation for my bars.
AUDIBLE DOCTOR
One of the ones that stands out to me the most was when KRS-One came by for the Gospel of Hip-Hop book that he did. Of course there's no air conditioning 'cause this is Fat Beats, and it's the middle of summer and it's hot and sweating and the store is packed to the point where you physically couldn't move. He's in the middle on the mic just preaching. You know KRS-One always has a lot to say, but it was literally just two hours of him preaching and it was mind-blowing.
HOMEBOY SANDMAN
With all the legends I saw perform at Fat Beats, I gotta say the most memorable performance was by my brother Fresh Daily. He isn't the most well-known of all the cats, but in New York City he's definitely one of the most loved. You thought Michael Jackson was having an in-store – the place was packed! So many people were out front waiting for him to arrive, ciphering and whatnot.
PHAROAHE MONCH
It would get so fuckin' crowded I couldn't breathe and would usually be like, "A'ight, peace!"
Stabilizing The Ship
The aftermath of the 9/11 terrorist attacks hit downtown New York City hard, with retail outlets suffering from a drastic decrease in tourism and foot traffic. At the same time, the Fat Beats store was about to enter a period of consolidation, with the underground and independent releases it was once known for stocking being supplemented by a more diverse selection of music, including an exclusive hook-up with 50 Cent and his G-Unit crew. A move to revamp the store's approach to customer service was also on the agenda under this new regime.
JOSEPH ABAJIAN
After September 11th hit, that really hurt us. We were downtown, you weren't allowed to drive downtown for a few months.
DAN GOLDBERG
Former buyer and manager of Fat Beats, now SVP Global Consumer Sales and Marketing at WMG
DAN GOLDBERG
I started off as the buyer for the store, and then eventually I managed the store. When I took over as buyer, the store definitely wasn't in the greatest shape, especially post-9/11.
I think the advent of technology had enabled other avenues for people to get that type of music. By virtue of that, we were really focused on improving the customer experience. The store had a reputation for being elitist. As the manager, I focused on trying to change that perception and improve the customer relationships both with the fans and the community as a whole.
I wouldn't say that I heard any specific horror stories, but I definitely heard broad notions of what the customer service was like – and I say that with all due respect to the people that came before me, many of whom I'm still friends with and call colleagues. It wasn't so much getting new staff in – people like Bill and Q-Unique and Eclipse left more for their own careers to take off, and that naturally enabled the infusion of new staff. Then you have people like Breeze who predated me and was there after I left, and he's one of the most amazing, positive, uplifting people you'll meet in your life. So I heard stories, that perception was in the air, but I never experienced anything like that.
We were selling unbelievable amounts of Immortal Technique product. I can tell you that on a weekly basis we wrote him a check; it was a sizable amount.
Also, I think we were trying to evolve the buying process to not just be about the most backpacker stuff and the most indie stuff, but in addition to that really try and represent what the modern hip-hop fan or modern DJ wanted at the time. That could include more experimental stuff, like we developed a relationship with Rhymesayers and took their stuff into the store, and even started to stock funk reissues. For me, it was about trying to super-serve the fan and make it the one-stop shop for them. That meant naturally diversifying a bit. I remember at one point we began stocking jazz records and we even had a couple of Black Sabbath records in there, because it's good music and there are breaks in there people can play. The store initially existed as the only place to get a lot of things and that wasn't the case at the time period I was there – I thought it was important to focus on customer service and corner as many exclusives as we could.
We had a relationship with 50 Cent and G-Unit so we were the only place to get actual official products from them as he was kinda blowing up. I think we were the only store that had official vinyl from them.
JOSEPH ABAJIAN
[A&R man] Nelson Taboada worked in [Fat Beats'] distribution while he was trying to get back into marketing and promotions with a major label. He helped us out and we taught him a little of the vinyl game.
In trying to land a gig with G-Unit, he came up with an idea to leak 50 Cent's "Wanksta." So we pressed a white label of "Wanksta" for him and put it through Fat Beats distribution. The single blew up that summer and G-Unit hired Nelson. We sold over 1,000 copies of 50 Cent's Guess Who's Back LP out of my New York store alone. There were a few factors in 50's early success and we were one of them that no one knows about.
DAN GOLDBERG
We were also selling unbelievable amounts of Immortal Technique product that we got directly from him and that couldn't really be purchased anywhere else. I can tell you that on a weekly basis we wrote him a check; it was a sizable amount and one of the best sellers we had for years. When somebody purchased that, you could see the sheer enthusiasm in their eyes, like they were experiencing something they'd never heard before and was revolutionary.
BREEZE BREWIN
The people there, the actual fans, were some of the coolest people. I remember I was at the store the day of the blackout in 2003. Cats were buying records and checking shit out with a little battery operated calculator and flashlights. But there was never no feeling of trepidation. Inside Fat Beats, even in a moment like that, all the heads, all the fans, it was courteous. The computers were down and I'm trying to figure out the tax for a $78 order, and people were calm, there was no disrespect.
DAN GOLDBERG
The business definitely started to increase and we noticed a growth – although I don't know if it ever got back to that heyday of the late '90s. But I remember you'd get European and Asian customers that would spend $1,000 and leave with seven boxes, which was always kinda fun. We liked the tourist aspect of it because it felt like you were giving something to somebody they couldn't experience in their homeland and in their home culture. When you'd see somebody from Japan that didn't really speak a word of English but would spend that much money, it was surreal, it was fun, it made you excited about what you were helping them acquire. You felt part of something bigger.
BREEZE BREWIN
I remember taking in Immortal Technique's CD boxes and them just flying out the store, and all the Rawkus shit sold great. We'd also end up with these random white label promo joints from, like, Roc-A-Fella, or weird Jay Z joints or Nas' "Stillmatic" before it came out – I'm talking about the original over the "Paid In Full" beat – these joints would come out and just move and cats would come through and buy ten copies and bring that shit back to Europe.
DAN GOLDBERG
People like Audible Doctor and J57 were interns. I was managing the store before their era started and after Bill's and Q's and Eclipse's before he came back. I think it was an important time because it helped stabilize the store.
J57
On my first day at Fat Beats in 2004 there was an in-store booked with Ali Shaheed Muhammad. It took a little time for word to get around that he was there because it was so last minute, so there was about an hour where it's just me and him talking shit about music. That was my first day! Then C-Rayz Walz walks in and starts freestyling, battling himself in the mirror, then Pumpkinhead comes in – it was just crazy.
When I was there, we sold a lot of Def Jam, like when Jeezy was Young Jeezy. His record "Go Crazy" that features Jay Z, we had that single way before it was poppin'. I remember that shit sold very slowly, but it sold to the DJs and then it became real big. Another commercial one was Gnarls Barkley, which was on Atlantic through Downtown Records, and I remember we couldn't sell those records until the buzz started – then it went through the roof. Amy Winehouse was the same. It was obscure commercial shit sometimes, but that type of shit did sell. Then there was something like D4L's "Laffy Taffy" and we couldn't give that shit away!
Craig Kallman, the president of Atlantic, used to come in weekly and I knew exactly what sort of records he was looking for. I didn't know who he was – I just thought he was a regular guy coming in and buying records. He only bought commercial records. He has a crazy record collection. After a few years of coming in and me treating him as a regular person, he started to ask me what I thought was good from the underground. I used to put him on to everybody I was friends with that I thought was dope, like Marco Polo, Pumpkinhead, and just show him those records and he would either like them or he didn't.
We never even talked about me finding out who he was until I had a meeting in his office after Fat Beats closed.
CRAIG KALLMAN
CEO of Atlantic Records, regular Fat Beats customer
CRAIG KALLMAN
When Fat Beats first opened, that's when I began going there. I loved it because they had great taste, the curation was really top-notch, it was run by real hip-hop fans and music fans, and they really understood the mind of the DJ. It was a great shopping experience 'cause you knew their goal was to hit all the DJs up with the most important hip-hop records every week.
The Beginning Of The End
As the music industry moved to digital, Fat Beats took a hit. The outlet's iconic status also conspired to work against its profit margins, as artists decided to hustle their own music directly outside the store.
DJ ECLIPSE
The end of Fat Beats was a couple of years coming. We closed in 2010, but in 2008 we saw the decline in sales, we saw technology like Serato start to pick up, and there were times I had to give myself a decrease in pay because we couldn't afford it. We basically cut every single corner we could to try and make it last as long as it could. We tried to focus a little away from the music and bring in more hip-hop products, whether it was games, action figures, DVDs, anything that was not just vinyl. It just didn't work.
JOSEPH ABAJIAN
There was the sneaker craze too. I think people's budgets got tight. You can't get sneakers for free – you can't download them – so they buy their expensive sneakers, they download their favorite music for free and I don't get their business anymore.
I noticed the staff was kinda burned out too. I had artists working in the store and they were trying to do their thing. When I first opened up, I'd hire DJs and MCs and people who were into the culture, but they weren't necessarily good for business. At that time I needed to change a lot of things and hire staff that are basically good for retail, not just good for hip-hop. But I also got married, had kids and I just didn't have the time to put into the store.
DJ ECLIPSE
We also had an issue with artists selling mixtapes directly outside the store. It was annoying. We were cool with most of them. It was an ongoing battle where a lot of them didn't get our point of view. I understood their point of view: If they put their record in Fat Beats, it's not going to get the attention it's gonna get if one person is pushing one record all day long. I understand they're gonna get more sales selling directly hand-to-hand in the street. The other side is, if they're gonna do it standing directly outside our door, they actually deterred people from coming in.
People told me there were times when even if they were just walking down the street, not even coming to the store, they'd cross over to the other side of 6th Avenue just to not be bothered by them. I don't think those sellers ever understood how bad they were for our business.
JOSEPH ABAJIAN
They'd harass a lot of people. I think a lot of suburban people from out of town didn't want to deal with the headaches. I had DJs and artists tell me it was a problem. Funkmaster Flex would come to the store once in a while and he'd get harassed like crazy.
I remember I went to the police, because the police were so aggressive against white people into hip-hop during that era, and they just started arresting kids. I was like, "That wasn't my intention – just get them away from here!" Then I told them to back down, because they're just trying to sell their stuff.
DAN GOLDBERG
Percee P was always friendlier. I think because Percee had done it for so long he figured out how to do it successfully and also coexist with what Fat Beats was about.
EVIL DEE
You'd have Percee P downstairs selling his tapes. I got a lot of old school tapes from Percee P.
PERCEE P
I used to stand right by the window of the Bagel Buffet and I'd maybe carry a radio with me and a bag of CDs and tapes. That's what I did. I put my radio up on the little balcony outside the store and had my knapsack of CDs and tapes to sell. I met Jurassic 5, and Stones Throw met me [when I was] pushing product to them.
On an average day I'd sell like 40, 50 copies. I'd come out there early, maybe like around 1 PM, and leave when the store closed. I eventually bought my own CD burner once I did the song with Jurassic 5 ["A Day at the Races"]. I was out in France and Madlib told me the stuff I was pushing on the streets was getting out there and being bootlegged. It was a big thing for me to be there [outside Fat Beats].
The Bagel Buffet people was cool with me 'cause every day I made sure to buy stuff from them – they never had any problems with me. I'd tell people to go there and try and support the business 'cause they let me stand out there.
The Final Week
On September 4th, 2010, the "last stop for hip-hop" shut its doors for the final time. A week of in-stores and live performances were organized to commemorate a chapter of New York City hip-hop history literally coming to a close.
JOSEPH ABAJIAN
The final week reminded us of the culture and how strong it was. I would say every single person in hip-hop came out that week. The store was packed every day.
ILL BILL
The last day was like a New York independent hip-hop version of the last episode of Yo! MTV Raps.
J57
It felt surreal, like it wasn't real, like a nightmare really. It was awesome in the sense we had these fuckin' incredible last in-stores. My group, Brown Bag AllStars, got to perform alongside Pete Rock and DJ Premier, A-Trak and Just Blaze; the Arsonists came back and did a reunion thing for that. I got interviewed by The New York Times that week and I got interviewed on Fox 5 that week, and Eclipse got interviewed on MTV. It was weird – but it was fuckin' dope.
PETE ROCK
I felt heartbroken, like someone died.
BREEZE BREWIN
You saw cats you ain't seen in a while and it was just like straight hot box – between the lights and the AC was a bit archaic. Cats just came in there and really did what they were supposed to do – rhyme and make the crowd feel good. It didn't feel like no funeral in no way shape or form.
JUST BLAZE
DJ Eclipse called me and asked me to come play. Ironically, the guy who cursed me out on the phone all those years before is the guy who asked me to come and play a final set. It was a sad moment. It's another example of the old New York that many of us loved disappearing. Little by little, a lot of the landmarks that we consider classic New York are rapidly disappearing.
All I could think was, "Where the fuck were you guys the last five years while we were struggling?"
AUDIBLE DOCTOR
It was amazing to see how many people came out that last week and how much support there was, but all I could think was, "Where the fuck were you guys the last five years while we were struggling?" People came out like, "Oh, we love this place, it's a shame it's closing." If half of those people came on a regular basis, we wouldn't be in that position.
HOMEBOY SANDMAN
I was mad, really. Mad that it was my last time. Mad that something that meant so much to so many people was going to be gone. It didn't make sense to me. All the support Fat Beats got that final week – fans came from all over the world, cats were there from all over the city rhyming – it just didn't seem to me like the type of thing somebody had deemed obsolete. It was so alive.
AUDIBLE DOCTOR
Fat Beats represents a period and a community and a time in New York hip-hop culture that we're never going to see again. It represented the last stronghold of a close-knit hip-hop community. The hip-hop community in New York is very fragmented; it's a very pick and choose community. Fat Beats was one of the last places where, if you put a Fat Beats event on, everyone would come out for it.
BREEZE BREWIN
Me coming from the Bronx, the birthplace of hip-hop, there was something about Fat Beats, like they were just doing it right. It was the only place where you'd see major labels right next to underground cats and there was little differentiation. At the time it started to separate, it wasn't separated in Fat Beats – it was just music. When I heard they were going to close, I knew that's it. And for what it's worth, it hasn't been like that again.
Header image © Courtesy of Joseph Abajian