Federation Sound
Kieran Meadows profiles the top soundsystem duo, who take over the RBMA Radio airwaves with bashment sounds, rootsy vibes and exclusive dubplates galore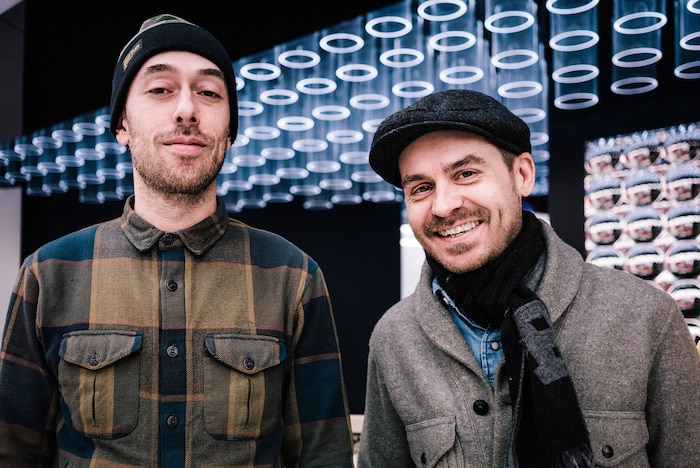 Chances are if you ask someone where to hear reggae on a Thursday night in New York City, they will direct you to the basement of the Bowery Electric. You'll be treated to vintage roots reggae from the 1970s or a rockers '80s feel, or perhaps you'll hear dancehall, likely the songs that are currently popping in clubs in Kingston, Jamaica and throughout West Indian expat communities in Brooklyn and Toronto. At first glance, the two American DJs behind the decks might not look like what you'd expect – neither is Jamaican nor has a Caribbean background – but both are well-respected in the reggae and dancehall world.
Federation Sound is a dancehall reggae DJ duo made up of two New York-based selectors: Max Glazer and Kenny Meez. Founded in 1999, Federation has carved out its own place in reggae and dancehall over the past 17 years. In February they released the carefully curated Roots & Chalice mixtape with Chronixx, one of the most buzzed-about young voices out of Jamaica in years. It's the latest offering in a series of artist mixtapes they've done over the past decade, with past efforts including a who's who of the dancehall pantheon: Vybz Kartel, Sean Paul, Cham, Aidonia, T.O.K., Chino, Bramma, and TNT (Timberlee, Natalie Storm & Tifa).
From the beginning, Federation's approach to dancehall has revolved around helping more people hear the music. In the early 1990s, Glazer and Meez were hip-hop party DJs who later got hooked on dancehall bashment sounds, and then simply wanted other people to share in their experience. "The same way we discovered it and fell in love with it – that's kind of always been the mission," says Glazer.
"We're going to present it to you in a way that it's not going to seem so foreign," says Meez, though he's quick to add that those already fully immersed in dancehall will feel at home as well.
Glazer, originally from upstate New York, was first exposed to reggae by his father, whose friend often brought back tapes from Jamaica of early deejays – the Jamaican term for the one rapping on the mic – including Trinity, U-Roy and Dillinger. After he began DJing at 16 years old, Glazer started buying records in the city and found himself drawn to New York hip-hop artists who incorporated a reggae influence like KRS-One, BDP, Just-Ice, Masters of Ceremony, Son of Bazerk and Boot Camp Clik. He remembers first trying to purchase Buju Banton's "Murderer" at Rock and Soul Records and the guy behind the counter told him that since it was brand new, they only had it on 45. Glazer bought it, slipped it into his crate between two LPs and played it every week – from then on, he began collecting 45s regularly.
Meez, who is originally from Philadelphia, had been mixing a lot of R&B and hip-hop early in his career. He remembers one specific Friday night when DJ Cosmo Baker played Beenie Man's "Stop Live Inna Di Past," which most people know as "Memories." He woke up the next morning thinking he had to find the record. Baker had it on 45, Glazer had it on 45, but he couldn't find the 7" anywhere – so he settled with a 12" version called "Memories." He calls this his "no turning back" moment when it comes to reggae: "That Beenie Man record was the record," he says.
The roots of the Federation story can be traced to an early '90s New York nightspot on Houston Street called Den of Thieves (later called Idlewild and even later White Rabbit) where Glazer, Meez and their friends DJed. One of the owners of Den of Thieves was a record collector and had a bunch of 45s, so the spot occasionally hosted an impromptu reggae session.
The name Federation was actually coined by founding member Cipha Sounds (who's no longer as actively involved). "Back in the era of DJing when you brought four or five crates of records, everywhere you went, you had two carloads of people meeting in front to help carry all the crates," Glazer recalls. Cipha felt like they needed a name for their crew. Federation. And it stuck.
Glazer and Meez produce a weekly podcast, Federation Invasion, which was launched in 2007, after Glazer returned from three years of steady touring as Rihanna's DJ. The show – which now has over 400 episodes – is a dancehall reggae mega-mix that includes hardcore juggling of new riddims, remixes and exclusive dubplates, plus roots and foundation sounds.
As it happens, Federation Invasion wasn't the crew's first foray into podcasting and internet radio. During the early 2000s, legendary hip-hop producer and radio DJ Marley Marl established a very early online radio network called Future Flavas Online, and Federation was a part of it – with a show called Federation Future Flavas.
When asked which soundsystems they look to for inspiration, Meez says that a Stone Love mix was the first to really draw him in. The mix started off with a set of dubplates over the Real Rock riddim. "Every sound should listen to that Real Rock segment," he says. "There's a power in that juggling. Hearing that was the moment when I was like, 'I wanna have a sound.'"
Glazer says King Addies out of Brooklyn is quintessential listening for him. He points to their huge amount of dubplates and crazy high level of energy when BabyFace was selecting and Tony Matterhorn handled mic duties. He rates Black Chiney Sound for its creativity and Coppershot Sound for long doing "dope and interesting stuff." Glazer also cites Delano of Renaissance Sound for cutting up and remixing 45s. "Those are the people who have informed what I want to do and what I've wanted Federation to do," says Glazer. "Which is, when people hear it, [they] hear something original."
"Our thing has really become these artist mixtapes," he continues. "It was really taking a page from hip-hop," he says, mentioning DJ Clue tapes and 50 Cent, who was prolific back in 2003 when Federation put out its first artist mixtape, From Time to Time, a collaboration with Vybz Kartel. The focus has always been on a really solid structure, well-crafted from beginning to end, from this first mix with Kartel to 2008's 3 The Hard Way with TNT, through to this year's project with Chronixx.
Along with artist mixtapes, releasing remixes has been a consistent artistic outlet for the duo. Some of the more popular ones include: Rihanna's "What's My Name?" Remix with Vybz Kartel, a Pharrell/Jay-Z "Frontin" Remix with Kartel and Wayne Marshall that was on the Def Jamaica album, and Kranium's "Nobody Has to Know" remix over DJ Mustard's beat for Chris Brown's "Show Me" – which gave the Kranium song new life on urban radio.
They've produced original music as well, most recently releasing 2015's Highland riddim with California's Selecta 7, featuring artists like Kartel, Mr. Lexx, Ward 21 and Tifa. Glazer also produced the Vybz Kartel single "Whine (Wine)," which was featured on the popular Reggae Gold 2011 compilation.
A big part of what we do is try to get people who aren't familiar with us, or reggae and dancehall, into it.
Glazer laughs when he recounts the story of trying to link with Kartel to record some dubplates in Kingston in the mid-2000s. Kartel, who was notoriously hard to connect with even if you regularly linked up with him, called them at 7 AM one morning. "He's like, 'Yo, where are you?' I was like, 'I'm in bed at the Hilton.' He's like, 'at the Hilton? Alright, I'm coming over there to do these dubs.'"
Glazer says Meez fired up his laptop at the crack of dawn. But there was a problem. The computer wasn't working. Pro Tools wasn't working. They restarted the system. Nothing. They made tech support phone calls to their friend in New York. Still nothing. After almost two hours passed without any luck, they told Kartel, who had been sitting there waiting for most of that time, that there was a problem with Pro Tools.
"Kartel is like, 'that's all you're waiting on?'" Glazer says. "He sends his boy down to his car, comes back with a laptop, straight HP PC yardman style, the microphone with an adaptor down to an 1/8" plug input, plugged into the PC, no interface box, no nothing" and he started recording the dubs.
"So basically, we had this whole dub session with Kartel with me and Kenny kicked back against the pillows on our beds," Glazer laughs. When they were done, Kartel burned a CD with the files and that was it.
At the time, that was rare – in previous studio sessions, Kartel didn't have a computer and didn't know how to record – but these days, working with younger acts like Chronixx, it's no longer much of a shock when an artist comes in with a certain level of technical know-how. "Chronixx is an ill engineer," says Glazer. "Across the street from where he lives [in Jamaica], there's a studio, but he rolls in with a bag and pulls out his computer, his interface box, his mic and his mic shield. So basically, we go to a studio, but he sets up his own thing. He runs his own session."
No matter who is engineering a session or who they're working with, Glazer emphasizes that aiming for something creative is always a guiding principle in their work.
Likewise, no matter the project or what they do, exposing more people to the music and culture is still the mission. "Hopefully people who are diehard fans of the music enjoy what we do," he says, "but definitely a big part of what we do is try to get people who aren't familiar with us, or reggae and dancehall, into it, with the same appreciation that we have for it."


Federation Sound is live every third Wednesday of the month on RBMA Radio. Check it out here.