Glenn Branca's Symphonies: The Guitars And The Guitarists
The consortium of luminaries hand-picked to perform the NYC composer's roaring symphonies introduce their sonic weapons of choice
Several of today's most innovative musicians, whose individual works span myriad disciplines from avant-garde to metal, will gather at Manhattan's Masonic Hall tonight along with the iconic NYC composer and guitarist Glenn Branca. Together they'll be performing Branca's 8th and 10th Symphonies (The Mysteries) as well as his 12th Symphony (Tonal Sexus) for one night only. We sat down with each member of this hand-picked consortium to discuss the intricacies and oddities of the instrument they'll be wielding onstage. Photos by Cole Wilson.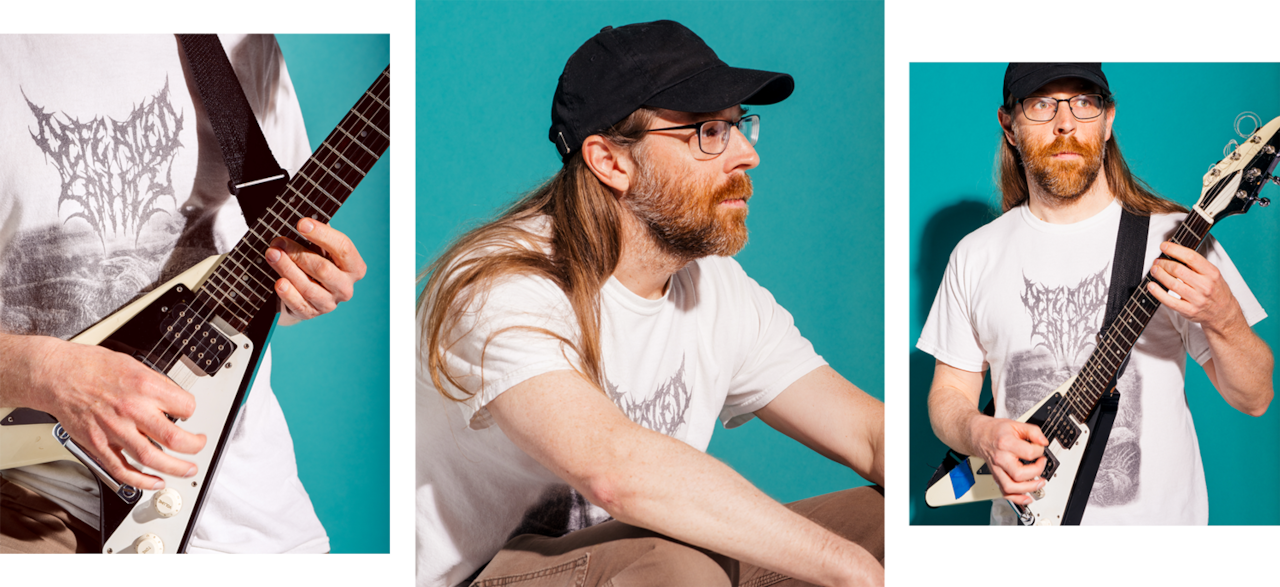 This is called "the Micro Shanker." It's not mine, so I don't know much about it. This was provided for me by Reg [Bloor] and Glenn. I've put in a lot of hours with this; I've gotten very intimate with it. I did actually look up if I could find one online, but it has no brand name on it anywhere. I asked Reg and she doesn't know what kind it is. So I just searched for a "small Flying V black and white." Got nothing. But I mean, it found me one time. Maybe it'll find me again.



This is a veteran. I got that from Robert Poss, who was in Band of Susans back in the '80s. He modified it and I played it on tour with the Rhys Chatham band in the '80s, and then it was on the road with Jim Thirlwell's Foetus band for a while. A lot of people have played it over the years. I swapped something for it, a Fender Mustang bass. I needed it for the Rhys Chatham band, and I needed a guitar fast. It was fine, although that bass was kind was kind of a strange instrument, too. I wouldn't have minded having both of them.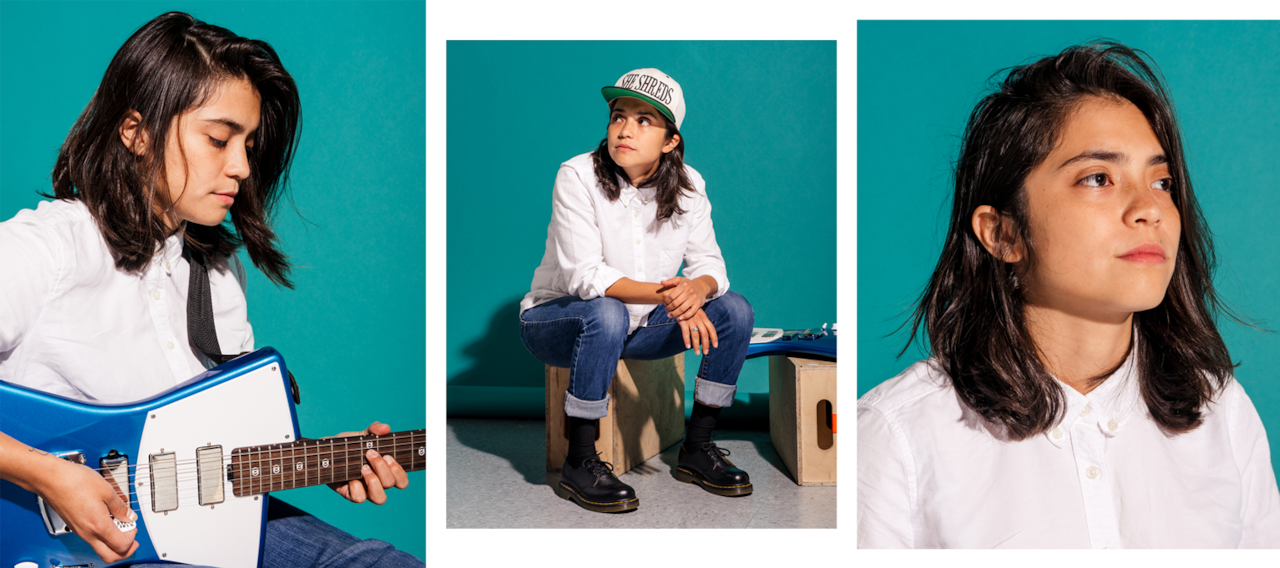 I'm actually playing the Ernie Ball Music Man St. Vincent guitar that just came out. St. Vincent designed it and she built it. I got in April to review and we did a contest [at She Shreds] to give it away. And I figured before I send it off, I'll just play it here. The woman who won it, she's in this band called An Horse. I feel like it's going to be put to really good use. She's recording this summer and it's going to get to her right on time.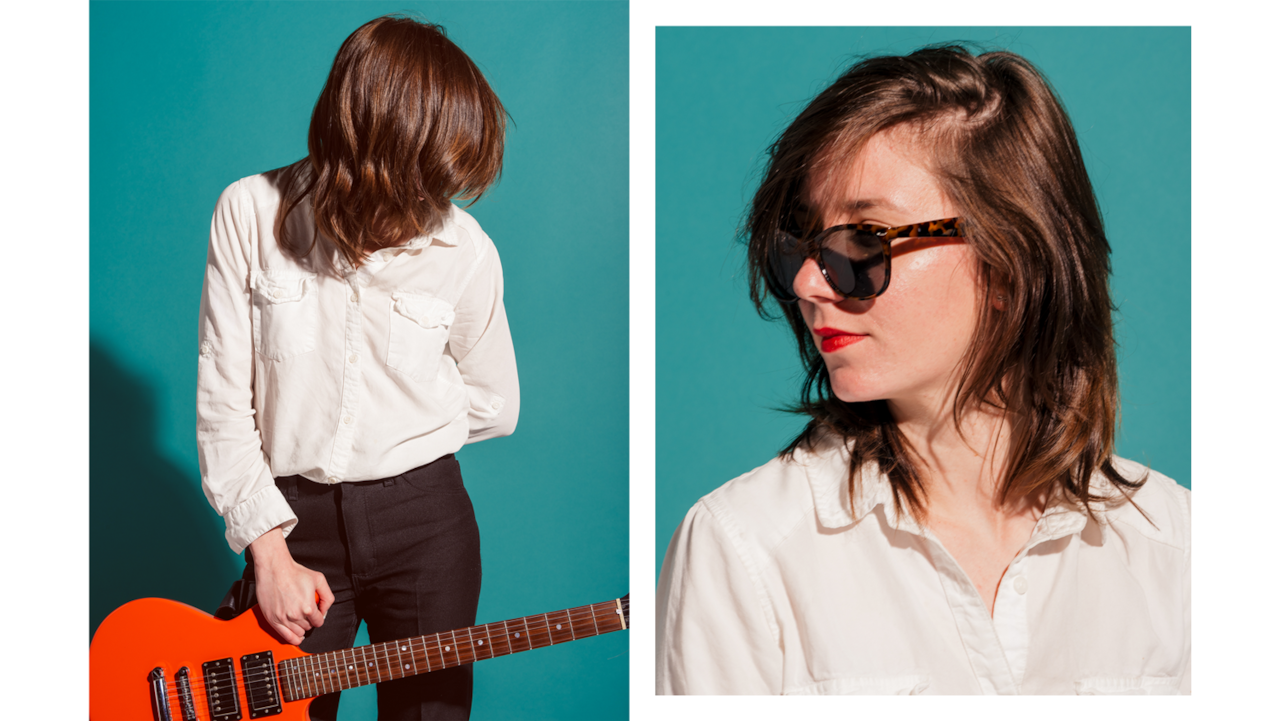 I bought this guitar specifically for the ensemble. It's an MB, I don't know what that stands for. It has two Gibson pickups in it, which I like. It was on clearance because it was signed by Gary Sinise. It was donated after the Lt. Dan Band played at the Old Town School of Folk Music across the street from the guitar shop. I bought it in Chicago. It was donated four years ago and I guess they couldn't sell it. I buffered the signature off, but you can see a little bit of the remnants of it.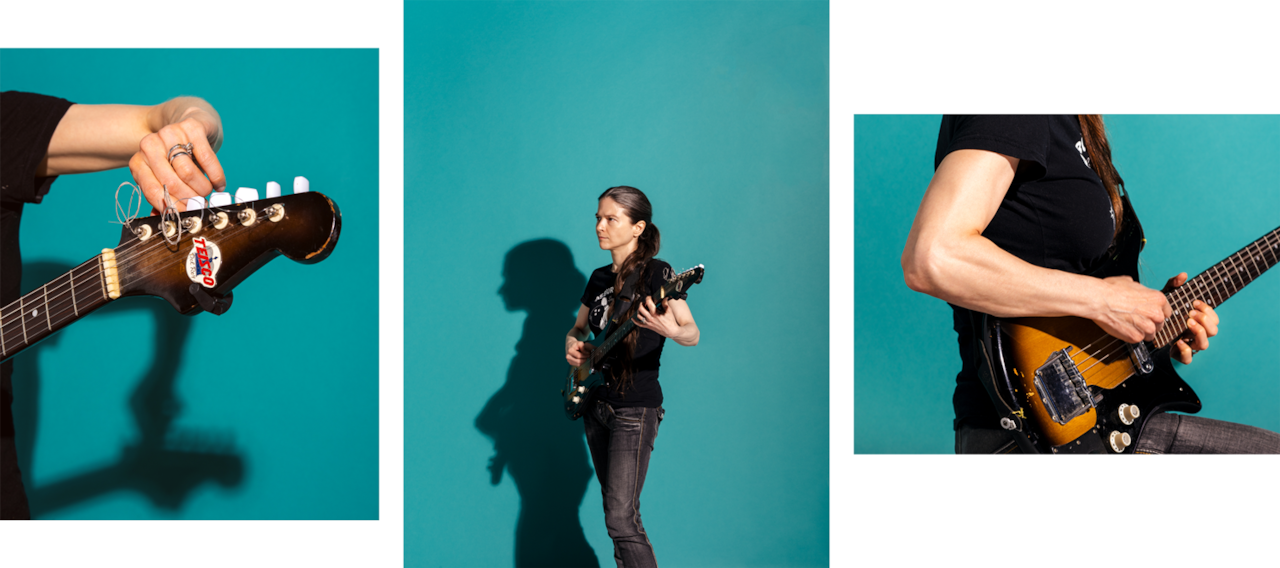 I'm playing my Teisco Del Rey because it's got a nice, neutral sound that Glenn likes. I got it at a music shop in Boston; it sort of found me. And it was 60 bucks. This one's called Tulip Sniper. Tulip Sniper is shaped like a Tulip and there was a character on Aqua Teen Hunger Force called the Tulip Sniper, so that's what I call it.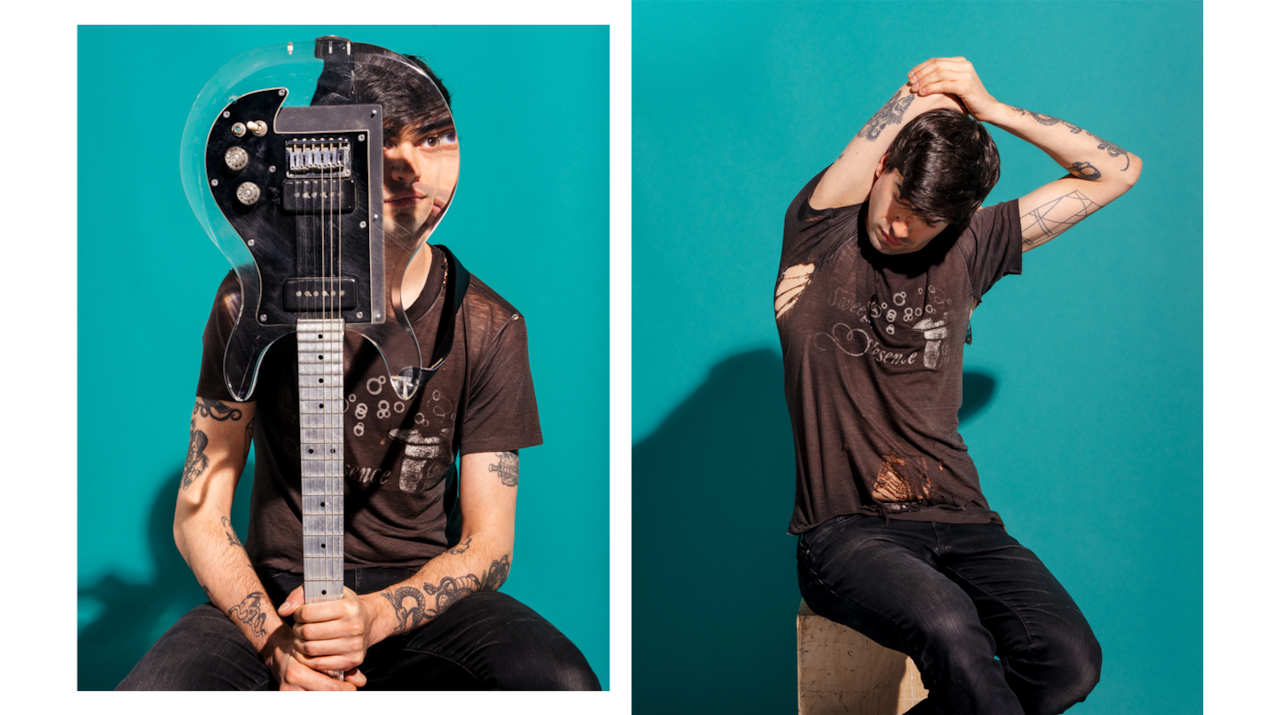 It's the only real guitar I own, and probably the last guitar I'll ever own. It's made out of Plexiglas and aluminum and it never goes out of tune. Never warps. If you drop it, it dents the floor. It's like a tank. This guy Kevin Burkett made it. He was a machinist for NASA for most of his life. Now he makes guitars for the Melvins, My Morning Jacket, Shellac. But this was the 180th guitar he ever made, or something like that.




It's a 1991 Fender Precision Bass made in Japan. I got it from my high school because it had a bad soldering job, and they thought it was broken. They told me that I could keep it if I fixed it. My dad plays bass too, so if you count hand-me-downs and weird, shitty '60s bass instruments, I probably have four or five of them [in my collection].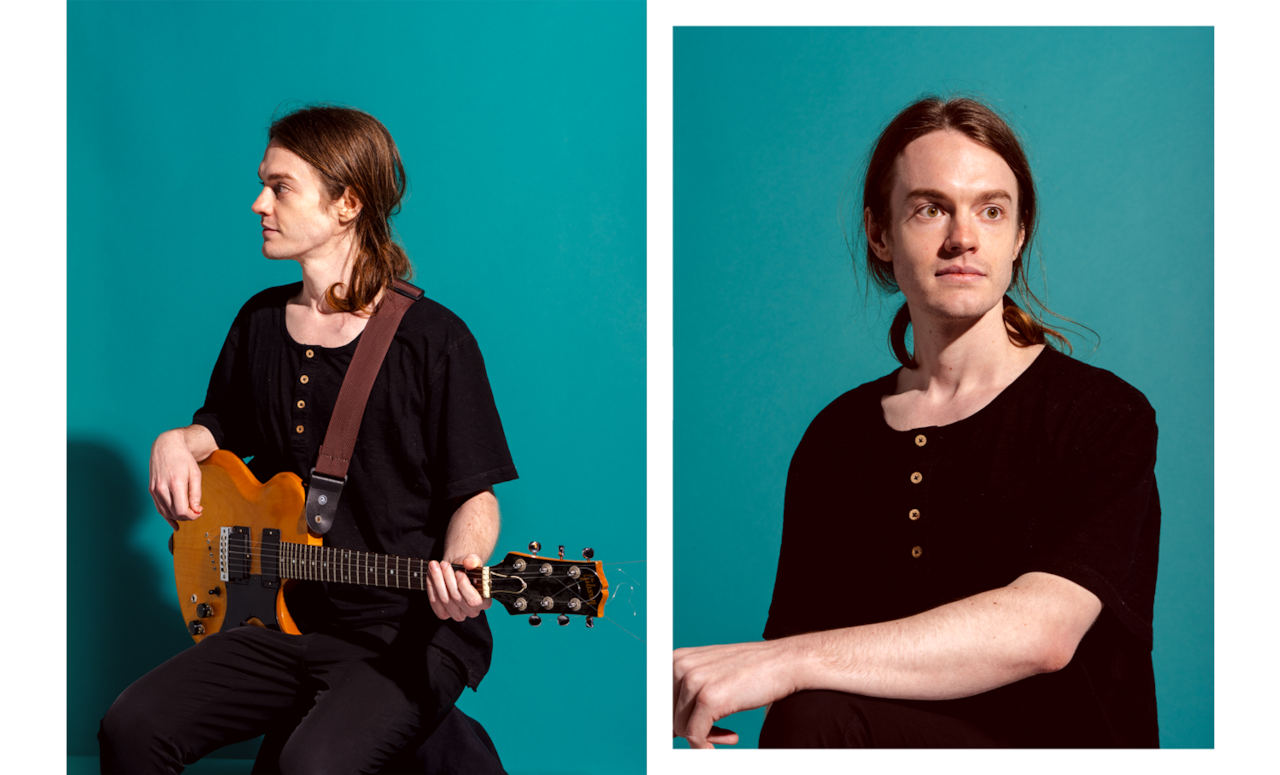 It's a Gibson L6. I like it. It's a pretty guitar, it sounds good. It's not my main, I usually play an SG. This is good for a wide range of music. You can play metal on it, you can also play just regular rock and stuff like that. It's a thin body, not too twangy.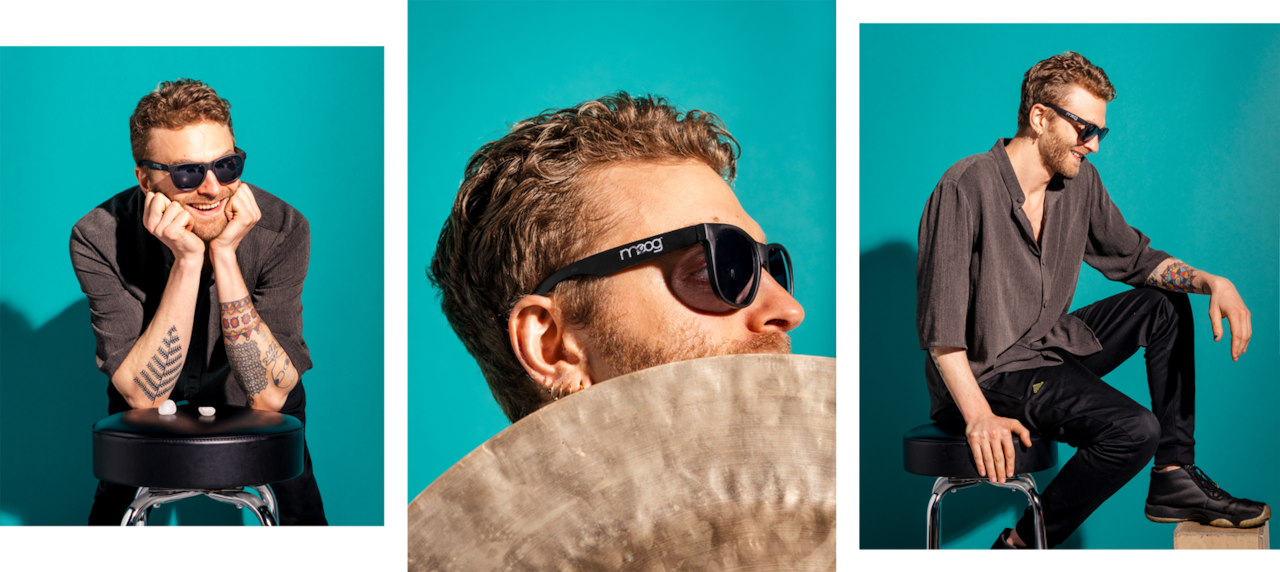 I used to work at a drum shop in New York called Manny's Music, which doesn't exist anymore. When I worked there my grandfather, who was a drummer, came into the store and bought some K Constantinople hi-hats from me and used them. And then when he died, my grandma sent them to me along with his snare drum, his drum set and couple other things. I don't use the other gear, I keep it in storage. But I use the hi-hats. It's kind of nice, I feel like I have him on my left when I'm playing. And they sound incredible.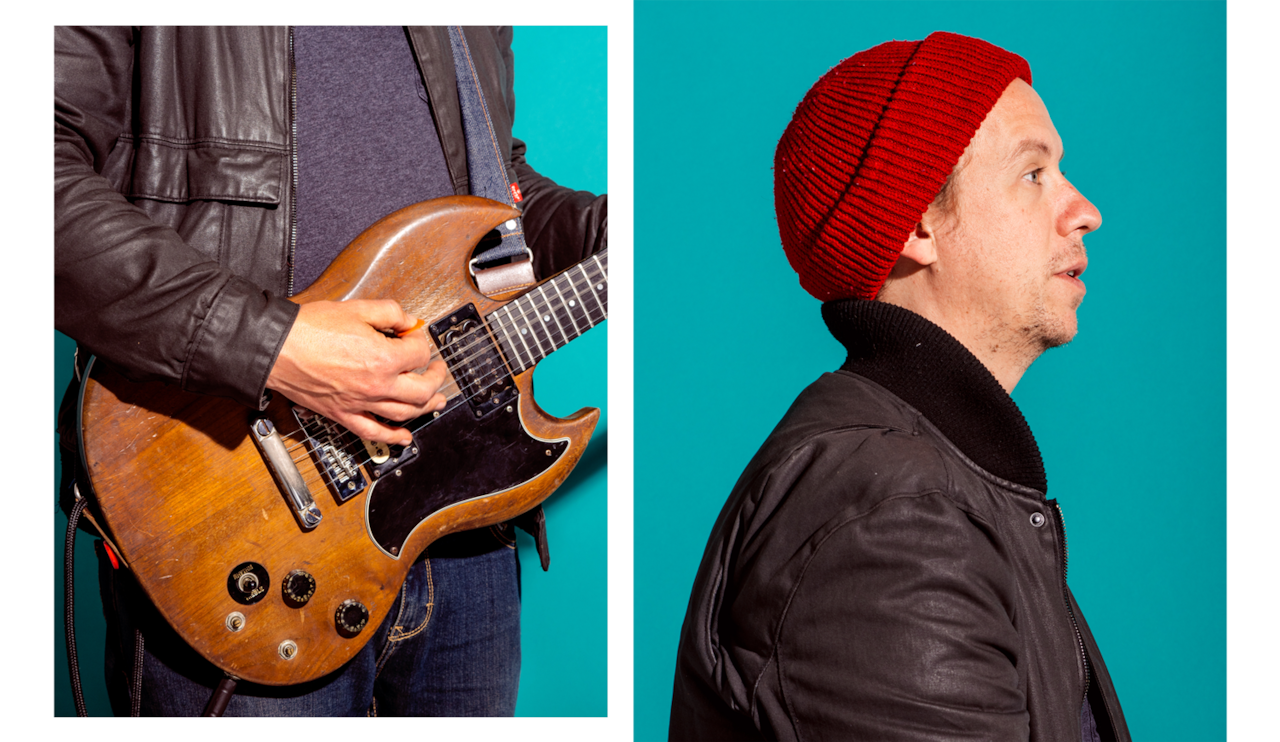 I'm playing a 1979 Gibson SG Firebrand. I normally play a hollow body guitar in [my band] No Age, but they asked for a solid body guitar for this, so I reached back into the collection. I stopped counting [how many are in there]. They're all a bunch of cheap guitars. You know the cat lady? I'm like the guitar guy. The runaways and strays that people say, "Oh you should check this out!" I hold onto them all.
Header image © Cole Wilson