Jay Messina, Engineer for Aerosmith and Cheap Trick, Talks About His Career
A veteran engineer/producer who's worked on albums from legendary acts like Eddie Palmieri, Aerosmith, KISS, Miles Davis, John Lennon, Peter Frampton, Patti Smith, Cheap Trick and others too numerous to list, Jay Messina grew up in Brooklyn. Encouraged by his father, he began playing music as a child, and found his way into the studio when he was offered a job as an engineer in the mid-'60s.
At the time, Messina had no idea what an engineer actually did, but he paid attention and quickly picked up what he needed to know. Using that knowledge, he moved on to A&R Studios as a mastering engineer, and eventually made the leap to the legendary Power Plant in 1971, where he would go on to serve as the studio's chief engineer for 15 years. Since 1987, however, Messina has worked for himself, opening his own studio, West End Sound, in 2005.
In this excerpt from his interview with RBMA Radio, Messina runs through some of his most memorable sessions.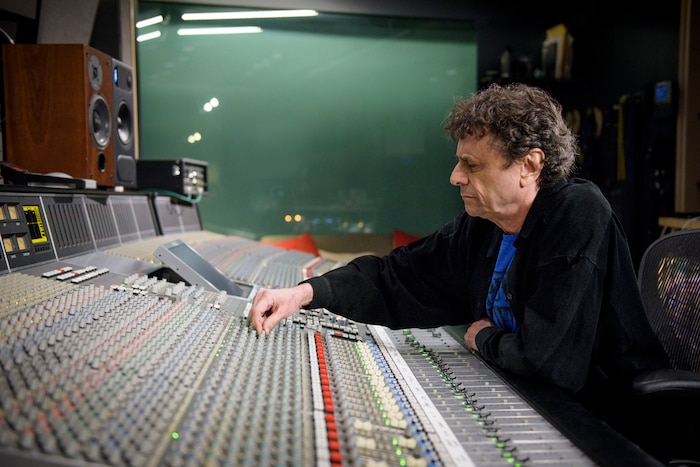 The Three Degrees - Maybe
In recording the Three Degrees, the particular album that I did, it was always exciting because it was all live with the exception of some vocal overdubs. When we laid down the tracks, the girls always sang with the orchestra, which was all live. There was the rhythm section, percussion, strings and horns. It was always very exciting.
I learned a really important lesson on "Maybe." Valerie [Holiday] was singing lead on this. I remember how it exciting it was sounding. I happened to glance over at the compressor and it was just pinned. It was doing everything you wouldn't want to do by the book.
I started to take a couple of steps towards the compressor to adjust it so it was to be more in accordance with the way it's supposed to operate. But I caught myself after just one or two steps. Of course, it all happened in just a fraction of a second. I realized that I just got finished experiencing how great everything was sounding. Why would I go over there and change anything? I learned to listen with my ears and not with my eyes at that moment.
Yoko Ono - Fly
I was an engineer on staff at Record Plant and basically just in the studio when Roy Cicala, the owner, came to me one night and said, "Do you want to do a session in about a half hour?" My usual answer to any question like that was, "Sure." I would say yes to just about anything if it meant recording.
I said, "Yeah. Who is it?" He says, "It's Yoko and John." I said, "Oh! That's great." The crews were bringing in assorted instruments, not the normal variety. For instance, they would put a violin on the floor and then over that violin they would have an apparatus that would suspend and hold a little motor. At the end of that motor which was positioned right over the violin, they would put some rubber bands on the shaft of that motor. I'd say the motor was maybe an inch in diameter, inch and a half. Small motor.
They'd do the same thing with the sitar and various instruments that when these motors spun, these rubber bands would strike these strings. There was a control panel that somebody would run. They were set up in the studio. They would vary the speeds of these motors and turn them on and off at different times. Yoko would go out in the studio and sing as all of this was happening. John was in the control room producing.
I remember at the end of all of that, as a separate piece, we recorded a steam engine. Which I'd never recorded before. I was ready for, or I thought I was ready for, anything. When they set the steam engine off, it was a lot louder than I thought it was going to be and the meters immediately pinned. Not enough to distort, so it was okay. It was two or three days of interesting recording.
Aerosmith - Walk This Way
When we were in the studio doing that record, we had the track done and we were just missing some of the lyric. It was a Sunday afternoon and [producer] Jack Douglas suggested we all go out and take a walk and go to the movies, just to take a break and get out of the studio.
Young Frankenstein was playing in the Time Square area, and there's a really funny line in there that Marty Feldman says to Gene Wilder: "Walk this way." When we went back to the studio, we all were joking about that and Steven [Tyler] made some comment and Jack said, "Yeah, that's it. Walk this way." That's how the title and the lyric came about.
Working with Aerosmith and any big artist, what I've found is after the first five minutes of being starstruck, everybody is the same. All of those guys are just regular guys. I guess a thing that I remember about those times is, and I guess this is a reflection of the big budgets that were available back then, was a lot of wasted time in the studio waiting for lyrics to be written. That's unheard of now. You wouldn't even consider doing something like that. Everybody is cool. Steven is still to this day, if you see him on the street, he's very approachable, very compassionate and very talented. He's a great singer. All of the guys were just regular guys and fun to be with.
Aerosmith - Sweet Emotion
The thing that really sticks out the most to me about "Sweet Emotion" was the fact that I played bass marimba on it. I used to play marimba and vibes growing up all through high school. However, after high school, when I got in the recording business, I put my vibes playing on the back burner.
Jack Douglas knew that I play vibes and when we were mixing "Sweet Emotion," there was just something missing to that bassline in the intro, and I guess it comes back after the first chorus. Jack said, "How about if you double that line on marimba?" I said, "Well, it would even be better if it was bass marimba."
We rented a bass marimba, and it's a pretty interesting instrument. You have to stand on a bench to play it because the resonating tubes come down quite far. I can't say I did it in one take, but that was the highlight of "Sweet Emotion" for me.
KISS - Beth
I remember it very visually because myself, [producer] Bob Ezrin, our assistant Corky and the studio manager dressed in tails and white gloves. Bob wanted us all to show up that way. The band came in makeup. It was a pretty big string section. It was a whole orchestra, and they all put on tux t-shirts, and we had the boys choir and they also wore tux t-shirts.
It was very visual to me, and I remember Bob Ezrin, who played the piano on that song, when he sat down at the piano, he said, "I always wanted to do this." He grabbed his tails and flipped them out before he sat down at the piano.
We recorded "Beth" and we did all the overdubs for, I think it was "Great Expectations," another track on the Destroyer record that had a big orchestra. That always sticks out to me in my mind as a memorable session. Back in those days, to do something a little off the beaten path and make something memorable at it, it was the thing to do.
Ronnie Montrose - Merry Go Round
When we recorded Jump On It with Ronnie Montrose, there was a section where Jack Douglas, the producer, wanted to add some sound effects from a Coney Island arcade. We rented a limo, got a Nagra quarter inch tape recorder, an assistant and a bodyguard so we could come back with our quarter inch tape recorder and went to Coney Island. We pretty much just walked through the arcades and recorded a bunch of ambient sounds not knowing exactly what we'd use.
When we came upon the carousel, the merry-go-round, the big one there, the proprietor shut the music off. He saw that we were recording and he wanted $500 to let us record 30 seconds of the merry-go-round. We passed on that and kept going.
We went over to the Cyclone, which I wasn't crazy about. I'm not a big roller coaster fan. Jack, he wanted the roller coaster sounds. Jack and Ronnie, they got in the first car. Our assistant, Rod O'Brien got in the middle with the Nagra tape recorder and the bodyguard got in the last car of the roller coaster.
They went for a ride. Almost lost the Nagra when they went over that first hump. When they got off, I set up two mics on the ground so we could get the roller coaster going by. On that particular tune, "Merry Go Round," you'll hear the clicking of the roller coaster as it's going up. This is in the middle of the song, the musical morph into the arcade sounds and then you'll hear the roller coaster clicking as it reaches the top of the hill. It was a fun day and it's really fitting for that song.
Cheap Trick - I Want You to Want Me
When I heard the tracks that were recorded in Japan at Budokan, I wasn't overly thrilled with the sounds. In particular, the bass drum sound. That took a lot of work. What I wound up doing for that was I set an audio isolated to, I think it was 50 or 60 cycles. I keyed that with the kick drum sound and then added that to the kick drum that was recorded just to give it a little more weight and some bottom because there was hardly any bottom on the recording. That seemed to do the trick.
I must say, the energy and the performance from the band and the reaction from the audience was the biggest part of the success of that album. The screaming fans on that record reminded me of the Beatles' kind of audience. It just added to the excitement of everything. Rather than try to manage it, I went with it. That was actually an integral part of how exciting that record sounds.
Crowbar - Higher and Higher
Jack Douglas and I were recording a band called Crowbar, and we were doing a vocal overdub and the lead singer just quite wasn't getting it. We were doing it at Record Plant and we were working on the 10th floor, which was the roof. Out on the roof was a water tower, which had a ladder to access it, there was a platform up there that you could actually stand on.
Jack thought it would be a good idea to get the singer [Kirk Windstein] to get up on the water tower. Not on the water tower, but that platform. To get a little incentive and inspiration to sing "Higher and Higher" if he was a little higher. That's what we did and that's where we got that performance from. He handled it pretty well. He wasn't afraid of heights. He got into it.