Jellybean Benitez Remembers NYC Clubs of Yesteryear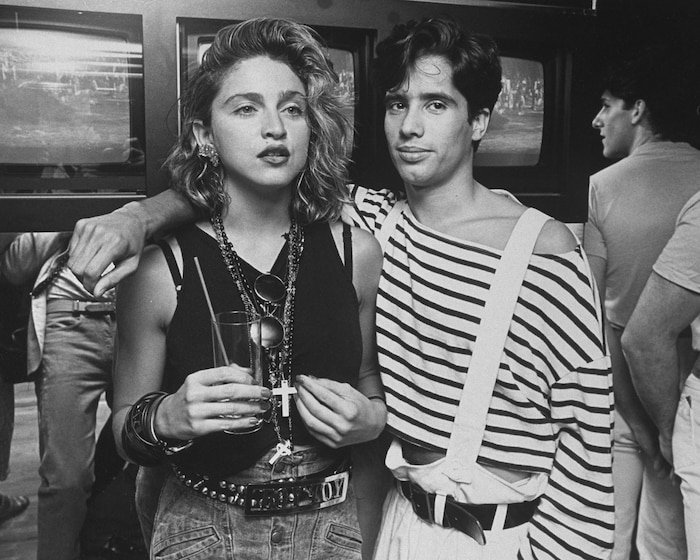 A giant of New York City club culture during the 1980s, John "Jellybean" Benitez was born to a Puerto Rican mother in the South Bronx. Gravitating toward music at a young age, he started frequenting disco clubs in the mid '70s and quickly became an established DJ in the scene.
Although he would go on to play at a variety of storied nightspots, including Studio 54, Paradise Garage and Electric Circus, Benitez truly made his mark with a residency at the Fun House in Manhattan, which he held from 1981 to 1984. During those years, his production and remix career also took off, as he reworked seminal tracks from Rockers Revenge, Jimmy Spicer and Afrika Bambaataa; two of his remixes from 1983's Flashdance soundtrack also became sizeable hits. Around the same time, he was enlisted by Madonna to contribute to her debut album, producing "Holiday" (her first hit) and remixing several other tracks.
He would later produce and remix countless other acts throughout the decade, including Whitney Houston, Hall & Oates, Sheena Easton, Talking Heads, Billy Joel, Fleetwood Mac, The Pointer Sisters, Debbie Harry, Michael Jackson and Paul McCartney, to name just a few. Benitez also created music of his own, scoring hits with tracks like "Sidewalk Talk" (a song co-written by Madonna) and his cover of Babe Ruth's "The Mexican" before releasing his debut album, Just Visiting This Planet, in 1987.
Benitez largely kept a low profile during the '90s, starting up the Latin-leaning H.O.L.A. label in 1995 (which is now defunct) and continuing to periodically DJ and work in the studio. He remains active on the club scene today, and is largely regarded as one of the key figures who shepherded New York City nightlife out of the disco era, not to mention a pioneer of the freestyle genre. In this excerpt from a recent interview with RBMA Radio's Jeff "Chairman" Mao, Benitez walks us through some of the most important clubs in his career.
Townhouse 48
One day a club called me and asked me if I would fill in for a DJ who had to go out of town. I was playing at this club called the Mariposa and this club was called Townhouse 48 in Manhattan. It was owned by the same people that owned Galaxy 21 where Walter Gibbons played and Kenny Carpenter did the lights. I was like, "I'm hitting the big time, I'm playing in Manhattan. This is incredible." I went and played the first weekend and fortunately the DJ that had the residency there, his mother became very ill and he had left to Denver, so they asked me if I could play every Friday and Saturday. That was sort of the beginning of my first Manhattan residency.
Studio 54
I played probably like every major club during that '76 to '80 era. Clubs were open seven nights a week, there weren't a lot of DJs. I got to play at New York, New York and Hurrah and Les Mouches and 54 and Le Jardin and the Grand Ballroom. I remember in the summer of 1977 I was 19 and I had worked 49 days in a row in eight different clubs. Every night, I DJed. I was having the time of my life. I worked till four or five in the morning, would sleep until around one o'clock, go buy records, go to record companies, get new releases and then go home, listen, have dinner, and go do it again. At 19, I wasn't thinking about anything else.
Richie Kaczor was very soulful and a very humble guy. I heard him many times at a venue called Hollywood. I heard Tony Gio and a couple others, but Richie was a great programmer. Richie broke a lot of records. He played "Spank" by Jimmy "Bo" Horne, he broke "I Will Survive," which was a B-side by Gloria Gaynor. And the interesting thing I thought about what Richie was doing was that he played new music and he played current records, but he really liked introducing new music to his audience, even if no one else heard it. For him, he worked six, seven nights a week, so he never got to hear other DJs. He just played what he liked and the interesting thing is that he got away with a lot of things at Studio 54 that other DJs couldn't get away with at other clubs.
It wasn't easy to get into 54 unless you were gorgeous or a celebrity, right? The people that went there for the first time when Richie was playing these things they'd never heard, they danced to these songs like they'd heard them a million times because they didn't want to be perceived as never being in Studio 54 before. When they saw everyone just dancing and jumping up all around and loving the song they themselves did it. It sort of was infectious, but I was just like, "I just got this record last week, there's no way these people all know this song."
The Funhouse
I had come from being a dancer and the whole disco thing took off and I started playing at these glamour clubs like 54 and Xenon and New York, New York and had a yearning to sort of return to my roots and really go underground. Disco became really commercial and what was being played on the radio. I had the opportunity to work at The Funhouse and at the time I was working at Xenon and the Electric Circus. I ended up leaving both venues to go back to the kind of underground scene.
The venue, when I first went there, they were doing about 500, 600 people and it closed at 4 AM and within three to four months they were doing close to 3,000 people and staying open on Saturday morning until 8 AM and then Sunday until noon. My Saturday night was a 14-hour set straight through. It used to go by so fast. I'd have a break sometime around 2:30, 3 I when we had a current artist sing their current club hit. Then after that is when the party sort of started and went straight through for another eight or nine hours.
By the time I started playing at The Funhouse I was a really good programmer and playing a very long set, or longer set than I was used to, came quite naturally because the audience that went there really came in jeans and sneakers and a t-shirt. They really came to dance and sweat, similar to what was going on at the Garage and at the Loft. A lot of the other straight clubs at the time, people got all dressed up and went out. This was a place where people just came to sweat and dance. There were a lot of drugs. It was a 26,000 square feet space and it was like half Italian, half Hispanic. People came and just danced.
I remember thinking, "I've got 3,000 people here on a Saturday night!" It was a time where there were so many different types of artists making music. It even allowed for an artist like Madonna, who kind of had this soulful R&B post disco sound that kind of worked, The Talking Heads, and other things like that, so it made sense. I met Madonna while I was DJing at the Funhouse. It was quite common for record companies to bring by new artists to meet me and take a picture and hope that I'd play the record. A lot of artists came. Madonna and I became friends and it developed into romance. We did 14, 15 records together.
The Palladium
In 1984 I basically retired and was only making records and working on film projects. Once Steve Rubell and Ian Schrager opened the Palladium in New York they called me and said, "We want you to come back to New York, and we want you to play at the grand opening and be a resident at the Palladium. Richard Long is doing the sound system and this is an amazing space, you have to come see it." They flew me back and I saw it. I was like, "Okay, I'll do it." At that point they offered me the gig and on the same day, a few hours earlier I had found out that a song I had produced for Madonna called "Crazy for You" went to #1 on the pop chart.
To me that was sort of like the greatest thing had happened, that I had the #1 record, but I was so excited that I was going to be DJing for Steve and Ian at the Palladium. Everyone was saying congratulations and I thought they were talking about Palladium and they were talking about "Crazy for You." That's sort of the DJ side of me. It's like yeah, yeah, that record went to No. 1, but I'm going to be playing at the Palladium. This is going to be an amazing club. I started playing records again and I played there for about a year, me and Larry [Levan] together.
I remember the first night I played there Larry came into the DJ both dripping in sweat, because I had called him up and said I haven't been playing in like a year and I don't know what records are happening right now. He said don't worry, just go to downstairs. I'm going to have them pull a bunch of stuff for you. I went and grabbed all these records, went home, and listened to them. He came in and was like, "This is amazing, you haven't heard any of these records a week ago and you just pieced this whole thing together. I'm so excited." That's when we started doing the Unity party, he asked me to do that with him.
After Palladium I stopped DJing from like 1990 until around 2000, for about ten years. I was married, I had two young daughters. I wanted to be a dad. I was producing films and wrote a theme song to a TV show and just trying to do other things besides being a DJ. Then I ran into David Mancuso who basically said to me, "You need to come back to being a DJ again. It's important because there's this gap between me and what's happening now and you could bridge that gap."
The Loft
I remember going to see Louie Vega and I hadn't been really in a club in a while. I started listening to what he was playing and then I went to David Mancuso's Loft party. Then I went to Louie and I said, "David just told me that I need to start DJing again." Louie was like, "Yes, absolutely, you have to, you have to, because you'll bridge it between me and him." Between Louie Vega and David Mancuso, they basically gave me records and said you have to do this.
I hadn't played anywhere in a good 10, 12 years and then David said to me, "I want you to play the Loft. I've never had a guest DJ, but I'm going to have a party, a Loft party and you're going to play the records." Oh my gosh, I was so nervous. It was such a tough audience. I didn't sleep for three days. I was just listening to music. This is worse than playing for a room full of DJs, right? I went and I did it. I got a lot of love.
Then Louie said let's do a party. The Loft opened on Valentine's Day and so Louie said let's do it for Valentine's Day 2001. Let's just do a party together. Then I did that. Then the phones started ringing right after that, obviously. I knew every major DJ globally at the time. I just started doing guest spots and slowly, sort of, started doing parties again and traveling internationally and playing. It just sort of snowballed. I did one hundred and eight dates in 2015 and probably going to do a bit more than that right now, this year.