An NYC Mambo, Boogaloo and Salsa Family Tree
Explore the major players, musical connections and memorable hits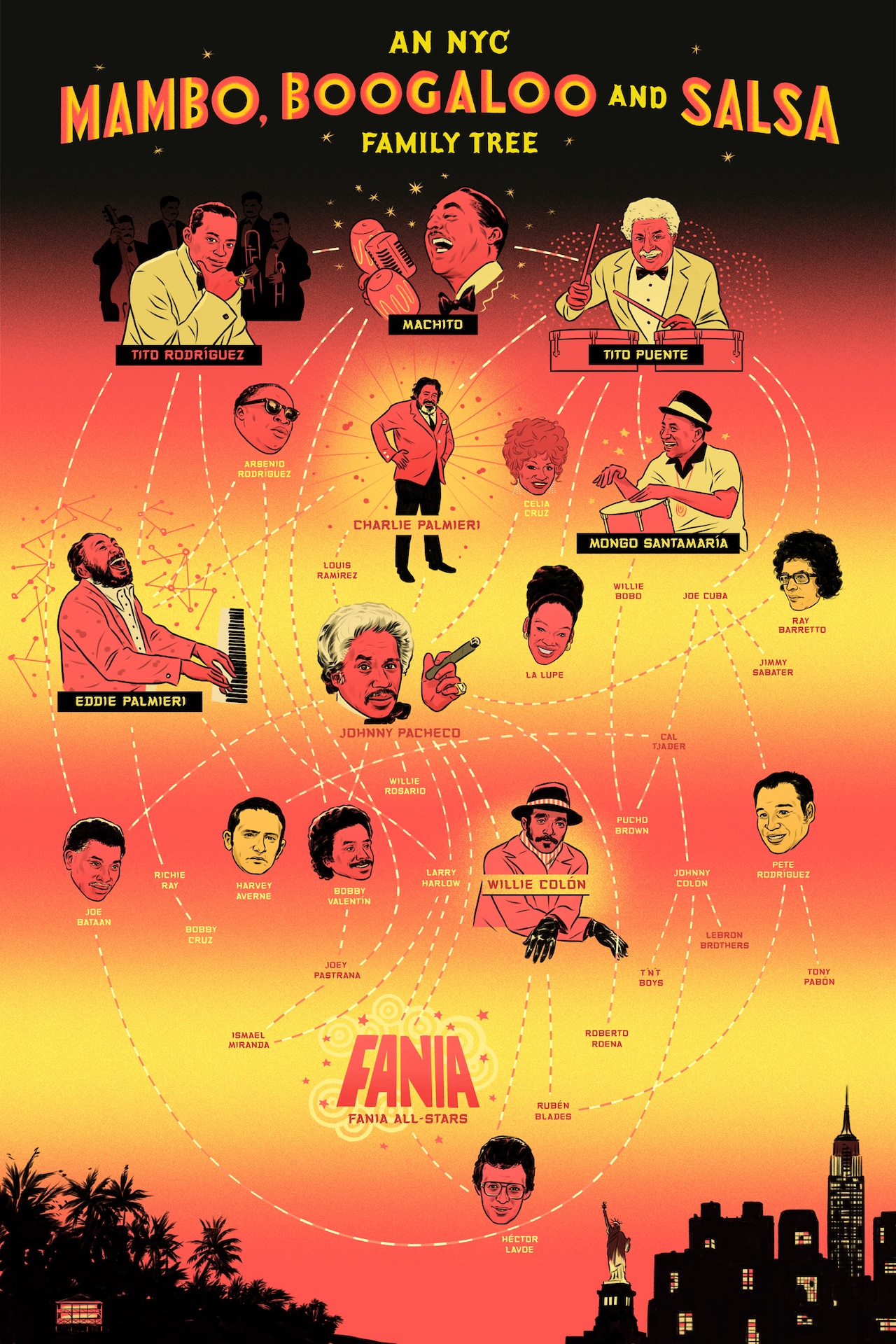 Ernesto Antonio "Tito" Puente (1923–2000)
Of Puerto Rican heritage and born in "El Barrio" of Spanish Harlem, Puente was known as "The King of the Timbales," yet was actually a multi-instrumentalist (noted for his vibes playing) as well as an accomplished arranger and composer. Puente was equally at home in the Latin dance and jazz idioms; his signature tunes include "Oye Como Va" and "Ran Kan Kan." He led one of the "Big Three" Latin big bands of the mambo era and countless important musicians passed through his orchestra.
Tito Rodríguez Pablo Rodríguez Lozada (1923 - 1973)
Known as both a romantic crooner and a sonero (vocal improviser of up-tempo dance tunes), the Puerto Rico-born Rodríguez (of Cuban/Puerto Rican parentage) also played timbales and vibraphone, recorded Latin jazz albums, and was an astute businessman as well. His most well-known tracks include "Inolvidable" and "Mambo Mona" (AKA "Mama Guela"). He led one of the "Big Three" Latin big orchestras of the mambo era; many important musicians passed through his band. Sadly, his career cut short by leukemia.
Machito Francisco Raúl Gutiérrez Grillo (1908 - 1984)
Cuban vocalist, composer, and maraquero (maracas player), Machito had arguably the most influential orchestra of the mambo era in New York, being one of the earliest (1940) and hottest. The orchestra incorporated progressive jazz-influenced arrangements by Mario Bauzá, making them key figures in the Afro-Cuban jazz/Cubop movement. Machito named his band The Afro-Cubans, an unprecedented move at the time, and wrote signature songs include "Tanga" and "Sopa De Pichon." Machito's half-sister, Graciela Grillo Pérez, sang with the orchestra, and was highly influential in her own right.
Charlie Palmieri (1927-1988)
Renowned Bronx-born Puerto Rican/American pianist, educator, bandleader, composer and arranger Charlie Palmieri had a career spanning nearly 50 years, performing in many styles from mambo and charanga (flutes and violins) to boogaloo and jazz. He was the older brother of Eddie and played electric organ on several of Eddie's more progressive recordings ("Vamanos Pa'l Monte" and "Harlem River Drive"). Palmieri joined Tito Puente's orchestra in the early 1950s, participated in the legendary Alegre All-Stars sessions, and with his own orchestra, "La Duboney," gave Johnny Pacheco his first real break. Signature songs are "La Hija De Lola" and "La Vecina."
Mongo Santamaría (1917-2003)
Perhaps the greatest conga player of the 20th century, quinto drum master and composer Mongo Santamaría was equally adept at playing traditional folkloric rumba and religious Afro-Cuban music as he was at Latin jazz, charanga and mambo. He played and recorded with everyone from Tito Puente to Dizzy Gillespie, and many important musicians and singers went through his groups, including Chick Corea, Willie Bobo and La Lupe. Also part of the Fania All-Stars, his best-known compositions are "Afro-Blue" (popularized by John Coltrane) and "Para Ti" (covered by the Harvey Averne Barrio Band), though Herbie Hancock's "Watermelon Man" was his biggest hit and another tune from his repertoire, "Yeh, Yeh" (by Mongo's sidemen Rogers Grant and Pat Patrick) was a blue-eyed mod soul smash for Georgie Fame in the UK.
Celia Cruz (1925-2003)
Salsa's First Lady of Song, known as "La Guarachera" or the Queen of Latin Music, the Grammy-winning Cruz is also famous for her signature shout, "¡Azúcar!" and is arguably the most widely-loved figure in the genre aside from Héctor Lavoe.
Starting in Cuba with La Sonora Matancera, and following a stint in Mexico, Celia gained fame in her newly adopted home of New York with the help of influential figures like Puente, Harlow, Pacheco and Willie Colón. Her stint with the Fania All-Stars took her to Africa and Japan. Of her many hits, perhaps the biggest are "Bemba Colorá" and "Quimbara."
Arsenio Rodríguez (1911-1970)
Though not fully recognized during his lifetime, Afro-Cuban composer, tres guitar player, and percussionist Rodríguez was very influential on Latin music in New York, especially on the sound, repertoire and musical structure of what would become known as salsa.
Billed as "El Ciego Maravilloso" (The Marvelous Blind Man) due to losing his sight at an early age, Rodríguez was also important in bringing African traditions and influences into popular Latin music in New York.
Two of his most famous compositions are "Fuego En El 23" and "Bruca Manigua." Artists like Ray Barretto, Celia Cruz, Larry Harlow, Papo Lucca (with La Sonora Ponceña), Johnny Pacheco, Eddie Palmieri, and Ray Barretto had hits with his tunes in the 1960s and 1970s.
Ray Barretto (1929-2006)
Nuyorican conguero, composer, Fania All-Star and Grammy-winning bandleader Barretto was a seminal figure in the city's Latin and jazz scenes, sitting in with Charlie Parker and getting his start with the José Curbelo and Tito Puente orchestras. Many musicians and singers of note have passed through Barretto's bands, including Andy González, Orestes Vilató, Adalberto Santiago, Rubén Blades and Tito Allen. His most famous tunes are "El Watusi" (a precursor to the boogaloo), "Cocinando," "Guararé" and "Quitate La Máscara."
Willie Bobo (1934-1983)
A dynamic Nuyorican percussionist (especially timbales) and a vocalist as well, Bobo (born William Correa) was known for his fusion of soul and Latin jazz. He played with George Shearing, Cal Tjader, Mongo Santamaría and Tito Puente ("Ti-Mon-Bo") early on, but had his own band in the '60s and '70s. His best-known tunes include "Spanish Grease" and "Fried Neck Bones and Some Home Fries," though his original version of his guitarist Sonny Henry's "Evil Ways" was turned into a huge hit by Santana. Bobo's son Eric Bobo is a percussionist with Cypress Hill and played with the Beastie Boys.
Eddie Palmieri (b. 1936)
Palmieri is a Grammy-winning pianist, composer, and bandleader of Puerto Rican heritage. Influenced by jazz as well as by Latin pianists, Palmieri was also inspired by his older brother Charlie to take up piano after starting on timbales. During the 1950s, Palmieri played with various orchestras, most notably with Tito Rodríguez. In 1961 he founded his own conjunto (group) La Perfecta, combining progressive ideas with various Cuban traditions, utilizing the flute (from the charanga) and two trombones (inspired by Mon Rivera) for a heavier sound. Influenced in the 1960s by the civil rights, social justice and anti-poverty struggles, Palmieri became more message-oriented in his lyric content and more experimental musically, culminating in the ultimate synthesis of Latin and soul/funk, Harlem River Drive (including live recordings made at Sing Sing prison), as well as the most progressive salsa track of the time, "Vamanos Pa'l Monte" and later psychedelic expansions on the album The Sun of Latin Music, recorded at Jimi Hendrix's Electric Lady Studios. Signature tunes include "Azúcar" and "Un Día Bonito."
Joe Cuba (1931-2009)
Conga player and bandleader "Sonny" Gilberto Miguel Calderón AKA Joe Cuba founded the Joe Cuba Sextet in 1954. He is widely regarded as one of the progenitors of the Latin boogaloo, based on the fact that the tunes "To Be With You," "El Pito (I'll Never Go Back To Georgia)" and "Bang Bang" were early massive hits that integrated soul, jazz, and Latin idioms in a fresh way. Known as the Nuyorican "Alcalde Del Barrio" (Mayor of The 'Hood) for his loyalty to the people of Spanish Harlem, Cuba dispensed with horns and employed an influential piano-and-vibes combo. Several vocalists of note passed through the Joe Cuba Sextet, chiefly Willie Torres, Cheo Feliciano, Mike Guagenti and Willie García. Aside from the boogaloo hits, the sextet also had many Spanish-language anthems, such as "Bochinchosa," "A Las Seis" and "La Calle Esta Durisima."
Jimmy Sabater (1936-2012)
An indispensible member of the Joe Cuba Sextet, the "Velvet Voiced" Jimmy Sabater was equally adept at his chosen instrument – the timbales – as he was with his voice, singing boleros in Spanish and ballads in English ("To Be With You"), as well as uptempo boogaloo ("Times Are Changin'") and Spanish-language Latin tunes ("Salsa Y Bembé"). Of Puerto Rican heritage and raised in Spanish Harlem, Sabater was a composer as well ("A Las Seis"), co-writing the smash hit "Bang Bang" with sextet pianist Nick Jiménez. He also had several hit solo albums that branched out from the hornless piano-and-vibes sound of the sextet to include funk, disco and salsa arrangements.
La Lupe (1939-1992)
Born Guadalupe Victoria Yolí Raymond in Santiago de Cuba, the iconic La Lupe (or La Yiyiyi, The Queen of Latin Soul, as she was known) came to the US in 1963 and debuted in New York with Mongo Santamaría's band, singing numbers in both English and Spanish as she had in Havana, where she was more of a cabaret singer.
With Santamaría, and later Tito Puente, she would dominate the 1960s with fiery and sexy stage antics, as well as overwrought renditions of Latin torch songs, humorous boogaloo romps and super-frenetic mambo and salsa dance workouts.
The wild counterpart to Celia Cruz's more measured approach, La Lupe's career faded in the later '70s, some contending it was because Fania head Jerry Masucci did not want two salsa divas under the same roof. Her increasingly erratic behavior heralded a final downward spiral and she died in obscurity, but her classic mid-'60s to early '70s material retains a cult following to this day. Signature songs include "Puro Teatro," "Qué Te Pedí?" and several renditions of "Fever."
Johnny Pacheco (b. 1935)
A percussionist, flutist, composer and arranger, the Dominican Republic-born Pacheco was also a producer and co-founder of Fania Records, becoming their musical director after partner Jerry Masucci bought him out. Pacheco's first love was Cuban music; having had a massive hit during the pachanga craze with "El Guiro de Macorina" in 1960, he decided to leave the charanga format and concentrate on the smaller conjunto style, forming the basis for which he, along with designer/publisher Izzy Sanabria, would soon start marketing the music under the rubric "salsa" in the early '70s. Pacheco also founded the Fania All-Stars in 1968 (based on the Cuban all-star jam bands of the '50s like that of Israel "Cachao" López, as well as Nuyorican producer Al Santiago's Alegre All-Stars) and worked with many singers, the most constant being Pete "El Conde" Rodríguez. Among the many hits he's associated with, some of the biggest are "Acuyuye" and "La Esencia Del Guaguancó."
Cal Tjader (1925-1982)
Swedish-American percussionist and vibraphonist Tjader was one of the most accomplished non-Latin musicians active in Latin music. In addition to utilizing authentic Afro-Cuban flavors, he also played straight jazz and experimented with other elements like Brazilian sounds and Asian exotica. Tjader is cited as being influential on the development of Latin rock, and his 1964 rendition of Dizzy Gillespie and Chano Pozo's "Guachi Guaro" (under the title of "Soul Sauce") was a proto-boogaloo smash. Tjader also cut two masterful albums with Eddie Palmieri (The New Sound and Bamboleate). Many of Tjader's recordings would later be rediscovered during the acid jazz craze because he mixed elements of psychedelia, soul and funk into his Latin jazz in the late '60s and early '70s ("Solar Heat"). His top Latin tracks include "Ritmo Caliente," "Cubano Chant" and "Guajira En Azul."
Louie Ramírez (1938-1993)
Influential Nuyorican multi-instrumentalist and bandleader Ramírez was also a gifted composer-arranger who was integral to the development of modern Latin music in New York from the 1960s into the 1980s, with a career spanning the mambo era to the boogaloo, from salsa dura (hard salsa) to the rise of salsa romántica. Though primarily a pianist, Ramírez was also a fierce timbalero and vibesman, with a penchant for Latin jazz and a wild sense of humor. He can be thought of as "The Quincy Jones of Salsa" since he was staff producer at Fania and later headed up Alegre. Co-composer (with Johnny Pacheco) of "El Guiro De Macorina," some of his other well-known songs include "Botando Candela" and "Paula C."
Willie Rosario (b. 1930)
Born in Puerto Rico but highly influential in New York, Willie Rosario is known as "Mr. Afinque" after the tight playing of his orchestra as well as his cool and stylish dress. Bandleader, composer and expert timbalero, Rosario's career spans all the styles and fads of the last 50 years. While always remaining popular and a clearinghouse for emerging talent, Rosario was never part of the inner circle of Fania, and though he had many hit albums while signed with Masucci and Pacheco, he never joined the Fania All-Stars. Several of his hits are a part of the salsa canon, including "El Bravo Soy Yo" and "La Chica De Barrio Obrero."
Richie Ray (b.1945) & Bobby Cruz (b. 1937)
Virtuoso pianist, composer and bandleader Ricardo "Richie Ray" Maldonado was born in Brooklyn and combined classical, jazz and soul with Latin elements to create a unique fusion that was wildly popular both abroad (especially Colombia) and at home. Working with childhood friend Robert "Bobby" Cruz Feliciano from 1965 on, Ray and Cruz formed the most famous duo in salsa music; their hard-driving trumpet-led sound was hugely influential and they had a string of hits that ran the gamut from mambo to boogaloo ("Mr.Trumpet Man"), salsa ("Cabo E," "Tin Marin") to bolero. Among their biggest were "Richie's Jala Jala," "Agúzate," "Colorín Colorado" and "Sonido Bestial." From 1974, Ray and Cruz became born-again evangelical Christians and this entered into their musical expression.
Joe Bataan (b. 1942)
Born Bataan Nitollano in Harlem to an African-American mother and a Filipino father, Joe "Mr. New York" Bataan is a vocalist, piano player, composer and bandleader. He is most commonly associated with Latin soul during his tenure with Fania ("Gypsy Woman," "Ordinary Guy," "Subway Joe"), but was also responsible for several Spanish-language hits from the mid-1960s to the mid-1970s ("Puerto Rico Me Llama," "Aguanta La Lengua"), as well as one of the earliest rap songs ("Rap-O Clap-O").
Influenced early on by doo-wop and mambo, Bataan combined the hard-driving urban sound of trombone-led Latin forms with sweet soul for a combination that made him the most popular English-language vocalist during the boogaloo era. After leaving Fania, Bataan coined the term Salsoul to describe his uniquely hybrid approach of funk and salsa ("Latin Strut," "Johnny"), which subsequently became the name the label he co-founded with the Cayre brothers. Though he retired from music in 1981, Bataan is experiencing a comeback today.
Harvey Averne (b. 1936)
Brooklyn-born and Jewish, Harvey 'Arvito' Averne was a vibraphonist, composer, producer (Fania) and record label owner (Heavy Duty, Coco) from the early 1960s until the late 1970s, when he retired from the Latin music business. Always thinking outside the box, Averne allowed giants of the salsa scene like Ray Barretto, Larry Harlow, Machito, Eddie Palmieri, Cortijo and José Fajardo to branch out and try new and innovative approaches to the music, resulting in hugely influential and award-winning recordings (Ray Barretto's Acid, Eddie Palmieri's The Sun Of Latin Music) and reviving careers in some cases (Machito's Fireworks and Cortijo's Juntos Otra Vez). While working mostly behind-the-scenes, Averne cut several trendsetting Latin soul and funk albums of his own as well. His top tunes include "Never Learned To Dance" and "Cucaraca Macara."
Joey Pastrana (1942-2014)
Equally proficient on trap drums as he was on timbales, the Puerto Rico-born Pastrana was also a composer and bandleader, debuting his orchestra on Cotique in 1967 after getting his start with Bobby Valentín two years earlier. Several important figures in Latin music got their start with Pastrana, including pianist Oscar Hernández and vocalist Ismael Miranda. Some of his best-known boogaloo tunes are "King Of Latin Soul," "My Girl" and "Riki Chi," and his deep salsa cuts include "Rumbón Melón," "Cha ca Boom" and "Malambo."
Larry Harlow (b. 1939)
Born Lawrence Ira Kahn in Brooklyn, Grammy-winning pianist, composer, bandleader, arranger and producer Harlow has always been a strong proponent of Cuban music throughout his 50 year career, despite also playing boogaloo as well as rock with his group Ambergris. Though many vocalists have been associated with his orchestra over the decades since his first album in 1966, it was Ismael Miranda and later Junior González who really made their mark with "El Judio Maravilloso" (as Harlow was affectionately dubbed, a take-off on his hero, Arsenio Rodríguez, "El Ciego Maravilloso"). Harlow was staff producer for Fania for many years, produced four albums for his flutist brother Andy Harlow and was an integral member of the Fania All-Stars. He also conceived and performed Hommy, a Latin musical inspired by the Who's rock opera Tommy, as well as La Raza Suite, a Latin music history concept album. Some of Harlow's most important hits include "La Cartera," "La Lotería," "Abran Paso" and "Soy Latino."
Johnny Colón (b. 1942)
Orchestra leader, trombone, piano and conga player, composer and educator Johnny Colón was born in New York of Puerto Rican parentage. He burst on the scene in 1966 with the massive hit "Boogaloo Blues" on George Goldner's Cotique Records, but by the mid-'70s he had given up commercial recording to concentrate on his East Harlem Music School, which was founded in 1968. The vocalists in his early group were Tito Ramos and Tony Rojas, who woudl soon make a name for themselves as the TNT Boys; but Colón, a jazz enthusiast, also sang himself and eventually went back to his first love, cutting a jazz album in 2008. Notable tunes include "Mi Querida Bomba," "You Gotta Love Me," "What You Mean" and "Merecumbe."
Henry 'Pucho' Brown (b. 1938)
African-American bandleader and timbalero Pucho Brown formed his group the Latin Soul Brothers in 1959 after leaving Joe Panama's outfit. His sound combined gritty soul (and later funk) with Latin and jazz. Jerry Jemott, Chick Correa, Jackie Soul, Neal Creque, the Pasante brothers and others went through his band. Though Pucho never had a Spanish-language vocalist and did not perform salsa, he was an early proponent of boogaloo and later was a major influence on the British rare groove and acid jazz scene. The Latin Soul Brothers were especially adept at adapting soul and jazz tunes like "Got Myself A Good Man" and "Cantaloupe Island," but they also produced some stunning originals like "Big Stick" and "Yaina."
Pete Rodríguez (b. 1932)
The Bronx-born Nuyorican "King Of Boogaloo" and pianist Pete Rodríguez led his own conjunto (sometimes referred to as Orquesta La Magnífica) from the early 1960s (first record: At Last!, 1964) until retiring from active performance in the early 1970s, though he recently re-entered the spotlight in the documentary We Like It Like That and made several concert appearances around the promotion of the film. Most known for the Billboard-charting English-language boogaloo anthem "I Like It Like That," released on Alegre Records in 1966, the band also recorded many Spanish-language sides ("Micaela," "Soy El Rey," "Fango") and hit with several other catchy tunes: "Here Comes The Judge," "Pete's Boogaloo" and "Oh, That's Nice." Despite his popularity and influence in Venezuela and Colombia as well as at home, Rodríguez decided to dissolve the band after releasing a final LP in 1971. His orchestra also backed the young Rubén Blades for his New York debut on De Panamá a New York in 1970. Several well-known musicians passed through the band, including Tony Pabón and Benny Bonilla.
Tony Pabón (1939-2014)
The multitalented trumpet player, vocalist, arranger and composer Tony Pabón was born in San Juan, Puerto Rico, but grew up in New York. He started his career in his teens playing in Los Latin Boys with the young Eddie Palmieri, Pete "El Conde" Rodríguez, Orlando Marín and Joe Quijano, but his first professional gig was with Randy Carlos (playing on the hit tune "Smoke"). He later played in Orlando Marín's orchestra, subsequently becoming the musical director for Pete Rodríguez in 1964, where he was an integral member of the combo until leaving in 1970. That year he founded the collective La Protesta with some dissatisfied musicians from the orchestras of top Latin bandleaders (Rodríguez, Willie Colón and Ricardo Ray), which he directed until the mid-1970s. By the end of the decade he had retired from active participation in the Latin scene. Aside from penning "Micaela, "I Like It Like That" (co-authored with Manny Rodríguez, Pete's brother), "Fango" and several other hits for Rodríguez, Pabón came on strong in the salsa era with "El Capitán, "El Samaritano," "Lo Voy A Matar" and others (most notably with vocalist Néstor Sánchez).
Lebrón Brothers (b. 1965)
The Lebrón Brothers orchestra was founded by the Puerto Rico-born, Brooklyn-raised José Lebrón and his brothers Ángel, Carlos and Frankie, soon joined by their eldest brother Pablo. Their first album, 1967's Psychedelic Goes Latin, contained the smash hit "Summertime Blues," and in subsequent years they had hits with both boogaloo ("The Trap," "I Believe" and "Boogaloo Lebrón") and salsa tunes (the anthem "Salsa Y Control," "El Tuyo Llegará," "Falta" and "La Ley"). The Lebrón Brothers are especially popular in Colombia and Puerto Rico; their sound was distinguished by prominent saxophone in the arrangements and the soulful lead vocals of Pablo, backed by the harmonies of his siblings.
Willie Colón (b. 1950)
The second-generation Nuyorican trombonist, vocalist, producer, composer and bandleader is one of the most famous and best-selling salsa musicians in the history of the genre. He has also acted in movies and been a political activist and politician. Noted for his progressive approach to Latin music (especially during his two decade tenure with Fania), including the immensely popular Christmas albums, and working with talented musicians over the years (most notably Yomo Toro, José Mangual, Jr. and Joe Torres), Colón also benefited from employing some of the best vocalists of the genre, namely Héctor Lavoe and Rubén Blades, having massive hits with both soneros. Siembra, made with Blades in 1978, is viewed by many as the top salsa record of all time (including the songs "Plastico" and "Pedro Navaja"). His best-loved songs with Lavoe include "Che Che Colé," "El Día De Mi Suerte," "Calle Luna, Calle Sol," "La Murga," "Aguanile" and "Todo Tiene Su Final."
TNT Boys
Vocalists Rafael A. 'Tito' Ramos and José A. 'Tony' Rojas (both born in 1947) joined Johnny Colón's orchestra in 1964, hitting it big with "Boogaloo Blues," in which Ramos infamously sang "LSD's got a hold on me!" Tito Ramos left Colón soon after and joined his childhood chum Joe Bataan for the record Subway Joe, singing lead Spanish vocals. Ramos subsequently reunited with his best friend Rojas to form the TNT Band AKA the TNT Boys, signing with Cotique in 1968 and releasing four albums in two years. Though short-lived, they managed to garner several big hits including "The Meditation," "Mr. Slick," "That's Life," "Música Del Alma," "Sabré Olvidar," and "Caliente." Following a breakup, they each went solo, with Ramos releasing the English-language soul/funk album Where My Head Is At (1972) and Rojas cutting two salsa albums with Rico Records (Introducing Tony Rojas in 1970 and El Chino Divino in 1973). The duo reunited in 1977 for Together as the TNT Orchestra.
Bobby Valentín (b. 1941)
Known as "El Rey Del Bajo" (The King of Bass), Valentín was born in Puerto Rico but moved to New York in 1956. He began his career as a trumpeter (playing with Joe Quijano, Willie Rosario and Tito Rodríguez) and cut his first album, El Mensajero, in 1965 before signing with Fania in 1966. His career spans from the tail end of the mambo era through the boogaloo craze, and hit its stride during the salsa boom. He went on to record many albums, working as a producer, arranger (including for the Fania All-Stars) and record label boss (Bronco, founded 1975). Several important vocalists have worked with Valentín, including Marvin Santiago and Cano Estremera. Hits include "El Mensajero," "Bad Breath," "Use It Before You Lose It," "Soy Boricua," "Pirata Del Mar" and "La Boda De Ella," as well as the breakbeat anthem "Coco Seco."
Roberto Roena (b. 1940)
Born in Mayagüez, Puerto Rico, Roena is a bongocero (bongo player), Latin dancer and bandleader, as well as a longtime member of the Fania All-Stars and a key figure in the history of salsa. He got his start in Cortijo y su Combo in 1956 (Cortijo trained him to dance and play cowbell and bongos), and continued with El Gran Combo (formed by pianist Rafael Ithier when Cortijo and vocalist Ismael Rivera were jailed for drug possession) until 1969, when Roena left due to differences with vocalist Andy Montañez. While with EGC, Roena had a band on the side from 1966 called Los Megatones, but after leaving he renamed it Apollo Sound (after the famous lunar mission), becoming an immediate success. Roberto Roena y su Apollo Sound were always at the forefront of progressive salsa in both repertoire and arrangements because, though he could not read or arrange music, Roena knew how to surround himself with the best. Some of his biggest tunes are "Y Tu Loco Loco," "Que Se Sepa," "Coro Miyare," "Ponte Duro" and "El Progreso."
The Fania All-Stars
Formed as a super-group by Fania Records president Jerry Masucci and musical director Johnny Pacheco in 1968 as a way to showcase the various talents of their label roster, the conglomerate was inspired by the "all-star" jam bands of Cuba (Cachao, Chico O'Farrill, Julio Gutierrez) as well as those of American Latin labels Tico and Alegre. Masucci and Pacheco also arranged for the All-Stars' performances to be filmed, which helped popularize salsa and disseminate the Fania brand around the world. It's impossible to list everyone who has played with the FAS throughout the decades, because the roster reads like a who's who in salsa and includes virtually every artist signed to Fania and its subsidiaries over the years. Principal members include Papo Lucca of La Sonora Ponceña, Larry Harlow, Bobby Valentín, Ray Barretto and Roberto Roena, while guests of note include Jorge Santana, Mongo Santamaría, Steve Winwood and Manu Dibango. Their best-known tune is likely "Quitate Tú," which showcases various Fania singers and players as they flex their chops, though "Descarga Fania," "Juan Pachanga" and "El Ratón" are also in the canon. Their live albums attest to the group's popularity and international appeal, with recordings made at New York's Yankee Stadium and in San Juan, Kinshasa, Tokyo and Havana.
Héctor Lavoe (1946-1993)
Born Héctor Juan Pérez Martínez in Ponce, Puerto Rico, Lavoe (a contraction of "la voz" – the voice) was known as much for his antics off-stage as well as on. Though he rose to fame in Willie Colón's orchestra from 1967-1973, he became the first mega-star vocalist, signaling a new trend away from the orchestra leader and towards the new era of singer idols; his signature song "El Cantante" sums it up perfectly. His vocal prowess – he could sing both in a nasal 'country' jibaro peasant style and a street-tough urban mode – and improvisational talent as a sonero were as legendary as his sense of humor and excessive lifestyle that led to self-destruction and his tragic death from AIDS. Among his many solo career hits are "Bandolera," "Periodico De Ayer," "Hacha Y Machete," "Mi Gente," "El Todopoderoso" and "El Rey de la Puntualidad."
Ismael Miranda (b. 1950)
Vocalist Miranda was known as "El Niño Bonito De La Salsa" earlier in his career due to getting his start at the young age of 17 and having a baby face. Born in Puerto Rico but raised in New York, Miranda rose to fame with Larry Harlow and his orchestra from 1967 to 1972. The following year, he started his own Orquesta La Revelación, utilizing a strong, typically Cuban flavor. Signature songs include "Abran Paso" with Harlow and "Así Se Compone Un Son," "Cipriano Armenteros" and "Señor Sereno" on his own.
Rubén Blades (b. 1948)
Known equally for his poetic, storytelling songs full of social and political sentiment as he is for his singing and acting skills, the Grammy-winning Blades is arguably the most progressive figure in the 1970s and '80s salsa scene in New York. Born in Panama to parents of West Indian, Colombian and Cuban heritage, Blades sang with various orchestras (Los Salvajes Del Ritmo, Pete Rodríguez, Ray Barretto, Willie Colón) before going solo (though he also guested on various albums by others like Louie Ramírez and Larry Harlow, and rejoined Colón several times). Several of his compositions have been hits for other artists, including "El Cantante" for Héctor Lavoe. Blades is also a lawyer and has run for political office. Signature tunes include "Pedro Navaja," "Canto Abacuá," "La Maleta," "Pablo Pueblo" and "Paula C," as well as compositions by others such as "Planación Adentro" and "Todos Vuelven."

Illustration by Mickey Duzyj