Nightclubbing: Dub War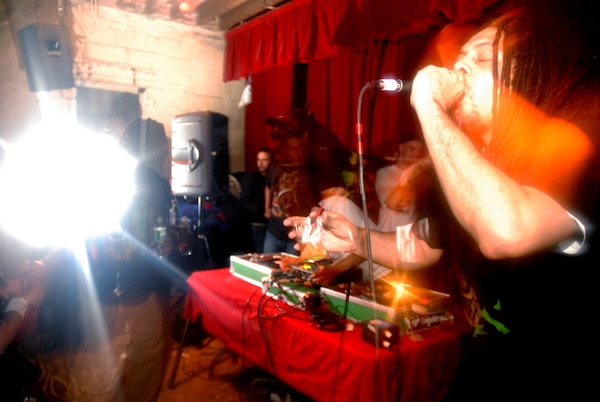 Remembering America's first dubstep night with Kode9, FaltyDL, Mala, Martin Clark, Joe Nice, Dave Q, and more
When dubstep began to percolate in the South London borough of Croydon in the early 2000s, a handful of Americans were tracking its movements during the dawn of Web 2.0. Two of these enterprising figures, Dave Q and Joe Nice, established the US' first dubstep night, Dub War, in June 2005 – just three months after London's own genre defining party DMZ bass-dropped into existence. In January 2006, Mary Anne Hobbs included shout-outs from Dub War's founders on her BBC Radio 1 show The Breezeblock's Dubstep Warz broadcast, cementing them as integral parts of an expanding international community.
Named after Benny Ill and Bill Robbins' collaborative 2001 Tempa 12-inch release, Dub War took place monthly at various now-defunct New York City venues, including Sputnik in Bed-Stuy and Rothko on the Lower East Side. In May 2007, it settled into its spiritual home, Love, near Washington Square Park. Dave Q, the man behind the party's progressive bookings, moved to NYC in 1998 and began a successful career in advertising. He met Baltimore-based Joe Nice on the dubplate.net forum: the DJ who became known for a massive collection of exclusive, 10-inch dubplates, which he funded the pressing of himself. Alongside MC Juakali and resident DJ Alex Incyde, the crew held dubstep's American fate in their hands – before it shape-shifted to become part of today's fluorescent-hued EDM monolith.
Joe Nice
I'd gone through a DJing hiatus because I'd been playing Baltimore club music, and when I got to college I fell out of love with it. After I got back into DJing, I wanted to play something that fitted where I was musically and matched me emotionally. I never got into drum and bass. I thought breaks were relatively boring. There were a ton of DJs in Baltimore playing soulful house, and all of them could play those tunes better than I could.
Then, a friend of mine brought over a UK garage CD box set. I started listening to it and thought, "Oh shit, yeah, this is what I need to be playing," because nobody else was playing it. Within those UK garage mix CDs, some of the DJs back then were playing some more aggressive-sounding, percussive beats. I started looking up who those artists were, and the one shop I was consistently buying from was Big Apple Records [key dubstep record store, in Croydon]. A lot of the time, when you would email the store, the person responding was Hatcha. When I met him for the first time, we already knew who each other were.
I was part of a DJ crew called the 2-Charming Crew, and we had a residency at Sonar in Baltimore. Each of the four DJs had their specialty within UK underground dance music. Brother Pinch played a lot of that 4x4 garage, Light Touch played a lot of 8-bar and grime, Ricky Ricardo was playing a lot of different stuff, but mostly 4x4 stuff, I was the dubstep guy. We had a lot of people coming out to our Wednesday residency in 2000-01, but when I would play solo I had 15 to 20 people showing up. People were like, "What in the hell is this music, Joe? This is some weird shit."
The two guys that were always supportive of me back then – DJ-wise, outside of the crew – were John Ask and Dan Gee. They were the DJs that I wanted to be because they built up such a reputation for high standards of mixing and selection that when you saw their names on the flyer as Downtempo Soundsystem, you'd say, "Shit, I gotta go see them play." That's what I wanted for myself: "Joe Nice is on the flyer — this brother comes correct. He's gonna come with the dubs. He's gonna power-mix for 90 minutes, 120 minutes — hey, he might be a three hour guy, we don't know." It's like creating a brand.

Dave Q
I used to do college radio in Philadelphia. I would play a lot of Aphex Twin and Autechre, hip-hop and reggae – a mix of different, cool shit. I was more of a collector of music [rather than a DJ] in the years leading up to Dub War. When I moved to New York in 1998, I was a fan of jungle and I was going to drum and bass raves. There were also lots of experimental things going on [in New York] around that time, with dub, hip-hop and other kinds of weird electronic music. There was this period where the bottom seemed to fall out of the drum and bass scene. It got super bro-y and not that interesting. After September 11th, the club scene took a really hard hit. Through a message board that I was on someone introduced me to Wookie's "Battle," and that made me aware of this whole new sound that was happening and led me down a rabbit hole, into the darker side of garage.
From there, I planned a trip to the UK. The main music thing I went to was Movement at Mass, Mickey Finn's drum and bass night, which is also where DMZ would eventually be held. When I was in town for that I went to Blackmarket Records J Da Flex was working behind the counter, and he sent me home with a pile of Ghost Recordings white labels. I was pretty interested in the very beginnings of the sound, so as it developed into dubstep there was already a small community of people, especially for the non-Londoners, who were all connected through the dubplate.net forum. Joe was the only person I knew who was into dubstep and knew the tunes like I did. He was immediately the kind of guy who I like: a smart music nerd who had this crazy energy about him.
Blackdown
It is a historical fact that the emergence of the Internet as a force coincides with the emergence of dubstep. In 2000, in England, we're really talking about dial-up Internet: when Web pages took 30 seconds to load, and before MP3's existed. Fast forward five years and you're starting to get faster connections, and it increased the rate at which people could communicate across the Atlantic. Since dubstep started incubating in 1999-2000, this speed of connections helped to spread the message to people at Dub War.
I first met Dave Q at Third Bass, which was the original venue for DMZ. He and Joe Nice were there from early. They had the epiphany that this [kind of party] could be done in New York. Sometimes, when people iterate or hop on a given style, they make mistakes through the copying. Dub War found their own way that was inspired by the very early DMZ parties. I think it takes tremendous vision and balls to work out that something is going on in another city, suddenly, and that you have to be there that early.
Dave Q
There's a pre-history to Dub War. Cliff [aka DJ Seoul] runs Direct Drive, a drum and bass night. When he was doing his party at Rothko he started booking me to play in the basement, which was when I started playing dubstep out. They were crazy for it, so he kept booking me until to the point where it almost felt like Room 2 at Rothko was the unofficial Dub War room. It went on like that for about six months before I finally was like, "Let me try one of my own." That's when Joe and I linked up and started it in Brooklyn, at Sputnik.
JUAKALI
I was transitioning from being involved in the hip-hop and spoken word scenes. I knew from my travels that a lot of producers sampled Caribbean-tinged lyrics, so I was trying to figure out who these producers were. Out of the hundreds of emails I sent out I got like 30 responses, and Dave Q was one of them: "I'm thinking about playing some music out at this spot called Sputnik." I went to Pratt Institute, which is two blocks away from Sputnik, so I said that I'd stop by.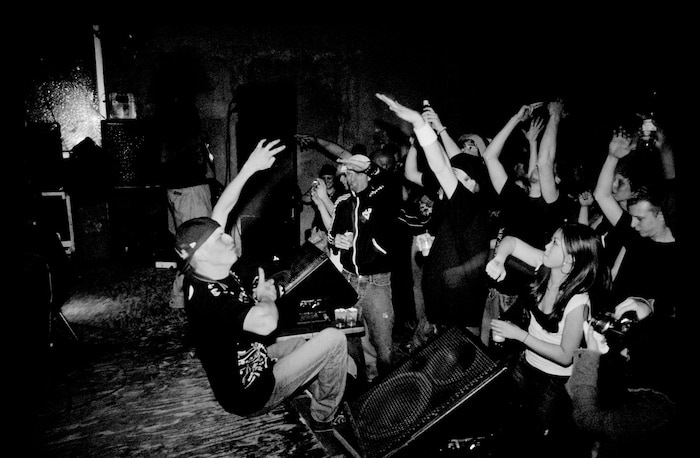 Joe Nice
That first night, a guy with dreadlocks was there. He was like, "Hey, I just came to check you guys out." I heard his accent and said, "Where are you from?" He said, "Trinidad." My parents are from Trinidad so we instantly vibed out, and then he got on the mic and did his thing. It wasn't like when you would listen to a pirate radio show and Hatcha and Crazy D would be on the mic. It was very much hosting and toasting rather than pure MCing, in terms of actual bars that rhymed. I'll never forget it. There were maybe 30 people there throughout the entire night and by the end we were like, "Maybe there will be more people the next time we do one of these events."

After Dub War held its second event at Sputnik, Kode9, who was trying to organize a string of tour dates in the US, approached Dave Q online about doing a gig in New York. This prompted the need for a larger venue, and the party moved from Brooklyn to Rothko – a natural transition, since Dave was familiar with the space from his time playing at Direct Drive. Located on the Lower East Side, an area then at the height of its trendiness, the club's main room featured massive ceilings, ruby red walls, and a moveable wooden DJ booth. Kode9 was the first of many British dubstep trailblazers who would wind up playing their maiden stateside gig at Dub War, including Mala, Loefah, and Skream.
Dave Q
After Joe and I became close with the guys in London, it seemed like we would go there every couple of months. It was a no brainer, especially in the first few years: they were the ones who created this thing, and I wanted them to get a chance to play in New York. Most of them were dudes who hadn't spent much time away from home – they certainly weren't touring DJs at that point, or making a living from doing music – so it was pretty exciting to help these guys have their music take them around the world.
JUAKALI
The first international guest that we booked was Kode9. As a MC, what surprised me about that party was that he was completely in tune with what we were doing. Me MCing with him was not surprising. There were times where I felt that he was selecting tunes that I could actually spit bars on.
Kode9
I do remember the soundsystem wasn't all that at Rothko. I'd traveled enough trying to play this music since 2003 or 2004 to realize that, if the soundsystem wasn't there, it just sounded shit; it sounded empty. It's not that it was bass-driven music, it was sub-driven music. I played on enough shit soundsystems to realize that it wasn't all roses outside of London.
MALA
I met Joe through Hatcha, because Joe had been up on what Hatcha was doing from early. When Joe came to town, he'd go into people's studios and I would always sort him out with music. I know that he and Dave were inspired by what was going on in London, and at DMZ. The music is niche, it's underground music, but it was always very un-exclusive in the way that we wanted to get our music to our audience. Anybody was welcome to come to our sessions. We never had a VIP area or anything like that. The first time I played Dub War (and the US) was in January 2006 – DMZ's second birthday would've been coming up in March. It's funny, because it was actually with some grime guys: Jammer was there, Plastician was there, and he brought out a few MCs. It was amazing to travel so far from home and start putting in the groundwork to make the music spread.
Joe Nice
Rothko got shut down by the police the night before our party with Loefah and Pokes. Blues Traveler was playing there. That room held maybe 400 people, if you packed everyone in like sardines, but Blues Traveler did something like 750 people. The Fire Marshall came in and was like, "Fuck this, you guys are closed." That was pretty much the end of Rothko. Dave found out about it and was like, "Shit, we gotta find a place to do this." Somehow he got into Limelight [which had changed its name to Avalon]. We did a few shows there but honestly, Limelight just got weird. It wasn't just the location. You had another club next to it, which was one of those "shiny shirt" clubs. We were like, "Nah, we don't want to be here anymore." Then we transitioned to Love.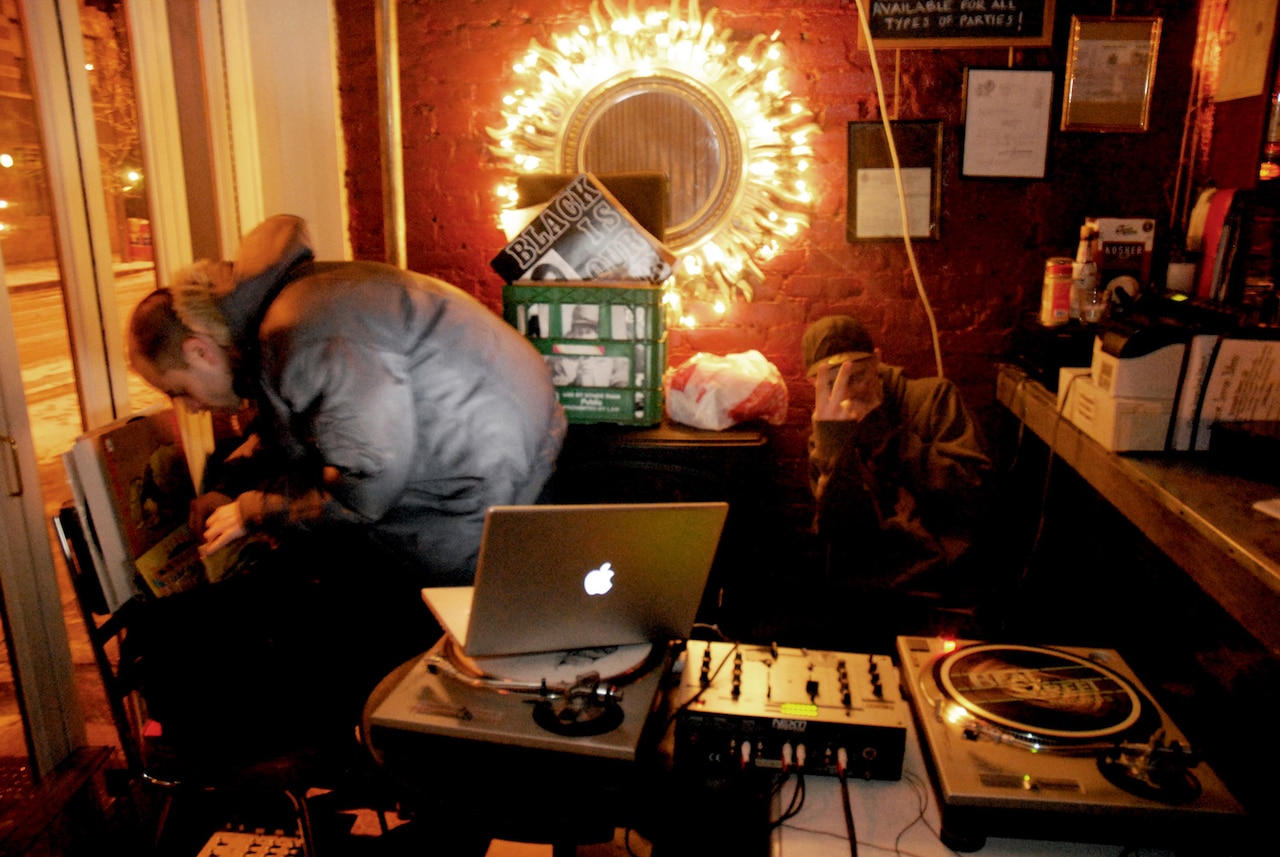 Situated in the heart of Greenwich Village, Love was a basement club with no markings on its street-level black door. Its close proximity to New York University's campus meant gentrification had long since started to take hold of the area, bringing in countless chain restaurants, salons, and bank branches. Many prospective revelers – including longstanding Brooklynite Dave Q – wouldn't regularly hang out in the once-countercultural neighborhood, which had in decades past been a vital breeding ground for Beats, hippies, punks, and other assorted art weirdos. However, with dubstep fans flocking to Dub War from places much further afield than the Big Apple's borders, the location's centrality helped to pull in sizable crowds and bring a fresh, exciting energy back to the Village's increasingly lackluster nightlife options.
Joe Nice
Love was everything – a club designed to play bass music as it should be played. When you walked down the narrow hallway, there was this sitting room off to the right that we called the Fraggle Rock room: this multicolored mess of furniture designed as architecture that went completely wrong, but felt right. It was an adult fort inside a cave, with little seats masquerading as beds and padded walls. I don't know how often they cleaned them but whatever. It worked.
Kode9
In a way, that room was like EDM waiting to happen. I think Love was why the scene kicked off in New York. Love for Dub War was like Plastic People for FWD, but the vibe at Dub War was exciting because they were doing it in a very different way to how people were doing it in London. They'd get excited in a different way. Americans are weird like that. I remember that during one of my sets, someone told me there was a couple making out on the bass bin. Someone was receiving cunnilingus – that's all I heard. Another time when I was playing and there was someone with an airhorn behind me, swinging their towel around their head like a lasso. I was like, "What the fuck is going on?" I look behind me, and I'm like, "Oh shit! It's Hank Shocklee!"
Blackdown
Playing in New York is a fanboy dream come true. I'd never played in the US before, and that's the time that when Dusk and I started to become known as DJs. We had to follow the comeback live set of the Bomb Squad and towards the end we got shut down by the NYPD, just to add to the whole New York vibe. I think it was a noise complaint – we'd blown up New York. It's probably funnier in retrospect.
If you go and see a massive rock act at a huge stadium, they're at arm's length. They're on a pedestal – something that you cannot be a part of. This is the opposite of the spirit of the dubstep community. At Love, the decks were on the same level as the crowd so you could see eye-to-eye. It had a "in it together" feeling, rather than a "look at me, I'm a superstar DJ" one, which is the vibe you get when the stakes get higher. The venue felt historical, like the Paradise Garage: part of an infrastructure connecting you back to a legacy of seminal New York clubbing.

During Dub War's heyday, Love's owners were particular about who they'd let play on their painstakingly crafted soundsystem. Urban legend has it that actual physical parts of the club's system had been repurposed from the Paradise Garage's setup. However, according to Andrew "Morphous" Eisele, who served as Love's sound engineer, it was a custom built Gary Stewart Audio rig. Stewart had worked with Richard Long at the Paradise Garage, so some of the design concepts continued with him when he formed his own company.
For Love, no expense was spared. Friday evenings saw a rotating cast of promoters championing bass-heavy music take control of the space. World beats bash Sub Swara was up first, followed by DB and Dara's drum and bass-focused Secret Night of Science, followed by Dub War and then "heavy bass champions of the world" Trouble & Bass, on the fourth Friday of every month. It was common to see the party organizers at one another's events, and the musical cross-pollination made it feel like one big happy family. The club's staff – bartenders, bouncers, Eisele, and lighting technician Liz Liguori – was well liked by all the promoters who hosted events there.
Joe Nice
Doors opened at 9PM, and Alex Incyde would start the show at 10PM. He had a way of getting interested and involved with the show without blowing the doors off the place. He was also a monster on the decks, but he didn't just throw everything at you at once. Alex would kill you softly.
ALEX INCYDE
I first encountered Joe Nice at a DMZ party in Brixton in late 2006, when I was part of a study abroad program at Goldsmiths University. I was like, "Who is this American dude slaying it?" I came back to London in summer 2007 to start my internship at Hotflush, and I met Dave Q later that year when he flew over for DMZ and was spinning at Drumz of the South - a smaller "headz" night run by Georgina Cook, also in Brixton. I gave him one of my mix CDs when he was outside and a few months later, I moved back to Boston to finish college and met [my future wife] Josephine, DJ Pandai'a.
We started doing frequent back-to-back sets together on my Sub.FM show and in April 2008, Dave Q hit us up. He said that Joe was going be out of town and wanted us to fill in at Dub War, opening for Caspa and Matty G. By October that year I was a Dub War resident, opening up the evening for the first two hours while people were coming in and getting acclimated. That was my favorite kind of set to play: setting the tone for the night and building up the energy. I'd start off with some ambient or dub techno, and work up from there. By the end of my set, people were loose and ready for the first prime time slot.
JUAKALI
We knew the capacity of the club and how many people, on average, would come through. A die-hard group will obviously come from start to end, but you'll get at least two or three waves per night and so we were able to schedule the acts according to these movements. It wasn't like a church, everyone in the congregation went and it was a new service. It really was like a wave and I was able to connect with that in a very different way. Dave, Joe and most of the DJs recognized what was happening, and the lighting and the sound engineer knew what to do: "The next wave is about to come in, we have to prepare for it."
When I played with the guests, they knew I wouldn't overpower their mixing. I'd ask them how involved they wanted me to be in their set. "Do you want me to just do my thing, do you want me to ebb and flow?" Sometimes, they would be like, "No, I want you all over this!" It was a challenge, of course. It was a thing to stay on the mic for an average of six to eight hours. People would even know when I took a bathroom break.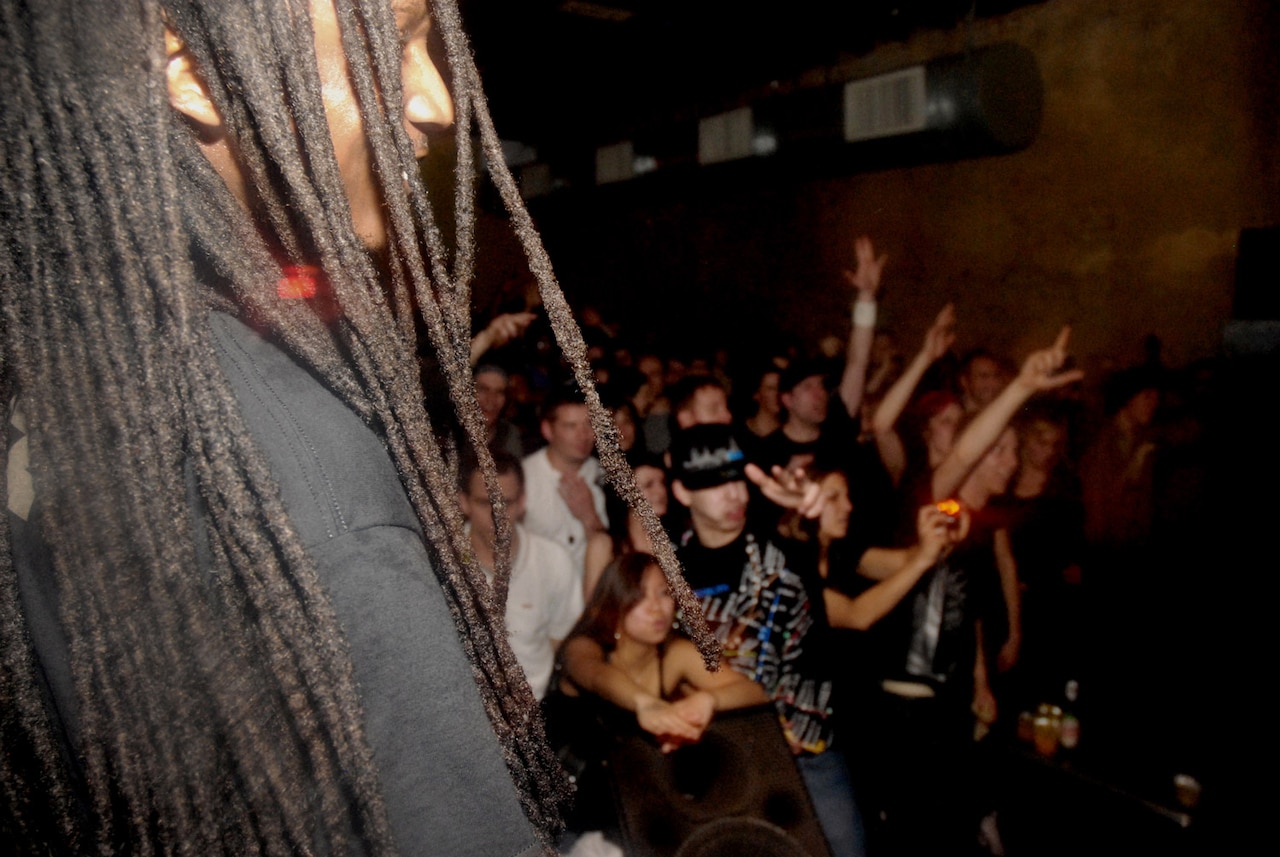 One of Dub War's earliest supporters was Seckle, a local vinyl collector and RinseFM obsessive who started attending the party in its earliest incarnation at Sputnik. He built a fast kinship with the night's organizers because of their shared exposure to dub reggae as teenagers, each having made separate trips to London in the late '90s and early '00s and experiencing the riotous joy of Notting Hill Carnival. Seckle religiously documented Dub War through still photos and video, which he was posting on online forums and then-burgeoning YouTube.
These highlight reel-style clips would show the line outside the club or Juakali introducing a new DJ; key moments in DJs' sets or Joe waxing poetic about what a good vibe they had going on. At the same time, French-born graphic designer Ashes57 had moved to New York from London, where she began creating an aesthetic language for the party's flyers. With these visuals complementing dubstep's rapidly evolving sounds, the message quickly spread – both locally and internationally – of what Dub War was all about.
Dave Q
I love that Dub War was happening in the last moment before cell phones and when the Internet was still a way for one-to-one communication. Most of the dubs that we were sharing through AOL Messenger, came from the producers themselves, but it was always through people that you knew personally. It was before a world where everything has been heard on Soundcloud by a million people, and before a time when people would constantly be taking their phones out taking pictures of everything.
Joe Nice
Ken [Seckle], God bless him, was taking pictures and putting them on dubstepforum.net, and started a YouTube channel. This is back in 2007-08, when people were figuring out what YouTube actually was and how useful and powerful a tool it could be. People would watch the videos and see everything that was happening at Love.
ASHES57
I first heard about Dub War on dubstepforum.com in 2004. Everyone was communicating through this platform and I used to listen to the mixes that Joe Nice was posting. I was new in the city and I was really passionate about the music and I met Dave Q on a very cold winter day for the DMZ vs. Dub War night. A few days later Dave invited me to have a drink with some of the DJs, we became friends, and he asked me if I was interested in doing a flyer for the night. It was the most inspirational moment of my career. I pretty much had carte blanche and I was lucky that he liked my work. I wanted to create art that represented the movement and the artists featured on the night. It was my way to contribute to the scene: transcribing the sound to graphics. The vibe was dark, with hints of color carefully picked.
Joe Nice
Dave works in advertising, so it's kind of his thing. He figured out a way to give Dub War what they needed before they knew they wanted it. I had never heard of Actress or Ras G before Dave brought them out. He was six months ahead of everybody and was very much responsible for a lot of what we wanted to do booking-wise.
Dave Q
It was always important for me to do it in a way that felt authentic to the music culture of New York. The people who came were pretty intelligent music people. A lot of people who were older New York heads who had been involved in the experimental electronic music scene in New York in the '90s were coming pretty early on. I loved that, because I was such a fan of what was happening in New York: with illbient, and experimental dub.
JUAKALI
You've got to remember that, a lot of the time, we would hear these songs long before we actually played them out. I remember when Mala dropped Kromestar's "Kalawangi" at the DMZ vs. Dub War downtown party. I think that got pulled up like four or five times, it was crazy. I remember the first time I heard The Bug featuring Flow Dan's "Jah War" when we went to DMZ, and when we came back and played it at Dub War it was just nuts.
Joe Nice
There were tunes that always went off: Mala's "DMZ vs. MZN," Untold's "You Didn't Win the Holiday," Addison Groove's "Footcrab." The most memorable moment ever was when Shackleton played TRG's "Broken Heart." It was sonic voodoo. People were in this bass trance, paralyzed by the sound.
A little known fact: the one person that loves '90s hip-hop more than me is Dave. He would always bring a few early hip-hop records in his bag, just in case, at every show. We see this guy with this hat on, and he was like, "Yo what's up." Juakali's on the mic doing his thing, and he's like, "Oh, Jeru the Damaja is in the booth!" So Dave goes in his bag and he starts pulling out records. Jeru was freestyling on the mic and Dave's playing "Wrath of Math" and "Come Clean" – all those old beats from back in the day. It was the craziest, most impromptu 30 minutes at Dub War ever.
Dave Q
That Jeru experience will always be a highlight in my life, but the other that stands out for me is when Burial came to Dub War. He was hiding out behind the DJ booth for the whole night. He was supposed to play, but then he got cold feet and he didn't do it. He stayed at my house for a week and just hung out in New York. He was lovely and quiet, but still a London dude – a troublemaker.
Joe Nice
The best part of Dub War, in my opinion, wasn't the show. It was the sound check, and we had a few people that figured that out. Dave and I would get to the club at 8PM and people were already waiting in line. We'd say, "Yo, we don't open doors for another two hours!" But then we were like, "You know what? Fuck it, come in." On the DJ booth there was a sign that said, "No more than seven people allowed in the booth" – pffft, no fucking way. We always had at least 12 or 13 people in that booth.
We did some silly things that made Dub War what it was. We had a slogan of the night – a stupid saying we would say to other people. Dave came up with a system where we gave out list spots but we didn't use people's real names. We wanted to safeguard against people saying, "I'm so-and-so, I'm on the list," so we would come up with the most off-the-wall fake names that nobody would think to guess.
One night we were cooking at Dave's apartment and we needed names for the guest list. I saw a box of brownie mix and I was like, "Betty Crocker... let's come up with names after people that make food." We had Chef Boyardee, Duncan Hines, Captain Crunch – because who the hell is gonna walk up to a club and say, "Yo I'm Captain Crunch, I'm on the guest list." You couldn't infiltrate the guest list – no way.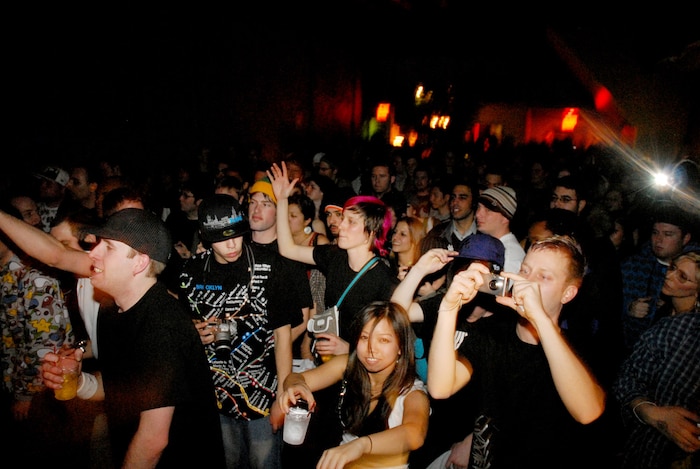 During the first few years of Dub War, Dave Q's bookings policy clearly focused on dubstep. However, he never intended for it to be a purist night. As well as flying in headliners from the UK, the party nurtured local talent like FaltyDL and Sepalcure, whose sounds were shaped by experiencing the deep bass on Love's bespoke soundsystem. By branching out into more fringe sounds, Dub War set itself apart from its British peers.
While DJs and producers in London were obsessing over what technically should and should not be classified as dubstep, the New Yorkers took a much wider, more inclusive stance on the genre. Perhaps most significantly, Dub War succeeded in kickstarting the international careers of a second wave of British DJs whose outputs didn't fit as neatly into the South London box.
Dave Q
It felt like the music broadened a lot more, especially in the last couple years of the party. It felt exciting when these younger Americans like Sepalcure and FaltyDL came around. I was like, "Wow, Dub War really nurtured these kids from around here." Music was in such a depressing state when Dub War started, and the only thing I was really excited about was this small core of people making music in South London. There was this realization, at a certain point, that "This dubstep thing is part of a much bigger and interesting movement that's happening in music."
FaltyDL
I moved to New York in late 2006. (When I met Dave, we found out that we're both from New Haven, Connecticut.) I was already starting to make electronic music, and I was looking for any sort of outlet where I could go hear this stuff. The first Dub War I went to was at Love. At the time, I was straight edge. I was drinking water and I didn't know anyone there, but there seemed to be a friendly vibe in the sense that everyone else knew each other. I didn't feel a part of it yet, though. I was so terrified by the music and how dark it was – I'd never been in a real club before. You would go there and you would hear things that would startle you, and that was the excitement.
That was also the first time that I noticed people dancing while but facing the DJ. They weren't ignoring each other – just focusing on what the DJ was doing – so I could stand in the middle of the crowd and be like everyone else. It was a whole different New York – post-9/11, with George Bush Jr. in power – and there was kind of a hippie "burner" element to the people that were partying there: people in ADIDAS shell toes and track tops, before the apocalyptic Rick Owens look became popular.
Joe was so intense and about the business. There was this vibe that he was going blow everyone's mind. The first time I saw Joe play was when he "batting cleanup": what he called going on at 3AM, and being the last person to DJ; as if they were playing at volume level 9 all night, and then he came on and it was suddenly on 11. He would play 10-inch dubplates that he was getting cut in the UK, and there was all this mystical business going on around his sets, but the first time the beat dropped in his set I felt the bass in my chest and it knocked the shit out of me.
I handed Dave a copy of my album in the end of 2008 (it was due to come out in 2009) and after he listened to it he asked me to play a show. I had like 30 friends come down, and I brought my giant 64-key keyboard with all the samples written out on it. It was like I was playing live in 1997 rather than 2008. It was amazing and awful – I was all over the place – but it was actually the only true live set that I've ever done. I don't know if it scarred me so deeply, but I've never played live since.
Dave and Joe were the first people to really acknowledge the work I was putting in, and that was huge. Not only were the opportunities amazing, but also it shaped a bit of my sound. I started thinking about making music for soundsystems. You don't know what this music sounds like in a big club until you experience it, and so it was practice for me. When I went to start touring in the UK a year later, walking into Plastic People or any club there felt completely comfortable. Well, besides the butterflies of performing.
Dave Q
Younger artists who weren't a part of the first wave of dubstep producers in London, and maybe felt like there wasn't an opportunity for them to break into the scene there, got early support from us at Dub War. I think that we helped them find an audience and even respect within the London scene – people like Ramadanman, Pangaea, Untold, Darkstar, Scuba, Shackleton, Brackles & Shortstuff, Headhunter. These guys weren't really getting booked at the big London nights, and in many cases they were known as fans more than serious producers, but we were playing their dubs and booking them at Dub War. I was even playing their dubs at DMZ when I would play there. I think we helped them find a global audience that didn't rely as much on the original Croydon approach to the sound.

When Love changed ownership in early 2010, the new proprietors decided to turn it into a run-of-the-mill sports bar. With the soundsystem in decay and a weird atmosphere steadily growing, both in the club itself and on the scene as a whole, Dub War ended the party on a high note after its fifth birthday that June.
Dave Q
People would always talk about Dub War as being on the front lines, but I never fully accepted that because I saw it, culturally, as a London thing. Even though I did everything I could to represent it in the right way, I always felt like a little bit of a tourist and that it was an American outpost of something that will never be ours – especially when the Americanization of dubstep started happening. I don't know it if will ever happen again in my life: where music is that exciting for an extended period of time; where every week, tunes are coming out that which just can't even believe someone made. The venue declining obviously really hurt my heart. The scene was feeling more fragmented and there wasn't as much unity of purpose and togetherness amongst everyone in the room, as there had been for those years.
Joe Nice
I've had time to look back and reflect since we started the event. I can say I was part of this culture-building endeavor. When you're in the eye of the storm, you don't really pay attention to the rain that's around you. You just focus on where you are.
Header image © Georgina Cook