How Pharoah Sanders Brought Jazz to Its Spiritual Peak with His Impulse! Albums
"'Trane was the Father, Pharoah was the Son, I am the Holy Ghost." –Albert Ayler
With Ayler's statement about jazz's so-called "New Thing," the metaphor was cast. Of course John Coltrane – the giant of the tenor saxophone who brought Eastern thought to bear on his own music – was deemed the father. It was 'Trane who gave his blessing to the next generation of players: Archie Shepp, Marion Brown, John Tchicai, Dewey Johnson, Pharoah Sanders, Albert Ayler and more before Coltrane left his earthly body in 1967. And it was Ayler who best embodied the fiery cast of free jazz, burning bright only to burn out, dragged out of the East River at the age of 34.
Yet as he nears his 75th year, Sanders' body of work does not enjoy nearly the same reverence, awe and praise as the others in the holy trinity of spiritual jazz. Coltrane continues to be the subject of colossal box sets and deluxe reissues, Ayler has had every scrap of recorded music culled and collected, while Sanders' oeuvre stands in disarray. His eleven Impulse albums – from 1967's Tauhid to 1974's Love in Us All – comprise arguably the greatest run on the label. Yet outside of 1969's Karma, none of Pharoah's Impulse albums are currently in print in the U.S. Half of them are unavailable on CD or vinyl, the other half are bundled as two-for-one budget imports, with no remastering or bonus tracks. Most of the ink given to Sanders appears at the tail end of Coltrane bios, noting that Sanders was the lone horn player to share the bandstand with Coltrane at the end of his life. In Ornette Coleman's estimation, Sanders is "probably the best tenor player in the world."
And while Sanders has released many albums on many labels, nothing matches his Impulse years. The music he made with large ensembles in the late '60s and early '70s drew from the jazz tradition, but elevated the form so as to embrace gospel, soul, African folk, R&B and what would soon be deemed world music, weaving it all into a tapestry that spoke of African-American identity, spiritual realization and world peace. Many of the players that Sanders brought into his band would become stars in their own right: Lonnie Liston Smith, Leon Thomas, Norman Connors, Gary Bartz, Stanley Clarke, Idris Muhammad, James Mtume and more. His music remains a beacon. As Smith put it to me in describing the music he made with Pharoah: "We were trying to enlighten the world through music, because music is a universal language."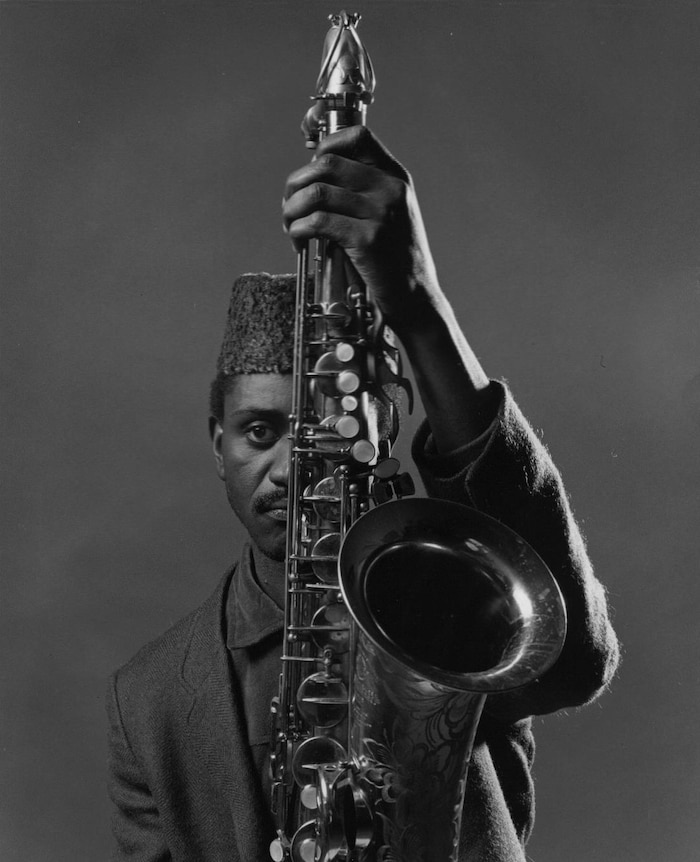 Ferrell Sanders was born under the sign of Libra in Little Rock, Arkansas on October 13, 1940. After high school, he moved to Oakland and earned the nickname of "Little Rock," eventually befriending John Coltrane while playing gigs on the West Coast. Sanders moved to New York City in 1961, which wasn't the easiest of transitions. "When I got to New York, I was like a survivor, on the street," he told JazzTimes back in 2008. "It was wintertime, it was cold. I was like a bird or whatever, finding whatever I could get." While working as a chef at the small MacDougal Street coffeeshop called the Playhouse, Sanders encountered Sun Ra, the great cosmic bandleader, who bestowed a new moniker on the young tenor saxophonist: "Pharoah."
I don't really see the horn anymore, I'm trying to see myself.
After a brief stint in Sun Ra's Arkestra, Sanders realigned with Coltrane, recording with him on his exploratory late-career albums like Ascension, Meditations and Kulu Sé Mama. Sanders played with Coltrane until his death and on albums like Live in Japan, Sanders bears more of the soloing load. Favoring overblowing, shrieks and other extended techniques like harmonics, biting the reed and yelling through the bell of the horn, Sanders pushed beyond the barriers of jazz towards unfettered sound, no longer beholden to chord changes and scales. It was not always appreciated. One New Yorker review compared Sanders' sound to "elephant shrieks, which went on and on and on [and] appeared to have little in common with music."
When Coltrane succumbed to liver cancer in July of 1967, Sanders was seen as the one guy who could inherit Coltrane's legacy. But while Sanders envisioned a universal sound that drew from many musical cultures as his mentor did, the results were different. "John did his own thing; I did my own thing," Sanders told JazzTimes. "It wasn't a carry-over of something that he did. Whole different thing from what I was doing."
When Sanders went to cut his first album for Impulse, Tauhid, in November 1966 at the famed Rudy Van Gelder Studio in Englewood, NJ, he had a vision. "I don't really see the horn anymore, I'm trying to see myself," he said in the liner notes. "The more I can find out about myself, the more I can know...what the roots of existence are." Drawing on his travels through Japan with Coltrane's group, as well as his reading about ancient Egypt, Tauhid balanced the incendiary sax shredding of Sanders' years with Coltrane with a newfound lyricism and patience, letting each song unfold at a natural pace. And with the guitar of Sonny Sharrock adding both furious noise and nimble R&B chording that gave the sidelong "Upper Egypt & Lower Egypt" its melodic hook, Sanders' work began to resonate beyond jazz as the Stooges and MC5 incorporated the spirit of Sanders into their proto-punk sound.
Around that time, piano player Lonnie Liston Smith was brought into the fold, along with free jazz vocalist Leon Thomas. Sanders' band began to swell beyond the confines of a small group. "There was Sonny, plus drums, plus all kinds of percussion instruments everywhere," Smith recalls. "I was surrounded by a sea of beautiful sound, coming from everywhere. Leon was yodeling, Pharoah was sounding like he was playing more than one note. I was trying to get more sound of out of the piano, using my forearms to get more sound. It was amazing: The less we practiced the better we sounded."
We worked out a technique where about 17 or 18 minutes in, I would dim the lights up and down in the studio to let him know that he was getting to the point where he should start winding down.
At the fore of that massive, spontaneous sound was Sanders and his horn. "Where the average horn player builds to in intensity and then tails off, that's Pharoah's beginning," Leon Thomas told James Briggs Murray in The Oral History Interview with Leon Thomas. But whereas Sanders had faced criticism from the jazz world for overblowing and transforming his horn into a human scream, as the leader of his own group, he began to strike a balance in that tempestuous sound, moving between chaos and beauty, playing "out" as well as "in."
As the band grew to a nonet, a composition in Pharoah's repertoire – originally titled "Pisces Moon" – underwent a dramatic change. As Thomas recounted, they were performing the song one night in a Jersey City church: "When it came time for me on the song, I heard this sound and didn't know where it was coming from. A yodel starts happening. The articulation was in the throat. No one had heard it before. The church was the right place for it. It was an extension of or part of 'tongue' – [I was] speaking in tongues." The chant of "yeah" nine times in the original song manifested now as a line: "The Creator has a master plan."
Coming five years after A Love Supreme and at the peak of the '60s, Karma became the fullest iteration of spiritual jazz. Its joyous, cycling bassline and chanted title evokes the memory of A Love Supreme, and in Thomas's estimation it was intentional. "The Creator Has a Master Plan," a 33-minute careen between soul and free jazz that soundtracked many a trip the minds of listeners at home and conjured altered states in its players as well. "Pharoah was like a God, it was so spiritual," said Norman Connors, one of the many drummers who played with Sanders during that era. "The music was very sacred and had a certain tone about it, mystical and just beautiful."
Despite being a half-hour journey, "The Creator Has a Master Plan" was something of a free jazz hit, garnering mainstream FM radio airplay at the time. Not only Archie Shepp and Rashied Ali, but now Carlos Santana and Marlon Brando were seen at Sanders' shows. In Thomas' estimation, Karma allowed spiritual music to descend and infiltrate the earthly realm of pop: "Karma was there before 'Give Peace a Chance' and 'What's Going On.' [After Karma,] Marvin [Gaye] even changed his demeanor, knit caps and beards. Taj Mahal got robes, all from working on shows with us. We had subtle input and influence. There became more spiritual consciousness after that song."
Jewels of Thought and Summun Bukmun Umyun followed in quick succession while the band was operating at its peak: playing shows, touring the country and hitting the studio with little forethought. "Recording Pharoah was like having a tribe arrive in the studio with wives and cooks and participants and an audience," said producer Ed Michel, who succeeded Bob Thiele at Impulse in 1970. "The cooks and entertainers set up in one section making vegetarian meals and the band set up in front of them. It was like having a village in the studio."
"Pharoah would just start playing and making sounds, and we'd go from there," Smith said of the process. "You were just stretching to see how far you could go, and we were just deep into the music." Smith cites The Mysticism of Sound and Music by Sufi master Hazrat Inayat Khan – a book found in the basement of the East Village's infamous occult bookstore Weiser Books – as being a key influence on the group (Smith said you could often find the likes of Sun Ra and Coltrane browsing the shelves). The den of musicians studied all kinds of religions, realizing that no matter the denomination, they preached the same message of peace. Sufi mysticism, Zen Buddhism, Pentecostal gospel, the teachings of Islam: Sanders' music drew from all of it.
Smith's reading led to another epochal spiritual jazz moment the next year, as the group (now boasting five drummers and percussionists) decamped to record 1971's Thembi at the Record Plant in Los Angeles. It's an album full of atypical instrumentation: fife, koto, balaphone, kalimba, maracas, cow horn, bird whistles and African percussion. "Everybody else got to set up their instruments, unpack and all that," Smith says. "I'm in the corner and I went over to the Fender Rhodes – which I had never seen before – and started touching it. And this song just came out. Everybody ran over and said, 'We got to record that, what is that?' At that time I was starting to read about astral projection, so I said, 'Let's call it 'Astral Traveling' as it seems like we are floating all through the universe.'"
We would start playing and something happened to the entire room.
Throughout his Impulse years, Sanders' takes in the recording booth could stretch well beyond the standard side of an LP. "Pharoah would play forever," Ed Michel says. "We worked out a technique where about 17 or 18 minutes in, I would dim the lights up and down in the studio to let him know that he was getting to the point where he should start winding down. The only problem was that at that point when Pharoah would get playing, he would close his eyes." Michel likened these Impulse albums to a stew, where every element mixes together and bubbles, and while he doesn't consider himself a spiritual person, when it came to Pharoah's sessions, "I could feel the energy. The energy in the space was happening was absolutely contagious."
It's an energy that transferred to the albums themselves. Cue up the ecstatic Summun Bukmun Umyun, the roiling and relentless Black Unity or the sumptuous Elevation and the effect of Sanders' spiritual music is both heady and physical. These large ensembles move as one entity, the battery of drums and myriad African percussion steadily driving the music forward. In this context, Sanders's horn performs an act of transubstantiation. Breathing in all that's happening around him, his horn acts as an afterburner, sending everything higher into the stratosphere.
But as the '70s wore on, trends began to change in African-American music, with funk and disco increasingly replacing jazz on the hi-fi. And in the jazz world, Pharoah's fusion of world cultures into a universal sound had been replaced by electric fusion, and Herbie Hancock's landmark classic Head Hunters held sway. While Pharoah's fire-breathing still powered some moments on these later albums, they are levied by an increasing use of space and rhythm to carry them. As Sanders told JazzTimes: "I just wanted people to feel like I had a warm side, too, not just playing one kind of a thing. I like to play some inside things and some very colorful types of music."
After releasing eleven albums in seven years, capped by the two long, elegant explorations that comprise Love in Us All, Sanders left Impulse in 1973; he wouldn't release an album for the next four years.
While there have been glimpses of that ecstatic sound to be found on his subsequent discography, the sustained brilliance of Sanders' Impulse years has been matched by few ensembles in jazz history. For strength, beauty and startling vision, Sanders' music remains a spiritual high point in American music, touching all who encountered it. "We would start playing and something happened to the entire room," Norman Connors said of his time with Pharoah. "I can't really describe it. It's just such a beautiful thing. It was almost as if everybody was going to heaven."

Header image: Gilles Petard / Getty Images