Poetry, Proto-Rap and Soul: The Sounds of the Black Power Revolution
Pat Thomas breaks down some of the songs that soundtracked the multi-faceted movement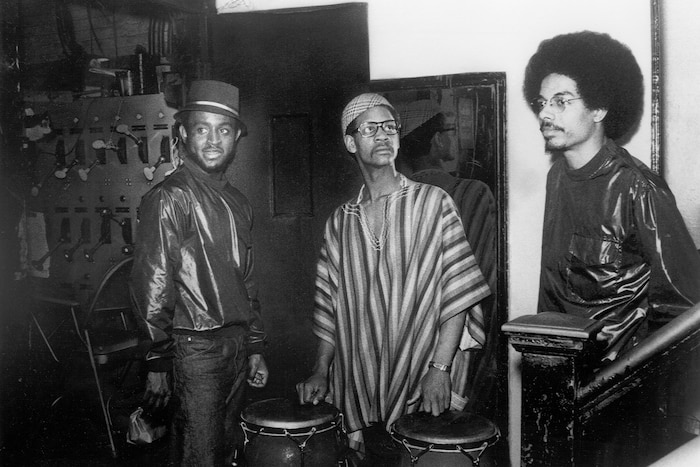 The word "revolution" has lost its edge in the 21st century. Advertisements inform us there's a revolution in hair care or a revolutionary new driverless car. But when young Americans spoke of revolution during the 1960s and early 1970s, they wanted to take down the establishment and stop the Vietnam War. And for many African-Americans, revolution referred to the rise of the Black Panther Party or Black Nationalism. These revolutions weren't going to make your hair smell terrific or provide a more comfortable driving experience. They were real.
Many people conflate the Black Panthers with Black Power, though the Panthers were just one of many Black Power groups (albeit the most important and influential). The voices leading the Panther pack – including Huey Newton, Bobby Seale, Eldridge and Kathleen Cleaver, David Hilliard and Elaine Brown – are as symbolic of the '60s as John, Paul, George and Ringo. Much like each of the Beatles, the Panther leaders often had differing political ideologies and separate agendas.
Yet over time, the various personalities and organizations have become lumped together. One victim of pop culture's love of radical chic, Angela Davis, is often mistaken for a Black Panther though she was a member of the Communist Party. Stokely Carmichael and H. Rap Brown of SNCC (the Student Nonviolent Coordinating Committee) had a brief dalliance with the Black Panther Party, but had their own separate ideals and goals. And while Amiri Baraka occasionally aligned himself with the Nation of Islam, Malcolm X and Ron Karenga's US, a Black Nationalist organization, ultimately his legacy stems from co-founding the Black Arts Movement (BAM).
Key differences separate the Panthers from Black Nationalists. While Black Nationalists often wore dashikis and took African names, the Panthers didn't change their names and opted for a uniform of black berets and leather jackets instead. While the Panthers and Black Nationalists both shared a desire for independence from white society, the Panthers always remained multicultural and encouraged alliance. The Black Nationalists focused instead on a strong African identity, maintaining a cultural connection to their native origins. Black Panther Huey Newton loved the music of Bob Dylan, while Black Nationalist Amiri Baraka debated if certain blues and jazz music was appropriate to listen to.
At its core the Black Power Movement was about humanity, and a way to live.
The phrase "black militant" is sometimes tossed around when describing these groups, too. Yes, there are photos of beret-wearing, shotgun-carrying African Americans. But more people used a pencil, a book of poetry, a typewriter or a musical instrument to evoke change during this revolutionary era (though images of poetry-writing don't typically make for good press). At its core the Black Power Movement wasn't political. It was about humanity, and a way to live. Now, "militancy" is the label that's now been put on a group of people who simply wanted equal rights.
That the Panthers were anti-white is a myth. In fact, some of their financial support came from Bert Schneider, the executive producer of the hippie classic Easy Rider, which is one of the highest grossing films of the '60s. Schneider funneled part of his millions from pop culture marketing into funding Huey Newton's so-called "subversive" activities. Popular musicians picked up the mantle along the way too, including Curtis Mayfield, Jimi Hendrix, Marvin Gaye, Nina Simone, James Brown and the Isley Brothers. Even Graham Nash of Crosby, Stills, Nash & Young, got on board, releasing a pop song entitled "Chicago" about Bobby Seale being "bound and gagged" at the Chicago 8 trial.
It wasn't just pop artists who reacted to the events coalescing around them. Established jazz musicians, such as Max Roach, pivoted from their typical direction to reflect on what was going on. New artists, like the Art Ensemble of Chicago, emerged as well. Albums by poets Nikki Giovanni, Jayne Cortez, Maya Angelou and Sarah Webster Fabio shed new light on black consciousness. And comedian Dick Gregory released albums that were at once entertaining and hard-hitting, not unlike the Black Panther Party's newspaper.
Religious leaders jumped into the fray as well. The Reverend Jesse Jackson's album included photos of him hanging out with Amiri Baraka and Fred Hampton, and Aretha Franklin's father, C.L. Franklin, put a sermon to wax entitled "The Meaning of Black Power." The movement also responded regionally with 7-inch singles of protest music cropping up on small labels in Austin, Milwaukee, Chicago and Birmingham. Meanwhile, the Watts Prophets and Last Poets laid the groundwork for the emergence of rap a decade later, indelibly influencing the likes of Grandmaster Flash and The Furious Five, the SugarHill Gang and Public Enemy.
While these musicians each spoke out against injustice through the lens of their individual perspectives, ideologies and political beliefs, they were ultimately fighting for the same goals of freedom and respect. Their voices still listen as quite prescient today, but in no way should they all be lumped together; these diverse set of activists and musicians didn't necessarily speak for or to each other, merely alongside one another.
Elaine Brown - The End of Silence
In April 1968, Elaine Brown joined the Southern California chapter of the Black Panther Party. Her street smarts, tenacity, political integrity and amazing intellect made her a force, and she quickly became a key member of the organization's Los Angeles branch. She joined Ericka and John Huggins, Bunchy Carter and other distinguished men and women who had been working hard to establish the Panthers' credibility in the home turf of Ron Karenga and the US Organization.
Then, Bunchy Carter and John Huggins were murdered in January 1969 on the UCLA campus during a scuffle with members of US. Panther Chief of Staff David Hilliard went to Los Angeles to attend Bunchy's funeral, which is where he heard Elaine Brown sing the Thomas Dorsey gospel tune "Precious Lord." Later that evening, David encouraged Elaine to sing her own songs and play the piano. She performed three of her compositions, including "The Panther," "The Meeting" (written about an encounter with Eldridge Cleaver) and "Assassination," which she'd written in jail following the murders of Bunchy and John.
David decided "The Meeting" should become the Black Panther Party National Anthem, and he ordered cassettes of the song to be distributed amongst members and for the lyrics to be memorized. Brown was then encouraged to record an entire album of her songs, which is how Seize the Time (issued on Vault Records) was born in 1969. Upon its release, the Black Panther's newspaper called the album "the first songs of the American revolution." It's a fitting description given that the Bob Dylan-informed, classically-influenced Seize The Time would go on to become one of the definitive albums of the Black Power era.
I think Huey Newton liked my music because its classical quality gave dignity to our movement.
"The End of Silence" is the most incendiary manifesto on an album filled with provocative statements. Yet the verses of this song share a universal message: "Have you ever hoped that a time would come when your voice could be heard?" This was something that both the non-violent followers of Martin Luther King and the militant Black Panthers had in common. But when Elaine joins the chorus, she turns up the heat with: "Well then, believe it my friend – That this silence will end, we'll just have to get guns and be men."
David Hilliard explained to me in an interview that that particular lyric referred to the Deep South. There, they had been so repressed for so long by the white power structure that just sitting down at a lunch counter or refusing to go to the back of the bus would be protest enough to inspire change. But in the Northern and Western United States where they had those basic rights, the Panthers needed to ramp it up to get the attention of the authorities. And how better to do that than with music?
"I think Huey Newton liked my music because its classical quality gave dignity to our movement," Brown told journalist Denise Sullivan in 2007. "It wasn't just dancing in the street, not that there is anything wrong with Martha and the Vandellas because we loved that... Someone accused me of not having a black sound and I wasn't sure what that meant. I just wanted to make the most beautiful sound I could make and do the most beautiful thing I could do to honor our people."
The Lumpen - Free Bobby Now
From mid-1970 until early 1971, the Black Panthers supported a musical group comprised of Party members known as The Lumpen. The Party's Minister of Culture, Emory Douglas, suggested their name, which is short for "Lumpenproletariat." Drawn from a phrase coined by the godfather of Communism, Karl Marx, the word describes the working class that couldn't realize class consciousness, thus rendering them worthless in the pursuit of revolutionary struggle.
Huey Newton, then the head of the Black Panthers, felt that given the changes in society and economics since Marx's lifetime, the Lumpenproletariat could now be a resourceful part of the revolution. Newton suggested that the once-disenfranchised inhabitants of the ghetto now had the potential to become the popular class – and these were the very revolutionaries that the Black Panthers sought to organize.
Starting with the third issue of the Black Panther Party newspaper (which ran weekly from 1967 until the late 1970s), Emory Douglas's illustrations, cartoons and artwork became an essential part of the paper. His creative interpretations of the police, often drawn as pigs, were among his most notable drawings. But as the ideological position of the Party changed from combating cops to organizing the community with free food, sickle cell testing and other programs, Douglas shifted instead to illustrating his brothers and sisters from the community: In other words, the Lumpenproletariat.
Some folks don't read, but everyone listens to music.
Four rank and file Party members eventually rose up to become the Lumpen. To help pass the time assembling the weekly newspaper at the print shop in San Francisco, they'd harmonize and sing along with the radio while they worked. Inspired by the fact that Elaine Brown had released Seize the Time (featuring cover art by Emory Douglas), Lumpen member Bill Calhoun penned two songs. One was a spiritual tune he called "No More," and the other was a more energized R&B number, "Free Bobby Now." The song, which was better known as "Bobby Must Be Set Free," protested how Bobby Seale was then on trial in New Haven, Connecticut, for a trumped up murder charge (he would later be acquitted).
With the encouragement of Emory Douglas, the Lumpen recorded the two songs onto a 7", which was pressed and distributed by the Party. Their repertoire expanded as they reworked songs by Sly & the Family Stone, the Impressions and the Temptations into provocative revolutionary anthems: Sly's "Dance to the Music" became "Power to the People," while the traditional "Ol' Man River" evolved into "Ole Pig Nixon." In doing so, the Lumpen carried on the centuries-old tradition of music being used to motivate, educate and document a resistance movement in real time.
When they weren't performing at political rallies, college campuses or Black Panther-sponsored events, members of the Lumpen band were down in the trenches with other rank and file Panthers, taking care of daily duties required by every member of the organization. In this way, they were truly the people's band. As Lumpen member Michael Torrance pointed out: "Some folks don't read, but everyone listens to music."
Gil Scott Heron - The Revolution Will Not Be Televised
The New York City-based Last Poets are often name-checked as one of the first proto-rapping groups. It's fitting, given that their words not only encompassed revolution, sex, death, drugs and Black Power. But it's even more prescient, since their tune "When The Revolution Comes" would also later be used as a sonic template for Gil Scott-Heron's definitive recording "The Revolution Will Not Be Televised." In their rendition, the Last Poets drop the location "Lenox Avenue and 125th Street" into the verse, denoting the intersection that serves as the heart and soul of Harlem. Given that Gil Scott-Heron's debut album is entitled Small Talk at 125th and Lenox, more than a psychic connection exists between the Last Poets and Scott-Heron.
In the late 1960s, Scott-Heron was taking classes at Pennsylvania's Lincoln University (mainly because his hero, the writer Langston Hughes, had enrolled there in the 1920s). The Last Poets performed at Lincoln University in 1969, and their show made an enormous impression on him. "After the gig, [Gil] came backstage and said, 'Listen, can I start a group like you guys?'" Last Poet veteran Abiodun Oyewole told The New Yorker in 2010.
Scott-Heron had left Lincoln to focus on his writing by 1970. That same year, he published Small Talk at 125th and Lenox: A collection of Black poems by Gil Scott-Heron, and an LP bearing the same title followed shortly after. His debut was consisted mainly of spoken word raps accompanied by conga drums, and was indebted to The Last Poets' music. "I'd seen them," he told Mojo in 2003, "It was very exciting. The interplay between them and the drummers, and each other, was very theatrical."
While Scott-Heron's seminal recording "The Revolution Will Not Be Televised" would prove to be on his second album, Pieces Of A Man, an earlier version can be traced back to a composition on Small Talk. The original recording is a stark, urgent rendition that features him reciting the piece accompanied only by tribal drums. His words are given more weight in the bare-bones Small Talk original, rather than the more ubiquitous version fleshed out by an electric band a year later.
Despite the change in instrumentation, the lyrics on both Scott-Heron's 1970 and 1971 recordings remain the same and reference the contemporary political and cultural names of the day. For instance, Timothy Leary's countercultural slogan, which encouraged young people to "turn on, tune in and drop out" is brilliantly converted to "(you will not be able to) plug in, turn on and cop out." Other name-checks include President Richard Nixon and Attorney General John Mitchell, actors Natalie Wood and Steve McQueen, and television sitcoms Green Acres and The Beverly Hillbillies.
Watts Prophets – Dem Ni**ers Ain't Playing
It's a common misconception that the Watts Prophets followed in the Last Poets' footsteps, but the Watts Prophets had formed well before the Poets released their debut album. The Watts Prophets focused on reaching a multi-ethnic audience with their music, which would prove to be more universal than that of the Poets. As part of their political agenda, the Watts Prophets focused on local community needs and concerns, and their songs served as apt critical commentary of the revolution coalescing around them in Los Angeles.
Watts, a neighborhood in south Los Angeles, became infamous upon the riots of August 1965. The Watts Riots were sparked when a policeman arrested an African American man on suspicion of drunk driving (along with two family members whose only crime consisted of riding in the car) and impounded his automobile. Fueled by high unemployment, subpar local schools and inferior inner-city living conditions, a six-day rage of fighting, looting and arson that left over 30 people dead and 1,000 injured followed. With that, Watts was now assured a spot on the map of the Black Power movement.
Moved by the rioting in Watts, Frank Zappa penned the song "Trouble Every Day," which appeared on the Mothers of Invention's 1966 debut album Freak Out!. On the tune, Zappa sings: "Wednesday I watched the riot / Seen the cops out on the street / Watched 'em throwing rocks and stuff, and choking in the heat." Despite the carnage that Zappa describes, Watts wasn't hell on earth. It was instead a hotbed of creative activity, reverberating with the Pan-Afrikan People's Arkestra, founded by Horace Tapscott in 1961, and the Watts Writers Workshop, which emerged after the '65 rioting. Among the great minds that passed through the Workshop include future Miles Davis biographer Quincy Troupe and outspoken curmudgeon Stanley Crouch, both as students, as well as Across 110th Street actor Yaphet Kotto, who taught there.
The term "rap" itself can also perhaps be traced back to the Watts Prophets.
In 1967, three members of the Workshop, Amde Hamilton, Richard Dedeaux and Otis O'Solomon (then known as Otis Smith) began hanging out and singing together. They dubbed themselves the Watts Prophets. But before the Prophets would begin recording under that name, Amde appeared on the album The Black Voices: On The Street In Watts (1969) along with novelist and screenwriter Odie Hawkins (who later wrote several TV episodes of Sanford and Son), and Workshop teachers Emmery Lee, Joseph Evans and Ed Bereal. With the majority of the tracks written by Amde, Black Voices is considered part of the Watts Prophets discography, as most of the tracks, which centered on streetwise black consciousness, were written by Amde.
When the Watts Prophets released their own album Rappin' Black in a White World in 1971, the trio became a quartet with the addition of Dee Dee McNeil, a singer and pianist who'd moved to Watts from Detroit. As a prolific songwriter for Motown, her songs were recorded by The Supremes, Edwin Starr and David Ruffin. But her talents extended towards this new genre the Prophets were spearheading, too. She helped Rappin's song-poems segue-seamlessly, and added another dimension to the interplay between the Prophets' voices. McNeil's vocals imbue a degree of vulnerability and authoritativeness, and her voice sizzles as she intones lines such as: "Honey, there's a difference between a black man and a ni**er."
The term "rap" itself can also perhaps be traced back to the Watts Prophets, who not only gave the word a nod in their debut album's title, but would also often begin their performance by announcing "we're gonna rap to you." It would be many years before any popular vocalists tossed around the word "rap." Even the Last Poets didn't call what they did "rapping;" they called it poetry. And while the Poets would often be name-checked as the godfathers of rap years later, it had been Prophets who'd originally introduced the word to denote a particular poetic expression.
Bob Dylan - Ballad of a Thin Man
In his 2006 book Huey, Spirit of the Panther, David Hilliard, the Chief of Staff for the Black Panther Party, recalls that when he, Newton and others assembled the Panthers' weekly paper, they would often do so to the sound of Bob Dylan's album Highway 61 Revisited. Newton particularly liked the song "Ballad of a Thin Man," which Bobby Seale mentions in his 1970 book Seize the Time. In it, he also details Newton's interpretation of the song that also partially explains why it held a unique appeal for the Panthers.
The song's lyrics, which describe a man who enjoys watching circus geek shows, struck a chord with Newton. He saw the titular character, Mr. Jones, as an upper class white man who indulged in exploring the black ghetto on Sunday afternoons to check out the prostitutes and inhabitants of the decaying community. The fictional Mr. Jones was a voyeur of sorts, and got off on watching what Newton called a freak show.
"Huey says that whites looked at blacks as geeks, as freaks. But what is so symbolic about it is that when the revolution starts, they'll call us geeks because we eat raw meat," Seale recalls in his book. "But the geek turns around and hands Mr. Jones a naked bone and says 'How do you like being a freak?' And Mr. Jones says 'Oh my God, what the hell's goin' on?' And Bobby Dylan says, you don't know what is happening, do you Mr. Jones?'"
According to Newton, the circus freaks mentioned in the song, including the sword swallower and the one-eye midget, represent the disadvantaged ghetto residents who aren't interested in serving as entertainment for Mr. Jones. They instead demand payment for a trick or some food or drink. Otherwise, they'd like Mr. Jones to shove off and go home.
It's not just an anecdote immortalized in Seale's book. In his 2007 meta-biographical film I'm Not There, Todd Haynes nods to this "Thin Man" discourse, too. The film, which was inspired by Dylan's life and uses the narrative poetic style of his songs as a framework for the plot, features Benz Antoine portraying Bobby Seale and Craig Thomas as Huey. Both, of course, are dressed in familiar Black Panther garb.
Nina Simone - Mississippi Goddam
When Nina Simone signed to Colpix Records (owned by mega-giant corporation Columbia Pictures) in the 1950s, she demanded and received complete creative control over her work – an anomaly at the time, especially for a black female recording artist in a pre-Beatles music industry. The move was made even more extraordinary by the fact that Simone unapologetically echoed the ongoing civil rights struggle in her music. After the murder of civil rights activist Medgar Evers in Jackson, Mississippi on June 12, 1963 – a tragedy that was closely followed by the Sunday morning bombing of a Baptist Church in Birmingham, Alabama – Simone wrote what would become one of her most critical pieces of music, "Mississippi Goddam."
When she recorded the song at Carnegie Hall in 1964, Simone introduced it as "a show tune, but the show hasn't been written for it yet." The lyrics in "Mississippi Goddam" viscerally detail her disgust with the senseless murders, and she calls out the specific places where injustice has occurred: "Alabama's got me so upset / Tennessee's made me lose my rest / And everybody knows about Mississippi goddam." Later in the song, Simone rages against those who suggest the civil rights movement should slow down: "Keep on saying 'go slow' - to do things gradually would bring more tragedy / Why don't you see it? / Why don't you feel it? / I don't know / I don't know / You don't have to live next to me, just give me my equality!"
With the arrival of the Panthers, black kids realized there were black heroes who would fight and die if necessary to get what they wanted.
Simone reflected in her autobiography I Put a Spell on You that "after the murder of Medgar Evers, the Alabama bombing and 'Mississippi Goddam,' the entire direction of my life shifted, and for the next seven years I was driven by civil rights and the hope of black revolution." While she made no direct contact with Newton or Seale at the time, nor did they make any kind of public statement about Simone, she embraced the Black Panther Party's philosophy that violence may be the only way to bring about change. With "Mississippi Goddam," she was deliberately courting a reaction. This song would go on to cement her status as "the true singer of the civil rights movement," according to her close friend Stokely Carmichael, the Black Power icon.
It was also a testament to her feelings about the Black Power movement. "Black Power was a lot more than black men with guns – it was a way of returning the black man's pride," Simone aptly pointed out years later. "When you mention Black Power people automatically think of the Black Panthers, but although the Panthers evolved out of these ideas, they were only part of the overall philosophy. A good part, though, I thanked God for them, because they showed young blacks who thought the only means of protest was passive non-violence, that there was another way, that they didn't have to take all the mental and physical cruelty inflicted on them by whites. With the arrival of the Panthers, black kids realized there were black heroes who would fight and die if necessary to get what they wanted. I thought that was wonderful. They scared the hell out of white folks too, and we needed that, we needed to show that our goodwill could not be taken for granted anymore."
Amiri Baraka – Who Will Survive America?
Amiri Baraka both provoked his friends and critics from the 1950s until his death in 2014. His work as a poet, novelist, journalist, teacher and political activist (amongst other things) has made him a pivotal figure in several different eras of social, cultural and artistic movements, including the Black Arts Movement of the 1970s. Though he would later change his name to Amiri Baraka, he founded the influential Totem Press in 1958 under his birth name, LeRoi Jones. There he gave notable Beat Generation writers, including Jack Kerouac and Allen Ginsberg, some of their first mainstream exposure.
After the assassination of Malcolm X in February 1965, he distanced himself from the (mostly) white Beat Generation group of writers. Eventually he left his wife, Hettie Jones, and moved to Harlem to fully immerse himself in black culture. By that point he considered himself a black nationalist, and the name change to Imamu Amiri Baraka (meaning "spiritual leader") followed shortly after. But it's his 1972 album It's Nation Time that is one of his greatest feats, and may very well be the most strident 12" that Motown ever released. The record, which blends soulful grooves, free jazz, tribal rhythms with singing, poetry and narratives, features a warped version of The Supremes' "Come See About Me," where Baraka takes the central melody and phrase (repeated over and over) and uses it as a backing track for his own spiritual testifying.
Even among diehard Motown collectors, the label's subsidiary Black Forum imprint remains obscure. It's often overlooked in Motown biographies, and no Black Forum recordings have ever been included in any anthology of the label, either. The Motown imprint released eight albums between 1970 and 1973, including a Martin Luther King, Jr. speech denouncing the Vietnam War, a very heated address on race relations by Stokely Carmichael and interviews with black soldiers fighting in Vietnam conducted by a Time magazine correspondent. It also includes a narrative by writers Langston Hughes and Margaret Danner, an LP of poetry including Baraka, members of the Last Poets and Stanley Crouch, as well as an album featuring Baraka as a vocalist backed by free jazz musicians.
Will you survive in the heat and fire of actual change? / I doubt it.
Baraka's It's Nation Time stands the test of time. Yet its greatest triumph occurs in the middle of side two, with the track "Who Will Survive America." It begins with Amiri stating: "Who will survive America? / Few Americans, very few Negroes and no crackers at all." A pulsating bass guitar throbs under the words, which he repeats continuously. Baraka's voice then drops out. A female choir chimes in and the words become a plea, a cry for help and an unsettling mantra asking an impossible question: "Who will survive America?" The whole ensemble then kicks in, grooving and roaring like James Brown's backing band, the Famous Flames, on stage at the Apollo. Baraka dives back in, this time spitting the words like a ferocious comeback at a rap battle: "Will you survive America with your 20 cent habit? / Your fo' bag jones / Will you survive in the heat and fire of actual change? / I doubt it."
Baraka becomes progressively impassioned and begins his own gospel-style call and response, asking the question and answering it himself: "Old people? / No! / Christians? / No! / First Negroes to be invisible to the truth / 1944 / Minnesota / No! / No! / Nothing of that will be anywhere / It will be burned clean / It might sink and steam up the sea / America might." It's a remarkable performance by everyone involved, and was easily one of the most gripping performances that I uncovered throughout my research. It ranks up there with Sly Stone's "I Want to Take You Higher" for balls-to-the-wall zeal.
In the 2003 issue of the African American Review, Baraka explained to Kalamu ya Salaam that while recording Nation Time he and his band were drawing from influences both foreign and familiar. "We were obviously digging Martha and the Vandellas and digging Smokey, just like we were digging Albert Ayler, Ornette Coleman and Trane," he said. "To us it was just different voices in the same family, different voices in the same community. The screaming and hollering in James Brown and the screaming and hollering in Albert Ayler was the same scream and hollering."
Shahid Quintet – Invitation to Black Power
The Black Power Movement didn't just make waves in Oakland and New York. People responded regionally with 7-inch singles of their protest music, which cropped up on small labels in Austin, Milwaukee, Chicago and Birmingham, among others. Many of them were privately pressed and/or regionally released, and contributed a nuanced perspective to the movement.
One notable 7-inch single from that era is "Invitation to Black Power" by Shahid Quintet (of Kansas City, Missouri) released on S and M Records. Kicking off the single is a dialogue between the two composers, Richard and Earl Shabazz, over a mournful saxophone bop: "Say brother Richard / What man / Look at that black brother looking so mean / Look like he's carrying a can of gasoline / Listen brother let me pull your coat, that's no way to have a black revolt."
In addition to addressing Black Power outright and imitating a police siren, the pair nod to Martin Luther King Jr.'s untimely assassination and allude to a divine plan for black men to unite and "get some land to call our own, that we can live on, long after whitey is gone." Then the Shabazz brothers praise (non violent) Black Nationalism, via the message of Mohammed.
Although they reference the "long hot summer" of Detroit rioting during the scorching 1967, DJ Daniel Shiman, a contemporary DJ and crate digger from the Wax Poetics scene, speculates that it was probably recorded in 1968 or 1969 in Chicago. The mention of King's death certainly marks it as post-April '68. Shiman also points out that their style is "more a throwback to earlier beat-poetry with cool jazz collaborations than the screeching saxophones and intellectual aspirations of contemporaries like Archie Shepp or Amiri Baraka."