Roller-Skating in Detroit
Peter Holslin explains how the pastime is an integral part of the city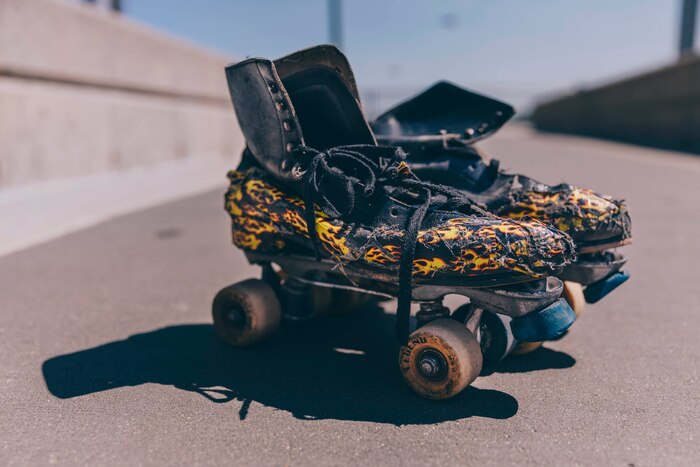 "Everyone calls me Gadget," says Demarco Bearden, one of the best roller-skaters in Detroit.
Bearden is 34 years old. He works a job doing drywall and painting houses in the metro area. But at local spots like Royal Skateland and Northland Roller Rink, he's best known as the guy with the crafty decorations all over his skates. On some nights his well-worn Riedell boots will be wrapped with red and white Christmas lights. On others his wheels will be glimmering with little pieces of aluminum foil. It's a look that gives him his nickname. And it also perfectly matches his style, as he takes off with his mesmerizing jumps, spins, ballroom dance moves and rolling hand-stands.
"When I skate I just go into a whole 'nother world," Gadget tells me. "I don't really pay attention to anybody. I just be in my own zone."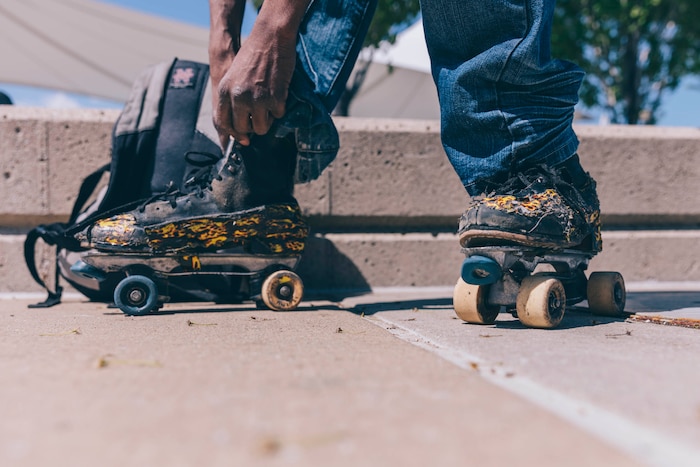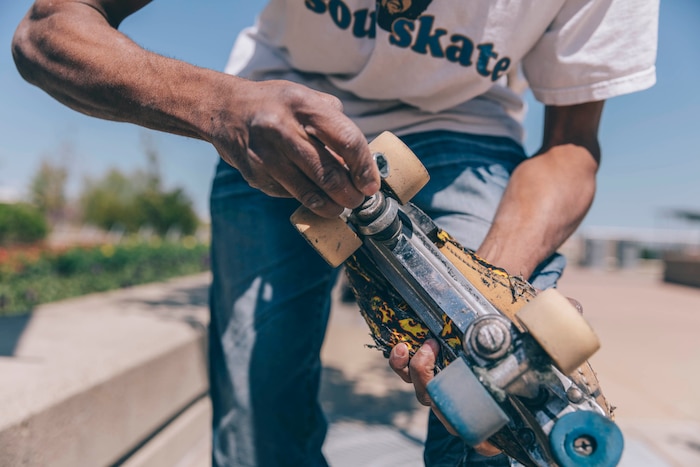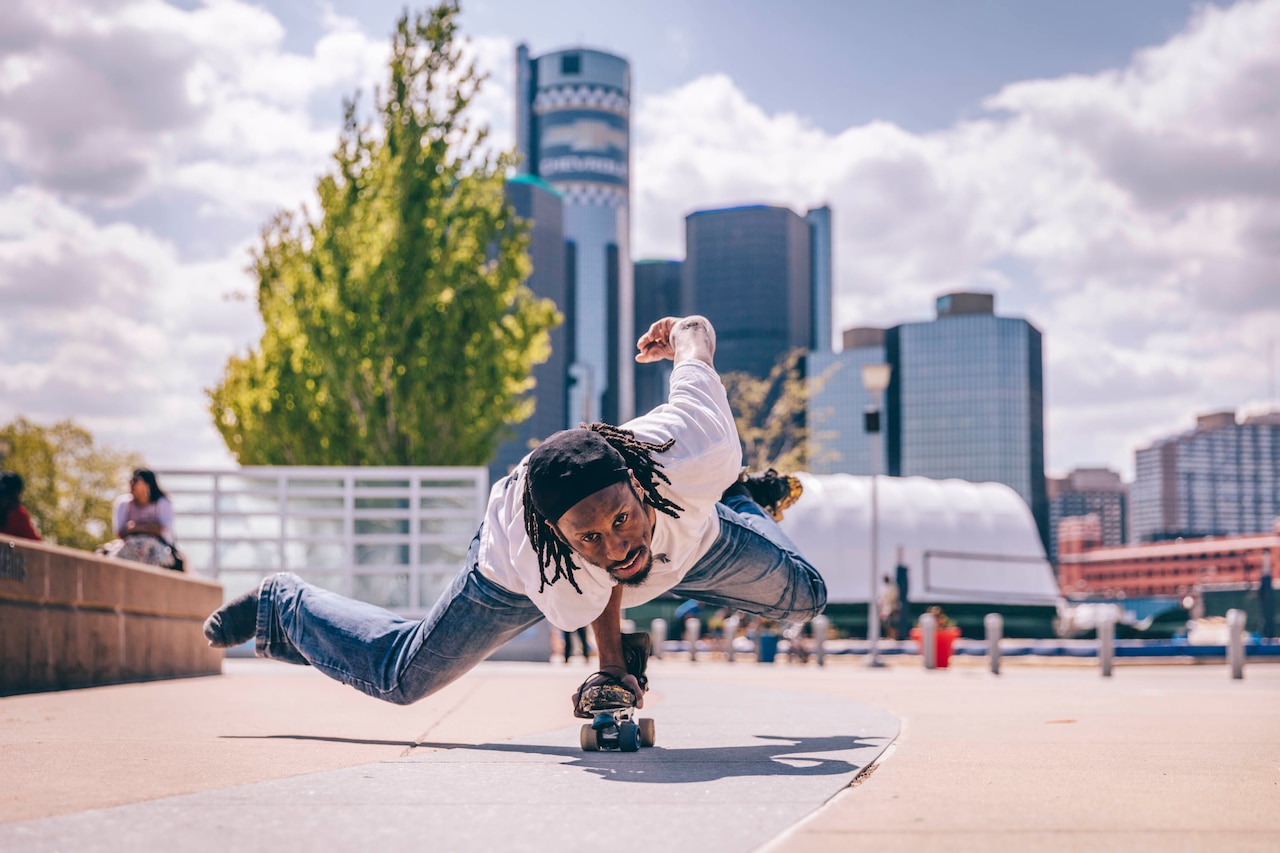 Roller-skating has long been a beloved pastime in black communities across America, and in Detroit, skaters like Gadget keep the flame alive. Though the city has become synonymous in the news with economic turmoil and industrial decay, a different story is told by the action going down on the polished wood floors of Detroit's roller-rinks. Under the dance lights with DJs spinning classic R&B and funk, a sense of community thrives as skaters hone their tricks, pass knowledge to their kids and push this tradition forward.
"In Detroit, we do three things that we must live for," says Eldon Brown, a veteran skate instructor and former roller rink manager in the city. "One is singing – our music. Two is dancing. And three is roller-skating."
Roller-skating isn't as popular in the mainstream as it used to be, and over the years many roller rinks across the country have been forced to close due to dwindling attendance. Yet cities like Chicago, Atlanta and Los Angeles are still hubs for a skating subculture that dates back decades. According to Tina Brown and Dyana Winkler – two filmmakers who are currently finishing up a documentary on the topic, called United Skates – it has its roots in the Civil Rights era of the 1950s and 60s. When institutional barriers were broken down during the early years of desegregation, roller rink owners sought to maintain racial divides by marketing euphemistic "Rhythm Nights" and "Soul Nights" to African-Americans. Black skaters were harassed and attacked if they showed up on nights they weren't welcome. But – on those other nights – they also had a venue to do things the way they wanted.
"The interesting thing is that through segregation came this beautiful culture," says Winkler, who with Brown interviewed countless skaters and historians for their documentary. "Had they been forced to integrate, they would've been forced to skate in a circle to organ music. But because they had the freedom of their own space, they could create their own music, their own skate style, their own rules."
Over the years, the roller rink has become an incubator for major musical movements, from disco to hip-hop. Meanwhile skaters have honed their own regional techniques, musical references and rituals. Over in Chicago, skaters like Batman are revered for an elegant and fluid "JB" style inspired by James Brown. In Baltimore, skate crews have grown up around quick-footed snapping techniques. As for Detroit skaters, they pride themselves on elaborate routines like the "Pepsi Cola" – in which skaters will pair up in duos or trios to groove through a series of pivots, spins and kicks. They're also famed for nightly "open house" segments where the DJ will cue up a classic record, like "Shotgun" by Junior Walker & the All Stars, and all the experienced skaters on the floor will charge towards a corner of the rink and then pivot sideways to slide for as long, or as fast, or as stylishly as they possibly can.
"We developed a style of roller-skating that came strictly from the neighborhood, the gangs, the different things that go on in any big city," says Brown, the skate instructor. He explains that many classic Detroit moves grew out of figure skating moves, but in a way that's distinct from the whiter, more affluent "artistic" skating style common in other parts of Detroit. "Even though we could watch roller-skating or skating on TV or whatever, we couldn't afford to learn from those classes," he says, "so it developed into something all of its own."
From May 26th to 29th, Detroit will play host to one of the biggest national skate events of the year – Soul Skate 2016. An epic skate party spearheaded by Detroit house/techno legend Moodymann, it's expected to bring out as many as 3,000 skaters from across the country and overseas. The event coincides with the Movement music fest happening downtown, and in keeping with the after-hours scheduling of many "adult" skate sessions, the main event on Saturday will begin at 11 PM and won't end until the crack of dawn.
In his 2010 lecture for Red Bull Music Academy, Moodymann, AKA Kenny Dixon, Jr., said he first started skating as a kid, and made his return to the roller rink when he was an adult for a simple reason. "The skatin' enthused me," he said, "but the women in there was incredible."
Die-hard skaters are drawn to the eight wheels for deeper reasons. Trenaye Neequaye, a 36-year-old mother who lives in the suburb of Southville, has been skating for as long as she can remember. Her mom was a skater, and Neequaye first stepped into a pair of skate boots when she was two years old. Later as a kid, Neequaye would skate in the local Thanksgiving and Memorial Day parades. She also appeared on a local TV show called Soul on Wheels, doing routines with other kids that were choreographed by famed Detroit skater "Rockin" Richard Houston.
Now Neequaye has a daughter of her own. Neequaye introduced her to the sport when she was a tender 11 months old.
"For me, skating has always been my peace," Neequaye says. "When I'm having a bad day or I just need to clear my head, there is nothing for me like the sound of my wheels on the floor. It is probably the first thing outside of family that I ever remember truly loving, more than anything else."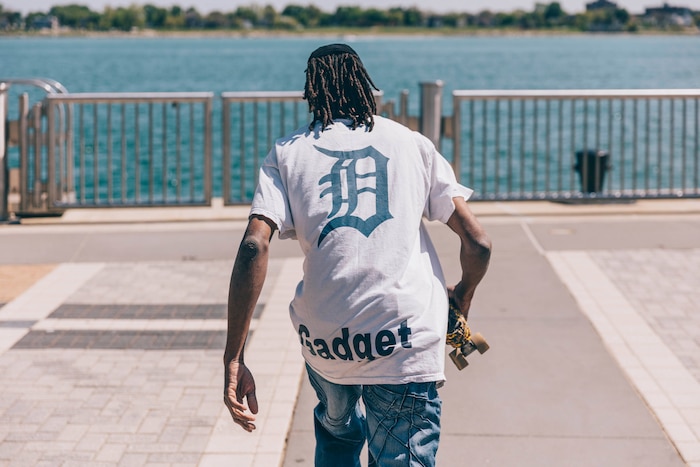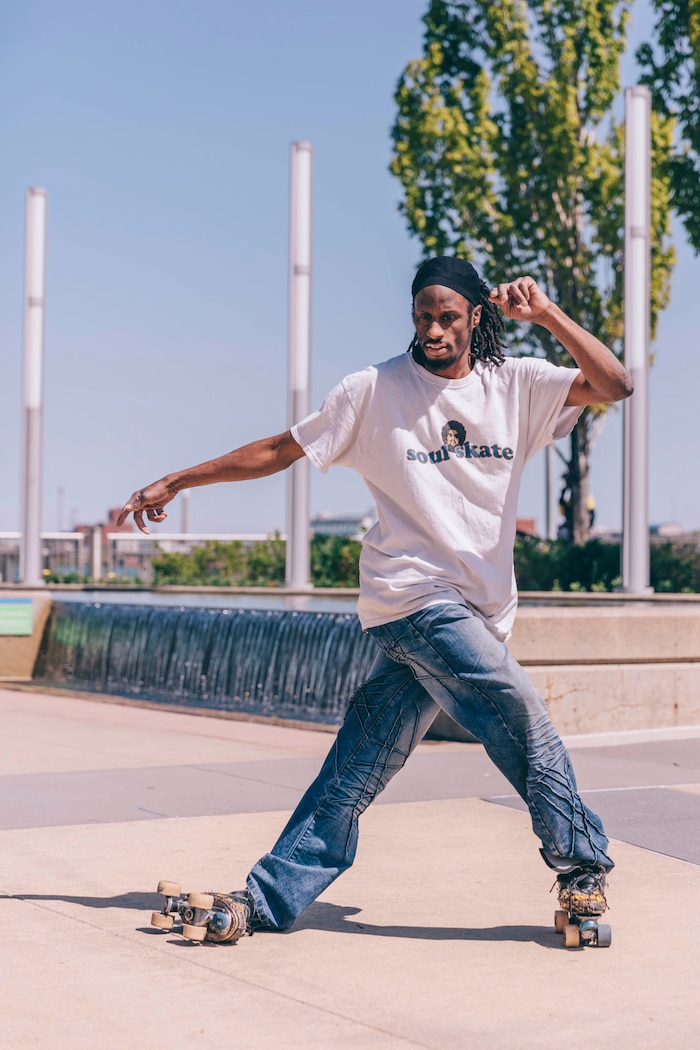 Like Neequaye, Bearden also comes from a family of skaters. When his mom was pregnant with him, she'd cruise around at the Northland Roller Rink. Later Bearden moved with his family across town to a neighborhood on the west side, closer to the rink. That's when he began to transform into Gadget.
Every day, he would go out skating at the rink with his friends. He started picking up tricks, and then he would come up with new ones. As the years went on, he continued to expand his repertoire, learning different styles at traveling to skate parties across the country and incorporating techniques from Detroit ballroom dancing. He's traveled as far as London to roller-skate.
"It really hits me when I get bored," Gadget says. "When I'm bored, I end up trying anything."
When Gadget really hits his groove, it can be hypnotic. He whirls and twirls like a dancer. He tumbles and turns like Charlie Chaplin. He'll take off his skates, stack them on top of each other, bend over and put his hands in, and hoist up his 130-pound frame and extend his legs out in a halfway hand-stand. He and his partner, Marcus "Fresh" Gavin, will also come together to form a "human skateboard," with Gadget literally riding on Fresh as his partner lies down on a skate and glides along the floor.
He's yet to turn this into a full-time thing, but to boost his visibility he likes to skate outdoors during the summertime. He's hoping that more opportunities will come his way – maybe for movies or commercials – as more people get to know the name Gadget.
"I go skating around downtown. I skate around everywhere. I try to skate as much as possible," Gadget says. "You never know who watches."