Score5ive's Grime Essentials
The skilled DJ talks us through some of his favourite records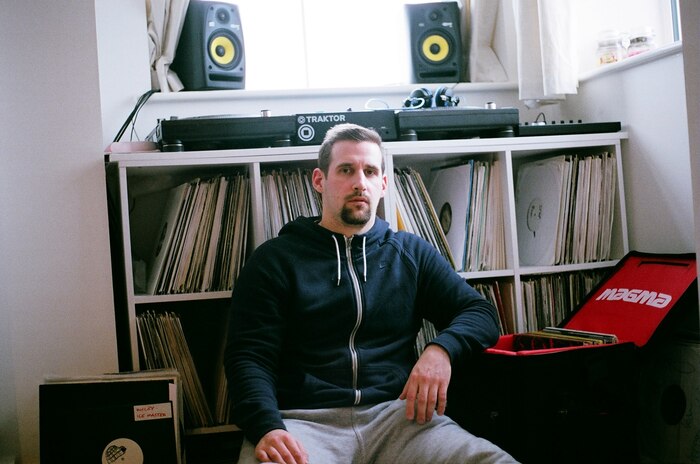 Less than an hour from London's Gatwick airport lies Hatton Cross, a small, bustling town where grime DJ Score5ive lives, and where we spent the afternoon parsing through his record collection. Rumor has it, his collection of dubs, rare pressings and other one-offs can only be matched by scene authorities like Slimzee, Sir Spyro and DJ Mak 10.
Score5ive, who now runs his own imprint Reloadz, spent the better part of the early '00s establishing himself as one of the preeminent but often overlooked godfathers of grime. He lives near a maze of roundabouts and a series of aircraft relics: near the same area that he grew up in, but a considerable distance from East London; the hub for early grime pirate radio stations. If anything, it was being so far away from much of the action that gave him the drive to get closer to it. "I'd bunk off school a lot to buy records," he later says, over cups of tea in his living room. Digging in these shops helped him discover records like DJ Zinc's "138 Trek" and Live Wire's "Devastate": records on the cusp of something more sinister than the garage of the time, and that helped to form grime as a genre in its own right.
To expand his reach he turned to MSN Messenger, then a de facto hub for trading dubs. "I found myself thinking, 'Where was my grime fix going to come from now?'" He connected with DJ Sketch'E, who had a show on Manic FM and allowed Score5ive to play his first records on air in 2006. Their momentum on the station led to a new show at Pyro Radio the following year, and later to the highly influential Rinse FM — laying important foundations for grime, and for London's various musical subcultures to grow, with each transition.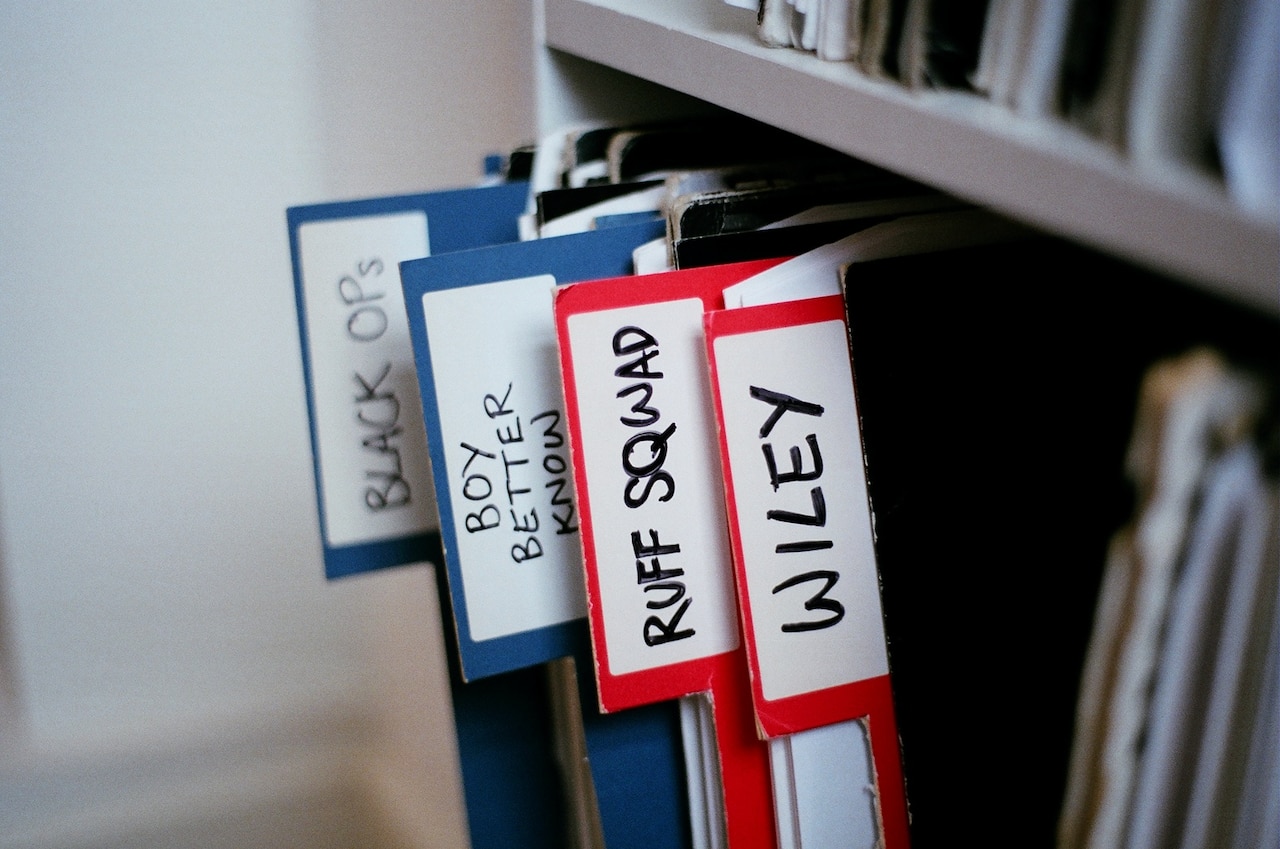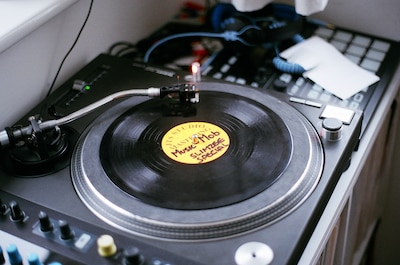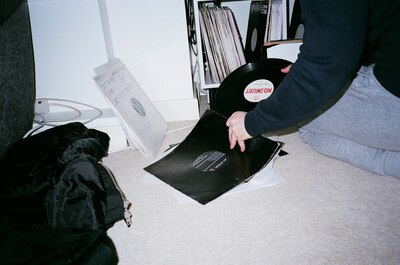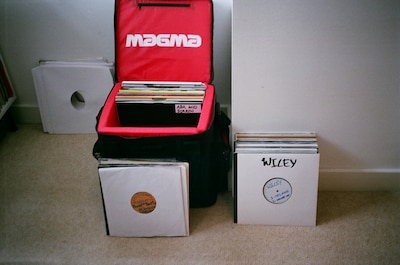 After six years with Rinse, he became disillusioned with how the scene was developing and decided to take some time out from radio, spending roughly 18 months practicing beat-juggling and mixing at home. However, buoyed by a new generation of producers and a booming vinyl market, he's recently found his way back onto the radio. He joined blossoming online station Radar Radio last year, for a monthly show, and hasn't looked back since.
The dubs have helped narrow his renewed focus, too. At Rinse, he found music becoming old and stale within a matter of weeks — a cycle that he feels cutting music to wax not only prevents, but challenges. "Now that I'm cutting again, everything needs to be worthy of being in my bag," he explains. "Music's lost that longevity now. Before, I'd buy a record and it'd be in my bag for about a year, because your selection would always be quite limited by comparison. Nowadays, people play a tune on the radio and it gets instantly ripped, uploaded to YouTube and Soundcloud and after a couple of weeks, that's it — the tune is old. That whole concept has made me be extra conscious of what I'm playing. If I'm cutting something to dub, I want to be able to play it and play it and play it, without getting bored."
Today, he's focusing his energies into Reloadz, a physical-only outlet that sells vinyl from names including Wiley, Spooky and latest recruits Asa & Sorrow, which launched with a 10-inch pressing of Wiley's "Ice Master" in December 2015. "To be honest, if I want it, then I'm pretty sure other people are going to want it," he says. "That's basically the premise of how I pick the records. I want to give back to the vinyl culture that's given me so much enjoyment over the years. I think that's important."
It's clear that his heart is still in the music. He often drifts off into various tangents, reeling off information and stories with encyclopaedic precision. He keeps pulling out records, each with their own backstory, at regular intervals. "You know this one, don't ya?" he'd ask, quickly cutting into another track.
"Vinyl has a soul, an essence — you can hold it in your hands," he says. "If you think about it, digital files don't even exist. They're just data files sat on a computer." Does he think that records on vinyl have more substance? "Yeah," he responds, "because you're committing a record to the process and you find yourself scrutinizing over tracks a lot more, which in turn adds to the quality control. It gives records worth."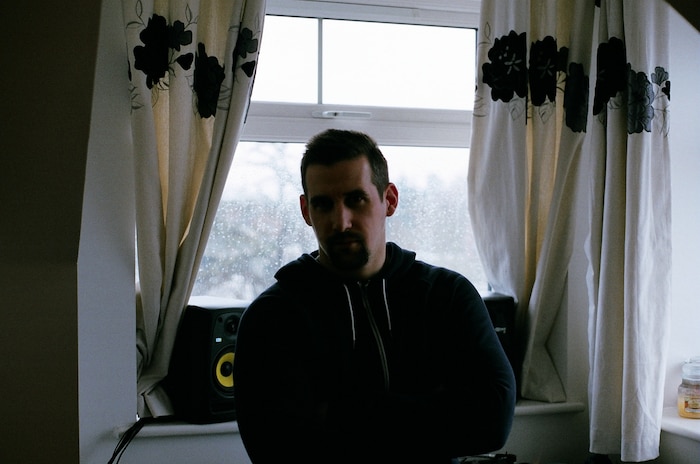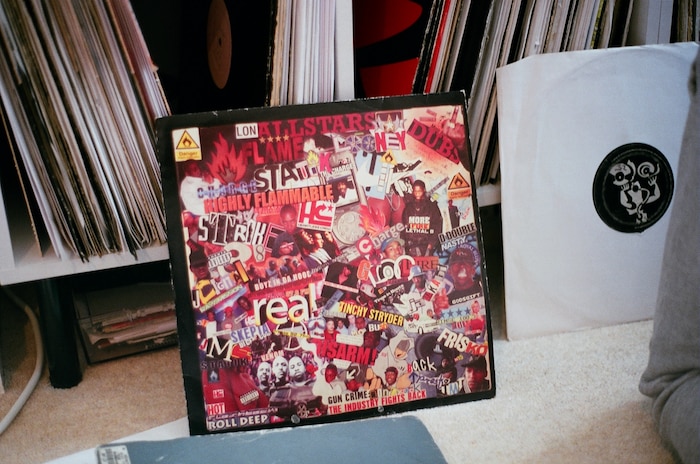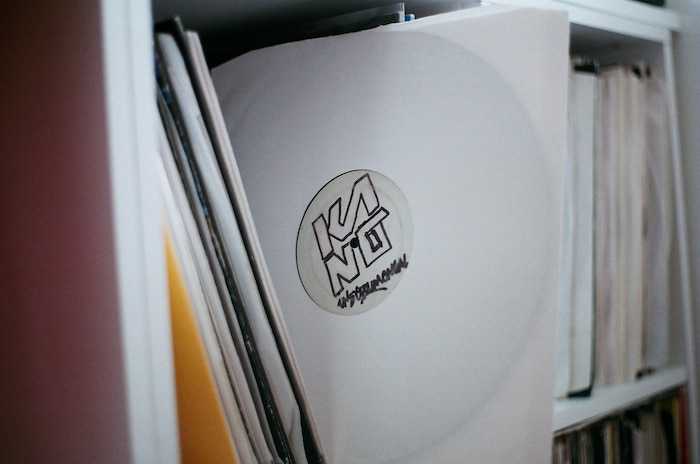 Score5ive is clearly proud of his collection, neatly arranged underneath his turntables. Although the majority of it is currently stored at his parents home, he keeps most of his grime records within easy reach, organized in a system that only he knows how to navigate. After digging through the stacks, Score5ive settles on a handful of records that he considers essential to his library.
DJ Zinc - "138 Trek" / "Kinda Funky" (2000)
The stuff Zinc was making back then was really blurring the lines [of genres]. The energy that his early tunes brought laid the foundations for what would become grime sets. The drop, the way MCs would spray a lyric over the top – that whole format is still relevant today. You still hear it everywhere.
I probably first heard "138 Trek" and "Kinda Funky," which are still two of my favorite records, through listening to tape packs. I didn't have access to the radio stations, which made it difficult, but I could still pick up Flex and Delight, which were both broadcasting out of south London. I couldn't lock into the east London stations, though — you'd have to stand with the aerial in your hand and not move to even stand a chance.
Someone at school had a Heartless Crew or DJ EZ tape, something like that. My mate got a pair of decks at the time and was always clanging the whole place up — we didn't know what we were doing. They were unbranded, and had just plain awful belt drives. His cousin came round one day and knew how to beat match, though, and it blew us all away. I was only 13- or 14-years old, so it was the first time I'd seen someone physically beat match two records. I got a pair of Numark decks after that — horrible silver things, but they had to be budget because I was young.
I didn't have much bar my paper round money at the time, so the first record I bought was Anthill Mob's "Burning," and it wasn't long before "138 Trek" and "Kinda Funky" emerged. I only had 20-30 records, so I practiced mixing the same set of records over and over. I actually remember buying this new crossfader. I was really excited, but it was so shit because it'd bleed after a day or two. I spent a lot of time listening to and studying DJ EZ back then — how he'd cut the hi-hats, how he'd chop out every 1/4 note. That was my DJ education. He was my teacher.
Live Wire - "Devastate" (2000)
This is the sort of stuff that I really started to enjoy playing with my mates. I first heard it in a record shop. You'd end up vocalizing or humming beats to people in record shops and asking what the tune was, which I definitely remember doing with "Devastate."
Hackney Soldiers - "Da String Tune" (2001)
I used to hear this through DJ Clueless on Flex FM with MC Hyperactive. I was playing at an under-18 rave one night and I swapped Future Underground Way's "It's The Way" for "Da String Tune." If you missed it at the time, that was it. My collection started to expand with the darker stuff after that — into DJ Narrows' stuff, especially.
Pay As U Go Cartel - "Can't Bus Mic" (2002)
"Can't Bus Mic" was the transition from garage to grime in a single tune. It's got that WizZbit bass, it's got all the Pay As U Go guys on it and I love Pay As U Go. I was a big Heartless Crew fan but when it came to them warring, I had to side with Pay As U Go. Their sets were always full of the bassline heavy stuff — the "138 Trek" kind of beats. They'd always go in hard on the darker garage stuff from the start.
Wiley - "Sending For Heartless (Slimzee Dub)" (2002)
One of the historic grime clashes, Wiley's "Sending For Heartless" dub was a reaction to the power struggle that influential crews Heartless Crew and Pay As U Go shared during the early '00s — the latter of whom would later go on to form legendary grime crew, Roll Deep. I got the dubplate itself from Slimzee, but I remember first hearing it on a tape pack. I was obviously a big fan of Heartless Crew but that clash made me want to pick sides. People always factored in So Solid Crew but because the two had that confrontation, people focused more on Pay As U Go versus Heartless Crew.
Pay As U Go had Wiley, Maxwell D, Plague — I just loved the energy — whereas Heartless Crew mixed it up a bit more. The way they rode the mic set the foundations for a lot of the garage and grime sets at the time. Pay As U Go really drove that energy, which kind of forced the transition [between garage and grime]. The rowdiness of their approach and the energy that they created actually stopped them getting booked for garage raves, I think.
The garage heads would look down on them like, "Stop ruining our scene with this rowdy music," and that drove them away from it. People were even saying that it wasn't garage, because garage was all about "love and vibes," but to be there and listen while it was all happening was wicked. I was still under-18 at the time, so catching these sets was difficult, but I still made sure I got to a few under-18 raves when I could.
Skepta - "Meridian Walk (JME Remix)" (2004)
I don't want to reference all the obvious tracks too much — [Youngstar's] "Pulse X," [Danny Weed's] "Creeper," [Wiley's] "Eskimo" — but so many people suddenly started making this stuff out of nowhere. Aftershock, Terrorhythm, even the early dubstep stuff — everything was kicking off, there were no borders. No one knew what it was for about three years and then, slowly, people started to make clearer distinctions between grime and dubstep.
I remember thinking that I hadn't heard anything like it before. It was different to everything else. Grime was so fresh, but you still had all these different sounds bubbling up. No one was being influenced by anything else. Wiley had his Eski sound, Jon E Cash was making his sublow grime, Terror Danjah had his haunted house stuff — everyone had their sound, including Skepta and JME. This JME Remix of "Meridian Walk" doesn't sound anything like what you'd consider a typical JME tune to sound like. That's how crazy it all was back then. I think it's one of the only Skepta and JME tunes that sounds like a fusion of their individual sounds — they usually have such distinct styles.