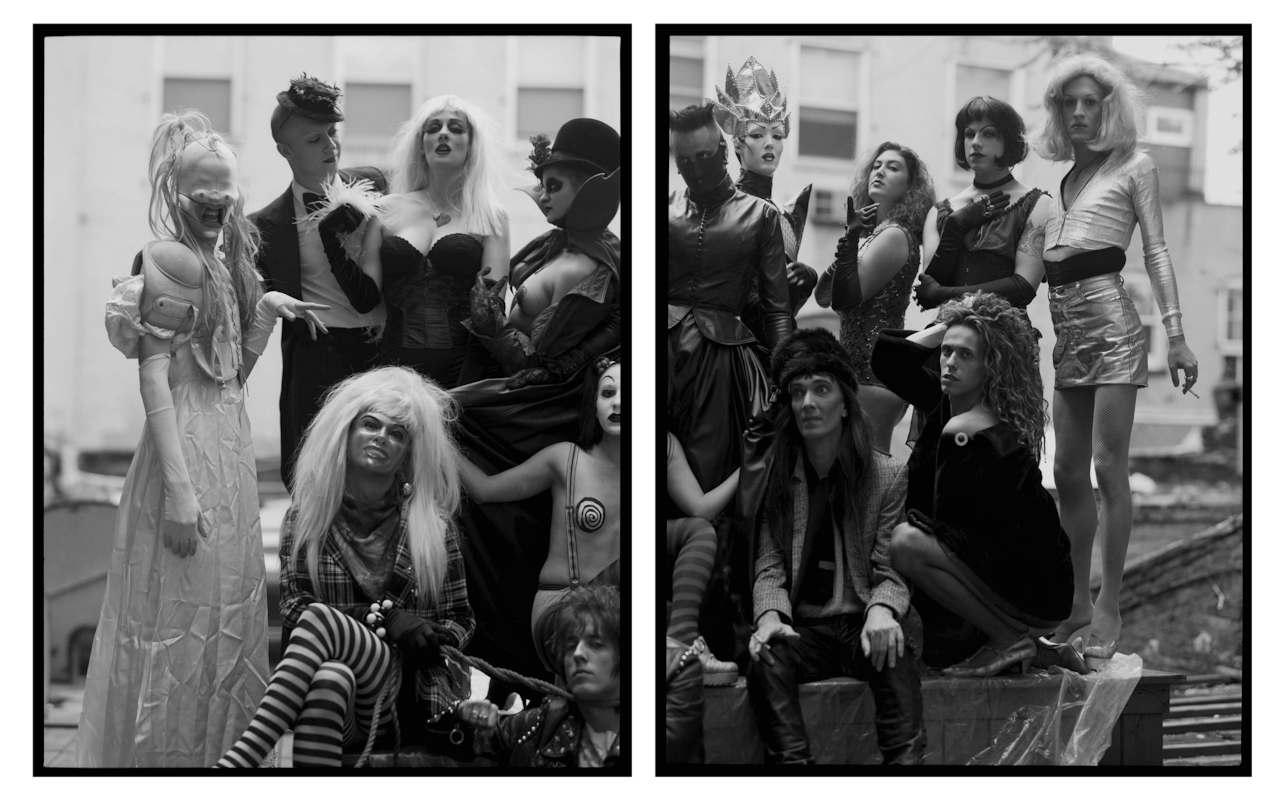 Blacklips Performance Cult: The Gothic Drag Theater Troupe Where Anohni Got Her Start
Every Monday night a coterie of performers would descend on the tiny stage of the Pyramid Club in the East Village and transform it into a space where anything could happen. There were gory retellings of Jack the Ripper, audience members covered with blood and entrails, Tiki torches threatening to send the place up in flames, gender-bending prostitutes having pantomime sex, elaborately staged deaths, and the birth of Anne Frank reimagined as a twisted retelling of the Virgin Mary.
The night was called the Blacklips Performance Cult, the brainchild of singer and artist Anohni, and for three years it allowed her and her bohemian friends to concoct the most haunting, hilarious, melodramatic and beautiful performances on a weekly basis. It also allowed Anohni to begin exploring her singular voice and musical vision for which she would soon become famous.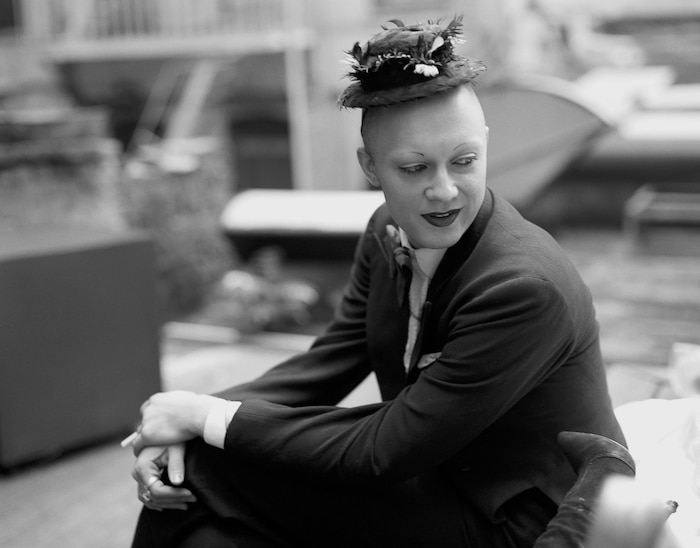 When Anohni arrived in New York in 1990 to attend New York University, the East Village had long been a hotbed of drag performance and experimental theater. The Pyramid nightclub, a dive bar on Avenue A, had been a home to a new generation of drag artists including Lady Bunny, RuPaul, Ethyl Eichelberger, Hapi Phace, Sister Dimension, Dean Johnson and performance artist and actor John Kelly.
Anohni (formerly known as Antony Hegarty) was a burgeoning experimental theatrical performer. She didn't know it yet, but she would soon be part of the club's pantheon. Along with Johanna Constantine, Michael Cavadias and Scott Jackson, they would end up at the Pyramid every Monday, from 1992 to 1995, as the Blacklips Performance Cult.
The first iteration of Blacklips emerged during the summer of 1992 at Crow Bar, a tiny haunt on 10th Street near Avenue A. Anohni and Constantine were living in a small apartment above the club and named it the "Black Lips Bar" in reference to a scene from one of Anohni's early plays.
It was beauty amongst the destruction of our civilization.
Anohni organized the cabarets and promotion, Constantine DJ'ed, and Jackson provided the always campy and cryptic club decor. For an ad-hoc performance art troupe, it worked fine, but there were limitations to the space. Brian Butterick, who was managing the Pyramid at the time, ran into Constantine and Anohni on the street. "They described to me what they were doing, which was theatrical and gothic" says Butterick. "I knew the caliber of their performances, so I was like, 'Come and do us a few.'"
Constantine and Anohni were deliriously happy, and while they found a footing in their new space, the artistic process of Blacklips continued its laissez-faire process. "You give everyone the script the week before," Cavadias says, "and then that Monday you'd have a read-through and a rehearsal in the afternoon and then everyone would go home get their costumes together. A few people would make the set, and then everyone would perform at midnight. It would go till at least 2 a.m."
This new incarnation of Blacklips quickly grew to a collective of 13 core members, including Kabuki Starshine, a drag performer whose makeup Cavadias described as "the most amazing and beautiful thing in the whole world"; and Howie Pyro, an East Village Punk veteran and D Generation bassist who screened "Maggoty Movies" at the bar each week.
Anohni had written many of the group's earlier plays, but within a few months, more members of the cult began to write their own. It quickly became an anarchic creative free-for-all.
The whole Pyramid was filled with dead Christmas trees. It was incredibly flammable.
"There was one play that Anohni did called The Birth of Anne Frank that was one of the most brilliant things I've ever seen," remembers Cavadias.
In it, Jackson (who performed as Psychotic Eve) has eight minutes of simulated sex with Constantine, who was dressed as a bored prostitute. "It goes on and on and it looks like they are just fucking forever in all these really insane positions. It's very comical," says Cavadias. At the end, Constantine delivered the punchline: "That will be 25 cents!"
The climax, as it were, of The Birth Of Anne Frank, came when Anne Frank, played by Mercedes Bahleda (AKA Mouse), was born as a baby through Eve's head.
"Then all of a sudden, Nina Simone's version of George Harrison's 'Isn't It A Pity' comes on and Kabuki Starshine lip-syncs it. It was so beautiful," Cavadias recalls. "That was one of those moments that was really transcendent because it was so absurd and silly, but also dark and weird, and then all of a sudden it turned into this really beautiful thing."
This whole wall of trash collapsed on to me. It was like deer being hit by a car and I was lying under it, dead.
As Blacklips continued, the artistic vision of every member developed their own distinct flavor.
"Anohni's plays were so surreal and non-linear. Mine were more linear with heavy-handed feminism," Constantine said. "There were sci-fi epics, and bizarre action adventure plays. Some people wrote high-camp dramadies, others wrote some scripts that were really serious. We had a serious biopic of Nina Simone, and then there were retellings of Frankenstein, and Jack the Ripper."
The plays grew more bold and ambitious, and the sets and props became more intricuit, and sometimes bloodier.
"We'd make the sets out of stuff we dragged in out of the streets," recalls Butterick. "All kinds of garbage: furniture, industrial garbage. It was beauty amongst the destruction of our civilization."
Literal blood and entrails became props. "So when there was a disemboweling, it was a cow's intestines that got flung out," says Butterick. "I wouldn't do it now. It's questionable. But then we weren't thinking about PETA, and cruelty, and veganism. We did it for the effect. It comes in this thing and then you rehydrate it with water and it looks real. It could very well be a human intestine."
Jackson laughs now at their follies. "Hattie would let us do anything," he remembers. "One show we had torches made out of plywood and alcohol-soaked rags. For the Swiss Family Donner Party, we made a set out of discarded Christmas trees that were out on the streets, so the whole Pyramid was filled with dead Christmas trees. It was incredibly flammable."
Though, it might have seen wild and unhinged to onlookers, Constantine insisted they took it all very seriously.
"It wasn't haphazard. We really tried to conceptualize everything to the best of our 20-year-old abilities." Said Constantine: "It wasn't even about entertaining some of the time. A lot of it was brutal. It was a laboratory."
Blacklips was the ultimate outsider art in a town full of outsider artists. Constantine remembers trying to give a goth-looking couple their witchy flyer. They took one look at it and said, 'I don't know what you are into but we're not into it and threw it on the ground,'" she laughed.
You'd end the beautiful chaos with Anohni doing a song.
"In a sense we were also making fun of old school acting, which is probably why a lot of real theater people didn't like us," says Butterick.
And in the wake of the AIDS crisis of the '80s, some of the elders of the performance scene appreciated Blacklips. "At that point in the alternative theater and art scene, so many people had died in the AIDS apocalypse," says Constantine. "There was lots of sadness and anger, and they'd see something like us — people really responded well. They gave us support."
It also became a showcase for Anohni's singular singing voice. "She was already writing a lot of these songs," said Cavadias. "A lot of songs that were on the first Antony and the Johnsons album were being sung back then on little recordings, like 'Casio Recordings.' People were freaking out. Nobody knew. People were like, 'Who is this person?"
"'The Rapture,' 'River of Sorrow,' 'Cripple, and the Starfish' — pretty much all of them were performed at Blacklips," Constantine said. No matter how grotesque, how twisted or how bad a play was, Constantine says, "You'd end the beautiful chaos with Anohni doing a song at the end."
This being New York, Blacklips became a magnet for celebrities and the high-toned worlds of art and fashion. Village Voice nightlife columnist Michael Musto chronicled it early on, describing one performance as "a demented riff on The Hunchback Of Notre Dame brimming with romance, drag, lip-synch, interpretive dances about injustice, and even some real pathos."
Bjork showed up one night; RuPaul performed out of drag; Leigh Bowery came the night Constantine did a "sperm dance" during one of their Christmas plays. "I was the Holy Ghost and impregnated Hattie as the Virgin Mary," she said.
At one point, the motley crew was asked to perform at art galleries and, most absurdly, to open the high-end department store, Barneys New York in September of 1992.
Constantine remembers that they arrived up in white stretch limousines in all their post-goth, apocalyptic glory to the Madison Avenue store. A representative of the store was mortified: "He said, 'We'll pay you, you'll take the limo home, we don't want you do to the show.'"
But Constantine wouldn't budge. "We here to do the show and we're doing the fucking show."
Barney's carefully chose to have the troupe do an interpretative reading of a poem written by the marketing department, which featured the phrase, "toast of the town." So Constantine sewed a ball gown made out of burnt toast featuring a thousands of pieces of bread.
The dress was later purchased by Camel cigarettes for $600 and used in a dual advertising campaign for Lee jeans. A flyer was printed with her in a latex mini skirt next to the dress and inserted in jeans sold around the country.
After a few more years of weekly performances, people started getting pulled into different directions or pursuing other projects. Anohni formed a new performance group called The Johnsons with Constantine and Julia Yasuda, and eventually began exploring her music more intensely. Cavadias, was performing and DJing as Lily of the Valley at the rock & roll drag night, Squeezebox, and his acting career began picking up — he later nabbed a part in the Wonder Boys. Jackson performed with the Edwardian punk rock combo Stiff, Inc., and went on to perform at another infamous New York party, Jackie 60. And Constantine continued performing as a solo artist and with Anohni.
Fittingly, for a finale, they decided to stage their own deaths. The final performance of Blacklips on March 13, 1995, was 13 Ways to Die. Constantine built a wall of garbage and swung a giant weapon around as "the Deer Monster" while she danced to Leigh Bowery's "Useless Man."
"This whole wall of trash collapsed on to me. It was like deer being hit by a car and I was lying under it, dead," she said.
Psychotic Eve died after giving herself a fake blood enema.
"Sometimes, it wasn't even about entertaining," said Constantine. "A lot of it was brutal. It was a laboratory."
But she said, "No matter how grotesque, how twisted or how bad a play was, Constantine says, "You'd end the beautiful chaos with Anohni doing a song."
And at the end, Anohni sang the Blacklips song:


"Blacklips, made to pucker
Blacklips to wrap around a sucker
Ooh, Blacklips
And to the funeral I did wear black lips to signify despair."
Header image © Michael James O'Brien / thelicensingproject.com