Che Pope: The Story So Far
The Lauryn Hill and Kanye West collaborator discusses tracks from across his diverse career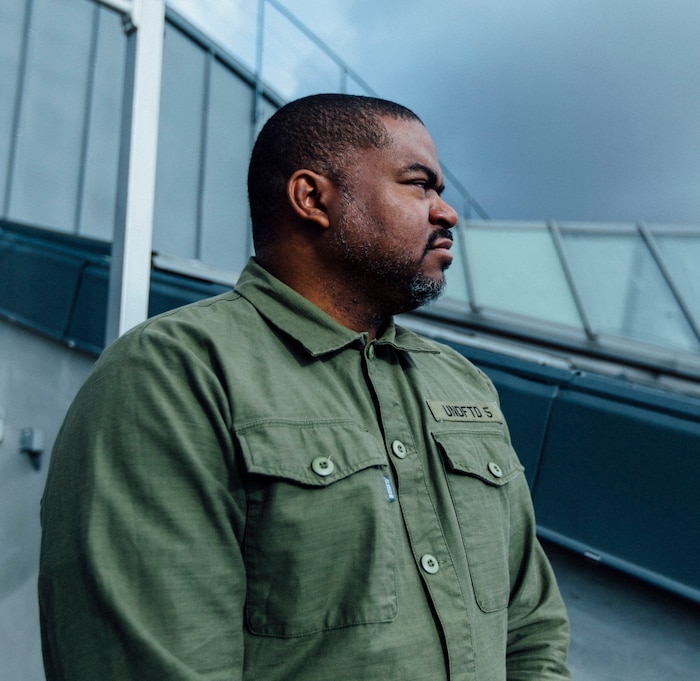 Originally from Boston, producer and songwriter Che Pope got his start in the music industry back in 1994, working with veteran producer Teddy Riley. While living in New York, he was tapped to produce for Wyclef Jean and the Fugees, and eventually linked with Lauryn Hill, playing an instrumental role in the creation of her celebrated 1998 album, The Miseducation of Lauryn Hill.
In the years that followed, Pope worked in A&R at Warner Bros., composed television and film scores while serving as a staff producer for Hans Zimmer and became a core member of the team at Dr. Dre's Aftermath label, contributing to albums from Eminem, 50 Cent, The Game, Busta Rhymes and others. After lending a hand to Jay Z's 2006 Kingdom Come LP, Pope was eventually recruited to join Kanye West's G.O.O.D. Music in 2012 as a partner and the head of A&R. He now serves as COO, and has played a major role in recent albums from West while also working with artists like Big Sean, A$AP Rocky, Pusha T and The Weeknd. In this excerpt from an RBMA Radio interview with Julian Brimmers, Pope runs down some key tracks from throughout his diverse career.
Lauryn Hill, "To Zion" (The Miseducation of Lauryn Hill, 1998)
"To Zion" is a track that I made in me and my wife's brownstone we had in Brooklyn, which was really hers and I basically stayed in it. This is before we got married. I was there all the time. I had a little studio set up in the top floor of this place and I made the track there. I played it for Lauryn; she started crying. She had a song idea in her head – she was still pregnant at the time with her first son – and she had a song idea in her head, but she didn't know how she wanted the music to sound. She really had no vision of what the song needed to be, but she just had an idea I need to do this song. Because you're coming off this success of the Fugees and you're a big star at the time, everyone's like, "You don't need to have a baby." [There] was a lot of that going on. She used to talk about it in the studio a lot. Then I played the song, this track that I've done, and she started crying. I'll never forget that.
Then the record became more special, because we were able to get Santana to play on it and that had led to us doing something on his record, but meeting Santana... He's just such an amazing soul, just to have met him. We went to his home in Berkeley, California and hung out with him. The song became more and more special. Then, the day we get married... I'm not a big wedding-type person, it's pretty low-key, pretty chill. James [Poyser] is one of the few friends that I wanted to have on the wedding. He plays for us and he played "To Zion." That was a song. No one told him to do that, he just played that. Unless you told him to do it.
It was just full circle. It was amazing, because with all the business aside of it and all the negativity, literally, the moment before she won Grammy for the Album of the Year, she played "Zion." It's still full circle. The business didn't take the creative from me, if that makes sense. It was a great experience with that record.
G.O.O.D. Music, "Mercy" (Cruel Summer, 2012)
That was the first record Kanye [West] and I worked on together. I met this producer in Arizona named Lifted, young guy. At that point, I don't think that he even had any credits under his belt, just local production, various things, he was also in a band. I met him, I saw some potential in him and we stayed in touch. Then after a while, maybe six months of knowing him, he played me this one track and it really just resonated with me, so I said, "I don't know what I want to do with it, I don't have any ideas, just let me hold on to it and keep it with me."
When me and Kanye started working together, he had this concept of an album, which was Cruel Summer, which took on many evolutions. At one point it was almost going to be just an instrumental album. It was going to be the score to this film idea that he had. Then it took on one shape to another shape and this and that. I said, "Hey, I've got this one track and I have an idea for it that we could do something with."
He liked it, but he didn't like it necessarily for himself, he liked it is as the Cruel record and so on and so forth. I think the record got so hot that it came out so good, then he was like, "Okay, I need to get on this record." It was really necessary for him to be a part of it for it to be what it became. That was the first record we got. That's a perfect segue into how we work as a team in collaboration, because there was a number of elements that came to it. It was the Lifted track that started with it, but it was Twilite Tone who put the reggae sample in it. It was all these elements that came together.
G.O.O.D. Music, "Clique" (Cruel Summer, 2012)
"Clique" is a tricky one. We originally recorded the hook in the Lanesborough Hotel in London. What happened was, it was a track that Hit-Boy did originally and he sold that track. It almost got left on the cutting room floor, but I was a real advocate for the hook of that chorus, because I really felt like it spoke to the concept of what we were working on. Myself and Noah Goldstein, Kanye's head engineer, we really just kept grinding away the song. We had Hit-Boy did a couple of different versions, we had other people do versions of it.
Finally, Hit-Boy had come across a piece of it that Kanye liked. Since he did the original beat we just thought it made sense for him to redo it. Kanye wasn't really liking any of the beat he was coming with. We found some drums that Kanye liked. So we just took everything off of it, formed the drums and then we built the track from there.
There's a couple of amazing opera singers that came in singing on there. There were a number of different rappers on it and this and that. Then I was trying to get Jay Z on the album, so I had to go meet with Jay and I played him the songs and it came down to two songs and then the line up for the album is basically what Jay wanted the line up of the album to be of the song. Then that became "Clique."
Shout out to the other rappers who rapped on that song for me. They actually came with some really amazing verses that I think we're going to do some sort of mysterious leak at some point. I want to leak some of those verses.
Pusha T, "Numbers on the Board" (My Name Is My Name, 2013)
That was literally towards the end of the album that we heard this track that Don Cannon sent in. In my career and in my life there's been several of those moments where, whether it's something I brought to table or someone else brought to table or some new artist we've never heard of or some famous artist, whoever, you get those moments where it's like, "wow." That was one of those moments. I was in the studio in Paris when I first heard [it], the track came through and there was no raps or anything on it. We just heard the beat for the first time. We must have played it ten times in a row. Just top the volume all the way up. Then once you put the rap on it, it was just... That was everything.
The Weeknd, "Tell Your Friends" (Beauty Behind the Madness, 2015)
I love the journey what Abel [Tesfaye] has taken as an artist, meaning he came out off the scene, underground, first not really showing his face, he was kind of mysterious. Is it a solo artist? Is it a band? What is it? I love the mixtapes. That was great. Then he made Kiss Land, which wasn't my favorite of what Abel had been doing. I was such a big fan of what he was doing. Kiss Land just didn't hit me like that. When he was making this album, it's that journey as an artist and I think he got more into making where before it was more of a vibe in his texture, he started to get into songs. As he started really get into the songs and songwriting, that's when you start seeing the top 40 records, the top ten records, the No. 1 records and things of that nature.
I think it all started from the song that was on the soundtrack, ["Earned It (50 Shades of Grey)"]. When we got involved with ["Tell Your Friends"]... That record was originally a record for Kanye. Abel wrote this part for it, so it was great. We had that record but we were making the album and Weeknd's album was finishing up. He said, "Hey, I'd love to have that for my album." I was a big champion of it, because I knew what it was and I just felt like he needed another texture. I'm glad that worked out. He's already called me for the next album for stuff.