Dark Entries, The Label Shedding Light on Forgotten Masterpieces
Christian Eede speaks to Joshua Cheon, the founder of the goth- and italo-leaning imprint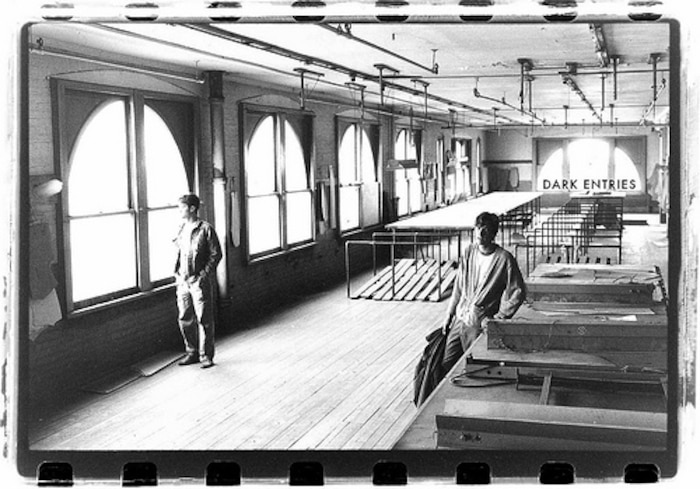 "Moving to San Francisco, the myth of Patrick Cowley is very present," says Joshua Cheon, the founder of the Dark Entries label. It was in San Francisco that Cowley's career began, having been invited to join Sylvester's studio band in the late '70s after passing on some of his early synth recordings. From here, Cowley went on to shape the soundtrack of the gay club scene in the US and beyond, with hits such as "Menergy" and the Sylvester collaboration "Do Ya Wanna Funk." Widely forgotten about, though, was Cowley's foray into sound-tracking gay porn movies in the same decade.
It was at a party in San Francisco in 2009 that Cheon first caught wind of these recordings. He had been tasked with inviting a number of Cowley's surviving friends and family to a party to celebrate the reissue by the Macro label of Catholic: an early release in the pioneering producer's career, from 1976; a release which Cheon had discovered the original reel-to-reel tapes of. At the party, he was approached by two men: "Did you find his porn soundtracks?" they asked. "They told me that Patrick had made music to soundtrack gay porn films," says Cheon, "and after two years of finding all of these old tapes belonging to Patrick, I suddenly find this out."
Intrigued, he traced a connection to prominent gay porn company Fox Studio and its owner, John Coletti. An old-fashioned type, Coletti insisted that Cheon meet him at his Los Angeles studio space and "we immediately hit it off," he says. " There, in the studio, sat 15 more reel-to-reel tapes of Cowley's porn soundtracks." Some of the recordings on these tapes would go on to comprise School Daze and Muscle Up, released by Dark Entries in 2013 and 2015 respectively.
Commissioned by Coletti to soundtrack the silent porn films of the same names, the music is indebted (somewhat, but not exclusively) to the post-Moroder era in which it was produced: shimmering disco synths and pre-808 drum patterns. Such productions sit alongside more incongruous and minimal pieces, like "Seven Sacred Pools" and "Cat's Eye." It's music tied heavily to context: sultry, deep and intimate, with an underbelly of sleaze; a fitting accompaniment to an entirely different school of pornography to that of the present day.
When we were young, before we could go to bars, we would play this album, get dressed up, maybe put make-up on, drive around and drink coffee in this diner until they kicked us out at 2 AM.
In its first seven years, Dark Entries has amassed an expansive collection of peculiar sounds and gained favor with DJs and record collectors alike. "My favorite Dark Entries release has to be the collaboration with Honey Soundsystem on School Daze," says London-based DJ and producer Midland. "The story of how they found the recordings and the almost forgotten legacy of Cowley is fascinating. I know that he would have gone on to greater and weirder heights, but that these recordings might never have been heard by anyone makes them so important – and enforces why the label is so vital."
The Cowley story is just one pivotal moment of many in Dark Entries' history thus far. The label has amassed 125 releases and counting in little over six years – from the EBM sleaze of Smersh and the twinkling synth-pop of Severed Heads, to the curious, post-punk experimentations of Thomas Leer. Primarily a vehicle for putting rare, out-of-press material back into circulation, Cheon founded the label in 2009: taking its name from a '80 Bauhaus single, which he describes as a rallying call to his teenage self and his friends. "When we were young, before we could go to bars, we would play this album, get dressed up, maybe put make-up on, drive around and drink coffee in this diner until they kicked us out at 2am." It's Bauhaus' "Dark Entries" that Cheon credits as sound-tracking the most important moments of his childhood – when he developed his thirst for seeking out the old records that make up the bulk of the label's current release schedule.
A keen collector, Cheon traces this fascination back to buying The Cure singles at 14-years old, with the purpose of collecting the b-sides. Taking the 10-mile bus trip from his teenage home of New Jersey to Manhattan, he would grab stacks from the post-punk and new wave sections of local record stores - records good and bad. By 16-years old, this curiosity would see him regularly attend New York goth club The Bank, where the DJs put him onto more discoveries, until the club closed its doors in 1999. In the years that followed, Cheon began working in the music industry. His first break came from a job at independent label Metropolis Records, where he would help with the label's distribution arm. Having then spent years interning and working at labels such as DFA, Matador and Beggars Group in New York, Cheon relocated to San Francisco in 2006, seeking a change of scene.
He soon formed Honey Soundsystem: the four-man DJ crew of Cheon, Jason Kendig, Jackie House and Beziér, whose riotously fun sets take in disco, post-punk, acid and jacking house. With his collection of old records growing, he saw starting a record label as a chance to share this childhood sense of discovery and showcase these records in Honey Soundsystem sets. It was the passing of Cheon's father in '08, though, that would provide the catalyst for Dark Entries. His father left him just enough cash to get the label off the ground. "It felt like a sign," he says. "He was the one that got me into music at a very young age. He had a humungous record collection and would DJ 45s at CYO dances in the '60s."
Launching in July '09 with Bas Relief, a reissue of the only album from cult New York new wave group, Eleven Pond, Cheon describes the inaugural release as a steep learning curve, having come across the band through a blog. "There was a comment below the post saying, 'We have the tapes if anyone wants to do a reissue.'" Back then, it was a difficult record to come by. Cheon says that, even after the reissue, one seller was still offering an original copy for $900 via eBay. Like much of the Dark Entries' back catalogue, its reissue gave vinyl lovers a chance to own a record that had previously been unaffordable to most. Cheon does not shy away from acknowledging that Dark Entries does a treasured job of getting a lot of expensive music back into people's hands, as well as introducing underground, unheard music to many.
The label's first few releases were a particularly DIY affair. On Bas Relief, Cheon set out on the painstaking process of silk-screening the record jackets himself as a homage to the original. He also hand-numbered each record and placed the inserts in one-by-one, over the course of one year. The label's current designer, Eloise Leigh, has worked on all releases since '10, with both her and Cheon having long held a commitment to remain true to each record's source material.
Just as onerous today as those early days of hand-numbering individual record jackets, however, is the process by which Cheon comes to licensing old material for reissue. Some can involve an uncomplicated procedure of contacting an artist, signing a contract with them the next day, receiving the master files to the music for reissue and then entering into the pressing process. Other times, though, it's not so easy. "It can take around a year just to get a response from the band, or I'll have to go through a niece or nephew or a producer to source the tapes," Cheon says.
"It can take one year, two years, five years. I could be in the process of talking to a band and one day their email stops working – and then it's a case of 'Now what?'" He references complications with acts Smersh and Second Layer, both of which he tracked down through their surviving members. He also spent years attempting to convince Severed Heads frontman Tom Ellard to give the plans for their reissues the go-ahead. "Ellard said, 'The record is already out, so what are you going to add to make it worthwhile?' Three years went by of me making all kinds of offers, and he eventually changed his mind."
The label has since gone on to reissue three Severed Heads releases and a solo album from Ellard, a move that has earned the Australian band renewed attention that culminated in a short run of live dates in the US last September – their first in the country in over 20 years. A further reissue of late '80s dub versions by JD Twitch's Optimo Trax label followed last year, which saw the band's material sneak into DJ sets by the likes of Call Super, Palms Trax and Andrew Weatherall.
Another recent highlight for Dark Entries was the release of Lena Platonos' '85 album, Gallop. "I stumbled upon YouTube videos, because she has a video for every song on that album. I remember watching these weird videos, where the tracking was off and there were these odd warbles, which I absolutely loved." Gallop is an alluring listen: the Greek musician alternating between stark spoken-word and softly sung vocals, emphatically '80s cold wave synths and sporadic 808 workouts; bizarre yet beguiling, they are features embodied by Platonos herself and her music, as captured in the video for album opener "An Unsolved Exercise In Physics."
Having discovered these videos, Cheon set out on a five-year trek to bring her music to 21st century audiences, but his efforts were hampered by the Greek financial market crash, which saw the original label that issued the album, Lyra, go out of business. The reissue of Gallop also provided a wider snapshot of the riches of the Greek electronic music scene in the '80s. Platanos' work sat alongside the likes of Vangelis Katsoulis, George Theodorakis, Dimitris Petsetakis and other Hellenic innovators.
The thrusting of Gallop into the consciousness of Dark Entries followers offered a fresh take on how a key artist within the '80s Greek music scene was exploring electronic music with pop sensibilities – and this is the case with much of the Dark Entries back catalogue. Each reissue offers fans a glimpse into scenes and sounds the world over that they may not have been able to explore first time round: the meshing of electro and post-punk by Philadelphia's Crash Course In Science; the Italo fantasy of Helen (in fact a fictional character, created in the early '80s by Milan-based label Discomagic and brought to life by a session vocalist); Lena Platonos.
There is obviously a place for that harder techno and I do play it sometimes, but I want to show too how fun dance music can be.
By its nature, to reissue decades-old material suggests a great antipathy towards hype or trends. The music that Cheon wants to see reissued stands the test of time, but Dark Entries isn't only a reissue label. It's also an outlet for original material, with Cheon taking in recommendations from friends as well as acts that he has discovered, often through attending small, DIY gigs in his base of San Francisco such as [fellow Honey Soundsystem member] Bézier, Max + Mara and Inhalt – all of whom, Cheon says, moved him in a live setting enough to sign their music. The aforemoentioned three sits snugly alongside the various '80s electronic and guitar-based sounds that form the bulk of Dark Entries' releases to date.
Where original material may make up the minority of Dark Entries' discography, it is still playing its part to set, rather than follow, the pace. Recently, the label has gone some way to abetting the renewed interest in the chintz and spark of '80s Italo disco. Dark Entries may largely shun fads, but it provides ample insight into the trends that form parts of the scene at large today.
"When I started [Dark Entries], a form of particularly pummelling techno was very popular in electronic music which was the opposite of melodies, or any of the silly, happy or queer vibes within Italo," he says of the 12" series launched in 2014 which has taken in reissued material from Peter Richard, Art Fine, Helen, Blue Russell and more. "There is obviously a place for that harder techno, and I do play it sometimes, but I want to show too how fun dance music can be."
Plans for 2016 include a reissue of Lena Platonos' 1984 album, Sun Masks, which is every bit as unconventional and enchanting as Gallop. The third reissue of material from Smersh will also follow later this year in the form of Deep House Anthems, four songs previously only available via a limited cassette release in 1991. "It's not deep house at all," Cheon laughs. "It's all pummelling acid and very industrial-sounding. Powell is obsessed with it. It sounds quite like Diagonal or Silent Servant, that school of music."
There's also more rediscovered material from Patrick Cowley. "There are more soundtracks, possibly the last music Patrick recorded around May 1982 [months before his death], and it's about one hour of music. Just when you thought you'd heard it all, this reveals he was making really beautiful music inspired by The Human League and Martin Hannett – a lot more polished than the Muscle Up material." With plans to release in abundance, it seems that Dark Entries has a long, typically on-form road ahead.

Honey Soundsystem appears every fourth Tuesday of the month on RBMA Radio.