Icy Catharsis: Drippin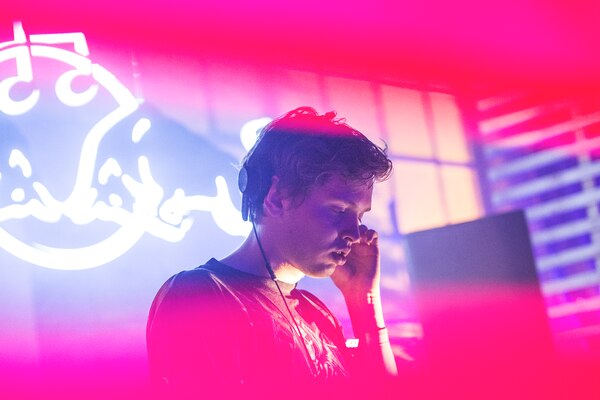 The music Erik Spanne records as Drippin recalls the glacial, angular landscapes of Western Norway's rugged fjords. It's an intriguing paradox given that his strand of futuristic club music is commonly mapped along the axis of bigger cities like New York, London, and Los Angeles. Nonetheless, Spanne sidesteps the sort of metropolitan geography and urban futurism put forth by labels like Lit City Trax, Night Slugs, and Fade To Mind. "I can't handle the high-pressure city life," he says. "It's really important for me to go hiking and just be alone sometimes."
Calling in from Bergen, Norway, the young producer extols the virtues of the town he calls home: "It's a very musical city, a very creative city. People are really supportive and the government is really supportive. You feel like you want to make something when you move here. It's also really calm and quiet, and nature is right outside your doorstep; the city is surrounded by mountains."
Spanne actually grew up in Stavanger, about a five-hour car ride south of Bergen along the Norwegian coast. "It's a desolate place for culture," he explains. "The oil business is really big there, and rich people equals expensive housing. Most artists and creative people move elsewhere when they get old enough." Spanne moved to Bergen in 2011 after finishing high school, but not before honing his chops as a DJ and party promoter at Stavanger's Sting club, where he brought in like-minded international artists such as Sinden and Canblaster, and spun sets that incorporated Baltimore club, rap, and dancehall. Elements of his taste as a selector permeate his own productions – high-strung, often urgent beatscapes that reveal a penchant for deep kicks, dry snares, and icy cool synths.
Spanne's most exemplary solo effort to date landed on the NYC-based Lit City Trax label at the tail-end of 2014. The demos for his Silver Cloak EP made their way to label head J-Cush through the hands of Fatima Al Qadiri, whom Drippin met at Øya Festival in Oslo. "She told me she had been playing [my remix of "Rendez-Vous" for Lotic's first EP] for the past year and a half. It was labeled wrong, so she had always thought she was playing a Nguzunguzu song. [J-Cush] corrected her and told her that when she was in Norway she had to contact me. She stayed for a week and we became good friends."
On Silver Cloak, Drippin flexes his muscle as a producer of dynamic, shadowy club tracks, revealing a steely sense of poignancy matched by few of his peers. There's a haptic, almost three-dimensional quality to his tracks—bits of metal and shards of glass seem to clash in a hydraulic press, while lasers sing symphonies over chest-crushing low-end. Perhaps most importantly, the Silver Cloak EP pointed Spanne's path towards a new spiritual home on Lit City Trax. "It's not like a regular deal. It's more of a family thing. Jamie is really passionate about the people he works with. Every day he's out there talking to people about me. He makes a lot of stuff happen for me and I'm grateful for that."
Over the past couple of years, Spanne's circle of friends and collaborators has also come to include the likes of underground NYC rappers Le1f and Cakes Da Killa, London grime MCs Riko Dan and D Double E, and bass futurists Neana and Sinjin Hawke, with whom he produced "How We Rock" for Chicago bop figureheads Sicko Mobb. Spanne's latest collaborative project sees him going down a new path altogether, handling production duties for Norwegian singer and performance artist Nils Bech's forthcoming Echo album, which is scheduled for release on DFA Records this fall.
Following Bech's vision for a baroque pop album with modern textures, Spanne took the opportunity to expand his working method and sonic palette. "Part of the reason I took on this project is because it's so different from working with rappers," he says. "It's much more dynamic working with a singer." Album cut "Please Stay" throws Bech's high-pitched, operatic vocals into a barrage of pneumatic, abrasive percussion blasts, before coating them in a veneer of glossy, trance-inspired synth pads. The challenge of working with a classically trained vocalist left a lasting impression on Spanne. "It really opened my mind for music and harmonies. I feel like I'm a different person after finishing that album."
Besides taking the Echo project to the stage with Bech – which sees Spanne experimenting with live performance for the first time – the young Norwegian is also currently finishing up his follow-up release to Silver Cloak. "I tried to make it feel like something only I could make," he asserts. Spanne refers to it as a "self-cleansing" ritual of working on music in his Bergen studio, away from the stresses of life on the road. "Last year was hectic and it's been kind of toxic in many ways," Spanne says. "It's been full of traveling and stress. I feel like when I'm in the studio working on music, I'm doing the opposite, just getting everything out of my head."
Early sketches from the new EP reflect a sense of sonic catharsis in their distorted, almost violent sound design. Having scrapped the record multiple times, Spanne is insistent on getting it right. "It's taking a bit more time than I expected but I'm glad I'm taking the extra time," he affirms. "Basically, I just want to evolve."
Header image © Mats Grimsæth