Eclipse Rave: Chile's Groundbreaking Techno Party
In 1994, an underfunded but motivated group of DJs in Chile – including a young Ricardo Villalobos – conspired to throw a rave during a solar eclipse
In Werner Herzog's 1982 film Fitzcarraldo, the title character embarks on a seemingly impossible mission to transport a paddle steamer over a hill in the depths of the Peruvian Amazon. The end goal for the hapless colonist is to harvest rubber in order to build an opera house in Iquitos, effectively bringing European culture to a remote part of South America. In 1994, an unlikely alliance of techno evangelists travelled to Arica in northern Chile with a similarly ambitious dream of organising a rave in a part of the world that was yet to be fully exposed to electronic music culture. One of those involved would go on to call the effort "Fitzcarraldo 2000," in honour of the chaotic nature of the event.
A total solar eclipse was scheduled to take place in early November, although the full effect of the moon passing in front of the sun would only be visible across a thin sliver of Peru and Chile. A plan was concocted for a party that would bring together an international consortium of DJs, live acts and revelers for this unique celestial occurrence, championing futuristic techno developments from both Europe and America. But while the intention was steeped in the starry-eyed idealism of '90s rave, the realities of such a bold plan were a little beyond the reach of the team responsible in the time allotted.
Martin Schopf, better known as Dandy Jack, first tried to organize parties in Chile back in 1989 alongside his partner in Sieg Über Die Sonne, Tobias Freund. Schopf represented a generation of Chileans with roots in both South America and Central Germany, the result of families fleeing the dictatorship of Pinochet, and he wanted to bring the progressive new mode of expression called techno to his motherland. A small community of passionate electronic music lovers had already started to form in Santiago, receiving a drip of inspiration from relatives and friends in Europe. The group included a young Lucien Nicolet AKA Luciano, Adrian Schopf (Martin's younger half-brother), John Meier AKA Siddhartha and Miguel Vergara. Having helped organize small parties around the Chilean capital, Vergara first heard about the impending solar eclipse in early 1994 and envisioned an opportunity to organise a low-key event around the occasion featuring Sieg Über Die Sonne and UK psychedelic outfit System 7, alongside local DJs.
"If you tell something to Martin, it's like publishing it in The New York Times: Everybody's gonna know it!" explains Vergara, who was quick to approach Schopf about his idea. "A couple of days after, I start getting faxes from the Orb, from Speedy J, from Richie Hawtin, Underground Resistance, Jeff Mills, Derrick May…"
That was partially the work of Katja Gowin, who Schopf had met at Wild Pitch Club in Frankfurt. Gowin, who worked with artists such as Atom Heart and was intrinsically linked to the Frankfurt techno scene, had responded enthusiastically to the idea and proceeded to reach out to every contact she could think of.
"I had to research more about the eclipse," explains Gowin. "Native Americans used this event as a collective conscious event. I thought about the idea that the entire electronic music community comes together and we all celebrate this event at this place."
Through Gowin's connections to Djax Up Beats, R&S, Rephlex, Warp and many Detroit techno figureheads, word quickly spread about this proposed event, capturing the imagination of the techno cognoscenti and resulting in the barrage of interest Vergara received.
"People wanted to come just for the plane ticket," Vergara confirms. "No fees. To be honest, the party escaped from my control, because I never expected that it would get so big."
With the surge of interest from a list of famous names, the next challenge was to raise the funding to pull off such an ambitious event with fewer than four months until the eclipse. Securing sponsors, however, proved to be a challenge. Despite the buzz, there was no definite fix on the number of prospective attendees who would make it to a remote part of northern Chile, and in the end, the only company that came on board was German fashion label Pash.
The other challenge was getting the artists themselves to Chile. November was a prime time for expats returning home to visit family, and so seats on flights were scarce. The festival quickly downsized to a core group of artists and organisers travelling from Frankfurt courtesy of the Lan Chile airline, with Derrick May and Robert Hood confirmed to come from Detroit. The Frankfurt contingent consisted of a motley crew including Sieg Über Die Sonne, Heiko Schäfer AKA Heiko M/S/O (co-founder of Ongaku and Playhouse), Terrible (a DJ from Berlin) and a then little-known Ricardo Villalobos.
"Ricardo was a DJ in Darmstadt," explains Gowin, "and I knew that when your DJs are becoming picky and they don't want to play, here we have one guy who's gonna play for sure for 16 or 24 hours."
Knowing that Chile was their birth country, Gowin also invited Villalobos and his stepsister Mici to help with translation, while Alma Ernst was enlisted to help with the organization. Meanwhile, Peter Weiss of Narcotic Syntax, also known as James Dean Brown, had heard about the trip and formed a film team with the hope of selling the documentary footage after the event. Wolfgang Sterneck and Boris Hiesserer from Pyromania Arts Foundation were also on hand to provide visuals for the rave itself.
The journey from Frankfurt to Chile was fraught with mishaps. Instead of Santiago de Chile, the seats that Lan Chile had secured delivered them to Bogotá in Colombia on October 30, with a connection to Lima, Peru interrupted by an eight hour repair stop in Quito, Ecuador. With no further flights available that night, the group spent a night in Lima before flying the next day to Arequipa, and then on to Tacna, where a bus would take them over the border into Arica in Chile.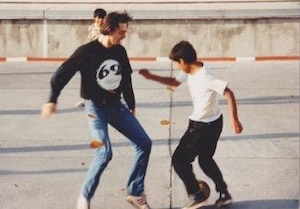 This journey took three full days, and was peppered with unlikely moments. In Arequipa, Schopf, Villalobos, Schäfer and others challenged some local children to a football match. (Schopf attributes the high altitude to their 10-1 defeat.) At one point, the sponsor from Pash, who had joined them on the trip, had to use a platinum American Express card to secure a private charter for the final flights. The crew spent a night in the Tacna airport waiting for the Chilean border to open, unable to leave the terminal due to a curfew imposed by the government after the Sendero Luminoso rebel uprising.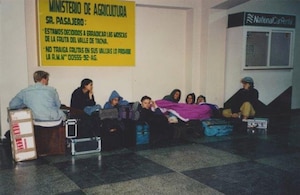 The morning of November 2nd, the full crew was up at 3 AM, heading to Putre to watch the solar eclipse. All those present agree that the three minute spectacle was a profoundly surreal and spiritually moving experience that saw natural phenomena working in reverse, reducing nearly everyone to tears. As well as footage from the Pyromania archives, a BBC documentary headed up by comedian Phil Kay and Radio 1 DJ Annie Nightingale also captured the eclipse. In her autobiography Wicked Speed, Nightingale explains how she had heard rumours about the Eclipse Rave from her listeners and convinced the BBC to send her to Chile to document the event and experience the eclipse for herself.
The site for the rave itself was on Isla Alacran, a small island connected by a thin causeway to Arica on the mainland. Katja Gowin recalls arriving to this dusty desert peninsula for the first time the day before the eclipse.
"We drove to the island and there was just a wooden stage and nothing else," she says. "No PA, no nothing. So I took Ricardo and I was like, 'You need to tell these people we need a PA, we need everything!' We had to organise that within a day!"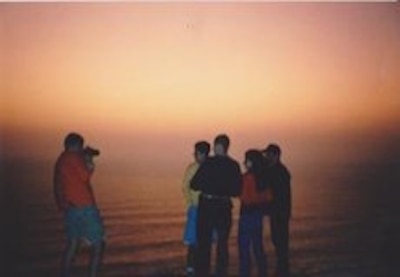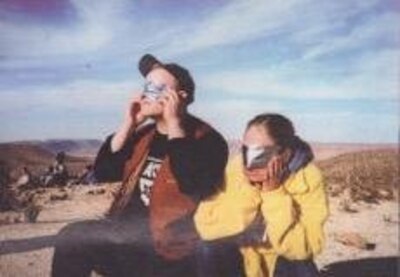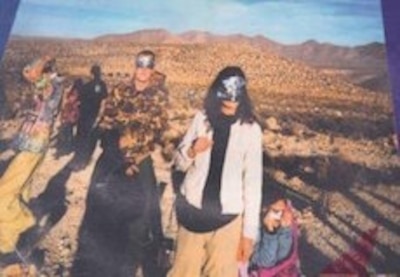 While the team had been up in the mountains witnessing the eclipse, down on the coast in Arica Miguel Vergara had been struggling with power issues. The night before, a warmup session featuring local Chilean DJs had to be cancelled due to the electricity, which was being run from the lights along the coastal road, either cutting out the soundsystem or the road lighting itself. By the evening of November 3rd, though, everything was in place for the event to go ahead, with Sieg Über Die Sonne performing live and DJ sets from Derrick May, Stacey Pullen (a last-minute replacement for Robert Hood), Villalobos, Heiko M/S/O and Terrible, amongst others.
The crowd was an eclectic mixture of European and North American travellers who had heard about the event through word-of-mouth, plus an inquisitive local population. Gowin does not look back too fondly on the Goa trance-affiliated contingent, largely British, who created friction at the entrance to the party with the heavily armed military that surrounded the site.
"I wasn't aware that the military would be there, too," recalls Gowin. "They were standing around with their Uzis. They decided at a certain point to block the front desk, and of course people were getting really mad. I've tried to talk to the person, saying 'Please do not shoot at the people. Do not show your guns.' Ricardo was telling me at one point, 'Katja, you just shut up now.' Next thing I had an Uzi on my head!"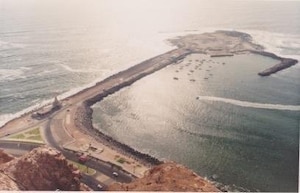 While interaction between the Chilean attendees and the international crowd was generally friendly, it was apparent that the locals in Arica were not so quick to adjust to the strange new techno sounds being played to them.
"At first the people didn't really react very positively to our music," recounts Heiko Schäfer. "It felt like worlds colliding. The local people were very curious. Eventually I think the promoters just let everybody in without paying, and that was the moment when the event became a party. It had absolutely nothing to do with 'rave' as we know it in Europe, so it was us who had to build the bridge to the people over the music."
After the whirlwind events and windy conditions of the first night, Gowin and others decided it would be best to move the second night of revelry indoors. They found a 120 capacity basement club in Arica called Bunker, and Friday's party became the most successful of the sessions in Arica, with a strong mix of international and local attendees.
"I remember Derrick May playing a two hour set at the club," Schäfer recalls. "He enchanted the crowd, made them sing and dance and clap their hands. It felt like magic, that all these different people from different cultures came together and felt as one."
The night after, the group had a plan for another party at a hotel in town, but the crowd from the rave was not present and the atmosphere just didn't come together in the intended way. "DJ-wise we had to play more South American music in situations when the ravers were not there," explains Villalobos. "It was really complicated to make the people dance with hard techno and Detroit techno. Languages and mentality and knowledge is really crucial, and also having both cultures. In this case, Martin and me could translate in both directions and I think for the whole rave it was super useful."
The feeling of cultural crossover was magnified further once the group travelled south to Santiago. Though some artists left after Eclipse Rave to return to Germany and the US, most of the group shored up at La Oz, one of the biggest clubs in the city, on November 11th and 12th for the Eclipse afterparty.
"The first night there were some locals playing, and then I was DJing alone," says Villalobos. "It was really a memorable night! This night I had my first drug experience, and I really had an impression that something exploded there. The people really didn't know what this music can do with them, especially in terms of time. No one really knew when to stop the party, because in Chile no one knew that a party is going on until five or six, and suddenly it was ten o'clock, and the party was still going on and all the staff had left before. The owner of the club and all the people were completely freaked out, and so it was really uncontrolled."
John Acquaviva had been aware of the Eclipse Rave organization from the start, helping Gowin spread the word to Derrick May and the Detroit techno community in particular. While he was busy in Europe during the Eclipse Rave, he joined the remaining crew in Santiago and ended up playing an extended session with Villalobos on the second night at La Oz.
"To me, John Acquaviva was the grandmaster of the club nights," states Boris Hiesserer, "as he knew what to play for this special audience. He played South American rhythms that were more familiar to most guests new to these sort of parties."
"When I go to a place I like to understand their roots so that I can best resonate with the people," explains Acquaviva. "For this I brought lots of Latin tools and classics in hope of connecting on the Latin side of things, but I also had the next sounds of techno, acid and house music."
"The parties in Santiago were really decisive," Villalobos says, "because there you had the first party going on until ten in the morning. Normally the police in South America would come immediately, but in this moment something happened that no one noticed from the authorities."
"For me the most essential moment of this day was where Ricardo played his record "Heike" from DAT," recalls Gowin. "He had the entire club so in control, from the barkeeper to people on the door, it was like magic."
"At the beginning I brought him because I thought he can translate and he will definitely play when everyone else fails. Then, all of a sudden he got from this point to the act that was, to me, the most important. Here was a Chilean guy who was able to put that whole party into one union. I think that was a great inspiration for any Chilean in there."
It's fair to say that the arrival of these Europeans and Americans with their curious new music culture were a source of fascination for the locals in Santiago as much as Arica. So much so, in fact, that Gowin, Vergara, Villalobos, Schopf and Freund were all invited to appear on Chilean children's television.
"The whole crew was introduced as a rave crew coming from Europe," recalls Peter Weiss. "It was a live transmission, with pupils sitting in these rows in the studio, and some of our crew being interviewed about the music. In the end they played a track by Sieg Über Die Sonne and then they were asked to dance in front of the cameras, and they did not expect this so it looks a bit clumsy!"
Katja Gowin ended up staying in Chile after the rest of the team had gone home, attempting to bring some music industry infrastructure to Chile by way of pressing plants and distribution. The pocket of local artists and low-key parties suggested the potential for growth, but in the end such efforts came a little too soon for the country.
"The Eclipse Rave was very premature in 1994 for Chile," comments Luciano. "It exists now as an incredible myth because people like Derrick May, guys that we always dreamed about meeting, came here!"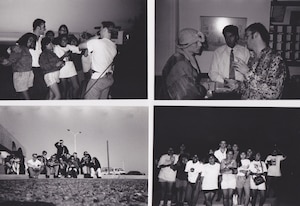 Indeed, many of those that were on the trip claim if you ask the right taxi driver in Santiago, they will tell you about this legendary moment when Detroit and German techno legends came to a remote northern part of their country.
"Of course, trance music already existed in Chile, like everywhere in the whole world," Villalobos concedes. "There were productions in the '80s coming from Depeche Mode, Yazoo, wave music, which were informing the people about electronic music. But on this trip this new kind of self-produced music came there for the first time. The link to a pure dance music, nearly without melodies – this information was something new."
In truth, it wasn't until later parties such as La Ballenera in 1997 that house and techno started to attract a larger audience in Chile the Eclipse had first dreamed of. However, essential seeds were undoubtedly sown around the events of the Eclipse Rave, inspiring a cult contingent of early adopting locals and plucky Europeans to maintain a lasting connection. In the end, it would seem that it was a noble idea executed just a little too early. "It was too much," states Schopf. "We were 18 people on the plane flying from Europe to South America. It was very ambitious to bring all these people to the mountain. This is why I called it Fitzcarraldo 2000."