Honey Soundsystem: Five Parties
The San Francisco party crew run down their five most important parties to date with Aaron Gonsher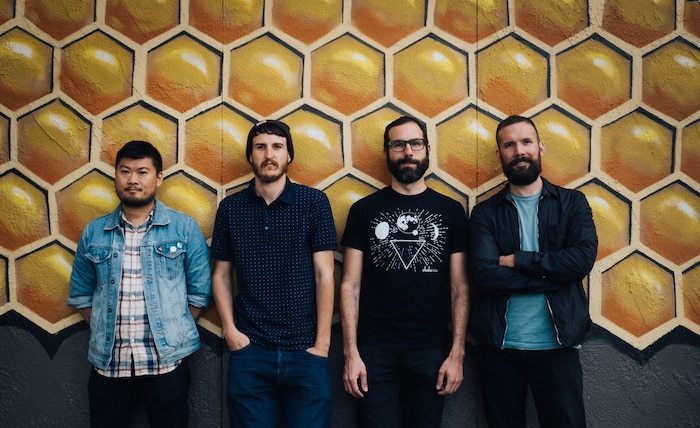 When Honey Soundsystem launched in San Francisco in 2007, they faced the same sort of problems that bedevil party promoters around the world. Who do we book that best reflects our musical ethos, and that we can afford? What do we do if not enough people show up? How can we avoid being shut down by the police? Honey Soundsystem, though, was also trying to answer one question that overshadowed the typical concerns: How can we concentrate on queer-focused projects to create a time machine for dancefloors?
In the years since, Honey Soundsystem has earned a reputation as one of the most respected parties in the United States – no "queer" qualifier necessary. Founded by Jacob Sperber and Ken Woodard, and now consisting of Sperber, Josh Cheon, Jason Kendig and Robert Yang, the quartet have sustained a high-minded historical approach to their events without sacrificing hedonism, by sharing stories they care about in unique musical and visual ways.
"So many of us moved here [San Francisco] to either escape our cities, which were maybe more oppressive, or just have a new start," says Cheon. "Whatever the reasons, we all moved here. I think what we wanted to do was highlight some of the important pieces of literature and the lineage of the queer dancefloor."
Sperber, Cheon, Kendig and Yang all moved in concentric circles in San Francisco even before Honey Soundsystem became the common center. Sperber and Yang met for the first time at a party called Playboy during Yang's DJ set, when Sperber stormed the stage for a track ID and introduction after hearing Yang play Laurie Marshall's "Disco Spaceship." Cheon, a former intern for New York's DFA Records, met Yang after attending a party at Gun Club and running into him the following week at Dolores Park. Sperber later showed up at one of Yang's final Bailando events, and from there the group went to a 4/20 party, the weed-celebrating, unofficial public holiday in San Francisco.
"Jason Kendig was DJing, and Jacob was basically going around with pot brownies giving them to party people," remembers Yang. They all ended up falling deep into conversation, not knowing at the time that the collective they discussed would eventually become Honey Soundsystem. For Sperber, it wasn't enough to just throw a party, and it's telling that none of the current members refer to Honey Soundsystem as a party when asked how exactly they define themselves. A community project, yes. A time machine for dancefloors, sure. But "party" feels limiting in describing the conscious celebration of influences that evokes their strongest emotions and sense of pride.
"One of the things that brought us all together is an archivist, historian sensibility," says Sperber. "We're trying to infuse that into every dancefloor, every party, every project." "We have a shared love for fun spaces, amazing ambience and exceptional musical programming," adds Yang. "What we try and do is create an environment that just transcends what you would normally see at a regular club, or gay club – or any place that you might take for granted."
Still, music remains a key unifying factor and guide. Looking back, Jason Kendig remembers that "With Honey, we were trying to give ourselves a platform to play music that we were excited about that was not being heard elsewhere." Having traveled from humble beginnings to all-night takeovers of some of the most esteemed clubs in the world, this is the story of Honey Soundsystem in five parties.
Todd Terje @ Club Rawhide - August 26th, 2007
"To be honest, all of the first parties kind of sucked," says Sperber now. "Everyone was really skeptical whether or not we should be doing this idea. At the same time, there was such a vibrant scene of people from all walks of life who were just excited to be owning a little piece of town. All our friends were throwing all the parties at all the bars. There was a reason to go out every night."
July 15th 2007 was the debut of Tea With Honey, a party at the Transfer featuring Sperber as P-Play, Ken Woodard as Kenvulsion, Robert Yang under his Robot Hustle moniker and Gavin Hardkiss headlining. Because of its long legacy in San Francisco, throwing a party at the Transfer was symbolically significant for the Honey collective. Yang remembers Tea With Honey less for musical reasons than for the sense that it was a proving ground for the longterm goals they wanted to accomplish. That opportunity came the following month, when Honey Soundsystem hosted Norwegian DJ Todd Terje for one of his earliest appearances in the United States.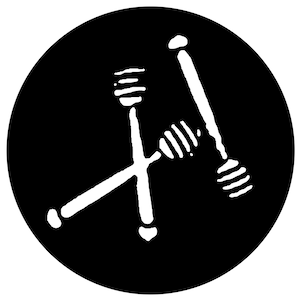 Sperber planned for the party to take place in the Rawhide, a now-defunct country and western bar with an owner who he recalls stinking of liquor. "He had no idea who we were, where we were coming from," says Sperber. "His conception of gay guys coming in and saying 'Hey, we want to throw a party here,' he's probably thinking 135 BPM Rihanna tracks and a bunch of 22-year-olds with a rack of abs dancing in their underwear. That was definitely not what we brought in there that night."
Instead, Honey populated the old saloon with drag acts to fill the empty space between their resident DJs and the headliner Terje, a decision that still stands out for its strange results. "I feel like in the early days a lot of the parties were very surreal," says Yang, remembering the drag acts that filled time at the Rawhide. "There was one really crazy act where our friend Stanley, the Italo disco DJ, he had a little protégé, and they were lipsynching to Chinese opera or something, and they were basically rolling each other up into egg rolls. There was something mentioned where some of the drag performances were slightly racist. It was a little bizarre, but it was all in good fun."
The sense of accomplishment that accompanied Terje's appearance at Rawhide buoyed their spirits for what was to come, affirming a mission statement that was still in flux. "That was one of the most wild nights for us," Sperber says. "I think it was when our community really came out to support an event because they knew we were bringing someone that needed to be met with open arms by San Francisco."
"That's when I realized that we were doing something for San Francisco," Sperber continues. "Our parties were creating an energy to receive people and do the city they visited justice, and the idea that there would be a queer relationship to San Francisco for other queers who were doing stuff with music and wanted to come through."
Dancer from the Dance - March 23rd, 2008
Honey Soundsystem's Dancer from the Dance party was trumpeted as "the first ever dancefloor adaptation of a gay novel." The party resonates not just for its reference material, but because it showcases the depth of historical accuracy and insistence on memory that Honey wants to reference and build upon.
"The book [Dancer from the Dance] was influential and an exciting portal into the past," says Kendig. "You're maybe young enough that you don't have peers that you could talk to about what the disco era was like, from a gay perspective, and here was this novel about someone who was traversing that scene, and somewhat disenchanted with it." The party itself was held in the basement of 1015 Folsom, a historic San Francisco venue formerly used as a bathhouse. "Here we were in the basement, fog machine on blast, with print-outs of quotes from the novel itself, and curating a soundtrack that was very specific to the night," Kendig remembers. "We all delved into our disco collections, basically."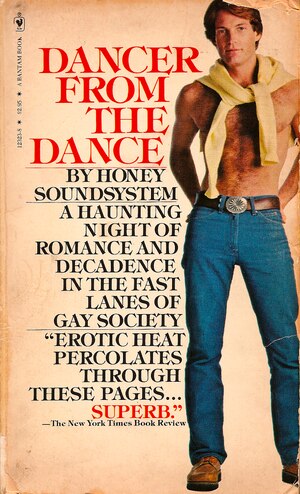 Andrew Holleran's Dancer from the Dance addresses the emotional depth (or lack thereof) on display in the New York gay scene pre-AIDS, celebrating a culture of vanity and hedonism while exposing the pockets of discontent to be found within a life of casual sex and indiscriminate insufflation. "I think for us, this book was helping create that myth of this far away gay wonderland," says Sperber of his experience of the novel. On the night, the crew debuted a video piece by Ken Woodard based on VHS recordings he took at raves in the 1990s. The party also coincided with the group's immersion in Hi-NRG history after coming into the possession of the archives of John Hedges from Megatone Records, moving laterally into the role of disco historians. "The space just oozes these ghosts of cool history, themes from the book," says Sperber of 1015 Folsom.
"There's an amazing quote from the book where supposedly someone dies from trying to sniff a popper at the bottom of a pool in Fire Island," adds Sperber. "I created this giant visual representation of that."
"Throughout the book they mention all the disco songs and moments and soul music that was setting the dancefloor on fire," remembers Josh Cheon. "For my set at the party, I went through the book, highlighted all the disco songs, and I went out and the ones I didn't have I bought them all. Some of them were pretty rare. I remember playing the entire set just using every song that the author mentioned in that book."
Their tribute to Dancer from the Dance is "probably the most pretentious party we've ever thrown," says Sperber. "The idea that the entire event was geared towards, 'If you don't know what this book is then you're out of the loop. If you want to know, maybe you should read the CliffsNotes before you show up and just try to get laid at this dance party."
House Of Black Leather - September 26th, 2010
Folsom Street Fair is touted as "The World's Biggest Leather Event," drawing 400,000 fans, participants and voyeurs alike, to the streets of San Francisco every year. It was in this setting that Honey Soundsystem put on House of Black Leather, the first time they participated in the party schedule that dominates the weekend. Folsom is a San Francisco institution, but at the time Honey's musical philosophy set them apart from the standard programming available during the fair. They prepared accordingly, ready to show a different side of Honey's aesthetic to newcomers.
"Jacob did this promo video, which was an homage to underground queer filmmaker Kenneth Anger," says Yang. "It was a very seedy, deviant-type of promo where it just all featured socks, dirty socks, boots, popper bottles and fetish gear. It was a draw for a lot of newcomers who had never experienced Honey, because we're showing it in a new light."
The result was a quite non-traditional Folsom event. Though musically opposite to what would normally be on offer, the party was nonetheless a huge success, drawing a big crowd and entrenching the Honey crew's position in the fiefdom of Folsom.
"I think the success of it perhaps made Folsom realize that it would make sense to – not change their direction completely, but be like, 'Okay, we're not addressing this other swath of people that are actually interested in doing something that just aren't into what we're doing,'" remembers Kendig. House of Black Leather was a validation that Honey Soundsystem's style of party could be just as enticing to mainstream gay crowds as the scenes they had initially established themselves in opposition to.
Deviants - September 21st, 2014
Following the success of the first House of Black Leather, it was only natural that Honey Soundsystem would continue collaborating with Folsom. "The guys who organized Folsom were so impressed and excited by the energy and the music that they kind of pulled us, and the following year our party Deviants was the official afterparty for the Folsom Street Fair," says Cheon – not a bad gig in terms of being able to transmit the local philosophy of Honey to a global audience.
A specific Deviants highlight, though, was the 2014 appearance of Paul Parker, a former collaborator of Patrick Cowley on tracks like "Right on Target." It was the first time in 25 years that Parker had performed in San Francisco, and his appearance epitomizes Honey's goal of transmitting messages from the golden age of disco and beyond to a modern audience, transportive power intact.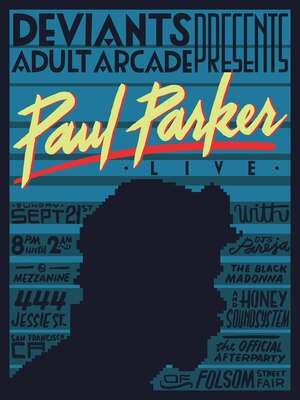 "I'm getting emotional," Cheon says as he starts to describe the feeling of watching Parker perform. "That was so emotional, just watching him up there singing all the Patrick Cowley songs with his perfect voice and perfect body" – a living, breathing relic of the period Honey spends so much energy glorifying and examining.
"Him coming on stage and doing some of his classics was pretty exciting," agrees Kendig. "There's a fan boy inside of me that was just thrilled to get to interact with someone like him." Soon after the party, Parker unearthed cassette tapes from his archive, and they were eventually released as The Thief of Love on Honey Soundsystem Records. Also appearing on that year's Deviants lineup was Marea Stamper AKA Black Madonna, then a resident and main booker at Chicago's Smart Bar, and someone who would be instrumental to one of Honey's next big projects.
Generators - February 7th, 2015
Generators represents both a peak of Honey Soundsystem's extended conceptual investment in their events as well as proof of the growing audience for such a mix of education and exhilaration. The crew was initially offered a standard residency at Smart Bar in Chicago by the Black Madonna. Instead, they conceived a year-long project of six parties that would combine immersive visual installations with pre-recorded stories reflecting different chapters of queer house culture, both in the Midwest and otherwise. They enlisted producers, writers and performers to contribute to the project, bringing together multiple generations to tell a story accessible to a wide range of listeners. Part history lesson, part paean to pagan ritual, part celebration, Generators was a success before the dancefloor even opened on the night of the first party.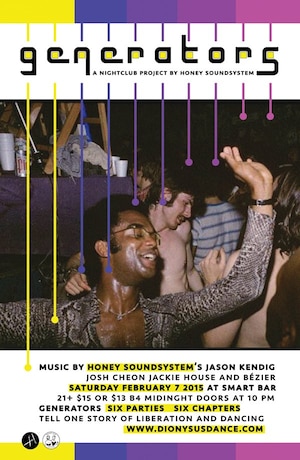 "Generators was the first time we did a year-long project based around some of these things we'd been working around for a long time," says Sperber. "This idea of bringing historical context and maybe some media that you could experience or have to read somewhere else, and then try to experience it in a club. Generators was, I think, the most successful version of that, just because we learned over time how not to force it. The idea that, create an experience in the club that is organic as possible, and actually everything you want to get communicated will get communicated, because people aren't being forced into something."
At Smart Bar, they covered nearly every surface with artwork, photos and more. "We had a kind of séance moment of lighting incense and playing all these songs to invoke the dancefloors of the past," relates Cheon. "There were so many people there and the response was really great – the audio pieces that went with each party were very important and told part of a deeper story that maybe you didn't get from the soundtrack we were playing."
"In some capacity it could have just been us showing up and playing sets," says Kendig, "but Jacob, ever the conceptualist, was really interested in trying to make it even more personal and have more depth to it – I think the locals that were coming through were impressed with the level of work that was trying to be maintained."
"Generators is a celebration, but also a history lesson for everyone involved, as well as the audience, on the timeline of queer music spaces," adds Yang. "We really wanted to absorb everything and just get really deep with what it means to play a gay event in Chicago. We are trying to figure out how to present history, but we also go into a storytelling mode, where we're trying to tell the story of queer spaces through the lens of some writers who have their experiences, as well. We wanted to feature that as part of the continuum of queer dance culture."

Honey Soundsystem appears every fourth Tuesday of the month on RBMA Radio.