A Scottish Encounter with Jesse Rae, Music Video Visionary and Strange Funk Sensation
Ray Philp travels to rural Scotland to meet the enigmatic Parliament-Funkadelic collaborator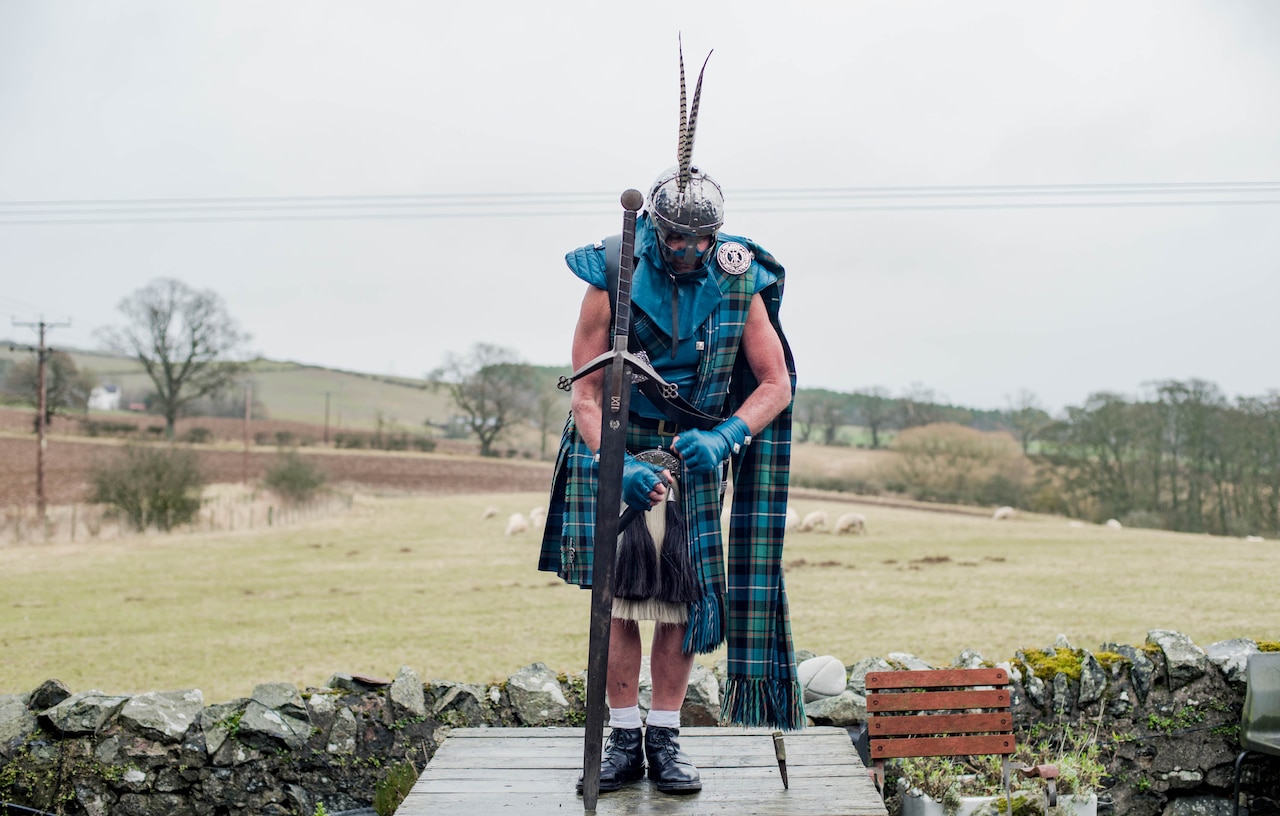 "I don't belong — although I'm Scots — to any nation," Jesse Rae, wearing a kilt, crossbelt, sporran and helmet, tells me. "I'm sort of universal." Rae is gesturing to a career that could have been, as well as the one that unfolded more than 30 years ago. Born and raised in the Borders, a largely rural region in the south of Scotland, Rae spent his heyday making "Scots Parliament-Funkadelic," which fused a love for American funk with an even more enduring passion for Scotland. If the juxtaposition of black music and Celtic culture looked unusual, Rae made it sound natural.
In the '80s, he produced a string of solo singles with the help of some of the decade's greatest funk musicians, including Parliament-Funkadelic's Bernie Worrell and Zapp founder Roger Troutman. Much of that material was later rolled into his '84 album, The Thistle: a loosely autobiographical stream of encomiums to self-esteem and falling in love, one of which he sang in Russian. Chart success eluded him as a solo artist, but Odyssey's "Inside Out," a radio-friendly slice of disco-pop that peaked at #3 in the UK charts in '82, was his greatest hit as a songwriter.
I arrange to meet Rae at the post office in St Boswells, a village in the Borders, on a chilly afternoon. After making small talk with a 30-something shop assistant, a shy, tall-ish guy with dark hair, standing in front of some Jesse Rae CDs — Does he wear the outfit all the time? ("He does.") What's he like? ("He's a nice guy, yeah.") — a chime sounds. Rae's shining head pops round the red door, and then the rest of him, clad in blue leather armor and a green-blue tartan, follows. We shake hands. Straw-coloured bundles of hair drape over his puppyish eyes; his other features, concealed by the helmet, are hard to make out. We drive to a farm steading, where he lives with his wife, Audrey, their three sons and Bella, the dog, and sit in a stove-heated outhouse with Bella at our feet.
Rae emigrated from Scotland to the US in '74, after answering an advertisement placed in Melody Maker magazine by a heavy metal band, Granicus. They were looking for a singer, and Rae was looking for any excuse to get Stateside to "meet his heroes in funk." Before then, he'd drifted between several bands, including a progressive rock outfit called Camel and a Cumbrian rock band called England. ("That didn't last long," he says, needlessly.) After a short spell with Granicus, he toiled in the Cleveland club circuit for more than a year, playing blue-collar venues, before moving to Boston.
A few months later, he met — or more accurately, bumped into — Worrell in a Holiday Inn elevator, their cassettes spilling on the floor. (Worrell was wearing a "huge top hat and a coat with a frizzy collar," Rae told the Herald newspaper.) Some time later, Worrell introduced Rae to Ruth Copeland, who invited him to do session work on Take Me To Baltimore, released in '76. His circle of industry friends grew from there: studio engineers Gary Kellgren and Jimmy Douglass, Daryl Hall from Hall & Oates, jazz guitarist Hiram Bullock — it goes on.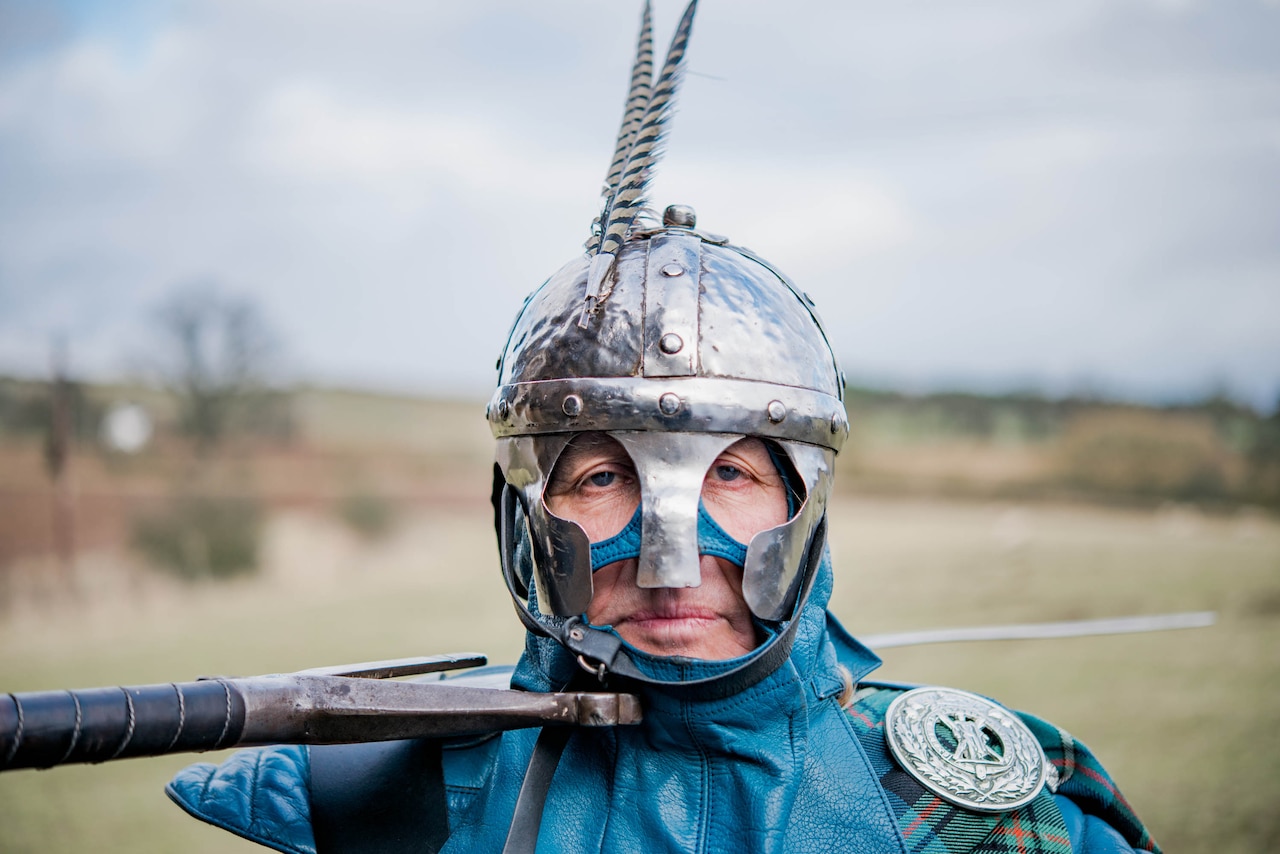 During his decade in the US, Rae had developed a reputation for his self-financed videos as much as his music within the industry. A handful of new wave bands, including Devo and Suicide Commandos, had pre-empted MTV with low-budget promos in that period, but The Beatles' "Strawberry Fields Forever" was a closer analogue for what Rae was doing. Using jump cuts, reversed playback and disorienting close-ups, the video's psychedelic tableau of plant-like instruments complemented the song's liquifying state. Aiming to marry images and sound with the same specificity — but in a more literal way — Rae devised an eponymous formula for his own music videos.
"When you put a vocal on something," he says, "a director will come up with something from the lyrics, or someone wants to be in it all the time. I didn't really want to be in ['Over The Sea']. I wanted people to fall into the mood of the music." The lyrics and the instrumental, he says, would often direct the camera's gaze. The flying claymore in "Over The Sea," for example, was inspired by the nervous, sustained hum of Worrell's synth. Later, when Rae sings "Smile / and bang the drum," the lens retreats from his broadening expression, revealing a drum strapped to his chest.
Rae's dedication to music video came with significant overheads. "Over The Sea" was filmed in New York and in Scotland, included a helicopter, and cost him £33,000. Rae hired a steam train for "The Thistle," which drained him of a further £55,000. On top of hire fees, sound and production crews, costumes, and travel and accommodation for the artists featured in the video, including Worell and Parliament-Funkadelic's Michael Hampton, the money was funnelled into custom-built camera brackets — one was called the "Raebox" — made to hang 30 feet below the aircraft so that it could skim over, and crash through, forests and lochs.
Much of this was funded by session work, his job as a commodities runner — a trading floor messenger — at the New York Stock Exchange, and a number of private investments. The lovesick "Over The Sea" and the training montage funk of "The Thistle" gestured to grand emotions, which, according to his formula, demanded footage that conveyed the drama of those songs. Rae had gambled his career on art, but the odds were about to lengthen.
Rae returned to Scotland in '84 to settle down with Audrey, as he'd always intended. But without the support network he'd left behind, Rae's career began to slide. He wanted to deal with Warner Brothers, but as a UK-based artist he was obliged to sign for WEA instead, their British subsidiary. Rae saw himself as an artist with international appeal. By signing to a label whose focus didn't extend beyond the UK — an audience Rae felt was least likely to "get" him — he feared being sold as a novelty act. In a sense, he accepted the deal on that premise: WEA's Rob Dickins had signed him on the strength of the music videos with MTV on the rise, and travelled to Rae's house personally, "in the snow," to tie up the contract.
The pre-ecstasy club scene in '80s Scotland was populated by gangs and football casuals, which made the threat of violence ever-present. "I had bottles thrown at me," he says. "I got stabbed, but it didn't get through my jacket. It was only a wee knife — it didn't go through because the leather was so thick."
"They were costing me money by interfering in my production," says Rae. "I'd signed a deal controlling all my video rights, so I had to pay for them. Budgets were doubling because they wanted to do this and that. They wanted a single for 'Inside Out,' and I built special boxes for the helicopter. They called me up two weeks before saying, 'No, we've changed our mind. We want to do this instead.' That's where it became a major problem." After the release of The Thistle in '87, as well as two singles from the album, which Rae was forced to promote himself after the label dropped him, he released nothing further for six years. "Timing is important," says Rae. "I was too far ahead with the music video. If you're too far ahead business-wise, you don't always have the resources to wait for other people to catch up with you."
Dedicated to "the immortal ISDN soul of Robert Burns," a second album, Compression, was released in '96 via German label Echo Beach. It brought together Scottish literature, Tackhead-moulded dub and rugby in a modestly budgeted package that constitutes some of his best musical work. Dub producer Adrian Sherwood, South African bassist 'Om' Alec Khaoli and Average White Band's Onnie McIntyre, as well as stalwarts Worrell and Hampton, were gathered in a single electronic space by ISDN cables — short for Integrated Services Digital Network — that enabled data transfer without the lag or corroded static of a phone line.
But Compression is more remarkable for its esoteric touchstones than the technological argot of the liner notes, where you'll find terms like "cybermusic" and "virtual album." So long as you can forgive the slightly synthetic production on some tracks, The Art Of Noise-esque samples of "Body Blast'n," the synth ballad of "Almost Ma Sel Again," the house overtones of "Umhlaba Jikelele" and the Detroit techno echoes of "Deil's Awa Wi Excisemen" demonstrated a sense of adventure that had, until then, been more apparent in his film-making than in the music that served it.
Shortly after coming back to Scotland, he played a gig in a Glasgow city centre nightclub. It wasn't the homecoming he had hoped for. The pre-ecstasy club scene in '80s Scotland was populated by gangs and football casuals, which made the threat of violence ever-present. As someone who was unknown and further from the norm than most acts, Rae was entering a particularly hostile environment. "I had bottles thrown at me," he says. "I got stabbed, but it didn't get through my jacket. It was only a wee knife — it didn't go through because the leather was so thick."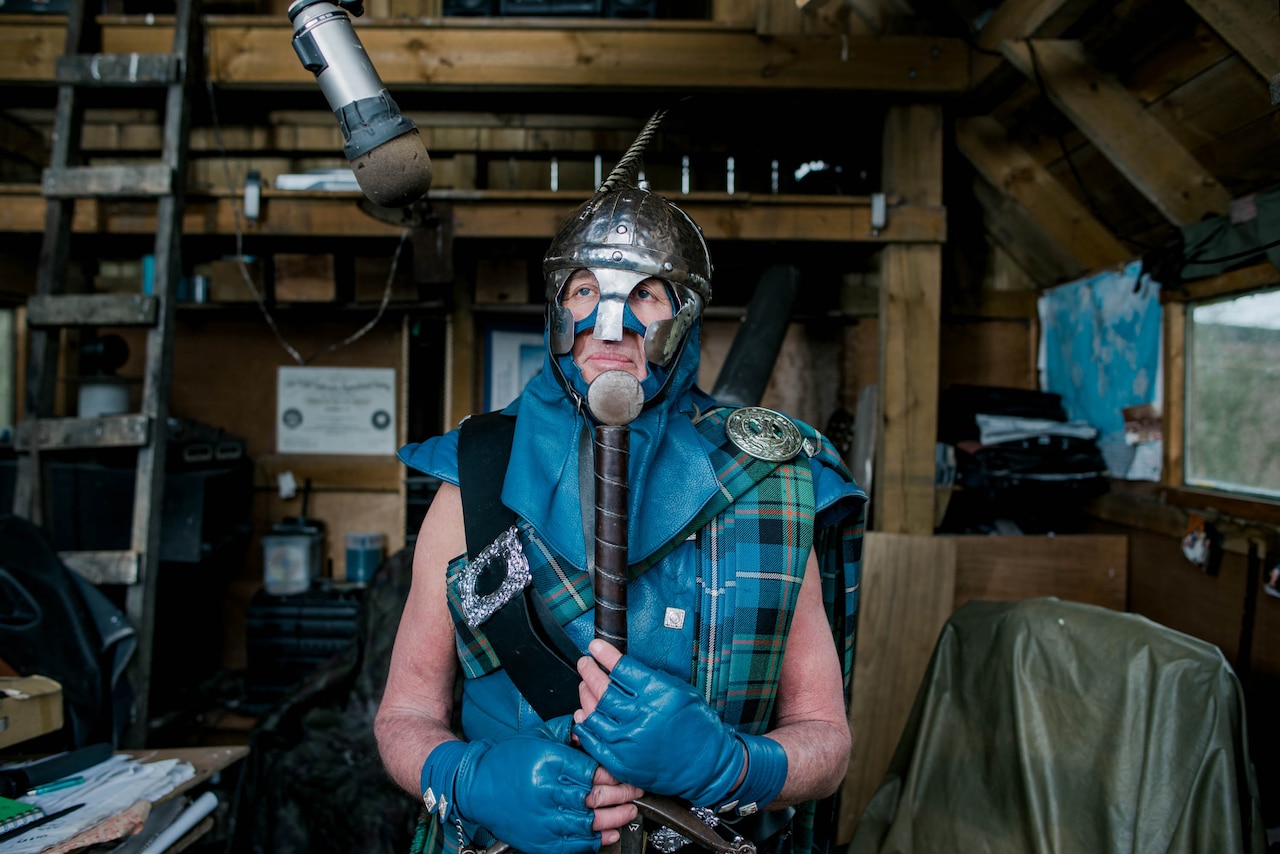 Whatever WEA's faults, Rae was a tough sell. He was Brigadoon, The White Heather Club and the Loch Ness monster: a depiction of Scotland romanticized by everyone except Scots. "We're just an inferior little provincial nation," Postcard Records' Alan Horne once said, summing up the mood of a post-independence referendum Scotland in the early '80s. Through its kitschy, irony-laced tartan artwork and a confrontational approach to A&R, Postcard Records illustrated a nation's discontent with itself. It's easy to see how the earnestness of Rae's funk warrior persona might've seemed foreign, and out of step, by the mid-'80s.
"What you see is what you get," says Rae, explaining the premise of The Thistle's "Idio-Syn-Crazy," but that's not quite true. Rae has some oddly un-Scottish traits. Pragmatism and frugality don't seem to be his strong suits. He has an immodest streak, too. I could understand his eagerness to tell me, a writer showing interest in his work, about the movies he claims to have helped inspire (Braveheart, Highlander) or his knowledge of global finance (his stint at NYSE helped him, he says, to foresee the global recession of '08), but his exhaustive detours into near-misses and what-might-have-been's — he mentions various unfinished projects, including a film, The Flesher — reflect a tendency for over-extending his talents.
The longer that Rae wears the suit of armor, the narrower the gap between life and art becomes.
"I brought down the Royal Bank of Scotland," is how he begins to explain his 18-year fight against bankruptcy, proceedings that began in the early '90s. "I had to educate myself in law, because I was gonna fight this. I saw bankruptcy as a disgrace and I didn't believe in it. In '02, when RBS officially tried to bankrupt me, I fought them through the Court of Session. When I realized that lawyers were involved with each other and the whole thing was a set-up, going into art was the only way I was going to win."
Adopting the pseudonym Jock Pleasure, Rae flew to Los Angeles and documented an ad-hoc investigation into the bank's aggressive acquisition strategy. The resulting footage, some of which was pornographic, was turned into a sprawling installation at Grizedale Arts, a contemporary arts center in the Lake District, England. It was also displayed at the Liverpool Biennale, where visiting RBS executives allegedly saw the footage "and came out with white faces," according to Rae.
"The film and several performances included a funk opera about Scottish bankruptcy law and RBS," recalls Grizedale Arts director Adam Sutherland. "It was, as one audience member commented, 'A big bowl of wrong, but genius.'" "I managed to save all my work, save my home, save my family," says Rae, gesturing to the grainy, rain-slicked walls across from us. "I got a phone call from my lawyer, who said, 'I don't know how to tell you this, but they [RBS] want to drop everything.'"
When I asked Rae about the outfit and why he wears it, he gave me three answers. One day, so one of them goes, Rae was in Dayton with Roger Troutman recording The Thistle. "After I'd been there for a couple of days, all of Roger's little nephews came round to the studio door with 7-11 paper bags over their heads with the holes cut out, and a bit for their mouth with feathers — everything from a crow's feather to God knows what. I realized then that music video was gonna be for kids, and they wanted somebody to be in character." Later, he says: "People obsessed — especially going back to Daryl Hall from Hall & Oates — over anyone doing soul and R&B who wasn't black. They tended to focus on the looks and all the rest of it. I thought that was a distraction from the music." In a sense, Rae saw the outfit as a symbol of his increasing wariness of the music industry as much as his personal ideas about Scottishness.
"I have to isolate myself against the place I love to get my ideas, because my ideas have to be original."
These explanations all express the same thing: a desire for distance. The longer that Rae wears the suit of armor, the narrower the gap between life and art becomes. It offers him some privacy from his audience, which includes me and whoever else he might meet on any given day. "I have to isolate myself against the place I love," he says of St Boswells, "to get my ideas, because my ideas have to be original." It's not hard to see why he'd seek out a safe space, unusual as it is. "It's easy to make fun of the big man," wrote the Edinburgh Evening News in '02, one of several outlets whose coverage of Rae had been less than kind. Once you strip away the insults, though, there's a grudging acceptance that Rae's work has merit; reference to his video work is conspicuously deferential.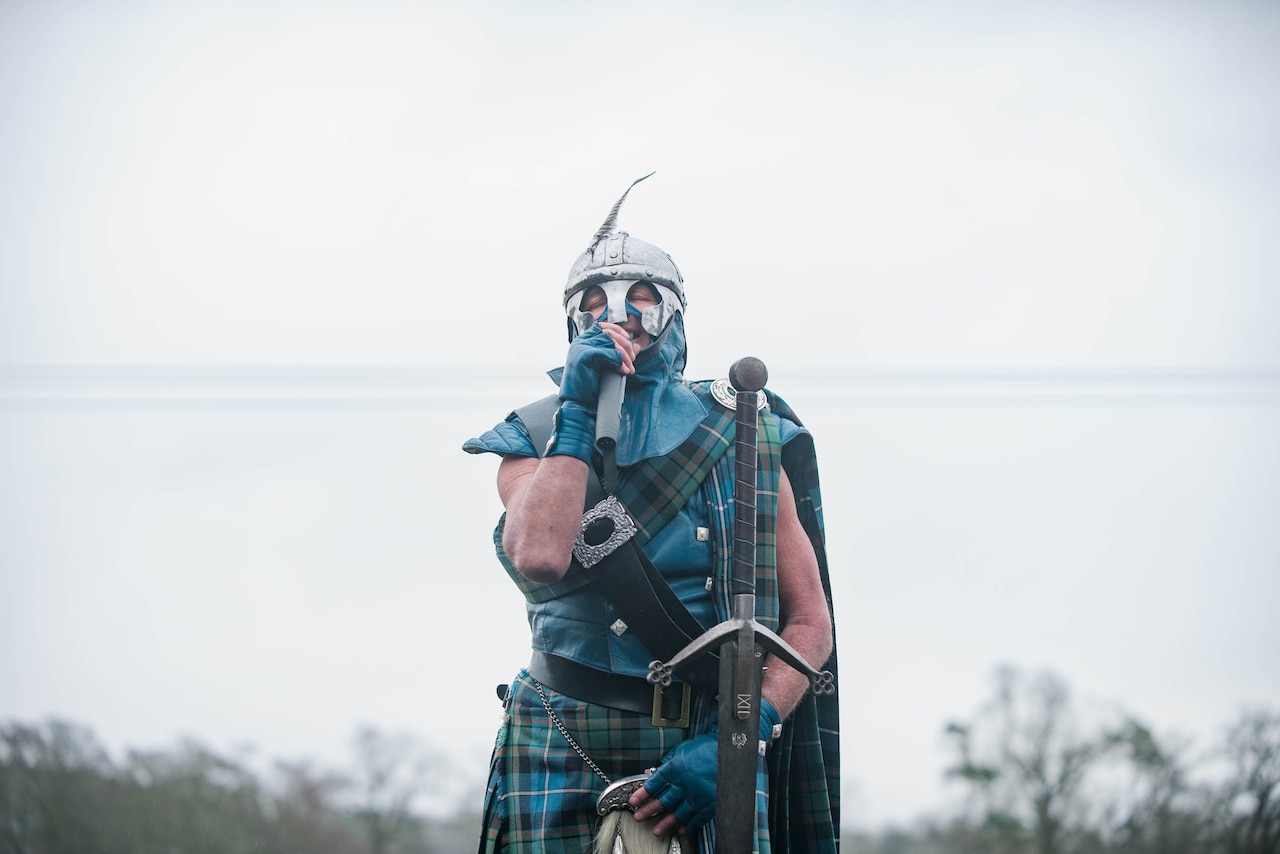 In the wake of another national self-examination two years ago, Scotland's First Minister, Nicola Sturgeon, has helped turn a sound-bite into a truism: Scotland is a "self-confident nation," she has said numerous times. From a Scottish pop music point of view, that seems contingent on a capacity to dissociate Rae's eccentric patriotism from rockist notions of authenticity. According to Mark Percival, writing in Ian Brown's From Tartan To Tartanry, these restricted "acceptable" displays of Scottishness to non-native glam acts and bands like Big Country, whose guitar sounds were often compared to bagpipes. As someone whose work seemed isolated from Scottish music tradition and a scene-specific fashion for tartan, like glam rock and punk, critics simply couldn't make sense of what Rae stood for.
Acknowledging this much in "Idio-Syn-Crazy," a song inspired by a faintly derisive compliment from a WEA executive, Rae sang about a desire for longevity. What mattered to him more, though, was going home and starting a family. In the house, signs of domestic life were worn in like old leather. In the powder blue and maple-colored kitchen, where Rae had fetched his wife's soup and some bacon rolls for us, crumbs, plates and consumer electronics — including two telephone handsets bound together by elastic bands — line the rough wooden table.
Near the end of our conversation, I ask Rae to recall when he felt most appreciated. Bella stirs at his feet. "When I was in the States," he replies. "Because of what I'd done, and because of how the industry changed around that. They acknowledged that, and they'd give you money. Over here, they'll just go, 'Oh aye, that was good. Wonderful.' But you'll not get the backing. The structure's not here. That's what I've been fighting for, for the last 30-odd years. Let's have a music industry. Let's have a television industry. Let's have a film industry. All these things that were supposed to happen. If I had to wait for music video, I would still be working on a farm."

For the third installment of his monthly conversations on RBMA Radio, Adam Bainbridge AKA Kindness meets Jesse Rae. You can listen to the show here.