Kindness Meets Devonté Hynes
The two friends chat ahead of Blood Orange's third album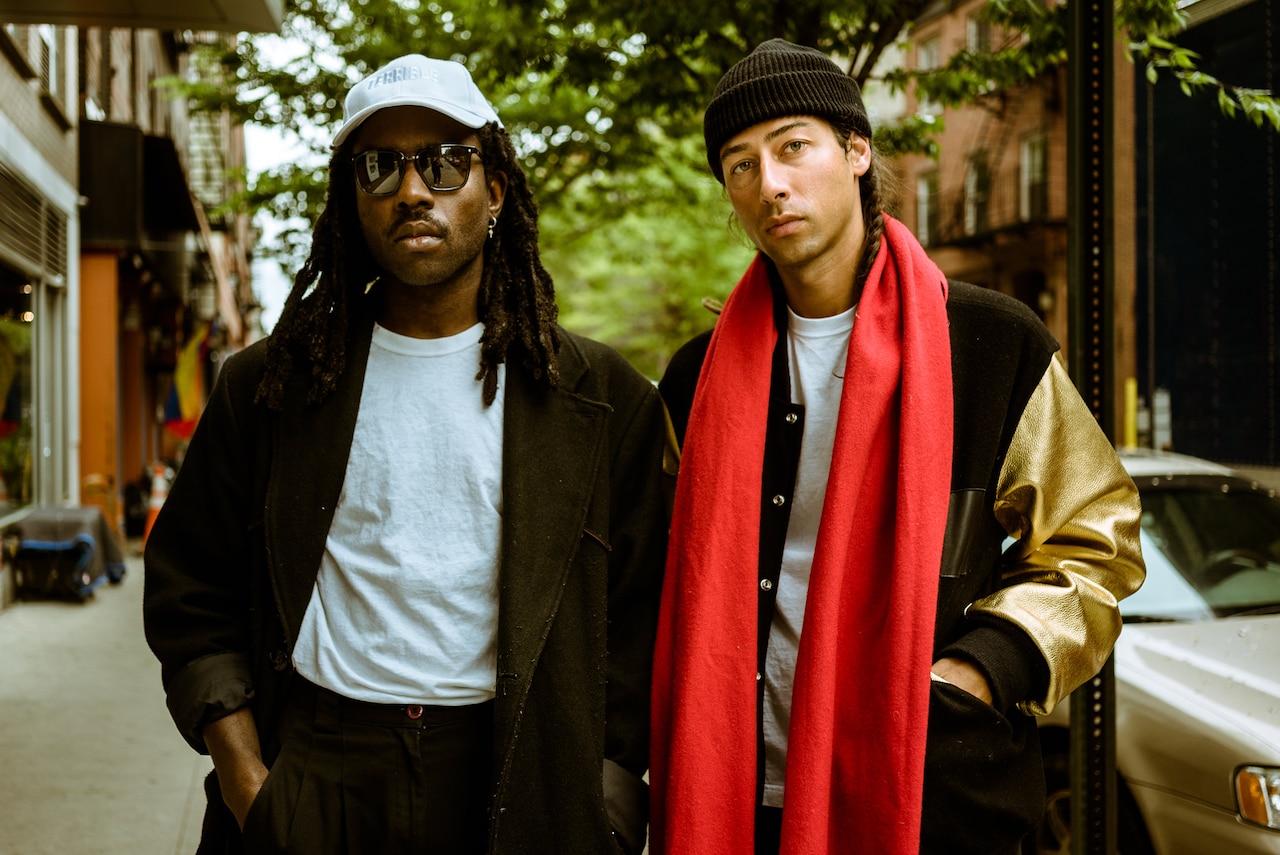 Pop singer, songwriter and producer Kindness, AKA Adam Bainbridge, has a deep understanding of how music ties into our identities and ways of seeing the world. His white British father and Indian mother fed him disco, Motown and soul in his childhood in the middling town of Peterborough, before he broke away to London, Philadelphia, Berlin, Paris, NYC and LA in quick succession.

In the second episode of his RBMA Radio show, Kindness connects with his longtime friend Blood Orange, AKA Devonté Hynes, to talk about Hynes' forthcoming new album Freetown Sound, cultural identity, honoring their family's past and a brief brush with Prince

View all .
Oh my god, I should stop talking about death in interviews.
Kindness
Part of the reason why I wanted to get you in here now is that when you've made an album, you're caught up in the excitement of making that record. There's that magic period just after you finished putting it down and it's mixed and you're maybe playing it to a few close friends and family and that's almost the golden moment.
Devonté Hynes
Yeah. I think I said to you that it needs to come out soon because I'm willing to say yes to a lot things right now.
Kindness
You are genuinely enthusiastic.
Devonté Hynes
Yeah, that I would usually just say no to and so I'm more open right now than I have been before. I think maybe because I'm older, too; not a maturity thing because I'm not more mature, but just closer to dying so I feel more willing to just say yes to things. I don't know.
Kindness
Welcome to the Dev Hynes Morbid Hour on RBMA Radio.
Devonté Hynes
Oh my god, I should stop talking about death in interviews.
Kindness
Well, that's a cheerful way to start a show.
Devonté Hynes
It's fitting for my album, I think.
Kindness
I was going to talk about the "Chamakay" video, which maybe started this exploration which has resulted in the themes that you're looking at on this record. Now we're looking at black culture and heritage, your own heritage, personal heritage, the wider heritage... if [Coastal Grooves] was defining identity and [Cupid Deluxe] was interpersonal relationships and that identity, I think [Freetown Sound] is your identity in society, maybe? It's now where you stand in relationship to the universe as opposed to just a smaller group of people.
Devonté Hynes
Definitely. That's very interesting because the last album was more, "This is me and the type of person I am amongst this certain corner of the world," and this album is taking a step out and being like, "Oh, I am a black man living in America."
Kindness
Right. What made me think it was that positive welcoming, arriving in New York and having that freedom, and then... after a while, there's that crushing responsibility that comes with being a non-white person in America, whether you're American or not, and realizing that these issues are all our issues now.
Devonté Hynes
One thing that's interesting is that with this record, it's not like a manifesto or telling people how they should be, it's not preachy, but it's more of a case of, which I think my favorite writers do, "This is how I feel. This is just my thoughts and how I am. You can listen to that if you want to. If you don't want to, you can just maybe enjoy how me saying how I feel sounds."
Kindness
In between Cupid Deluxe and the new record coming, you were releasing certain collage-style pieces of music on Soundcloud.
Devonté Hynes
Yeah. There's a few of them things, there's one that was more of a score that I got fired from. I uploaded that, it's 45 minutes. I think it's really good. Then I put out a song called "Do You See My Skin Through the Flames" and that was actually a crazy one because … it was a week after the Eric Garner Grand Jury decision. I was in a pretty crazy depression during that time and I remember waking up and I think it's actually the last time I used the Blood Orange Facebook, which I now see is 10 months ago that this song was uploaded, but I basically wrote a crazy thing, just stream-of-consciousness on Blood Orange Facebook about how I was feeling about what was happening in America and then I just started playing piano.
I just started recording this, just speak my mind over top of it, one take, and fuse [it all] together. It was so quick that I did it and I uploaded to SoundCloud and I didn't listen. I bounced it and I didn't listen to it, because it's long, I mean it's like 11 minutes and so I just uploaded it, posted the link and then left the house. I didn't listen to it again until maybe two days after that.
Kindness
I remember talking to you at that moment, I had just felt the weight of everything was so heavy and oppressive and I do feel, maybe specifically to this song, but also other songs on the new record, it can never be fully cathartic, but do you feel there is something cathartic in writing and putting out music?
Devonté Hynes
I started questioning a lot of things and I basically got to the conclusion that, if someone is a writer they write maybe for themselves at home, as a release. Maybe they write for an article, an interview, or maybe they write for something else more specific. I started to look at myself maybe like that and realizing it's okay to make music that isn't for people to listen to, if it's a sense of therapy. I don't need to feel bad about that, and maybe at some point I'll feel like I want to share it. Maybe I can be a little bit more focused. That's something that never really happened to me before. I was always focused in a sense of determined what it was I wanted to do, but I realize that basically this is the first time in my life that I was aware that no matter how small or big or whatever, there will be people listening to what I release.
Kindness
So this album, Freetown Sound. Freetown being..?
Devonté Hynes
Freetown, Sierra Leone. A town founded... it was basically a town where freed slaves were sent to live a comfy, Christian life. That's where my dad is from. Born there 1939.
Kindness
Oh my word. That's a lot of history as well, which is 20th century history.
Devonté Hynes
Yeah, it's really... this is what the album is about, because I really really thought about this now. One thing I thought was really interesting is... Did you watch Master of None at all?
Kindness
Some of it, yeah.
Devonté Hynes
The episode that's ...The one about parents is so interesting to me, because I guess I was kind of similar, where it's a case of I just never really appreciated the fact that my mother moved from Georgetown, Guyana, to London in the '70s when she was 21. I can't even imagine that, you know? I had a really amazing conversation with my parents where I spoke to them about this stuff, and she told me about how she kept getting shouted at because... You remember this, because you went to Guyana with me, there are not really lines. People don't really queue.
Kindness
I mean, that's a very British thing.
Devonté Hynes
Yeah. It is very British, and I think places like South America and Caribbean is like, the very opposite end.
Kindness
The problem is the Brits love a queue as well. It gives them some sense of... satisfaction.
Devonté Hynes
Definitely. She told me... Do you remember the bus system, remember how crazy the buses were there? They would just kind of whiz by. She would always tell me stories about how they'd be clinging on for dear life out of the window going through these buses. She said when she first moved to London, buses would come, and so she would just walk up, and just walk onto the bus. If you're from London, you're aware of how maybe that's... You can imagine how people reacted to that. She said she never understood it, it took her a few years to understand why people got so mad at her for just skipping queue and just walking on the bus.
Kindness
I mean, that Master of None thing is an interesting reference, because the whole episode was about how our parents are just our parents, and even the stories that we ought to be asking them, sometimes it's kind of secondary. You've got so much else to talk to your parents about.
Devonté Hynes
Exactly.
Kindness
Which is quite banal and everyday in some ways.
Devonté Hynes
Yeah.
People don't love to talk about the realness of their history at the dinner table necessarily.
Kindness
You forget to get into this deeper history. Also sometimes quite painful stuff, people don't love to talk about the realness of their history at the dinner table necessarily.
Devonté Hynes
You know, my mom only went back to Guyana once since she left, and that was the year before I was born. She left there, and didn't look back.
Kindness
Do you think these elements of visiting where your parents are from, and thinking about their histories, has it put you at peace, or has it potentially created more things to think about? I feel like it doesn't actually simplify things.
Devonté Hynes
Yeah, no, it doesn't. Yeah, it's definitely given me more to think about, I mean, I really try to have a lot of references on this album, to try and capture myself, my childhood, and both my parents' childhoods and where they are now in their lives.
For example, there's a song on the album where the underbelly of it is audio of a woman in Freetown, speaking in Krio, discussing when the rebels came in and destroyed her village. The music over the top is interpretation of an Eddy Grant song, who grew up in Guyana in Georgetown, where my mother is from.
So there's a lot of things like that where I'm in this I'm kind of understanding things in the past and linking them in ways that are maybe not... That are more subtle, like that, and then there's other ways that are more directly discussing. The second song on the album is a song called "Augustine," where I, the lyrics are very, it's like, "My father was a young man, my mother off the boat, my eyes were fresh at 21, bruised and still afloat." It discusses all of us and being in our early 20s and... You know, I moved to New York at that time, my dad from Sierra Leone, et cetera.
Then it goes even further, discussing different levels that, which is a big thing on the album, but that Christianity has played and weaved into all of our existence, whether good or bad, and the sense of with my mother was quite positive, I think, for her. Which is probably what then made her kind of put this on us as her kids. And then my dad, my dad's side, it's a case of it was just embedded in Western Africa, and so the song, this song in particular then discusses St. Augustine of Hippo, who denounced his form of Catholicism in Rome before moving to west Africa and then creating a new form of Christianity which then continued.
Then this woman called Nontetha Nkwenkwe and the end of the song, which is sung in Krio, talks about Nontetha who was a South African woman that built her church for black people to worship in, but then the government was so scared of black people grouping together that they put her in a mental institution for the rest of her life.
This song discusses all of these things in some way. On top of that, lyrically, I try to explain this musically, too. I use writings on certain bits that St. Augustine had used: "Lay have I love and chose to be," that's a line that he said, and I used those writings to then discuss where I'm at now, in my life, and understand myself and seeing in particular, Travyon Martin situation, but within the melody, so I'm discussing... This is like a lot, but this is kind of how my brain works.
The melody I used that moment is a reference to Puccini, who I think is maybe one of the most Christian, melodically, of composers. There's a lot of moments in the album that actually are very Puccini-inspired, maybe even [Jean] Sibelius.
Kindness
Are you going to unpack some of the lyrics, or the musical influences, would you use something like Genius or ...
Devonté Hynes
Yeah, I haven't thought about that. I like the idea of letting the album breathe for awhile, and then maybe going in, because there's a lot of very deep references, because on top of that, I guess, aesthetically, the whole thing is continuous, and there's a lot of interludes and things. I was trying to do like a Paul's Boutique, Dust Brothers, Donuts, Dilla type of feel, where it's like this tape that has all these different elements in it, just kind of continuing.
Kindness
Not that there are that many direct samples used in the songs themselves, but the kind of sample concept. The drum programming, to me has a lot more to do with underground hip-hop than anything that we've heard [from you] before, I think.
I would like to take this chance because this is one of the bittersweet things about Prince leaving us, is that people all have stories, and amazing stories. There was a moment where I frequently – as other people might have to with death – see what's going on in your life through Instagram. I remember one night seeing that you'd Instagram'd a picture of a flight case with a Prince symbol on it and [I was] just being mad as hell, cause I knew that we'd been trying so hard when we were in London to get tickets to those private shows and that it just wasn't happening…I am gutted that I never saw Prince live. You did. Tell us about that, the second time. This was the second time.
Devonté Hynes
Yeah, I was in London…I got a twitter DM from a woman saying that she was Prince's manager and if I would like to attend a show he's doing that night in this room in a casino in London.
Kindness
I love the part you tell me where this woman doesn't have that many followers on twitter.
Devonté Hynes
No, no. It was like 30 followers, or something. I was googling her trying to be like, what, is this a real thing? Me and my girlfriend at the time were just like, "Well, the worst that happens is that we don't see friends." I don't think there's any response, even after I was like, "Yes, totally!" Like, and, "Can I bring Samantha?" I don't think there was a response.
Kindness
Right, so you just went.
After the first hour, Prince was just like, "Do you know how many hits we have? Going to be here all night!"
Devonté Hynes
We just went. Honestly, it was the smoothest entrance of a place, literally turned up, there was some crazy security outside and it was all very unassuming, but those lists and whatever. It's like, "[Dev] Hynes, H-Y-N-E-S," and they're like, "Yeah, come in." It's like, no anything, they brought us in, we walked through this casino, really insane, like through some weird back door, and we still didn't really know what was happening. Then we went around the back of this, you know, it looked like it was almost like kitchen-type stuff, and then I saw flight cases.
Kindness
The flight case.
Devonté Hynes
Then we were led into this small room, no more than 50 people inside this room, and we're still a little confused, and then we see the lighting guy, his desk, and so we kind of walk over there. Then I look over and see the setlist. I was just like, "Oh my god, this is actually fucking happening."
Kindness
When you first told me this, I was seething with envy, and the second time I'm still seething with envy.
Devonté Hynes
It was in-fucking-sane, he came on with 3rdeyegirl and they played for over two hours. After the first hour, he was just like, "Do you know how many hits we have? Going to be here all night!" I was like, "I am down to be here all night."
Kindness
And the hits, too.
Devonté Hynes
The hits, all the hits. I recorded a voice memo – sorry Prince – I recorded a voice memo of the entirety of "Purple Rain" and of "Nothing Compares 2 U."
Kindness
Oh my god.
Devonté Hynes
On my phone. There was no way I was going to let that just pass. Then at the end, this is a really crazy moment, Samantha texted me the other day to ask if I remembered this, and I definitely remember this. We waited around for as long as we could, of course...
Kindness
He could come out and do another show.
Devonté Hynes
Yeah, yeah, yeah.
Kindness
To an empty room.
Devonté Hynes
We just waited. They would have to... I mean, they did have to kick us out, we stayed. We were up on this ledge by ourselves, and we were talking, having a conversation, and for some reason, this is 100% true, we stopped talking and looked to our right, to a door, and three seconds later, Prince walked up and just slowly walked straight past us and then into another door. We just stood froze. Didn't even like... No eye contact. It was the craziest thing, there was no sound or anything, we just looked... The presence, the purple presence.
Kindness
I kind of imagine the lights dimming and the air conditioner sort of shutting down.
Devonté Hynes
Honestly, it felt like that. He had the fro at the time, you know, it was like that look, the fro and the flairs...
Kindness
Maybe even the dry ice escaping through the door as he walked through.
Devonté Hynes
Just purple smoke just... Anyway, yeah, that was... Never, never ever forget that.

This interview has been edited and condensed. Find out more about Kindness' monthly RBMA Radio show here.