Mickey Pearce's Debut Album, Michael, Is At Home With Swamp 81's Family Vibe
Coming through in the late 2000s, when UK underground dance music was at a stylistic crossroads, Richard Attley was producing directional electronic music under the name Shortstuff on the Blunted Robots label, which he co-ran with fellow British producer Brackles. Converging the spacious frequencies of dubstep with the melodic swing of the emerging (if short-lived) UK funky style, Attley's sound proved a studied and original one: tapping into a musical zeitgeist while keeping it forward thinking.
In the years since, Attley's kept in good company: releasing sporadically on Ramp Recordings and Ten Thousand Yen, under his new name of Mickey Pearce, then linking up with Loefah's Swamp 81 label. The most recent work is his forthcoming debut album, Michael: released four years into his deep relationship with Loefah as a label boss and musical confidante. In this excerpt of his conversation with Shawn Reynaldo on RBMA Radio's First Floor, Attley talks us through the roads that lead to Michael, and how he's balanced out his projects over time.

Listen to First Floor on RBMA Radio here every Thursday at 1 PM EDT.
You've made an album, Michael, but when I was reading about it, it seems that you weren't planning on making album at all.
That's right. I think that had I sat down to write an album, I would still be writing it now because I tend to overthink things. I'll get all the way down the line with something and scrap it. What happened in this instance, though, was that I was going to write a follow-up to a mixtape that I did in 2014 – and off the back of an EP that I did last year – and I just wanted to get that out. Then, for whatever reason, the headspace I was in, the music came out a certain way and I started to absent-mindedly develop stuff beyond loops and locked grooves. When I played it to Loefah, he was like, "This is an album. We should make this an album." Hearing his positivity about it and the energy he felt spurred me on, and we haven't looked back.
What's the difference between an album and a release like Up West, which you described as a mixtape?
Up West came off the back of a year when I hadn't really put any music out. It had been a tumultuous year, with personal situations that I won't go into. By the end of 2013, I had all this music that I wanted to put together and get out there.
I was listening to a lot of hip-hop mixtapes and I was really into the idea of doing a beat tape, so that was how Up West came about. With Michael, it's more of a singular thought. I tricked myself into doing it: a set period of time, a set goal, a consistent thought throughout. That's the difference between these two projects. Speaking more broadly, a mixtape is a way of putting out an album without actually having to stand next to it and go, "This is my debut album."
There's also a family vibe to [Swamp 81]. We do parties together, which are a big part of the label's identity and why we have such a strong following. It's nice to be part of something that feels like a movement.
When you first started releasing music under the name Shortstuff in the late 2000s, there were a lot of releases in a short space of time and then, in recent years, it's become more infrequent. I'm curious – has something changed in your methods? Are you making less music, or are you just more selective about what you're putting out?
I think I'm more selective about what I'm putting out. I'm probably making more music now than I was a few years ago. I was putting together a playlist just before I started speaking to you: going through iTunes, looking at all the stuff I've written [that's now] in scrap. There's an awful lot of music. In the early years I was just excited that there were people who were into my music, so I probably signed off on a couple of records that I wasn't entirely happy with.
The other thing is that I work with fewer labels now. Back then, I was putting music out on a number of different labels, including my own, so that's got something to do with it. Overall, though, it's that I've become more selective. One good record is way more powerful than lots of average ones. It's an obvious, clichéd thing to say, but it's true.
Your primary label seems to be Swamp 81 now. Tell me how you linked up with Loefah and become part of the crew, and what your relationship with the label is like?
Loefah started playing some of the last EP I did for Ramp Recordings as Shortstuff, and we got in touch through a mutual friend, Dave Q, who ran the Dub War party in New York. Around that time, I was becoming a little fed up with the Shortstuff name and how the project was being viewed generally. Then Loefah asked me, "Do you want to do a record?" It was going to be a Shortstuff record, but I thought that the time was right to switch over to Mickey Pearce. I'd done stuff as Mickey Pearce before, and Loefah was into it, so that's how it all began [with Swamp 81].
What I found out was that – and I've worked with a lot of people over the years – I'd never worked with anyone who gets behind a project the way that Loefah does. People will often remark on the speed with which things happen, and there are lots of reasons why it takes a long time to get records out, but I found that a lot of goes into every project with Loefah. I get a lot of feedback, energy and positivity. There's also a family vibe to the label. We do parties together, which are a big part of the label's identity and why we have such a strong following. It's nice to be part of something that feels like a movement.
I'm sure people ask you this all the time – and it's probably something that you hate talking about – but is there any chance that you'll ever revive the London Robots label, and work with Brackles again?
Well, I'll admit it: we're working together and people will hear about that when the time comes. It's not going to be a Brackles and Shortstuff thing – we may or may not tell people that it's us behind it – but we are working on things. Brackles is my mate, first and foremost, so we've always been hanging out and swapping music, but as far as Blunted Robots goes, I don't think that will be revisited. It was of its time, when there was a bit of a scene around UK funky, and I like that there were only a few releases [on the label]. Those releases are out there and people still reference them, and I think it's best to leave it like that.
What's interesting, though, is that Akito, a producer and label boss from London, has just released some of Martin Kemp's music that was originally on Blunted Robots. After the distribution company ST Holdings folded, Blunted Robots wasn't active and so we didn't go looking for another distributor. We thought, "That's that then," and that music wasn't going to be out there, but then Akito comes along. He's obviously been heavily influenced by us, seems to know what he's doing and now he's released the music – so I like it. I like to leave [the music] there as a little landmark to our early careers.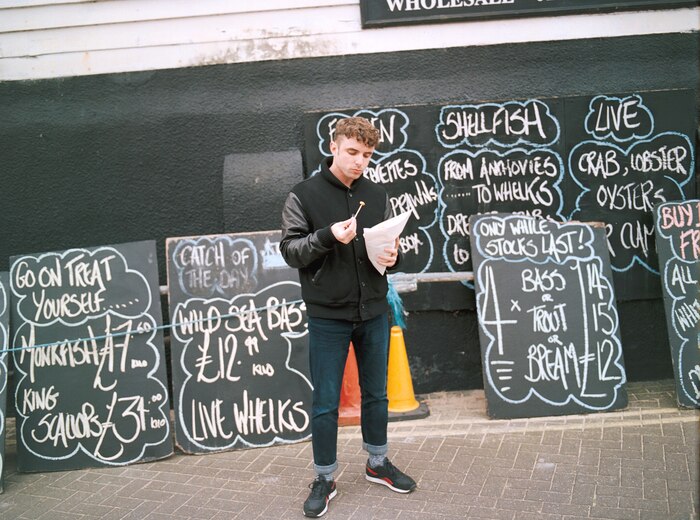 This is the last question that I want to ask you. Why are you eating in so many of your press shots?
Food is a really big thing for me. After music, cooking and eating are probably my only other hobbies. When photographers ask me, "What's the inspiration? What do you want to do?" my first thought is usually, "I'd like to be eating an ice cream," or "Let's have an ice cream on my head." There's not a smart explanation for it. I just like eating.