Nightclubbing: Furthur
The scene-defining, acid-drenched festival that was an early peak and future reference point for raves in the Midwest United States
On Halloween of 1992, the Milwaukee Police Department raided an all-night warehouse party – a rave called Grave, headlined by DJ Rob Noise AKA Robert Hood of Underground Resistance – that was overflowing with MDMA. The PD of the small Midwestern town, best known for its breweries, had set it up as a bust for underage drinking. Yet not only did the cops let thousands of dollars in pills go unnoticed, almost no one at Grave was even drinking. After detaining and issuing prewritten tickets to nearly 1,000 kids, the lawyer father of one of the arrested took on City Hall and won; most of the fines went unpaid.
Naturally, this emboldened the nascent Midwest rave scene. The crowds along Interstate 94, which stretches from Billings, Montana, to Detroit across the top middle third of the U.S. – covering, among other cities, Minneapolis, Milwaukee and Madison, smaller but crucial hubs in the Midwest scene – began, in Grave's wake, growing considerably younger and more fervent. One such attendee was Dory Kahalé of Minneapolis, who'd gone to the House Nation parties at 7th Street Entry (and their First Avenue main room analogue, Depth Probe) and was soon spinning acid as DJ Apollo. "My first out-of-state party was the month following Grave," he says. "A friend was there and she got busted. She told me about it and I'm like, 'Ooh! Let's go to the next one!'"
The bust also left Drop Bass Network – the team of Kurt Eckes and his roommate Patrick Spencer, who were taken into custody at Grave but had no part in putting it on – at the top of the Milwaukee rave heap, though for years their parties took place everywhere in the region except Milwaukee proper. "It was a lot of good press for us," says Eckes. "Up until then we could be doing parties in a warehouse, and people could walk by and not know what was going on. After [Grave], anyone going by a warehouse and heard a beat and had seen the news knew there was a rave going on."
I read about one of the parties in England being called a "techno pagan ritual." For some reason that resonated with me.
Eckes had always wanted Drop Bass to have its own identity. His favorite band in kindergarten had been Kiss: "That whole pretend-evil, I think, was very informative in what I ended up doing." So was discovering punk via Joan Jett and the Clash, and dancing to industrial and house music. "The first few parties we did had cheesy [logo]-bite flyers," says Eckes. "Then I read about one of the parties in England being called a 'techno pagan ritual.' For some reason that resonated with me." Thus, Drop Bass followed FlavorRave (September 12, 1992) – featuring "a super-ravey and cheesy color flyer" – with Tempest: A Tekno Pagan Ritual (October 17, 1992). "We spelled 'techno' with a K, like, 'We're trying to be hardcore now,'" says Eckes.
A trip Eckes took to Staten Island with Tommie Sunshine – "I was candy-flipping after mistakenly smoking PCP," recalls Sunshine – solidified that mission. Eckes was adamant about bringing the music he heard back home. The hardest, nastiest, most insane acid tracks, plus the menacing music coming out of Europe and New York, increasingly concussive and stern, now being called gabber – that would be Drop Bass's musical signature. So was throwing parties constantly. "I look back and see how many parties I did in 1993 to 1994, and it was one every two weeks," says Eckes. "Holy shit – what was I thinking?"
They weren't all in Wisconsin. Eckes got involved with events in Chicago, such as the Cabaret Metro stop of the See the Light Tour in the fall of 1993 – featuring Moby, Orbital, Aphex Twin and Vapourspace – as well as Rejoice, the one-year party for Reactor, co-promoted with that tabloid-sized zine's editor, David Prince, who had met Eckes while reporting on the Grave bust. Eckes also had a hand in some early Minneapolis parties, notably Hellbent (May 29, 1993), at a Masonic Temple right down the street from a police station. "A large portion of the crowd had come from Madison, Milwaukee and Chicago – places that had established scenes," says Woody McBride, who put on parties as M.O.R.E. (Minneapolis Organization of Rave Enthusiasts) in Hellbent's wake. "We raided the costume closet. We were wearing old Masonic robes throughout, lighting candelabras."
At Genesis (July 31, 1993), near Madison, Lenny Dee could be heard pitch-bending a sine wave over battering-ram drums at 170 BPM in a warehouse-cum-madhouse, full of young men and women stripped to the waist and banging their heads against the speaker cabinets. This was the "Midwest hardcorps," kids not merely ready to be lost in music but obliterated by it. Eckes and Spencer adopted DJ names – Jethro X (later Jethrox) and Jedidiah the Messiah, respectively – that amplified the crazed-hayseed vibe. (It helped that many times, the parties were held in honest-to-goodness barns.) But even Kurt's partner had to cry uncle. "I wasn't so into the really abject noise, trying-to-scare-the-parents type stuff," says Spencer, who spun hard acid and rough, jackin' Chicago house like Steve Poindexter's "Work That Mutha Fucker," not gabber. "I thought it was kind of stupid – like, 'Why does it have to be so cheap-show?'"
Not everyone in the scene liked hardcore, especially women. "A song can and should be a 'floor-filler' without the use of obscene and degrading language," Rhiannon Brown wrote in the zine Chicago Hardcore Authority, citing Dutch duo Charly Lownoise & Mental Theo's "WWS Pussy," which turned 2 Live Crew into gabber. "I don't go to parties to feel degraded or humiliated... Since every DJ in our scene is a man, it will take considerable effort to sound the alarm that women are not oblivious to the in-your-face misogyny that a lot of gabberhouse – the dominant 'rave music' of 1993, which is supposed to create a 'vibe' – contains... It's not as if that's all that's out there, is it?"
David Prince had been to an attempt at a weekend-long techno campout before, organized by Chicago house DJ and early rave-scene mainstay Mystic Bill Torres in rural Illinois. Prince had been one of exactly three people who'd shown up. But he still said yes readily when Eckes told him over lunch in mid-1993 that he'd been reading The Electric Kool-Aid Acid Test and wanted to emulate its communal vibe on a campground. They roped in McBride and began plotting a weekend retreat named for Ken Kesey's bus, Furthur.
"Kurt was like Hannibal in The A-Team," says Matt Bonde, editor of the Milwaukee rave zine Massive. "A lot of the younger guys were like, 'How the hell did he pull all this shit together?' There was no one else who was able to pull it off. There were people who attempted to throw parties [in Milwaukee], and they went down in flames." Eckes had a lot of help. The Drop Bass "support squad" was a small army of volunteers Eckes drilled into efficiency. They'd hand out flyers all over town, then set up, break down and provide the parties' elementary nucleus of stylized aggression.
"Come game time, we all had roles," says Spencer, who played lieutenant to Eckes' general. "I'd run the map point, bringing the money back, closing the map point. There'd be other times when you were making sure the DJs were on time, changing the tapes in the DAT machine to record the sets. It's like a football game: 'Here's the concession stand. Here's the seats. Make sure the cars are getting parked the right way. Someone's flipping out – deal with that person. These people are trying to get in and shouldn't.' It was like being a site manager."
Thanks to parties like the Grave sequel Grave Reverence (October 30, 1993), whose flyer screamed "RETURN OF THE TECHNO PAGAN RITUAL," rumors flew that Eckes subscribed to the dark arts. "I think a lot of it was making fun of things," says Prince. "I think he found the loved-up part of the rave scene to be laughable. Obviously, there was some true interest, but I never felt like Kurt was like a Satanist. To me it was funny. He's one of the most fair, honest people I know."
A more whimsical style was evident with Furthur, which Eckes, McBride and Prince announced in the winter of 1994. The party's promo material had an open, hippie-optimistic feel – starting with the blue-tinted photo of Kesey's bus on the flyer's front - that was a change from the hardcore craziness Drop Bass had cultivated. "The reason why that party was what it was is because everybody breathed for the first time in a year and a half, because somebody finally threw a party that wasn't so heavy-handed," says Tommie Sunshine. "It was like, 'Ken Kesey and the bus? Oh, fuck yeah, this is going to be glorious."
It was very obvious we were going to lose money. Advance tickets weren't selling... I remember showing up there really bummed out.
"Furthur was a much more rounded event," says Spencer. "The idea behind it was, it's not just one night, it's a weekend. You can throw an event: 'Here's where the devil's going to come and stomp on your balls.' Or, 'Come camping. There will be some of that devil stuff, but there's also going to be this other stuff.' I was much more on board with that."
Eckes set Futhur for the final weekend of April so it would finish on May 1: Mayday. "Mayday was fascinating to Kurt because they would do the Mayday party in Germany," says Mark Verbos, a Milwaukee producer who played live PAs at parties throughout the Midwest. "Mike Dearborn played, [German producer] Hoschi, people we respected, so it seemed like the ultimate in serious hard techno. As I came to find out living in Germany, it was completely cheesy and ridiculous. Any self-respecting techno person thinks Mayday is a joke."
But Eckes wasn't kidding. He'd been a Motocross racer growing up, and found a track in rural Hixton – population 305. "We knew we needed a place we could camp," he says. "We went out there and it seemed too good to be true. There was no one around, we were in a valley – it was the perfect location." However, the track was in Jackson County, which had recently changed its group-gathering ordinances to oust the annual Weedstock festival. "We had no idea that any of that existed," says Eckes.
The week leading up to Furthur was, says Prince, "a disaster. It was very obvious we were going to lose money. The phones were not burning, advance tickets weren't selling; I probably put all the Reactor money into the party. I was struggling to get the magazine out; I remember showing up there really bummed out." He'd arrived in the middle of a downpour. "Nobody's in a good mood," he says. "There's this omen: 'Why did we do this? Whose fault is this? Whose fucking idea was it to do this?'"
The weather continued to be uncooperative. "It didn't exactly snow, but we woke up to a layer of frost after the first night," says Verbos, part of the support crew. "It was one of those late-winter freak things," says Spencer. The promoters steeled themselves. "It was going to happen rain or shine," says McBride. The rain made for a logistical nightmare: "We couldn't get any of the trucks, sound or tents in," says Eckes. "We had to set it up in the parking lot at the top of the valley – which was on top of a ridge."
On Thursday, the night before kickoff, the Jackson County police showed up. "The Milwaukee police had tipped them off," says Eckes. "Woody and I had to go to the sheriff's office Friday morning and tell them what was going on. They showed us the group-gathering ordinance. It was pretty tight, but as long as we didn't go over 1,000 people, we couldn't get in trouble."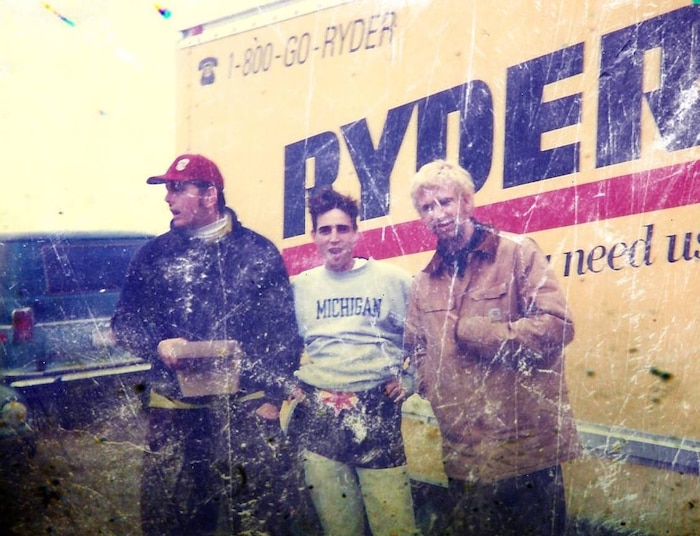 The next morning, the first car arrived: Gary Kuzminski, who designed Reactor's covers, with his girlfriend and a teepee. "When the teepee went up," says Prince, "I was like, 'Oh, shit. This is happening.' It was cold, it started sleeting, but you could tell the people there were committed."
U.S. rave was still a road-trip culture in 1994, and the growing interconnectedness of the national circuit, pushed along by the U.S.-based mailing lists that had begun in spring of 1992, meant that every side of the scene had been in contact with every other at some point. But Furthur was the first homegrown American attempt to gather the tribes in one central location. One look at the lineup and you knew that to be there was to stamp yourself as part of a movement.
Bookings were a snap: Nearly all the headliners were almost completely unknown in the U.S. outside of the rave scene, despite having been around for years. The top name was the exception: Aphex Twin, whom McBride got for $500, plus airfare; James in turn brought acid producer Kozmik Kommando, who recorded for his Rephlex label, on board. McBride had also been producing tracks on overseas labels like Labworks Germany and touring there, so he brought in a trio of German DJs: Hoschi, Roland Casper and Thomas P. Heckmann, the latter of whom performed as Spectral Emotions. The San Francisco Hardkiss Experience, as Scott and Robbie Hardkiss were billed on the flyer, also included the separately billed Wade Randolph Hampton – a DJ and the Hardkisses' manager, as well as a promoter with a hand in events in Chicago, San Francisco and Los Angeles.
Police were sitting there all night long counting people and still hadn't gotten to 1,000. They figured, "They're not going to go over that." So they quit counting.
Frankie Bones, Adam X and Micro came from Brooklyn; Barry Weaver came from L.A.; Nigel Richards came from Philly; Deadly Buda and Dieselboy from Pittsburgh. The St. Louis Vibe Tribe – Terry Mullan (then a student at City College) and his friends Jajo (Juan Mauri Vera) and Merlin (Joel Stansom) – were there, too, as were the Superstars of Love – an outlandishly disco-outfitted troupe, led by David Alter. The Superstars' fake-fur coats ended up being as usefully warm as they were '70s-chic.
Loads of Minneapolitans (including Kahalé and his roommate, house DJ Alex Jarvis), Milwaukeeans, Madisonites and Chicagoans were also on the flyer. The one gaping omission was Detroit – just Mr. Bill, who spun house and later became electro producer Will Web. Detroit's Mr. Bill is not to be confused with Milwaukee's Mr. Bill, who spun hardcore; naturally, both appeared at Furthur.
Pulling into the grounds late Friday night, the kids flagging vehicles down and guiding them to safe park-and-sleep spots were efficient, if a little wild in demeanor. Like any party, you followed the music. Mostly it came from the big tent – though there was a side tent a little ways off, and although the flyer had promised DIY turntables for volunteers, plenty of kids brought soundsystems of their own.
Many of them were using those systems in their hometowns, including Anthony Cammarata and Laura Schebler Rammelsberg. She was majoring in film at the University of Iowa, in Iowa City; he was going to Grinnell, an hour away, and threw small parties that attracted decent out-of-town turnout. "We were sick of driving for four hours, then four hours back," says Rammelsberg. "It's like: 'We just need to do it here.'" They found, or cultivated, a close-knit audience of around 200.
For Furthur, they commandeered a caravan, arranging to meet two fellow MW-Ravers at the Dairy Queen parking lot in tiny Platteville, Wisconsin. There, the group's appearance aroused suspicion: "Everyone had too many piercings, and funny hair," says Cammarata, who had a shaved head as well as rings in both ears and his left nostril. For a laugh, he grabbed a plastic "E" from the drive-in sign.
A few minutes later, an off-duty cop knocked on the car window. Cammarata offered to put the letter back, but the officer wanted to press charges, despite the protests of the DQ manager. "You need to call the owner," the cop commanded; the owner gave the go-ahead. "Fortunately, the police were very kind about it, because they weren't the ones who arrested him," says Rammelsberg. "It was this off-duty guy who was really cranky." Cammarata was charged with a misdemeanor and let go with a $175 fine – they got to Furthur about 1 AM.
Next morning, the local police left the entrance. "People weren't too hip on coming to the party on Friday, so we only had 700 or 800 there," says Eckes. "They were sitting there all night long counting people and still hadn't gotten to 1,000. They figured, 'They're not going to go over that.' So they quit counting." But the ravers kept coming, all the way until Saturday night; the final total was around 1,500. Prince was amazed by what he'd helped create. "I remember walking around and talking to people. Everybody's camping and got fires going, cooking food."
When he wasn't on an errand or trying to make the stages run on time (no easy task – there wasn't a printed schedule, according to Prince), McBride sold copies of "Furthur," his 7-inch on Drop Bass Network Records. DIY vendors dotted the campground, hawking grilled cheese sandwiches, smart drinks and a thick, green, seaweed-infused protein drink. "I was surprised at the number of Deadheads," says Rammelsberg. "That culture had never really overlapped the rave culture – the music was the antithesis of what they listened to in Chicago."
The DJs weren't the only taste of San Francisco in the air. "Somebody had LSD-6 from Sandoz Laboratories – vintage stuff that had been manufactured in the '60s and kept in crystal form," says Chris Sattinger AKA Timeblind, then living in Minneapolis. Rammelsberg's camcorder caught a pair of wild-eyed, wild-haired San Franciscans, who leered: "You guys are dry out here in the Midwest."
The psychedelics were potent – really potent. Sattinger ingested some Sandoz and found himself incapable of arranging some ten thousand dollars worth of analog synthesizers, equipment he knew well, carted from the Twin Cities to play in the second tent during Aphex Twin's set in the main one. "We took the acid, opened up the trunk, looked at all the cables and then shut the trunk," he says. "It was freezing cold and our gear was way too complicated to set up." No matter what else anybody took, though, Furthur was driven by two stimulants in particular. "Everybody drank Mountain Dew and smoked cigarettes," says Prince. Almost nobody slept.
Everybody was freezing. "There is a picture of me playing under a tent, warming my hands to try and get the feeling to return so I could keep doing what I was doing," says Verbos. "It was during the daytime. It was completely disorganized." Says Rammelsberg: "Ravers aren't meant to camp. They're meant to be in a dirty warehouse in the city, or a club." Her camera caught five guys pushing a car a good twenty feet until it was out of the mud – on flat land.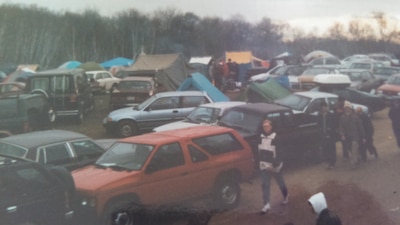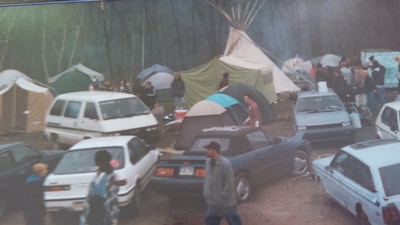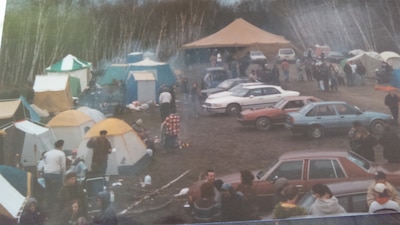 Tommie Sunshine arrived wearing an iron-on T-shirt over a long-sleeved flannel, white on black text reading "BIG JUGS & HARD DRUGS." He was in a good mood: He had done a lot to enhance it. Sunshine describes himself in this period as a "drug mule"; he'd been binging at parties every weekend since 1992. Now, he decided to start over after the weekend – so he would really party at Furthur. "I think we're standing on the brink of something really gigantic," he told Rammelsberg's camera, hiding his rapidly pinwheeling eyeballs behind a pair of bug shades.
At one point in Rammelsberg's footage, someone walks into the middle of the group and starts handing out Twix bars. "That's what a 'candy kid' was – people [who] passed out candy," says Phil Free Art (Philip Pelipeda) of the Chicago zine Free Art, who was starting to DJ the style most associated with the candy kids: happy hardcore, which distilled U.K. hardcore's uplifting aspects and shed the ruffneck attitude and warping timbres jungle ran with. What emerged could sound like a toddler who's raided the sugar bowl at 3 AM.
The candy kids – in rainbow-colored outfits and jelly bracelets, carrying teddy bears and sucking pacifiers – were out at Furthur in force. "When you've got the strung-out 16-year-old girls sucking on lollipops on Sunday morning, that's pretty much your candy raver look – everybody with the rave pants totally covered in mud at the bottom," says Prince. There was also a healthy amount of jungle proper, including Minneapolis's Drone, who wound up playing a three-hour set, spinning out B-sides, because no one had come to relieve him.
At the other end of the musical spectrum were Hoschi and Roland Casper. "These guys had been DJs for years, where a lot of us were pretty new at it," says McBride. "They'd been playing techno for an older, sophisticated crowd. It was an introduction to really serious DJing for techno, which we had never really experienced before. There was a patience and maturity to it that took maybe twenty minutes for people to tap into because it wasn't 'GUH! GUH! GUH! GUH!'"
Those beats led to Furthur's first citation on Friday night – a warning from the Wisconsin State Patrol. "They had no idea what was going on," says Verbos. "It wasn't just noise complaints – people from the party were showing up in this small town looking like freaks and scaring everybody. They were willing to compromise, in a sense: 'Can you try to keep the volume down at night?'"
Everybody else was partying too hard to care much. In the second tent, Chicago DJ Josh Werner dropped the Sure Is Pure remix of Sister Sledge's "We Are Family," an anthem at Wade Hampton's Shelter parties in Chicago. "That moment was blindingly well-timed," says Cammarata. "I bought wholeheartedly into that whole we-are-one collectivist idea. I had come out when I was 15. I had learned about dancing in loft parties in Chicago, but the rave scene was everybody."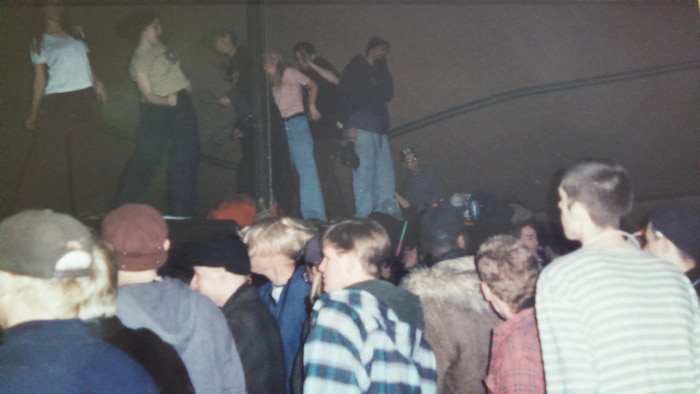 By Saturday morning, it was becoming difficult to get onto the grounds. "People had parked their cars and blocked all the roads," says Prince. A snowstorm delayed the arrival of the overseas artists. "We flew into Chicago," recalls Thomas Heckmann. "There was a really shabby motel we stayed at, and from the motel we drove to the outside of the Furthur festival – me, Aphex Twin, Hoschi, Kozmik Kommando and all the friends who came with them." Frankie Bones recalls riding seven hours to the site from Chicago. "One of the people who picked up Scott and Robbie Hardkiss from the airport, when she got there, couldn't believe how cold it was," says Spencer.
When Richard James got to the grounds, Sattinger chatted him up – they'd spoken a few months earlier for a radio interview. "I talked to him for a while up until I realized that I was on a lot of acid and then he flitted off into the forest." James re-emerged in time for his 12:30 slot. Away from the DJ table, the tent was pitch-black. Sunshine came prepared, holding a flashlight in each hand. "The way I used to dance was like I was directing traffic," he says. Kozmik Kommando and Spectral Emotions played right before Aphex Twin. "It was just brutal," says Sunshine. "The music was so hard and fast. We'd gotten the pretty stuff out of the way. That Saturday night was just like, 'We're going to hell,' because that was Kurt's style."
Never the most outgoing stage presence, Richard James hunched over the decks in a dark hoodie pulled closed. Maybe he was trying to avoid the lingering smell: "Some stupid wanker put the heaters into the tent, so we were all fumed to death," says Heckmann. Prince recalls an email from Richard James, who wrote: "Man, all I can remember from that was the fumes." No matter – most of the event's DJs were crowded near the turntables. "Aphex had his records in a random suitcase," says attendee Dan Doormouse. "I liked that style."
James had brought fewer than fifty records. "As a working DJ, you'd bring out two crates," says Davey Dave, who also DJed at Furthur. "He brought out a suitcase, and then he played the craziest music I've ever heard in my life." At one point, says Doormouse, "I remember him pausing mid-set to peel and eat an orange while a track played – like, 'I am going to fulfill my hunger, and then we're going to get on with business.'"
David Prince had been out front along with the rest of the party, dancing in front of the speakers. Earlier, he'd successfully fielded another visit from the county police. "I think we were feeling like, 'Alright, we've made it.'" He'd moved behind the speakers by the set's midway point. Aphex was about to start juggling dual copies of "Quoth," from Polygon Window's Surfing on Sine Waves, James's best-known track in the Midwest – a staple, especially, in Chicago. "He was impressing people by taking the records off the platter without them even noticing the blend," says Doormouse. "He was just nailing it."
There was only one way to celebrate, Prince decided: Stripping to nothing and boogying atop a subwoofer. "I always like to dance on the speakers," says Prince. Needless to say, people gawked. "You can just see the guy next to me," says Prince. "I'm like, 'Come on, dude, take off your clothes!' and he's just laughing: 'Yeah, sure. Freak.' My eyes were closed at this point. There was this feeling: 'Wow, we really have pulled off something bigger than we thought.' I was probably up there for all of ten minutes. I come down and I'm putting on my clothes, and somebody comes up to me: 'Dave, the cops are here.'"
In rural Wisconsin, says Matt Bonde, "You're dealing with a small police force. They just don't have the numbers to shut it down." But enough was enough. "Who's in charge here?" an officer asked. "I am," a newly-clothed Prince said. He was invited for a short drive, stopping in a field half a mile away. He heard the party across the way, loud and clear through the night sky, further amplified by the Sandoz coursing through his membranes. "Do you hear that?" the cop asked. "That music is coming off. And if it goes back on, I'm going back to arrest you personally."
Scott and Robbie Hardkiss had just cued up Orbital's "Belfast" to begin their tag-team set. "We liked to reset parties with that song," says Robbie. "All of a sudden there's David Prince diving across the turntables, pulling the needle off the record." "I'm not getting fucking arrested!" Prince yelled. "Turn it off!" The San Franciscans had waited hours in the cold to play. "How many parties did the cops turn it off and you'd just turn it back on?" says Robbie. So they did. "I had to go back and be like, 'What the fuck?'" says Prince, who finally got silence on his third try. ("He and Wade [Hampton] are cut from the same cloth in some ways," Robbie says admiringly of Prince, "though I don't think you're going to see Wade naked on the speakers.")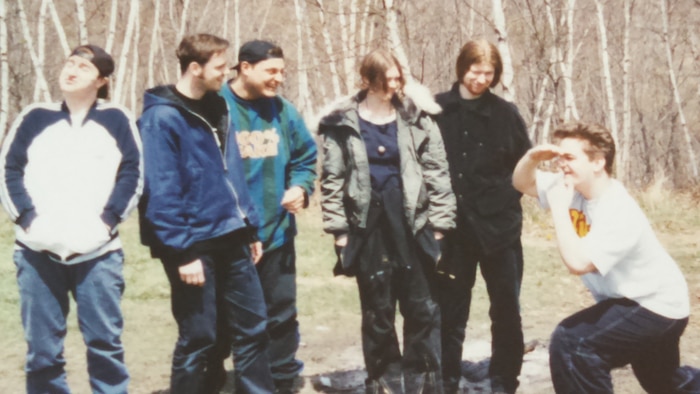 Except for some stray boom boxes in the parking lot, the party was over. Tommie Sunshine had collapsed sometime while dancing, limbs still moving, but he didn't O.D. "The last solid memory I have was Frankie Bones played that record 'I Believe in the Power of Ecstasy.' Remember that old record? I remember thinking 'Yeah, me too.' And then it went fucking dead."
On the grounds, says Prince, "There was no big conclusion. It dissipated." Furthur's promoters left the premises penniless. Riding out, a Jackson County traffic cop ticketed Prince for his exhaust system. "They staked out – sat out in front, and as people were leaving, were looking for any excuse to pull people over. There were going to sting as many as they could, 'cause they were pissed."
Hoschi and Thomas Heckmann decamped to Chicago, where, says Heckmann, "Aphex Twin and his girlfriend stayed in the walk-in closet in our hotel room; we sneaked them in. It was quite a nice, expensive, huge hotel in Chicago. They were already looking at us as if we were from another planet because we had long hair and looked far-out."
Furthur would sire a series of sequels, alternately titled Even Furthur and Little Furthur, that lasted for a decade – most famously, the 1996 edition featuring headliners Daft Punk – and drew crowds up around 5,000. (They also took place, much more sensibly, on Memorial Day weekend, near the end of May.) Eventually, both the parties and Drop Bass Network generally would become Eckes' work alone, and the Midwest scene would splinter as it expanded, before the rave crackdown of the early 2000s diminished its public presence.
But there had never been a question of there not being more, even after that ridiculous first edition of Furthur. (In fact, Drop Bass has now announced a festival celebrating the 20th anniversary of the 1996 edition, to take place in "Somewhere, Wisconsin" in August 2016). "We didn't know what we're doing," says Eckes. "It was all new to everyone. It was all good – even losing money on it didn't seem like a big deal. All the rain and snow and everything else, it didn't leave a bad taste in my mouth. Going to a party and making friends – the whole community thing – people were totally into it."

R.I.P. Phil Free Art