Ras Shorty I: The Soul of Calypso
Soca pioneer Lord Shorty changed his name and spent his final years in the forests of central Trinidad. Connor Towne O'Neill explores the innovations and contradictions in the life of the born-again Christian once known as the world's sexiest calypsonian
Kah 1
There's only one road to the remote village of Piparo in the teak forest of central Trinidad, located 50 miles outside the capital, Port of Spain. There's a house on Thomas Seebocus Trace – a log cabin-style, wood frame house, with a corrugated tin roof, concrete floors, three and a half bedrooms and no electricity or running water. In late 1980, Garfield Blackman – known to the world as the calypsonian Lord Shorty but soon to take the name Ras Shorty I – moved there with his wife and 12 children. What it lacked in creature comforts it made up for in space: space for their growing family, space to grow crops, space from the public eye and, most importantly, a space called the Workshop, given over entirely to musical practice and performance.
But why would Blackman – one of the most popular singers in Trinidad, having just sparked a revolution in the rhythm of the country's music – change his name, grow dreadlocks and move to the middle of nowhere?
The answer lies in 1973, on the Sunday night of Carnival, known as Dimanche Gras. A thrum of anticipation grew in the crowded grandstand of Queen's Park Savannah before Lord Shorty's second song in the finals of the National Calypso Monarch competition. Shorty had stoked a fire with his first tune, "The Art of Making Love" – a ribald six-verser instructing listeners to "make your woman feel the way she ought to feel." It left little to the imagination, but Shorty reinforced the meaning with his dancing. In the crowd were Trinidad's Prime Minister, Eric Williams, and his invited guest, the Jamaican Prime Minister Michael Manley. Both were scandalized – so scandalized, in fact, that Williams later had Shorty arrested on charges of indecency. Those charges capped the wanton first decade of Shorty's career. Shorty (an ironic stage name for the 6'4" Blackman) had been the leading voice in the saga boy subgenre of calypso, chronicling sexual escapades in the capital's red light district. The liner notes to one album described him as "the world's most sexiest calypsonian."
When Lord Shorty took the stage for his second song, it wasn't in his usual bell-bottomed leisure suit. Instead, he came to the microphone wearing an ohdani, an East Indian women's shawl. In addition to his typical backing band, he was now accompanied by two East Indian musicians, playing dholak (a double-sided hand drum) and dhantal (a metal rod played with a beater). What happened next changed Trinidad's rhythm forever.
The song he played, "Indrani," was driven by the rattle of the dhantal, buoyed by the pulse of the drums and accented by off-beat dholak hits. "Indrani" has a slanted, anticipatory feel, an infectious groove. It's the ur-rhythm of the front-foot, syncopated beat you now hear everywhere from Puerto Rico to South Africa to Justin Bieber. But in 1973, relative to the midtempo, walking beat of the calypsos that surrounded it, the off-beat drum hits came like a fever dream of a calypso to a crowd hearing them for the first time.
Kah 2
Eighteen months earlier, Shorty had dropped by Ed Watson's house outside Port of Spain. Watson was one of the most talented arrangers in Trinidad, and a longtime collaborator with Shorty. By 1971, Trinidad had been independent for almost a decade, and flush in an oil boom. Shorty's persona embodied these boom years: the decadence of the partying, the women, the gold, the suits – "an orgy of the flesh" was his term for it looking back. Discothéques were popping up across Port of Spain. US funk and soul records on the capital's Radio 100 blared out of cars and open windows.
Watson was rehearsing with his band the Brass Circle. Shorty listened in, but much to his dismay the band was playing reggae. Shorty told Caribbean Insight in 1996: "I thought they were singing badly. So I said, 'Ed, why reggae?'" Ed responded simply: Calypso was dead. Reggae, at least, was a living music. "I left there with this determination to find a music that the young people could be part of."
Watson was not alone in eulogizing the form. Calypso was Trinidad; Trinidad, calypso. It was the nation's root music, a convergence of slave songs and European folk songs that were a form of social commentary known as "poor man's newspaper," played at a slow tempo – all breezy horns and a 1-2 walking rhythm. It had already had an old guard ('30s and '40s) and a new guard ('50s and '60s). The Mighty Sparrow, long-reigning calypso king, sang the genre's most admired song, "Jean & Dinah," way back in 1956.
The Andrews Sisters and Harry Belafonte had huge commercial hits in the '50s and '60s with Americanized calypsos, but the form was aging. Calypso felt old, and the new was all around. In Jamaica, reggae had emerged full force, Studio One releasing heat rock after heat rock. The Wailers were on their first international tour, setting fire to England's Old Grey Whistle Test while Shorty steamed in Watson's house.
In Trinidad, there was easier access – on the radio, the television and at the discothéques – to a broader range of music: American soul, Haitian cadenze, Jamaican reggae, West African highlife. The Carnival Development Committee, convened by PM Williams, was luring international tourists with international standards, while Trinidadians were traveling to New York, Toronto, London. The country was experiencing a major expansion of the means, modes and multiplicities of music. Calypso was being swallowed by modernism.
Likewise, musicians in Trinidad aspired to international prominence. They wanted global audiences and acclaim. Shorty wanted that, too. The difference was that he wanted the sounds those crowds heard to distinctly reflect his country's heritage. By Shorty's lights, he had to find something that could change his country's music while still being essentially Trinidadian.
Shorty was born Garfield Blackman in 1941 in Lengua Village, near the city of Princes Town in southern Trinidad. Lengua Village was predominantly East Indian, made up of descendants of indentured servants who settled there after their five year contracts on sugar plantations ended. Originally brought to the country from India by the English to work the plantations post-emancipation, around 140,000 East Indians had come to Trinidad by 1917. The diversity on the island demonstrates Trinidad's early history as a palimpsest of colonial exploitation – Spanish to French to English. Some of Shorty's early work displays an interest and early immersion in East Indian culture and music, if only topically. Mostly, though, Shorty wrote about sex.
He was a precociously talented musician. Playing guitar at seven and composing calypsos by 12, he was fascinated by all the music that surrounded him. But racial lines were stark and Shorty played only where he could: in the Afro-Trinidadian spaces of the Lengua Youth Movement and with the Southern Harlemites Steel Band. It was in the latter that he would begin to demonstrate his once-in-a-generation talent and devotion to the music. "He was the only one who would stay back and really get his music together," his wife Claudette Blackman told Georgia Popplewell in 2004. "Everybody else would run through quickly and say, 'Alright, that's good.'" Shorty stayed late and refined his craft, coming under the wing of legendary pan player Joseph "Stretch" Collymore, who taught him to play and tune each pan, then to arrange compositions.
To incorporate East Indian rhythm was not just musical, but political. Trinidad was independent but by no means united. Sociologist Michael G. Smith described it as "a plural society in which the distinct communities coexist but, like oil and water, do not mix." By 1970, East Indians made up 36% of the country. Musicologist Timothy Rommen points out PM Williams' vision for an independent Trinidad as a country with "no mother India, no mother Africa or mother Syria, but only mother Trinidad," but Shorty knew early on that were there more mothers than the Prime Minister was willing to admit, and they were starkly divided. What if his way forward for Trinidadian music tried to reconcile the country racially as well as rhythmically?
"I felt [calypso] needed something brand new to hit everybody like a thunderbolt," he said in 1979. "Indrani" was the first jolt, and it was a sensation. Trinidadian calypso takes its own pulse every Carnival, and Shorty, a finalist in the national competition, had his finger on it.
He called the new rhythm "sokah," because "The 'so' comes from calypso. And the 'kah' to show the East Indian thing in the rhythm, right?...I selected the syllable 'kah' because it represents the first [consonant] of the Indian alphabet." It was a suitably syncretic turn of phrase for the new movement, later stylized around the world as "soca"– the rhythm-forward, infectiously danceable jump-and-wave music that rewrote the soundtrack to carnival.
There were a few earlier tremors of change: Sparrow's "calypsongs" of the '60s that played with song structure but not rhythm, the throbbing basslines of the Mighty Shadow's early work like "Bassman," or the roiling, forward-leaning rhythm of Eddy Grant's "Black Skin Blue Eyed Boys." The pulsing syncopation was already there in East Indian music, too, best evidenced by Dropati's "Gowri Pooja, Gowri Pooja" and Sundar Popo's "Nana and Nani." But the big bang moments of innovation are the ones incendiary enough to light the fuse, and Shorty, onstage in drag and singing along with the dholak's uptempo, off-beat rhythm, was exactly that.
There were detractors of course. Maestro, whom Shorty used to record with back in the early '60s, asked Shorty if he was sure this was the answer. Lord Kitchener penned newspaper editorials avowing the purity of calypso. Sparrow scoffed at "Indrani." Still, all three would record soca songs by the end of the decade. The rhythm was undeniable.
Kah 3
Drummer Michael "Toby" Tobas, who recorded with Shorty in the mid-'70s, emphasized that a main facet of Shorty's innovation was simplifying the increasingly dense calypso arrangement. "One of the reasons that reggae was so beautiful was that they developed the 'one drop,'" Tobas says over the phone. "It's very clear. [Shorty] knew in order for calypso to have a wider appeal, it had to breathe."
From "Indrani," you can trace the storm path Shorty let loose from that first thunderbolt in 1973 up to 1976, when the music coalesced into what is more widely accepted as the start of soca proper.
"Kalo Gee Bull Bull," a track included on the 1974 follow-up to the "Indrani" single, The Love Man LP, swaps the dhantal's clang, prominent in the mix in "Indrani," for a triangle and eighth notes on the hi-hat. The dholak has a clearer, syncopated rhythm, and a more pronounced horn interlude gives the song a swinging, bouncy feel. The mania of "Indrani" resolves itself to a clearer groove on "Kalo Gee Bull Bull," emphasizing movement over storytelling.
But though The Love Man sold well, the album, and specifically "Indrani," received major pushback from the musical communities in Trinidad. "People cried me down," Shorty said. "The Africans complained that I was spoiling calypso, the Indians complained that I was desecrating the music, so what I did was simply take the feeling that you got from the same rhythmic structures and put them on traditional [Western] instruments."
Enter 1975's Endless Vibrations, which moved the dholak to the drum kit, the dhantal to the triangle and the mandolin to the guitar. "Change the rhythm of carnival to a groovy groovy bacchanal," Shorty sings in the title track. To do so, he grafted the East Indian rhythm with the emergent disco rhythms. A four-on-the-floor kick drum, accented by eighth-note hi-hat hits on the upbeat, create the backbone of the songs. It's a tight pocket, part of the reaction against the previous density, which gives the rhythm a tautness. Nearly every instrument plays a part in the rhythm. Shorty added a second guitar, chunking along with funky palm mutes. The B3 organ is like a moebius strip of staccato, syncopated chords, and the tight, ascending basslines lend the necessary bounce.
Endless Vibrations plays like an album-length mission statement for soca. It incorporates James Brown-like exclamations in conversation with horn stabs, denounces reggae and asserts it is "We Ting." "Think about your children, future man and woman," he sings on "We Ting." "Tell them to preserve it, our art and music/Give them something to hold onto so they won't be yankee boogaloo/And even though we are dead and gone, through our children we ting will live on." The influence of American music on the album made people think soca meant soul and calypso. Shorty was quick to remind them that soca was the soul of calypso. The music was a revisioning of calypso, not a capitulation to other forms.
"It sold like hot roti," Claudette Blackman said of Endless Vibrations, with hundreds of thousands of copies sold across the Caribbean and the US.
There's a photograph of Shorty from this time standing in the Piarco airport. He's with Lord Funny, Mighty Duke, Singing Francine and the Mighty Sparrow, but his aura is so palpable he seems like a man apart. Like Funny and Duke to either side, he is grinning, but behind the sunglasses he's wearing inside, it seems like he's on another plane. He seems amused by the moment, but somehow above it. He's in a dark suit, bell-bottoms tight at the hips, a v-neck top plunging over visible muscles. Only Sparrow comes close to him in style, but Shorty's detached poise makes Sparrow's straw hat seem affected and charmingly antiquated. The group seems to be saying goodbye to Sparrow, and it's as if Shorty is nodding farewell not just to Sparrow, but also to the calypso form he embodied.
Kah 4
In Toronto in October 1977, Shorty stood in the early morning chill, waiting for a train on the underground platform. He was on tour, but in a bad place. Shorty's childhood friend Maestro had died in a car accident the year before, and Shorty had yet to recover. Maestro had expressed his doubts about soca, but by 1976 Shorty's vision was irrefutable. Just before his death, Maestro released Anatomy of Soca, which was heavily discofied and extremely popular. The album included an uncanny foretelling of his death in "Bionic Man," which begins "A car crash/a harsh lash/everybody say man down/a news flash/severe smash/one more calypsonian gone," though in the song he is reborn, better than ever, with technology.
The loss of so close a friend weighed on Shorty, and it compounded an already anxiety-riddled year. Shorty had invested the profits from Endless Vibrations to start his own Carnival venue, or tent. Dubbed the Professionals, he used the tent to promote "Sweet Music," his next single. The song and album of the same name extended Shorty's rhythmic evolution, the drumming now accented by a modified cuban clave rhythm that further accentuated the jaunty, off-beat knocks. But the tent flopped, Shorty hemorrhaged money, and he couldn't get the album to record stores in time for Carnival.
So he took off for Toronto – a last play for some cash, an escape from the ever-encroaching walls in Trinidad. That night on the platform was a dark night of the soul. The drinking, the women, the music, the money – what was it worth? "Everything I did I did wrong. Everything I planned I planned wrong. All the money I had took wings and flew away," as Shorty later described.
As the train entered the station, he was seized by the urge to throw himself under. But instead, "I ran from the subway and back to the hotel where I was staying and began to cry to God...'If there is a better way in life show me and I will follow you.'"
In response, he heard: "Put your house in order."
"So I went home and dedicated myself to that."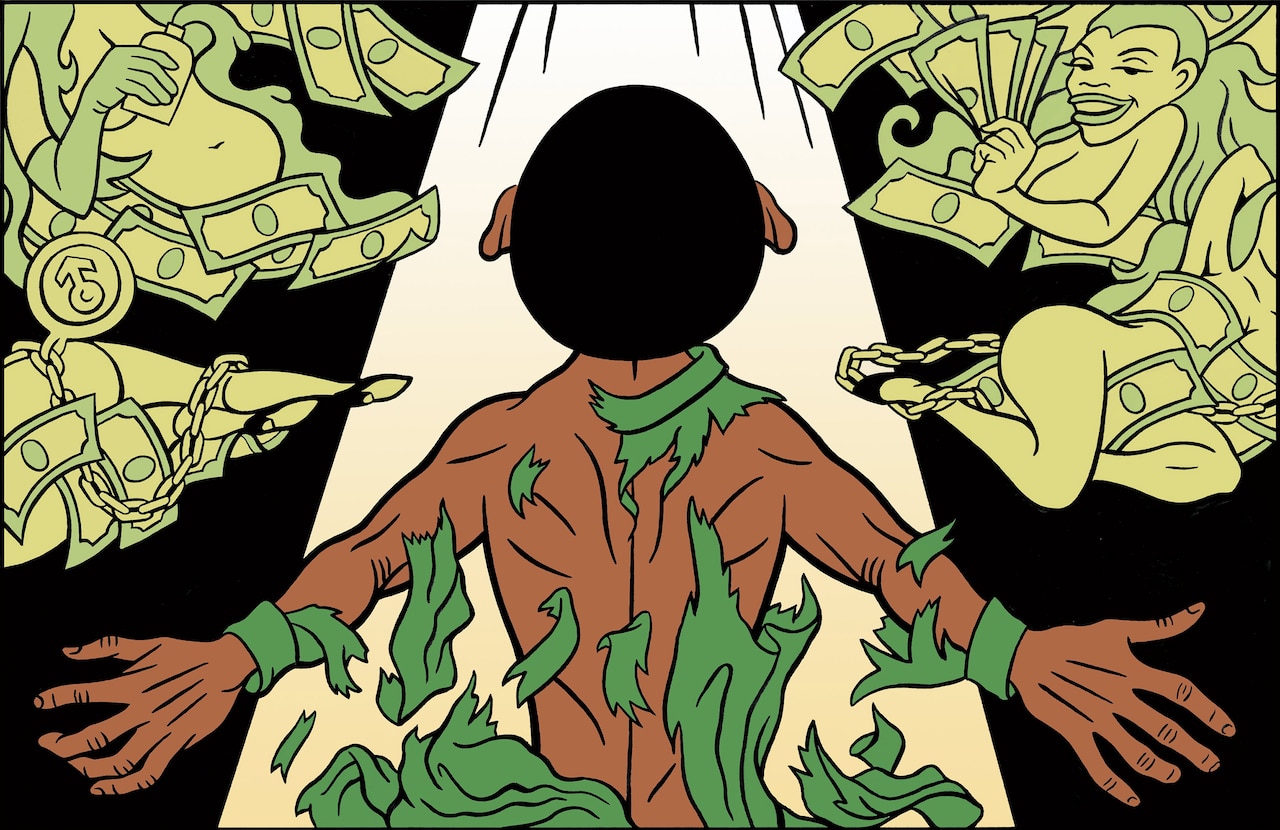 Claudette Blackman described her relationship with Shorty as one marriage, two husbands. The first – the saga boy tippler turned rhythmic revolutionary – was left in Toronto. It's the second husband who walked down to the beach at their Marabella home and threw his gold into the ocean, who traded his suits for white robes, his long cigarette holder for sandals. He was liberating himself from bondage, the material world, Babylon.
"My sex calypsos used to project the way I live – sex, sex, sex," Shorty told journalist Roy Burke. "Now, it's a different thing. I feel I am a more responsible man, a bigger man. I have found myself and this is what I project in my calypso now. After a while, sex is an anticlimax. No sense going through it all. There must be something better in this life."
Soca Explosion, his next album, searched for that something. "Om Shanti Om" returned to East Indian content of a higher calling – the song's chorus is a mantra about finding peace and perfection in everything. The driving beat, high-register organ, marching bass line and melismatic singing represent a high point in Shorty's syncretic approach to soca. It's his most satisfying blend of undeniable groove and lyrical appeals to unity. Unfortunately, like Sweet Music before it, the album was an artistic triumph, but a commercial failure.
Shorty was bankrupt. The family, now with eleven children, lost the house in Marabella. But a friend of Claudette's knew of a house for sale out in the forest. They left for Piparo.
Kah 5
By 1984 it had been four years and four Carnivals with no music from Shorty. He had taken himself out of the world, a move symbolic of his spiritual rebirth. He sought refuge from the demons and vices he'd long dallied with. He changed his name to Ras Shorty I, grew dreadlocks and invented a religion and another genre: Jamoo, or Jehovah's music. The family lived happily off the land in Piparo, and the parents oversaw the education of the children – both religious and musical. "Singers and musicians get caught up in the vanity: this one's on drugs, this one's on this," Shorty explained of his reason to go to Piparo in a 1997 interview.
"So I decided, by the grace of God, what I was going to do was that I was going to stay home and take care of my household. I was going to get to know my children. I was going to get to know my wife. Put my children's head in the right direction so that they could live a good life, live an exemplary life in the world." But the way Shorty discussed this period of his life belies the self-doubt he felt in such a swift reversal of his life. "If I had to hold my family together, I couldn't do it. I had to rely on Jesus Christ...I am fully persuaded that he called me out of my world."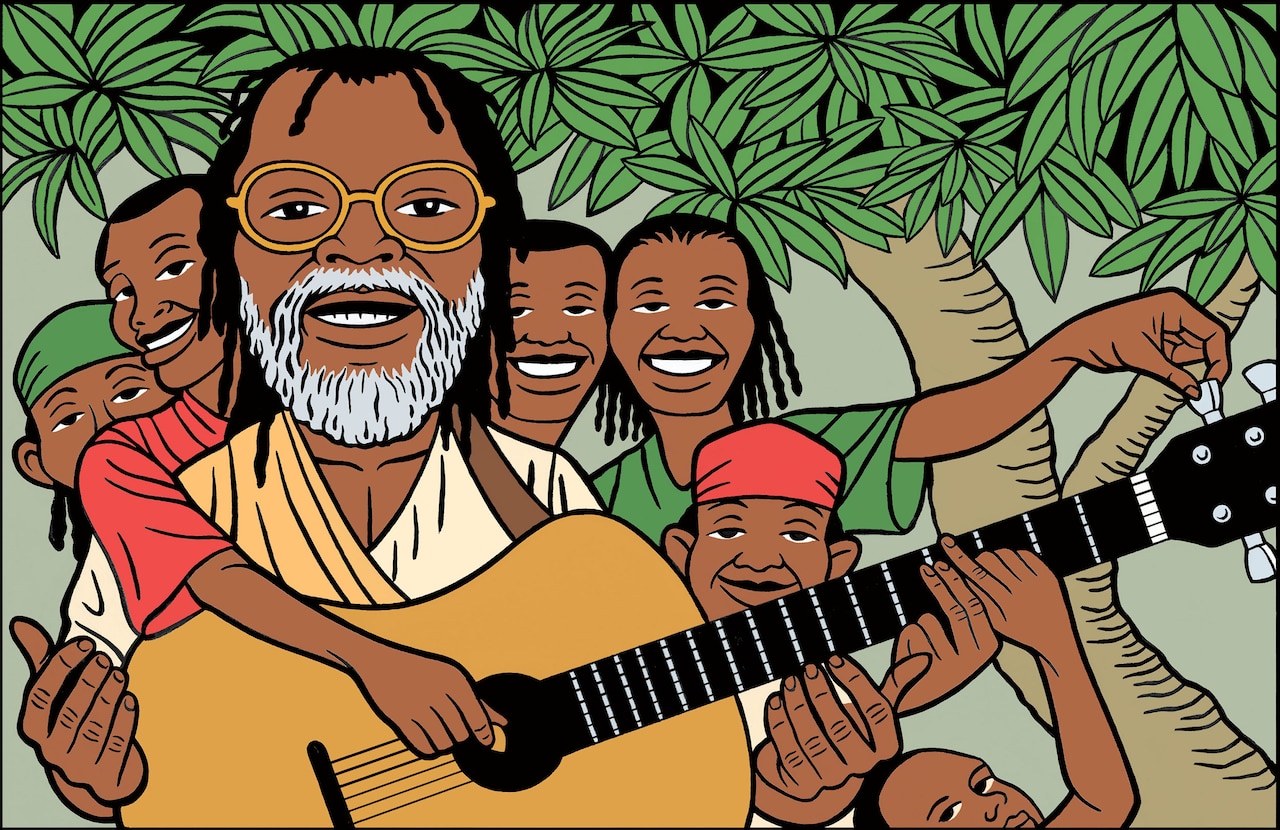 Then, in 1984, came the first musical dispatch since the pilgrimage: a mini-album, titled Jamoo: The Gospel of Soca and credited to Ras Shorty I and his Love Circle. The album cover featured a toga-clad Shorty, Bible in hand, superimposed over a page of the Bible. A quote on the back from the Gospel of John reads: "I am the vine, ye are the branches, he that abideth in me and I in him, the same bringeth forth much fruit, for without me YOU CAN DO NOTHING." In the liner notes, Shorty elaborates on the intensity of the change he has undergone: "After the onslaught of the Spirit of Carnival upon the mind, Christ Jesus has sent us with healing in the wings of this music, Jamoo, to set the captives free. Jamoo is not a luxury. It is a necessity."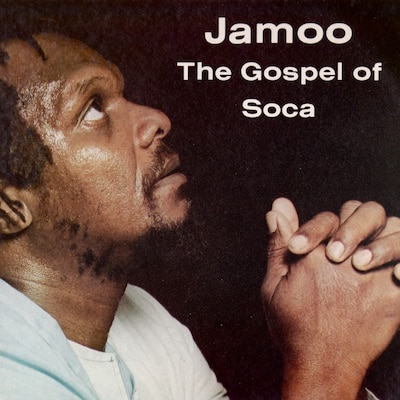 But if his writing suggests a white-knuckled religiosity, the music is more pliant. The album is full cosmic gospel – the storm he summoned with soca had left the atmosphere. Shorty described himself in this period as being a vessel for the music, that God was speaking through him, and on "Lamentations" he is a musical conjurer for the lord. "Awake, guitar": and the guitar awakes. "Awake, piano": and the piano awakes. "I myself will awake": he is reborn, and not as Maestro envisioned, as a bionic man, but a spiritual vessel, making his home in the wilderness a shelter from "these calamities."
Shorty's genius was always in excavation, bringing to the light what was buried beneath. He had reached deep into calypso to find the essential groove that let it breathe, and now he had reached into soca to summon an offering to the lord, using that breath for prayer. On Jamoo, the tempo was slower and the mood was darker. The bassline was also made more elastic, carrying the expansive and spare compositions, while zero-G synths elevate it to a cosmic dimension and the rhythm tilts forward with the off-beat snare cracks. The piano plays a reggae-inflected staccato, and the Love Circle, his family chorus, sings in gospel harmony.
The Gospel of Soca displays a vulnerability that Shorty had never shown before. "I am the voice of one crying in the wilderness," he says, quoting Isaiah. He had left behind sex and was no longer championing the virtues of soca, abandoning Carnival altogether. His pain, inner crisis and sense of alienation were palpable. The music finally admitted the hangover from the party. He may have reconciled himself to God, but he still felt the pain of the world, and feared the demons he could not escape so easily in the forest.
Drawing the line between jamoo as music and jamoo as religion proves difficult. They were mostly synonymous – the music was Shorty's way of interfacing with both this world and the next – but the shift befuddled a public who had long adored him as the Love Man. A Caribeat host from a 1996 television special addressed those vagaries: "Some people call him a hermit because he lives a lifestyle without electricity, indoor plumbing and other frills of modern life. Others call him a Rasta because he wears his hair in dreadlocks, while others say that he's a Muslim because he wears robes and prays to God everyday at sunset. Shorty I says that he's a Christian without a denomination."
That Caribeat special in Piparo was organized mostly around performances in the Workshop by Ras Shorty I and the Love Circle. They're playing songs from what would become 1999's Jamoo Victory – a more roots-oriented sound, organized around the acoustic guitar. The space Shorty takes up in the Workshop is remarkable; the children orbit him like he's magnetized. The charisma is still there, even if the music has changed. However, like a lot of art overly concerned with its message, most everything Shorty does after 1984 sacrifices nuance at the altar of doctrine. Part of the genius of his soca was that it understood innately that the medium was the message: the unity was in the strength of the rhythm. Now, the message came in anti-drug and keep-God-in-schools harmonies. Somehow, it's still compelling.
Take, for example "Hold Me Jesus." "I want to live," Shorty sings, swaying in a white robe. "I-WANT-to-LIVE/I want to live as Jesus lived/I mean JUST as Jesus lived I want to live/Identical/I-DEN-ti-CAL." He'd dispensed with anything that might have kept him from feeling the light of God. There was no denomination because there was no need for such a mediation. Shorty just wanted to live like Christ, and sing about it.
Kah 6
Michael Tobas, Shorty's former drummer, now lives in Chelsea, Massachusetts, just outside Boston. He teaches drum and pan lessons, visits schools and mulls over the idea of a memoir. As a child growing up in Trinidad, his first loves beyond calypso were Afro-Cuban and American jazz. He got his hands on a copy of Downbeat magazine, which had transcribed an Art Blakey solo. But in 1950s Trinidad, the only musicians who could read music were members of the colonial police bands sent to England to study music. He befriended them, and they taught him to read music. He obsessed over learning drums. When other musicians complained about the complexity of transposing East Indian compositions to Western instruments, Tobas had the coordination to execute the patterns.
Tobas's contributions in establishing the soca rhythm reverberate to this day. That off-beat snare hit over 4/4 bass drums is now the rhythmic backing for reggaeton, a global phenomenon and a music Tobas is immersed in in Chelsea. But it's cold comfort.
Tobas thinks soca holds itself back because it is too tied to Carnival. "Reggae is in China, Africa. Reggaeton is all over the world. What about Trinidad?" The musical invention he'd helped map out has lost its association with its home country, which was the whole point in the first place – to take "we ting" global.
But that is finally changing. Soca artist Olatunji, whose single "Ola" won him the Groovy Soca Monarch crown at this year's Carnival, has drawn comparisons to Shorty for his hybrid rhythms blending soca with Afrobeat. Like Shorty, Olatunji has reached deep into soca, down through calypso, past the Canboulay drummers and back to Africa, making the oldest rhythms new again and captivating audiences while he does it.
Brandon Hocura, one half of Invisible Cities Editions and someone who has dived deep into rare Trinidadian soca, told me that he went to a recording studio during his last visit to Trinidad and a framed picture of Ras Shorty I hung on the wall. Sitting below the photo, a new generation of beatmakers tapped out rhythms on their computers, playing with and altering what Shorty had laid down forty years earlier. Though he turned away from soca later in life, his reach remains strong.
Kah 7
In April 2000, Ras Shorty I broke his hand, and it didn't heal. Scans revealed bone cancer. At first, he declined traditional treatments, hiring a Haitian herbalist to come to Piparo, but he was finally hospitalized in Langmore Health Center. A benefit concert and telethon raised more than $20,000 for his care, and the government advanced him money on a future cultural award, but he was too far gone. He died on July 12th, 2000.
His funeral in Port of Spain, attended by 3,000 brightly-clad people, "was a festival of song, an exploration of one man who lived every facet of life," wrote Kim Boodram in Trinidad Express. His family sang his songs. The United Nations announced that they were using "Watch Out My Children" as the theme song for their upcoming anti-drug campaign. Timothy Rommen was in the audience and reflected, "I could not help but notice the healing effect that Ras Shorty I's funeral was having on the racial, political and religious wounds of the nation. For a moment, at least, the country was reflecting on the life and work of this artist and rethinking the unifying and spiritual messages that he had expressed in song." The only gaffe of the ceremony was calypsonian Super Blue calling Claudette to the stage to sing Bob Marley's "No Woman No Cry," for which he later apologized. He had planned to sing one of Shorty's songs, but the Love Circle had already played it.
There's a TV interview with Ras Shorty I filmed a few years before his passing. It's the Monday of Carnival, but they're out in Piparo. Shorty is wearing his white robe, large Coke-bottle glasses that at times reflect the film crew facing him, and he has a guitar strapped to his side. He occasionally serenades the interviewers with his new songs, and promises a record soon. Toward the end, the interviewer asks him: If he were alone on a walk, out there by the mango tree, if he sat down in its shade by himself, what would he play? Shorty pauses, and you can tell he's struck by the question. It was a perceptive thing to ask a man who sought, for decades, the reconciliation of his country, his family and his God in rhythm, song and soul – what comes to mind when he's alone, singing only to himself and for himself?
It's the first question that elicits something other than a well-rehearsed answer. "This one is from 1978," Shorty says, launching into a version of "Who God Bless" that should go down in the halls of the holiest of the holy unplugged performances. All of the Shorty genius is there: the roaring voice, the subtle touch on the guitar's nylon strings, the charisma to perform off-the-cuff. You can hear the demons he danced with and fled from, and the solace he sought from them in song. "Who God bless," he sings, "no man curse. He shall be first. He shall be first."


Illustrations by Mark Dancey
Header image © Mark Dancey