Akimbo Embraces the Obscure Traditional Sounds of South Korea
The alumni of the 2011 Academy in Madrid on his cross-generational new project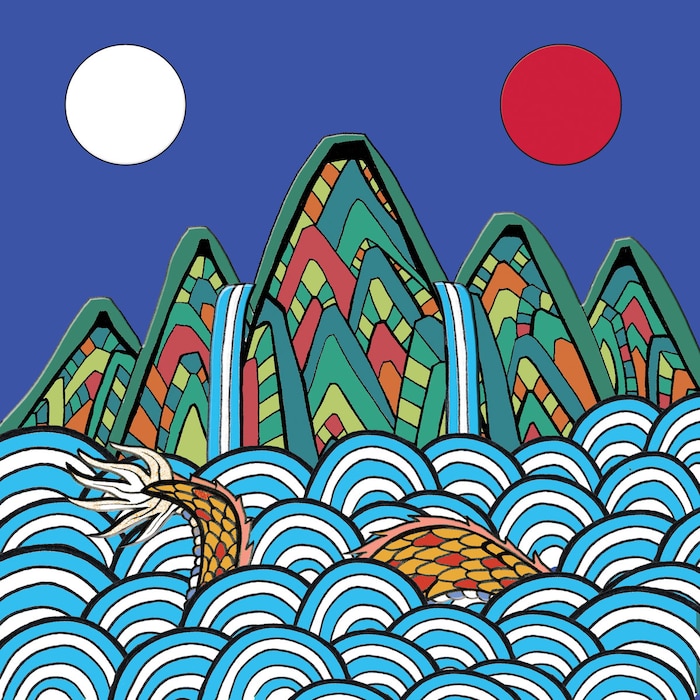 "World" music is all around us, no matter where you live. For Akimbo, an American living abroad in South Korea, that's especially true. After a few years of living in Busan and Seoul, Akimbo realized that the traditional sounds of Korea were just as fascinating as the "exotic" tones of Turkey, Africa and further afield that have been celebrated and remixed by electronic producers around the world. Akimbo's latest project saw him recording more than ten different musicians and their traditional instruments in Seoul, giving him the source material that makes up his newest release Sun Moon & Five Peaks. We caught up with Akimbo last month to discuss the project.
How are you liking Seoul? You said you've been there for a few years now?
It's been just over two years. It's great. When I was living in Busan, I was doing shows. There was another crew that was doing shows at the same time, and they went on to open Cake Shop in Seoul, which is definitely the best and most progressive and most influential club in the city. They've been open like three years now. When I first moved to Seoul, I got in with Cake. I've been a resident there since I moved there. If you're into arts and culture in Korea, everyone comes to Seoul. It's kind of the magnet for all art and culture.
When I was living in Busan, I had a really good time doing stuff at art spaces and everything. But there's not a long, enduring support for music there. I would say that that is in Seoul. Seoul is blowing up right now. There's a new club every two weeks or something. There's all these cool bookings coming in now. A lot more people making shows, doing shows. The government is paying a lot more attention.
The government is trying to market Seoul as an EDM mecca. Which is, obviously, not that cool. But there is a movement. Young people are really starting to focus more on, "What do I like?" For a long time, it was really hard for Koreans to have a lot of access. The main Korean web portal is not Google, it's Naver. Naver is only in Korean. There's so much content that's not translated. That's why more internationally-minded young people usually speak English. They're all about learning English. They get more info that way. Seoul is opening up in a big way.
And, as Seoul is getting more progressive and forward-thinking, you're now doing this project with traditional music.
Right. That's kind of funny.
How did you get interested in all of this?
I've been collecting world music for years. The most exotic. The Ethiopian stuff, the Turkish stuff, the Brazilian stuff, African stuff. Then I realized that Korean traditional instruments are just as exotic, if not more so, than African instruments. And they're relatively untouched by producers. There's no Korean instrument VST or sample pack. There might be a Japanese koto pack or something like that, but no one really has the Korean sounds. I was in a band with a traditional flutist, a bamboo flute called the daegeum. Through her, I learned more about Korean traditional instruments and how deep they are and how cool it is for the young generation. There are a lot of artists approaching these instruments in an experimental way.
He started shredding this instrument and the engineers were visibly uncomfortable.
One of the guys I recorded is a free jazz saxophonist, but he's also playing a Korean traditional horn called the taepyeongso. It's not typical or easy to take this super ancient way of playing an instrument and to twist it. This is a pretty unique generation, I think. It ties in with all these young people searching for new sounds in the clubs. It does tie in for me, anyway.
How did you do the recording of these instruments?
They're just improvising on their instruments, and I give them instruction like, "I want to capture the essence of your instrument as you play it." They're all super pro, so they were like, "Yes, no problem," which was pretty amazing. The only kind of instruction I gave is to use a root note of C minor. Other than that, just feel free. You don't have to be experimental, but just close your eyes and just vibe with this instrument as you would ideally love to play it all the time.
Was there an instrument that you were particularly surprised or intrigued by?
I would say one that I was really, really surprised by is the piri. It's just a little bamboo flute. You can almost put it in your shirt pocket. It's maybe six, eight inches long. The way Jiha Park played it... We would do a five minute recording, and she would have to rest for five or ten minutes because she's blowing this little flute so hard. She's getting the most insane sound out of it. Super heart-wrenching, like, pull your heart out of your chest, shivers all over your body.
A lot of Korean traditional music is very sad. It's rooted in minors. Culturally, it's rooted in sadness. Korea's gone through a lot. There's a word in Korean that everybody knows and would instantly understand. Han. Essentially, it's like the blues. If you're channeling the han, you're channeling the history of Korea and the culture of Korean people. I would say, generally, Koreans wear their emotions on their sleeve.
Were there any humorous moments in this entire process?
One of the guys that I recorded is Oki, an experimental jazz saxophonist, and he doesn't really play the taepyongso, but his girlfriend was teaching him at the time, so we said, "Screw it. Let's just record you playing it." He has kind of a reputation as being a bit of a crazy guy and super experimental dude. One of the engineers I was working with is a great guy, very knowledgeable, but he usually records orchestras and symphonies and stuff, so they have a set way of how a sound should be and how an instrument should be played. And then here comes Oki and he starts wailing. It's a very loud instrument, it's got a big bell on the end, shaped like a cup and it's super loud, so it usually leads the ensemble in marches and parades. He started shredding this instrument and the engineers were visibly uncomfortable. They were just like "Oohhhh," and I was just like "Yes! This is amazing!"
The thing about Oki is that he doesn't really give a damn about much of anything. He's just going to play exactly what he wants all the time. So when he saw their reaction... That just made him go even wilder.
Do you want to do more recording with traditional instruments in the future?
Yeah, for sure. I'd like to grow this project bigger. I want to study more shamanistic musics of Korea because they have their own super unique rhythms and ensembles. There's so many regional kinds of music, even in Korea, which is so small.

Listen to Akimbo's "Flute Worship" from Sun Moon & Five Peaks now on the RBMA Soundcloud.