Kelela Knows How To Harness Her Power
The golden-voiced R&B singer details her gradual ascent into the pop sphere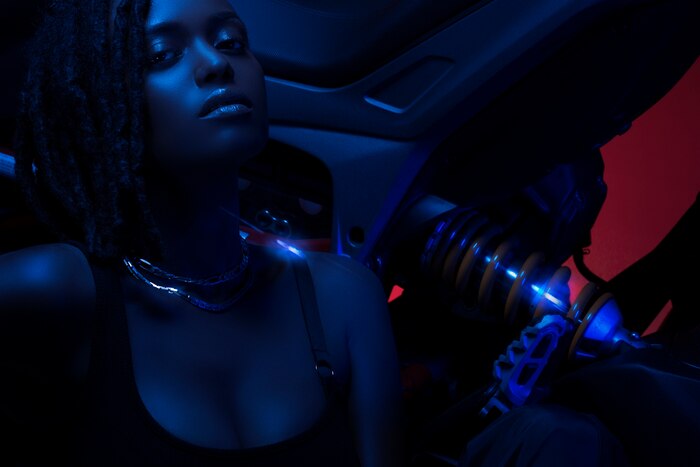 Born to Ethiopian parents in Washington, DC, Kelela Mizanekristos never received any sort of vocal training, but that hasn't stopped her from becoming one of the most distinctive new voices in R&B. Following a move to Los Angeles in 2010, she linked with the extended Fade to Mind and Night Slugs family: finding inspiration in their hybrid, bass-heavy creations to create her debut mixtape, Cut 4 Me. Following the release of her Hallucinogen EP on Warp in late 2015 – which included collaborations with Arca, Nguzunguzu and Kingdom – and with an album due this year, Lauren Martin caught up with Kelela for a Fireside Chat on RBMA Radio to speak about harnessing power, studying your craft and how to navigate an often hostile world.
I'm interested to know about you growing up in the DMV area [Washington DC, Maryland, Virginia], particularly in regards to your early experiences of music and the various musical cultures there.
When I was in middle school, from around 11- to 14-years old, me and my friends started trading go-go tapes. Anyone's cool was measured on which tape you had, how precious you were about people overdubbing the tape, or letting someone borrow the tape so they can copy it for themselves. The bands that we were listening to were Backyard or Rare Essence. They were very popular, but they were just so knockin'.
They had original music but as a tradition within go-go music, they would do these covers where the vocalist sang the part that you know, and then there would be a breakdown where the drum break is the main feature. It's about going between familiar and unfamiliar breakdowns. That was the best thing ever because you got to sing along, but it's really about dancing. Yeah – trading go-go tapes was pretty much my currency for cool in middle school.
I know that your parents are from Ethiopia. Do you have an affection for Ethiopian music?
Growing up in DC, it's very possible to live your life as an Ethiopian and have very little contact or need to engage with the world outside of the Ethiopian community. I grew up in an extended family social circle where I was hanging out with other second generation Ethiopian kids. At the gatherings that our parents would have, we would be listening to Ethiopian music all the time.
I definitely grew up listening to, digesting and dancing to Ethiopian music, but I was also expected to speak the language and was really held accountable if I ever responded in English. There are so many of these things, at least in my household, that were really held on to.
[My interest in Ethiopian music] didn't actually click for me as a vocalist until I was interested in surveying all of the different ways of singing in the world – particularly in terms of female vocals. I'd listen to, study and write out phonetically what I was hearing, then I'd learn the songs by trying to get my pronunciation as close as possible [to what I was hearing]. I was on this quest to exercise my voice in all the ways that I could.
I spent a lot of time singing along to Gigi, who was probably my favorite Ethiopian signer. She just has an amazing chest voice – her belt is incredible – and her storytelling is also very much figuative language rooted in rural life. My dad did the translation for her first "world music" release, if that makes sense. I remember having conversations with him about what she was singing about, and I think I developed a deeper relationship with Ethiopian music because of that.
In terms of figurative music, did you study performance as well as the music itself? With the sounds of music being part of your social upbringing, seeing how the audience and performers interact would be important, too.
I've known that I wanted to be a performer since forever. I can't remember a time where I wasn't standing on the table and singing Whitney Houston songs, or planning a Sunday afternoon skit with my cousin for no reason. We took it upon ourselves to have a narrative but we'd do it like Curb Your Enthusiasm: we'd have a loose script, but go at it freestyle. Performance has always been part of my life, but it wasn't a conscious thing.
It's often about a balance between the masculine and the feminine, and trying to make sure that one isn't overpowering the other.
This blur between audience and performer is something that I think has always existed in my life. I never knew that's not how everyone is rolling. It's more in recent years that I've reflected on how I was encouraged to do what I'm doing right now. I think that's something that Ethiopian parents are used to doing. You're never going to be left alone about it. They don't care about you feeling uncomfortable. It's not an issue. I was very much used to being made to be feel uncomfortable and being prompted to perform in front of people.
When did you start to feel comfortable? Vulnerability feels very much a part of your music, but you still have to get up on the stage and perform that music – to be vulnerable, but demand that people watch you and listen to you.
Growing up, I definitely had people pushing me to the thing. Then, in my adolescence, I wanted my parents to back off. I was left with that agency when I was still in DC, and I decided to start singing jazz music: "I'm going to go to this bar, I'm going to sing these two songs and that will be so triumphant." From that moment on, it's been a push that's never stopped. When I moved to LA, I took it upon myself to dig myself another hole and find myself as an artist – as somebody who makes things, not just a performer. I keep doing this even though it can suck to do, but it does work out in the end.
I'm wondering about the types of conversations that you have with the people you collaborate with. How do you discuss music, and what do you discuss around the music that informs what you do?
A lot of the producers that I work with are men and there's a certain type of conversation that exists with those men. I can't think of anybody I work with who doesn't have pretty radical ideas about how we should be in the world and thinks about what we want to challenge. It's often about a balance between the masculine and the feminine, and trying to make sure that one isn't overpowering the other. (If anything is overpowering anything, though, it's definitely the feminine overpowering the masculine.) You can be super soft but you can be super aggressive as well. The principle is that femininity is something that we all should try to find.
I have this conversation with Arca a lot. "That's too masculine. This has to be about hips. Her hair is blowing in the wind. There's not enough wind. We need more wind. She's at the top of a mountain. He just needs to go somewhere else. She's gone. She's in her car. The wind is blowing." We talk about things that we don't like in the world, the things that are making us upset.
There are many times that I do work with women as well, though. I work with Asma Maroof as a producer, but I regularly bring her in as a writer because being in a conversation with a woman who's your friend facilitates what you really want to say in the world. That usually comes out when we're amongst our girls, right? It's through those conversations, actually and truly, that I can bring my guy friends in. That I can sit in my power and making sure that I feel really strong about what I think and know.
It's very rare for me to have a super misogynistic or racist experience in the studio. I feel quite happy about that because for so many women, especially for vocalists coming up, there's misogyny in the studio and around who has the power to make you sound the way you do. You're a singer, but we rely on men who control the engineering of our voice in order to get that thing done. I actually don't know a vocalist who hasn't gone through that sort of misogyny and hasn't had to deal with that in the come up. When I'm with my girls, I can be fortified.
There are people who will look to you as a singer and expect certain behaviors and politics from you. There's also a sexualized tone, a racialized tone. How have you managed to navigate this in the past few years? In thinking, "Right, I sing, but what else do people think I represent?"
As a singer who is a black woman, there are ways that I'm expected to think and feel. I feel like there's a stereotype for every type of individual, you know? It shows up in so many ways insidious ways that are really hard to recall in the moment. I wouldn't say that this is for singers – I would say this is for all black women – but there are stereotypes around sassiness, being super strong and basically inpenetrable. We're also these muses or talent boxes – like a jukebox, a thing that exists as a voice, period.
When a black girl does something, everybody goes, "But, wait. We already have a black girl who is doing something..."
When you mix that with what it means within the economy, to have people of color representing a brand – if you don't have people of color represented in terms of name, likeness and face, if your advertisement does not include somebody who looks like me – everybody is holding you accountable. There's a place, but there's only one place. There's that expectation that if I'm on a photo shoot, there's not going to be two of us on the shoot. I can expect to be the only one on that shoot.
It's present in fashion, in the press and especially in how people are writing about black women. When a black girl does something, everybody goes, "But, wait. We already have a black girl who is doing something. We already have somebody who we think of as different and black and a girl," like we all sat and plotted that we were going to do this thing together.
We're going to create a movement, but in no way, shape, or form did we plan to be influenced by R&B and wanting to be progressive because that tradition has always been there. There are so many ways in which that comes through, but a lot of the time it's associated with me being a black girl and it's weird.
I love the way you described those music conversations with Arca: "The wind in her hair. Go up a mountain." Have you had similar conversations about the new record?
The conversations that I've had around this record are really centered around feeling "round-the-way" feelings: familiarity, closeness and intimacy; the strength it takes to be vulnerable and how strong we come out of that experience. "They're driving away, driving away with the wind in your hair, into the sunset." I think of the video for Madonna's "Frozen." It's basically it's a desert. It's wind. It's black lipstick and black shawls. Yeah – there's a lot of that all over the place.