Raster-Noton's Founders on Twenty Years of Presenting Sound and Non-Sound
Carsten Nicolai, Olaf Bender and Frank Bretschneider discuss the motivations and relationships that define their label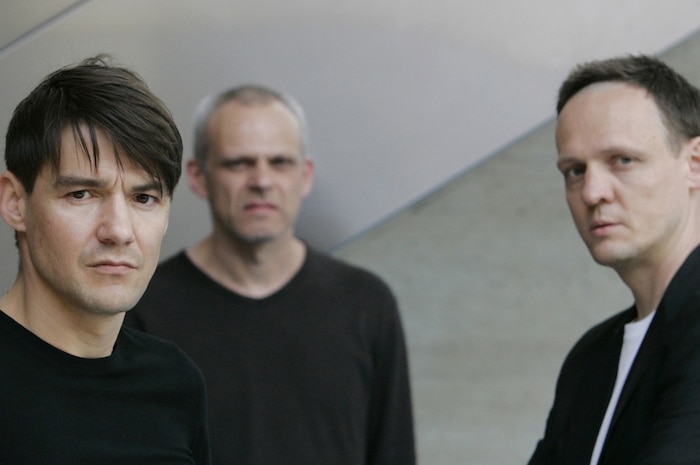 One of electronic music's most storied experimental outposts, Raster-Noton dates back to 1996, when Olaf Bender and Frank Bretschneider founded the Rastermusic label. A few years later, the young imprint was fused with its Noton sublabel, which was being run by Carsten Nicolai AKA Alva Noto. Together, this triumvirate built a platform for a variety of experimental art. Although music was clearly the core of its mission, Raster-Noton's projects have also included adventurous forays into installation work, sound design, print publications and more, all of them joined together by a distinctly minimalist visual aesthetic and a shared desire to explore the intersection of pop, art and science.
With a discography that includes contributions from classically trained musicians and noise-loving novices alike, the Raster-Noton catalog stands alone. In this excerpt from their Fireside Chat on RBMA Radio with Arno Raffeiner, Bender, Bretschneider and Nicolai came together to discuss the label's humble beginnings, general philosophy, ongoing collaborations and unexpected longevity.
Merging Rastermusic & Noton
Olaf Bender
Noto's Spin was the starting point.
Frank Bretschneider
Carsten had this Akai S01 sampler, a really cheap sampling machine with one megabyte memory. He asked us to record it because we had quite a nice studio. I said "Yeah, okay," and instead of asking for a fee: "Then we will release it on our label." That was the deal, and that was the beginning of this collaboration.
Olaf Bender
In the beginning, Carsten entered the studio and was asking to help, or was asking Frank to help his production, but during the production time we recognized that the music is very interesting, and in a way something that we couldn't do on our own. It was just a different way of thinking, but we found it really interesting. We decided, "Hey, maybe we could do more together," or something like this. I would say Spin was really the situation where we started to work together, or where we recognized that some ideas were close together.
Carsten Nicolai
I was very, very interested in very basic loop materials, and as Frank mentioned, I just had this little Akai sampler. I worked on everything with this Akai sampler, and I was very interested in layering loops not in beat or bar structures, just in loop length. I didn't have the facility for properly recording these layers, and I was quite interested in the idea that the same audio material at different speeds has completely different characters. In a way, it's two times twelve tracks: one time in the normal mode, and one time it's pitched down, it's half-speed. The character of the music is incredibly different, and I was very interested in this.
Frank Bretschneider
Our goal at this time was Warp, Aphex Twin, more accessible music than what Carsten had. This stuff was much more abstract. Our first release was minimal acid techno from Berlin, two guys under the name of Kyborg. It was also the very first vinyl. Otherwise, we were focused on CDs, because we thought of our music not in this kind of club context and more as listening music. And we didn't want to spend the money on vinyl.
Olaf Bender
The decision to do this Kyborg release as the first release was more for us to show also that we really want to become a label, a serious record label, not just to do some self-published releases. We really wanted to mix it up with other artists, wanted to create a little network and show a spectrum of our interest.
Carsten Nicolai
At this time, we still had two different label ideas. We had the Rastermusic label ideas, and we separated the label ideas between Rastermusic and noton. Three years later, we realized that it became more or less useless to keep that name separated. We worked so closely together that we merged, more or less, to Raster-Noton. That's the reason we see the starting point for Raster-Noton as 1996, and not the moment we officially merged the catalog.
Olaf Bender
It was also a logistical question. We just had a tiny name as Rastermusic, and at this moment we wouldn't change the name to Raster-Noton because everything was growing. At this time it was the best to open the sub-label idea. After some releases it was very clear that the concepts and even the participating musicians are not totally different, and so it was a very late but logical decision to do this union of the two labels.
Frank Bretschneider
I guess Goem was the very first. Yours was still in the Rastermusic series and then Goem, the Dutch duo. It was a really interesting record, very, very minimal, from this techno influence – Stud Stim. They used a kind of electric device to trigger a Korg MS-20 and then they had two or four layers of rhythmics and that was a really nice, really nice record. This was the first in the Clear series, with nothing on it, just a sticker.
Carsten Nicolai
Then, in this Clear series, a very old friend of mine appeared. It was Billy Basinski. This was another breaking point, because Billy was a good friend of mine. When we travelled to New York, we stayed in his house and were always constantly playing his music. It was real ambient music, and I think it took me some years to understand that this is a music which we could release on the label, as well. We invited Billy to have his first release on the Clear series. This was Shortwavemusic, Billy's very first release. It was recognized internationally a bit more, even if the edition was very limited. We pressed only five hundred in the beginning.
The music was running night and day, actually. I remember sleeping in his loft and it was always on. We stayed there for weeks and it felt a little bit like a perfume. You were being surrounded by something and it created this atmosphere, and when you left the space or when you entered the space, it immediately put you in this kind of mindset. Maybe that's the reason it took so long for us to understand this as music, because it was really perfectly working as ambient music, in the best sense. We couldn't recognize it as music, because it was always running.
20' To 2000
Olaf Bender
This was one of the reasons we really had to merge in 1999, because the 20 Minutes series was, financially and energy-wise, a bit too big to do alone. We really wanted to invite totally different artists that normally don't work together, but show them together as part of the series. It was an idea to give a diary statement of the moment one year before the new millennium. I think this millennium was just a theoretical deadline. In general, at the end of the '90s there was a lot of interesting sections of electronic music. This series shows perfectly the different topics in this kind of bedroom production.
The label or whatever happens on the label should not only be focused on musical content.
Carsten Nicolai
One aspect that we really liked was to release CDs like a magazine: Every month something comes out. We are still discussing this idea today, that idea that you could have subscriptions and people trust what you're going to release. It's not so much about the specific artists, it's more about a specific way you see music. The 20' To 2000 series carried a lot of the character of the way we think, of the character of the music, the character of the label. It's kind of a blueprint.
Ton und Nichtton
Olaf Bender
We were looking for some new expressions. We were also a little bit tired of this over-designed, super minimalism, with almost nothing on it. We tried to find some different languages.
Carsten Nicolai
The idea to call it Ton und Nichtton – sound and non-sound – was just to open a space up. I was quite sure that I'm not going to do music, proper music here. The label or whatever happens on the label should not only be focused on musical content. In order to blur that, or to just create a kind of open room, I decided, "Let's call it sound and non-sound." Which can be whatever, right?
To call it archive is a little bit crazy when you just started, right? The idea was to keep it for a long time. In the end it's now twenty years, so I think we kind of did it. The archive is an archive now, but in the beginning, of course not. In a way, it was just a subtitle in order to provoke or open a space, or to mention that it's not a label. You can quite easily recognize in the releases later on, it's not only music that we released. It's a lot of catalog numbers, posters or editions or little objects or specific events, whatever. That is the non-musical part.
Frank Bretschneider
We really wanted the record label to act a little bit like an institution. The name associates that it is an open platform or a network. I think this was very important for us. Even this super-serious, long subtitle for a record label was something that didn't really fit a super-cool image, what a record label normally has. It described our ideas very well and was also a little bit German, harsh-sounding titles.
Finding Inspiration in Cologne
Olaf Bender
In the beginning, Frank and I were often travelling to Cologne. In the '90s they had a super interesting music scene. Senking isn't really a part of this Cologne family, but he was based in Cologne. One day we met him, and he gave me a record – I think it was a Kandis release.
We saw him playing live, and I thought, "Wow, this could be something for the label."
We've been very close with all the labels. For instance, in Cologne there was Riley Reinhold, Triple R. He was a big supporter of the label, which was in this time very much needed, because we had been quite isolated in terms of music press or distribution systems, press in general.
I would say to this day there is a lot of things that we are really unprofessional about.
Frank Bretschneider
It was more easy to create attention in Japan or even in the States. It was a bit difficult to, for example, go to Hamburg with our material, because Hamburg was only interested in Hamburg at this time. It was a little bit similar with Cologne, except some special people.
Ryoji Ikeda
Carsten Nicolai
My first live tour ever was in Japan. It was organized by the Goethe Institute, and was three German bands and one Japanese artist. This was around '97. At this time we toured together, after a while I realized he [Ryoji] is the only one who makes proper soundchecks. He checks the PA, he wants the same sound as me. We started becoming friends, just pairing up in order to get the best sound out of the PA. Then, of course, we know each other's releases, and we start hanging out, and in the end it became a very long friendship.
Olaf Bender
We really wanted to have him on our label, and I would say he's in general not so interested to do a "musician's career," so in a way it fits very good together.
Carsten Nicolai
The friendship with Ryoji more or less started in a project called Cyclo. With Cyclo, we had on one hand the idea to perform together, but on the other hand the idea was a research project on figures you can create with a face correlation meter, X-Y scope. This collaboration continues today. We started around 1999, and it has quite a scientific approach as well, because we published a very big book about it. We did installations together, and myself and Ryoji were always interested in more installations in art contexts.
One of the first concerts we did in Tokyo, there were special guests, and Ryoji came to me. "Come with me, I want you to introduce you to some friends." There was a group of friends from Kyoto, there was the downtown people, there was Akira Asada, a philosopher from Kyoto, and there was Ryuichi Sakamoto. He was very curious about any kind of new sound or new movements in sound, or new young artists. He invited me to do a remix for one of his songs, and I think that was the starting point where he kept on sending me material. This was the starting point for our collaboration, working on what ended up on the Insen album. Vrioon was the first one, Insen was the second one, Revep, and then utp_ and Summvs, five albums in the end.
We toured that kind of show quite intensively. Then, last year, we made a score for The Revenant together. In the end, it was not foreseeable that this collaboration would be that long and become such a long friendship. Japan was a really important influence for us as well, not only that we performed there and we liked to make our annual Raster-Noton tour in Japan. We've been very much inspired to go to that country, and it triggered a lot for us, creating a lot of friendships with other artists. We continue with Kyoka or Oki or Ueno [Masaaki]. We have quite a lot of Japanese artists on the label compared to other nations, I'd say. It was always, for us, an incredible, warm welcome for this kind of experimental music.
An Accidental Legacy
Olaf Bender
In the very beginning of Raster-Noton we had this discussion. It wasn't a really serious discussion, but from time to time we talked about and we were thinking, maybe we should create our own record label. Can was a big influence for a generation. But you can't really say they were really career-oriented or they were like superstars. They didn't fit in any section 100%. I mean, Kraftwerk, there was much more of a master plan behind. Our fear was, maybe this Can kind of thing fits to us.
It was just a realization. In a way, even without this master plan, it [Raster-Noton] was already planned as a longterm, running project. I would say to this day there is a lot of things that we are really unprofessional about. I mean, it's not easy to find us in a record store. We don't do this normal music business, send a lot of press releases or whatever. In a way, I am very proud that we as a record label still survive.
I think the best thing is that we have a lot of freedom. We did a lot of records not really wanting to become a hit or to become the most avant-garde thing or whatever.
Until today, I have the feeling a lot of records we sell to friends. When we play live, we could even be our audience. Our audience is not so different from what we are. I know there are a lot of musicians that make a career, they play in front of an audience, they are not really connected to each other. They don't want to share time behind the stage together. This kind of freedom I really like.