Cypress Hill
The hip hop trio talk about their 1991 debut album and everything that led up to it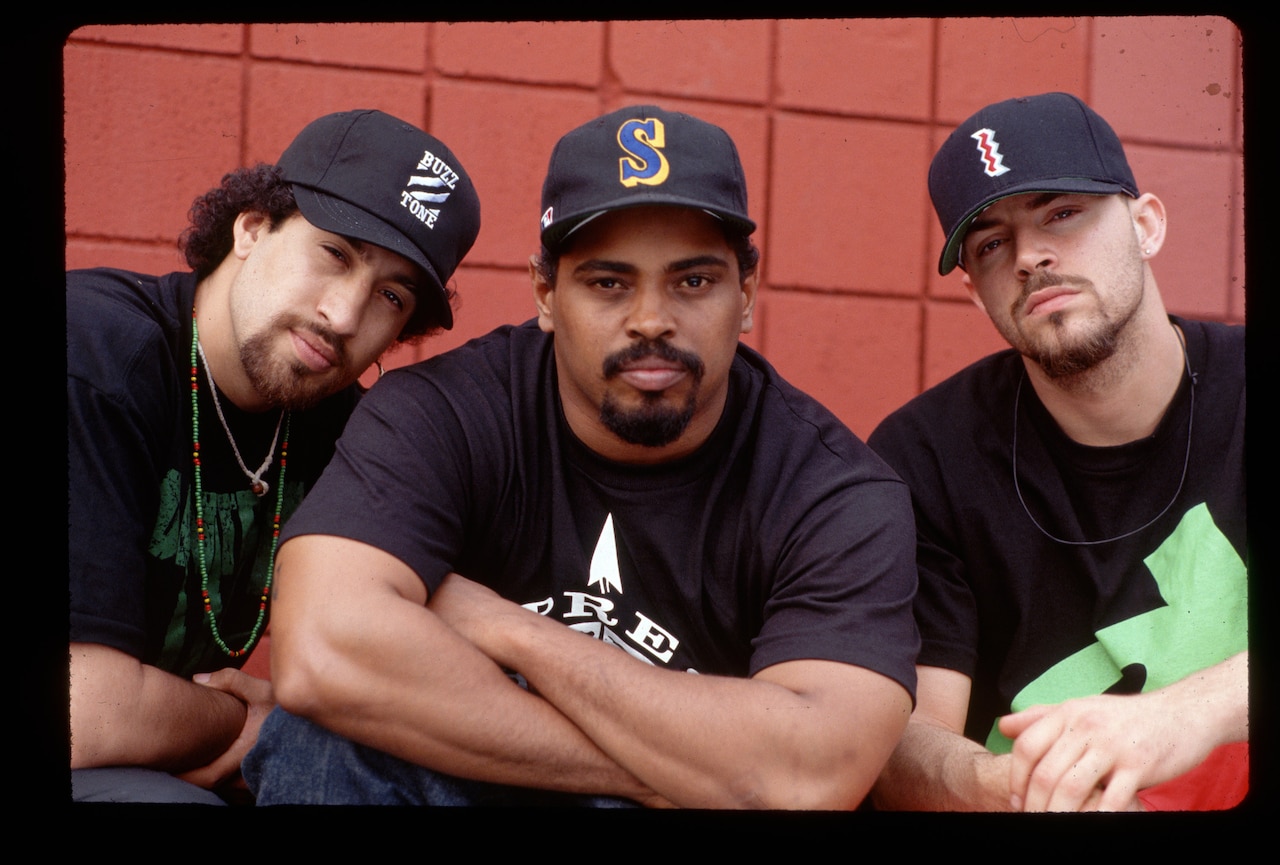 The following is an excerpt taken from the liner notes to the Cypress Hill "25th Anniversary Skull" deluxe CD package on Get On Down, written by Chris Faraone. For more information, visit www.GetOnDown.com.

Long before Black Sunday and their Skull & Bones endeavors, the Los Angeles team of DJ Muggs, B-Real, and Sen Dog cast a dark, aggressive shadow over the entire rap establishment. Cypress Hill's self-titled 1991 debut, anchored by the unapologetically flagrant "How I Could Just Kill a Man," remains one of the genre's most phenomenally morbid game-changers – a lesson that the hardcore and obscure once prevailed over glitz-hop on the merit of its channeling unique messages and energy.
Before coming together, the individual members of Cypress rode toward multi-platinum pastures along some common routes – namely, the burgeoning Los Angeles rap scene – but also traversed different walks of life that came to influence their range of styles. Like many other integral stories in hip-hop, this one starts with adolescence in the early '80s, by a generation that was maturing along with the developing genre.
"I was in high school," says Sen Dog, "And one day I went to a ditching party and I saw some dude rap in person, and I said, 'Anybody can do that?' At that point I thought you had to be from New York, because all of the great rap we had heard in LA up until then was from New York. Another day, I turned on Soul Train and Run–D.M.C. was performing, and that shit blew my mind. So I approached my brother [Mellow Man Ace], and I was like, 'Let's practice rapping like those guys.' From there, songs would come on the radio on [LA's pioneering hip-hop radio station] KDAY... and one day we wrote our own raps, and it was on from there. We started our own group called DVX."
"Before we started doing this professionally, it was just something that was a hobby," says B-Real. "It wasn't anything that I thought I would make a living off of. It was something we loved as fans, and our influences like Public Enemy and KRS-One inspired us. Just like if you were a fan of baseball, you aspire to try to be like the people who influenced you."
Sen Dog details the genesis: "I was in the midst of being in trouble and becoming a street kid and playing football. I was a bad kid in one high school, so I went to another that wasn't so strict, and you could walk off campus for the whole day. At Huntington Park High School there was a musical scene – one of the guys from Slayer had grown up in the neighborhood, too. I went to a ditching party one day, and there was this guy Porky who rapped, and that's where all that came from."
Rap was not popular at all. Everything was about New Wave era and funky haircuts; we were actually outcasts.
He continues, "My brother was in the same breakdancing group that B-Real hung with, and B-Real rapped to him one day and he came back and told me he could rap pretty good. We got B in the group, and we were a three-man group, and we had another guy in the group – T-Funk, from Funkdoobiest, he's from our same clique, and we would all rap at the parties... DJ Julio G was our first DJ when we were a high school band. We would show up, and most of the parties we could rap at were the ones Julio G was DJing at. Rap was not popular at all. Everything was about New Wave era and funky haircuts; we were actually outcasts, so when we would show up at a party, everyone would say, 'Oh look, it's all these rapper dudes.' The only DJ who would let us rap was him. We'd have like two minutes, and each of us would rap for like 30 seconds, and then we'd give Julio back the mic."
Sen Dog adds, "We were always together. We had this drive to make it. We knew something was going to pop off. We didn't know what, we were kids, but we knew we had to chase it, so we did everything it took to be in that realm, whether it was breakdancing, rapping or just being at a party where you knew Ice-T was going to show up."
"When it actually started to happen for us, it was a surprise to me, because I didn't have any expectations for us at all," says B-Real. "I was the one out of us three who doubted that we could have a career – I was just doing it for fun."
"At that point the group was developing, and B-Real got his shit together really fast and became the lead rapper," says Sen Dog, waxing nostalgic about the larger DVX crew – comprised of Sen's brother Ace and Julio G, among others – from which Cypress emerged. Adds Sen, "I never really cared about being a single rapper or MC; my favorite acts have always been bands, like the Beastie Boys and Public Enemy. I thought the coolest thing on the planet was to be part of a hip-hop group."
"DVX lasted until about 1987," says Sen. "That's when [Mellow Man Ace] went solo, and Julio G went in with the [KDAY] Mixmasters. That was something we knew he always wanted to do, but [Julio] was like, 'I have this guy who will fit along great with you guys,' and that was DJ Muggs. They had known each other through DJ stuff. I had never met Muggs before, so Julio made the introduction. All I knew about him was he was this badass DJ and baseball player from New York."
Meanwhile, Muggs was honing his production chops, regularly rocking DMC competitions, and always looking for new opportunities. "The advantage was that I was in New York a lot, while most other people around here didn't have that access," says Muggs today. "I would stay out there and make beats sometimes, and that had a lot to do with my sound. I saved my money and got my SP-1200 [sampler] in 1989. Before that I was DJing, and that was all I was doing. I just wanted to DJ at first, but after finding out what blends and sounds good together, it was another step in my evolution."
"It was like '88 when we started hanging out with Muggs," Sen Dog recalls. "When I first met him, he was different – he wore all the New York clothing. He was New York'd out, 'cause he just got to LA. I wore what I always wore, like 501s with Vans or Adidas shelltoes. I kept it halfway b-boy and halfway gangster; even back then, I was always sagging my pants."
After Ace broke off into a solo career, the classic Cypress unit finally formed. With encouragement from DVX allies, B and Sen realized that their diametric styles – the latter's deep wrangle, the former's inimitable high notes – complemented one another perfectly. By then Muggs had bangers in the bag, as well as industry experience from a jaunt with the New York duo 7A3. That group released little more than a dope but unsuccessful 1988 album on Geffen, but the lessons lasted.
"My brother went solo right around '88," Sen Dog recalls. "He had an opportunity with Delicious Vinyl, and he took it. From our point of view, it was cool that one of us was being put on. We were down to help him in any way. One day, B-Real and I were talking about how Mellow went solo, and Muggs had got up with these guys 7A3 … We never held anyone back from doing shit, but that left me and B on the block like, 'What are we going to do?' At that point T-Funk had gone to county jail, so we just decided to get a name and do things together. Muggs would be in Philadelphia with 7A3 [where they recorded] and would send us beats, and we would write the stuff."
B and Sen waited while Muggs messed with 7A3, and in that time began to build the blueprint for their raucous and weeded no-holds-barred style. Besides getting schooled on industry pitfalls, Muggs had also grown into one of hip-hop's most formidable young producers while straddling the bi-coastal gap between DVX and 7A3. As such, when it came time to compile a compelling demo, Cypress already had at least four undeniable smashes – "Real Estate"; "Light Another"; "How I Could Just Kill A Man"; and "Phuncky Feel One."
"The beats for our first records started right when I finished the 7A3 album," says Muggs. "Before that we did demos off of other peoples' records. That was a good year when we finally got to working on this. Me and B-Real would get together at my house – I had a studio – or I'd bring a big ghetto blaster over to his place and work from that. We were aggressive, young, mad as shit and products of our environment – we were making music about our lifestyle."
Serious as it was, we always tried to put a dark comical spin on it so it didn't feel like we were shoving it down throats or being preachy.
"I was a decent writer," adds B-Real. "That was always an aspiration of mine, to be a writer of some sort, whether it was a journalist or whatever. I always liked to express thoughts, to express experiences, or even just poetry to a degree when I was very young. So I would venture to say that it would have been something in the writing world, if not in the life of crime that I was living beforehand."
He continues, "All of the writing in relation to Cypress was based off of experiences, whether direct and living through them or the other guys, or stuff that we seen through other guys in the trenches, when I was living that gangster lifestyle. It was always just the life we were living that we used as a backdrop. Serious as it was, we always tried to put a dark comical spin on it so it didn't feel like we were shoving it down throats or being preachy. It was, 'This is who we are, this is where we come from, and there are many people like us.' I like to think we are the voice of those people. We were telling it from a different angle. We weren't N.W.A., but they told one side of it, and we told the other."
"We had this movement on my mom's street, on Cypress Avenue, and for some reason, people just gravitated to me and my brother," Sen Dog says. "We had a big old posse that would hang out nightly in front of my mom's house. It could range anywhere from 25 to 45 guys who would come through, drink beer and smoke weed in front of my mom's house. It would look like a gang if you didn't know any better. My mom and dad put up with this shit for years, and Muggs came in and fit with that group of guys perfectly … Even the logo, we invented [that] in front of my mom's house. I remember saying that I wanted something that looked like a heavy metal logo. All those dudes had the best logos."
While their reflections on blunt-puffing and gang-banging fueled the flavor, it wasn't just their lyrical content that made Cypress Hill special, but rather the group's mightily artistic flare. Muggs incorporated ideas from virtually every genre, sometimes grinding upwards of a dozen samples on a single song, and was also originally from Queens – he didn't move to LA until 1984 – leaving no chance whatsoever that his West Coast franchise would resemble its contemporaries. As for Sen and B-Real, they literally ran among legions that would deeply impact the group's focus and attitude.
"We hung around with this Blood gang from South Central," says Sen Dog, "And at the time B was getting really hard into that. So when Muggs came back, I told him B-Real was over there with the gang, and was pretty much doing that all the time. He said, 'Go over there and go get him.' We went to get him, and he was saying there was a war going on, and that he couldn't leave. So then me and Muggs both went over there, and at one point, finally [B] said he would do some more writing."
Although there was rejection in the demo process, tastemakers and talent buyers eventually took notice. Muggs, Sen and B put significant efforts into pushing tapes, but say that it was ultimately skill that spurred a bidding war for their debut in 1990. At the end of negotiations, the group was smart enough to avoid some more alluring offers that were mostly hype, and rejected opportunities for up to a quarter-of-a-million dollars. Instead they accepted a $65,000 deal from the Philadelphia-based, Columbia-distributed Ruffhouse Records, which was just cutting its teeth at the time. The contract only put $10,000 in each of their pockets, but they felt confident that it was the right move, and still feel that way today.
The conversation was, "You have to do something with your voice or you're going to be writing raps for Sen Dog." That kind of motivated me.
"Joe ['The Butcher' Nicolo] and his partner with Ruffhouse, Chris Schwartz – they were the heads of the label, and they were the only two who were willing to take a chance on Cypress Hill," Sen Dog says. "The others didn't get it, but they got it."
Muggs had been unhappy with the 7A3 business situation – he didn't receive album credits for a number of his contributions. Nevertheless, Muggs remained cool with the group's main producer, Nicolo, who had co-founded Ruffhouse in 1989. Likewise, Nicolo was aware that in Muggs he had a beatmaker who was poised for legend status. "Joe was like a father figure," says Muggs. "So we rolled with him, and it was good from there."
"From the very first recording sessions, we were contracted by BMG, who really took the chance on us – even before we got a deal with Sony and Ruffhouse," B-Real says. "We were doing demos, and most of them were driven by [the] Spanish [language] stuff. Back then I was barely starting to rap in the high-pitched voice that has become my trademark and what people know me for as far as my vocal tone. I was rapping in my talking voice, and it didn't really resonate toward the tracks, it wasn't something that stood out. The conversation was, 'You have to do something with your voice or you're going to be writing raps for Sen Dog.' That kind of motivated me."
I made a decision one day to just do music, and it was a hard decision because UPS was paying good.
Sen Dog adds, "Muggs had an apartment in Hollywood with this dude named Aladdin, who was down with Rhyme Syndicate and Ice-T. We basically moved in that apartment, and in one room it was basically me and Muggs and B-Real doing our shit, and in the next room it was Aladdin and WC and his brother Crazy Toones and Coolio. This was like two years that we all lived together. Every Friday the guys would come out of their rooms and listen to each other's demos... I was still actually working during those days. I worked for UPS, and I worked for Kodak also. In the midst of it, the guys were getting a lot of stuff done, and I made a decision one day to just do music, and it was a hard decision because UPS was paying good."
The Ruffhouse experience turned out to be rewarding in even more ways than expected. Before going on to sell in excess of two million units, Cypress got to finish their first album at the storied Studio 4 in Philadelphia, where the likes of Schoolly-D and the Hilltop Hustlers had cut classic tracks. While there, they cleaned up demos, mixed all their work down, and also recorded "Latin Lingo," which was not initially supposed to make the album. Most importantly, with tracks like "Kill a Man" in the can, they arrived at their mission and purpose. "It had a really deep message," says Sen Dog, "and I think that's where we really broke ground as far as what Cypress Hill would be."
With their album in the can, the group went on to amass innumerable rookie road stories – from sharing their first tour bus with Tim Dog, to learning how to fail and sail in front of crowds in odd places. "We got to Lollapalooza [1992] in a minivan, and we were playing this little stage," Sen Dog says. "We'd never seen anything like it, and the stage was empty. There were all these rock and roll kids walking around. Up until that point, everything had been hip-hop shows, and at around noon people wanted to leave, and I agreed. But I said, 'Let me go get a beer first,' and on the way to get a beer, all these crazy whiteboys and alternative kids were giving me props, and on the way back the same thing. So when I got to the van they were already packing, and I was like, 'Slow down, this might turn into something.' We played at like five o'clock, and there were a couple thousand motherfuckers in front of the little stage, and that was the first time I had ever seen people walking on each other [stage-diving / crowd-surfing] and shit like that. We had like three or four more [shows], and it was the same thing in every location. At that point I was seeing the vision as being as popular and successful as the Beastie Boys and Public Enemy, in that realm."
"It took a while for it to all happen," Muggs says. "Right before it did, we were in vans following Naughty By Nature's tour bus, and sometimes doing shows in front of 14 people at a breakfast place with people eating eggs. Then 'Kill a Man' flipped in New York, and Yo! MTV Raps started playing it. Then it got in Juice, and with all those things together, before we knew what happened we were selling 75 or 80 thousand a week. It's crazy to look back and think about that now, but that's how it happened."
Sen Dog recalls: "We were in a minivan on tour with Naughty By Nature, and they had this big old tour bus. Some of those places didn't even want Cypress Hill to perform, and Treach would say, 'If these guys don't go on, we don't go on.' So we got to do like a 12-minute set, and at that time we got a call that 'How I Could Just Kill A Man' went #1 in New York. Dr. Dre and Ed Lover had turned the record over and started playing it. Finally someone paid attention, and everything aligned. We were in New York, and everybody knew us walking down the street. For a while there was this confusion with people thinking we were from there, because of the area there called Cypress Hills [in Brooklyn]. We always had to say, 'Nah, we're from LA,' and that would freak them out even more. But that was the combination of having Muggs coming from the East Coast and our West Coast flavor."
"They thought 'Kill A Man' was so aggressive that they couldn't possibly push it to radio," B-Real adds. "The mix show DJs caught on to it, and then the Bomb Squad. And then the Juice soundtrack. They wanted permission to use 'How I Could Just Kill A Man,' and that movie right there kind of pushed that single over. It was on the bubble, as they say. Along with the video, that propelled that song. It all just came together."
To meet people like EPMD and for them to love your shit, those are the things you will never forget.
Sen Dog recalls, "Some of the struggle [at the beginning] was because we did the first album on hardly any money, and it was hard watching my brother be number one and do all of the things I wanted to do. At the same time, I still supported it, and we learned from watching guys that we knew who got burned, or shit didn't go well for them one way or the other depending on what was stipulated in those deals. We were seeing all these things, so as we went along, looking back on it, we created our own look, our own vibe, our own gimmick. And we learned about what to look out for from other people who were unhappy."
Sen continues, "It's like, 'Goddammit, we actually went out there and did what we said we were gonna do.' That's one of the hardest things to do in the world, and we did it. Every once in a while, I'll look out at B when I'm on stage [today] and look like, 'We're still doing it.' But this record was respected by everyone in the business, and to meet people like EPMD and for them to love your shit, those are the things you will never forget. It's that feeling of, 'Wow, we're here, they know us.'"
"We have to thank the DJs, and Chuck D, and the Bomb Squad," B-Real says. "And Ice Cube too – even though we wound up having problems with Ice Cube, he embraced us in that time. Things could have gone any way. There's all sorts of different paths that a road can go on. There's the traditional right and left, and all the ways in between. It all depends on what you put into it, the passion you have, the love you have for it."

Cypress Hill's first album will turn 25 on Saturday, August 13. To celebrate, the group is reissuing it in a unique, hard resin black skull – a faithful, 3-D physical recreation of the group's 1991 logo. For more information on the "25th Anniversary Skull," visit www.GetOnDown.com and www.CypressHill.com.