Zaytoven on Gucci Mane, Migos and Future
The Atlanta superproducer talks us through a Southern rap playlist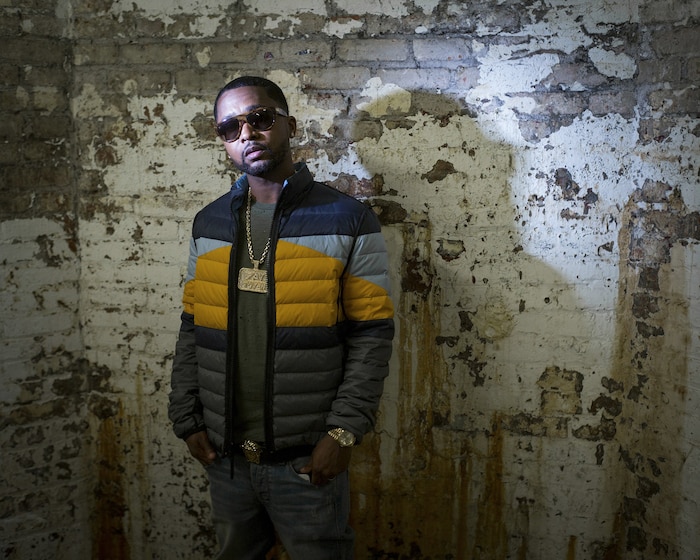 Zaytoven is often cited as a marquee trap music producer, but this unassuming beatmaker actually grew up in the church – his father was a preacher and his mother was a choir director. And it was in church that he first began experimenting with music, initially gravitating toward the organ and keyboard before later adding guitar and drums to his repertoire. Born in Germany and largely raised in the Bay Area, it was on the West Coast that Zaytoven got his start in hip-hop, linking with rappers like JT the Bigga Figga and honing a unique sound before he ultimately relocated to Atlanta.
Once there, he connected with a wide array of talented artists, including Gucci Mane, Usher, OJ Da Juiceman, Migos, Young Jeezy and countless others. Settling somewhere between the musicality of the West Coast and the speaker-rattling anthems Atlanta is known for, Zaytoven stands out in a crowded field and gradually established himself as one of the city's go-to producers. In this Southern rap playlist that originally appeared on RBMA Radio, Zaytoven talks about some of his biggest productions – and the tracks that have inspired (and motivated) him to create them.
Yung L.A. feat. Young Dro and T.I. - Ain't I
I remember meeting Yung L.A. in the club and he used to beg me like, "Zay, watch me perform. Man, I want you to see me perform." One night, I stayed and watched him perform and he did so well that the next day I had him come over and record at the house. He never wrote nothing down. He always freestyled. It's almost like he couldn't write nothing. He just liked to freestyle. The words just come off the top of his head every time he heard the beat. For me, working with him for so long, it kind of helped me building his style and sound, giving him a place to work.
I [could tell when] he had a record that started blowing up, I would go to the club and I would hear the song. In Atlanta, you can tell when somebody got a song that's probably gonna blow up. I just remember being in the club and I was listening to it and I was so proud. Almost like a little brother that done made it.
T.I. - What You Know
This had to be the song that made me into a T.I. fan, because T.I. was already popular. He was already doing good. He was one of the hottest out of Atlanta but it was that song that made me be like, "Hold on." It made me listen to him differently. I know him and DJ Toomp got a chemistry. They're like Shaq and Kobe when it comes to the music. I always thought the songs that they put out sounded good, but I think on this song T.I. maybe switched up his rap pattern throughout the verses. I remember hearing them all the time and it sound like the same thing almost over and over again. When I heard this song, I was like T.I. might be the truth.
Ghetto Mafia - For The Good Times (Straight from the Dec)
This was a song that just reminded me so much of church. I'm a church musician. I always been a church musician before I started making beats or thought about making it in the music business. This was one of those songs that just hit home for me. I was like, "Man, if these guys ain't using church chords and the church rhythm and did a rap song to it." It gave me a different outlook on how I could make beats. I ain't got to make no rap beat to just sound like this and it got to be this hard with 808s and things like that. I can use what I learn in church and I can implement that in my beats. That's what "Straight from the Dec" did for me.
Crime Mob - Knuck If You Buck
This was one of those songs where I was a youngster. I was maybe 20, 21. I just remember going to the clubs. I'm not from Atlanta. I've been moving all my life. My dad was in the military. "Knuck If You Buck" was like a climate change in music. The music I was making with Gucci Mane and guys like that is almost like hustle trap type music. When "Knuck If You Buck" came out, it made me just not sure of what type of music to make anymore cause that wasn't my style of music but it was the hottest music going [at the time]. It turned into club fight music.
I remember being in a club in Atlanta and this song came on and all the youngsters and knuckle-heads ended up getting into a fight because this song came on. I just remember it turning into a big club fight scene. It made me as a producer not know... "Dang, do I need to start making this type of music or do I need to stick to what I'm doing?" That was a big game changer for me being a producer. I had to learn stick to what I do and let that type of music have its time and not try to jump into that.
Gucci Mane feat. Young Jeezy - Icy
This has to be my favorite song that I've produced. This is the song that gave me the confidence that I could make it in the music business, even when I wasn't trying to make it. I was doing music because I enjoyed doing it. Gucci Mane was a friend of mine that would come over and record music with me every day. This is the song that we was looking for to take what we do to the next level.
"Icy" blew my mind, 'cause me being a fan of music and watching other people blow up, I never thought that'd happen to me, especially because I wasn't really trying like that. I just remember being in the clubs and they get to playing this song and the DJ stopped the music and everybody is singing the whole song and the chorus. I remember being in the corner looking at it like, "Man, that's my music. I did that." When it started coming on the radio, it came on the radio so much that I got tired of it. I just couldn't believe it. I almost felt like this is something lucky that happened for me. I won't be able to do this again. I was trying to enjoy the moment. This is the song that got me in the game as a producer and gave me the confidence to be a producer.
Migos - Versace
"Icy" came out in 2005, and "Versace" to me is "Icy" all over again in 2013. Like, this is me being in the game for as long as I have been, and I never got the same excitement about another song as I did about "Versace" like I did with "Icy." "Versace" was like a rebirth for me, it's like I done started all over again. I'm back. It got me all the way back. It got me the confidence to really just focus back on: "Oh wait, hold on. I can be the hottest producer out here." And then, on top of that, when I heard Drake get on it and say my name in the song, I was like, "Can't nobody tell me nothing after that." [laughs]
YC feat. Future - Racks on Racks
This is one I didn't produce, so it's hard for me to have a favorite song that I didn't produce. But this was one of them. Future used to come over to the house before this. He was coming around all the time. We would do songs together, but I haven't heard this. Once this came out, I knew it was Future's time to be the man. It also put me on my toes, because this was a favorite song that was out that I didn't produce, so I'm looking at my buddy Sonny [Digital, the producer] like, "Well, hold on, there is some new competition on the block. I got to go back to work."
Every time a new producer comes up and gets a song popping, and his name starts ringing, it always gets me back in competition mode. You know I am friends with all these guys. A lot of these guys tell me, "I used to listen to you back in middle school. I started making beats because of you." It is friendly competition, but it is definitely competition.
Pastor Troy - We Ready
This is a song that instantly turned me into a fan of underground Atlanta music. I was living in California at the time, and the music we listened to don't sound nothing like this. You know it was more about lyrics, and it was more about music on the West Coast. But I would come down to Columbus, Georgia – cause that's where my grandma and aunties and cousins stayed at – and this was what they was listening to. When I go out or go to the park back in those days, people would be playing their music and he ain't on the radio, he ain't got no CD out. It was just a lot of underground hype. This was the song that turned me all the way a fan of Pastor Troy.
Bankroll Fresh - Hot Boy
Rest in peace to Bankroll. This is another guy that was like a little brother to me. He came around my house every day, knows my family, he might ride out of town with me to my grandmother's house. He was a guy that's been around since he was about 16. The first beat that he ever rapped on was my beat, and I don't know where he got it from. He just got it. A friend of mine brought him to me like, "Hey, Zay, you need to hear this young kid. He sound good."
As soon as I heard that first song he did – "Yes Sir" – I just instantly fell in love with him. I was like, "Come back tomorrow, we just gonna record all day." So he was one of those guys that was almost like a family member. Once he gets a song that blows up, you know it's like I am filled with joy. The beat was made by Cassius Jay, [who is also a friend]. To see both of them make it at the same time, words couldn't express how proud I was.
Outkast - Southernplayalisticadillacmuzik
This is my favorite group of all time. I used to listen to Outkast [all the time] when I was younger. Back when I wasn't allowed to listen to music with cuss words in it. My dad's a pastor, my mom the choir director, and I played the keyboard at church, so you know I wasn't allowed to listen to that kind of music. But once I started listening to it [in secret], I couldn't put it down. Listening to Outkast, they always had a lot of instrumentation, it was real funky. You can tell the people that made the music and them rapping on top of it had real talent.
That song right there is what made me want to buy a Cadillac. I say my first ten cars had to be Cadillac. My grandma used to let us drive her Cadillac, then I bought Cadillacs over and over again.