The Grandfather of Rock & Roll in Cuba
Back when it was virtually banned by the government, Iván Fariñas took a stand to play the music he loved
In November 2014, Pablo 'Bongohead' Yglesias visited Cuba for the first time on a legal educational tour. The following month, in an unprecedented move, the United States eased some restrictions between the two countries after decades of frosty relations. Although the trip was for personal reasons, Yglesias – who has contributed music writing to the likes of Wax Poetics and co-manages the Peace & Rhythm record label – stumbled onto a story in the form of Ivan Fariñas, an aging Cuban rocker with a lasting legacy on the local scene.
The chance encounter has since inspired Yglesias to spread Fariñas's music internationally, including releasing a compilation of unreleased songs by Fariñas and his band Viento Solar called Bloomer Plastico. With the LP set to come out as a collaboration between Peace & Rhythm and Feeding Tube Records later this year, Yglesias revisited his first interactions with Fariñas for RBMA Daily, exposing the guitarist's unique place in the history of Cuban rock & roll.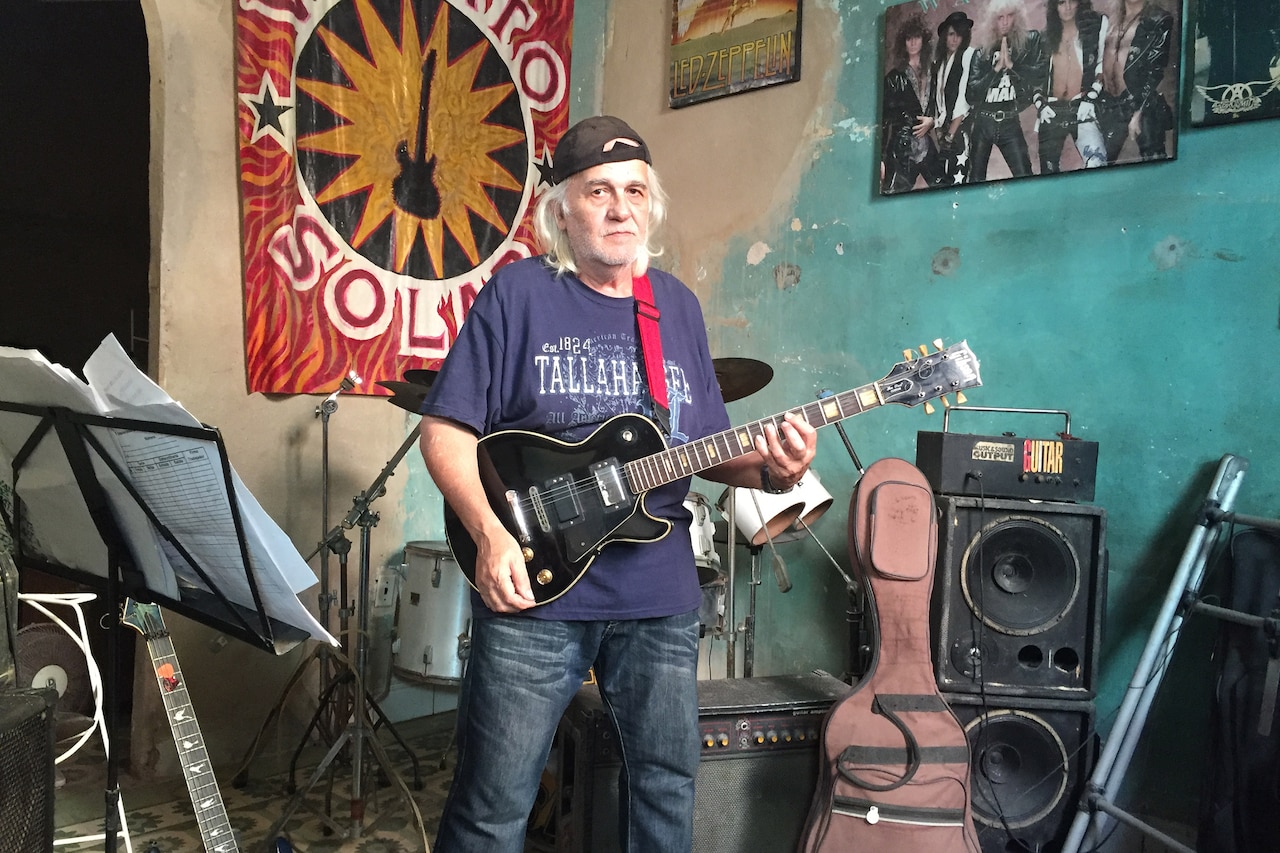 You never know what or whom you'll encounter when you visit Cuba. I recently went for the first time, to visit my father's homeland, repatriate some of his ashes and get a feel for my paternal family's roots. While I also expected to come back from my visit with some generic homemade CDs of Buena Vista Social Club sound-alikes that the ubiquitous restaurant bands churn out for tourists, I never dreamed I'd meet and befriend a true rock & roll original from the fringes of Cuban music: singer, composer and guitarist Iván Fariñas de Armas, "El Abuelo de Rock en Cuba."
I was visiting my father's childhood home in Centro Habana, near the iconic shore-side boulevard El Malecón, before going for lunch at La California, a wonderful restaurant housed in the building where a jazz club by the same name was established in the 1940s. During the pre-revolutionary golden age of Cuban music in the '40s and '50s, American jazz musicians used to congregate and play at La California with their Cuban counterparts – before my father left Cuba for good on the eve of the "Triumph of the Revolution" in January 1959, he must have spent some of his jazzbo beatnik youth hanging out at the smoky after-hours jam sessions there. The current owners, Charlie Farigola and Mappy Bossols, restored the building and filled it full of memorabilia from Cuba's musical, cinematic and literary past. When Farigola saw me studying these items, he surmised that I was interested in Cuban music and invited me across the street to meet his neighbor, Iván Fariñas.
Maybe it was because my father was on my mind. Maybe it was a trick of the sharply contrasting Caribbean light. But seeing Fariñas for the first time stopped me in my tracks. He reminded me eerily of my dad: long, unruly grey hair, tan skin, white tank-top t-shirt, an old poet's grizzled semi-grin. He was leaning out of his glassless, barred first-floor window, surveying the action in the street, when Farigola introduced me through the iron bars. In searching for my father's house and jazz roots, I'd run into another father figure right around the corner, someone who reminded me of my exiled dad in both looks, musical obsessions and rebel attitude.
However, Fariñas came from a parallel universe where the revolution had triumphed and nonconformity was perceived as "counter-revolutionary" – in the years immediately following Castro's victory, rock and hippie culture was seen by the Cuban government as a threatening arm of Yankee imperialism. My father, like so many others of his generation, had changed his mind about revolution and Castro and exiled himself from his beloved Cuba, living in the US as a non-conformist hippie. Fariñas had stayed in Cuba and yet, by doggedly asserting his allegiance to rock, had become a counter-revolutionary by default.
Fariñas's small, crumbling apartment was stuffed with aging, rusted musical equipment and fascinating memorabilia from his half-century career as an underground rocker. Like so many in urban Cuba, he was living in reduced circumstances, sharing a once-elegant, now-rundown townhouse (that used to belong to his grandfather) with many other families. But he had carved out this space as his own, marked defiantly with the signposts of his modest achievements, evidence of his having fought an uphill battle playing rock music in a country where it was virtually forbidden for as many years as I'd been alive.
Warm, loquacious and animated, Fariñas shared fascinating stories of his checkered career, starting with the early years spent impersonating Elvis, first as an eight-year-old rebel wannabe in 1957. Soon thereafter, he formed a fledgling rockabilly band called Ventaton, named after a popular brand of hemorrhoid ointment, thus demonstrating at an early age his still-prevalent penchant for satirical humor.
His mother, Cecilia Aramí, was a piano teacher as well as a choral conductor; she did arrangements and charts for popular bandleaders of the day including the great Benny Moré. When Ivan was young, his half-sister, Leda, moved to Tampa, Florida with her father (Cecilia's first husband), where she attended Catholic high school and studied piano. While Fariñas says his mother's vocal and piano lessons helped make him a musician, it was his beloved Leda, sending him the latest American pop, jazz, blues and rock & roll records, who he credits with making him a "rockero" (rocker). He used to await these special presents with much anticipation, playing them repeatedly and studying them intently.
In 1960, when he was just 11 years old, Fariñas started a new rock group called Los Halcones (The Falcons), which lasted until 1965. The following year, after penning several songs and having them registered nationally with the Cuban government's music publishing division, Fariñas, along with several other band members, joined Carlos Cory to found El Cuarteto Negro, or "The Black Quartet." The group eventually gained a member and became El Quinteto Negro, gigging in tents at outside verbenas (fairs) and in theaters with Cuban pop artists. The band's career was advancing, and they did two tours across the island. However, as the hedonistic, rock-fed youth counterculture (with its penchant for free love, drugs and protest) became more prevalent internationally during the mid-to-late '60s, and the British Invasion gave way to heavier and more psychedelic sounds, in Cuba the Castro government started to limit opportunities for the fledgling domestic rock scene.
In 1967 Fariñas had to stop his musical career and do his obligatory three year stint in the army. Upon discharge he formed the Musical Power Men, a heavy blues-rock group that began getting gigs and doing jam sessions at private functions. Playing a mix of covers and originals in an underground scene away from government censorship, Fariñas and his bandmates were in-demand, with weekly performances often contracted secretly by the very officials who publicly shunned them.
However, in late 1970 Fariñas put the Musical Power Men on hold in order to leave for the province of Pinar Del Río for three months as part of the mass-mobilization of the populace by the government to cut sugar cane for the historic Zafra de los 10 Millones (The Harvest of 10 Million). When the compulsory harvesting job was completed, Fariñas reassembled the band, but the adjusted lineup did not find much acceptance or success in the ensuing years, and by the end of 1973 Fariñas had decided to dissolve the band. Depressed, with many of his friends gradually forced to change their musical expression in order to fit the Cuban government's requirements or leaving the country altogether, Fariñas was at loose ends.
Then, on June 22, 1975, Fariñas 26th birthday, he came up with the concept of forming Viento Solar (Solar Wind). Meant to be a versatile musical platform for Fariñas's original compositions, it was a bold move in a country where there was, officially speaking, no blues and no heavy rock & roll. Fariñas realized he was going up against new tropical dance groups like Los Van Van and Irakere who were ushering in "The Areito Movement." (Areito was the state-run music label.) The only Cubans playing rock-style electric guitar and drums, or appropriating singer-songwriter pop idioms, were nueva trova (new troubadour) artists like Silvio Rodríguez and Pablo Milanés, the prog-rock influenced Sintésis or the funky Los Barba, all of whom were favorably viewed by the government as promoting revolutionary ideals.
Despite this unwelcoming environment, throughout 1977 Viento Solar was able to perform regularly in the small jazz nightclub La Zorra y el Cuervo in the Vedado district. In addition, they managed to tour the newly-founded province of Granma, playing for two months at Cabaret La Presa and El Bayamo. It was in this fertile period that the band first taped "Soul In Blue" at Radio Bayamo – an anthem that is today considered the first original composition recorded in Cuba linking modern trends in blues and rock. By 1978, Viento Solar were earning notoriety via gigs in nightclubs like the Rumba Palace at the beach in Marianao and Johnny Dreams in downtown Havana, as well the carnival in Varadero.
In 1980 the band's lineup underwent changes due to various pressures blockading their development. Scarcity of equipment, a disapproving government (which controlled all media from the press to the radio), total lack of rock & roll infrastructure (all engineers and producers were either anti-rock or had no experience) and an unsupportive, toxic environment among competing domestic rock musicians, booking agents and promoters had become an impediment to advancement.
Additionally, two band members defected, one disappearing in Spain, the other heading to the US on the Mariel Boatlift. In 1981, the band reformed with new players, though they performed only sporadically. By 1987, the official take on rock being a threat to the government had eased somewhat, and the band decided to play only hard rock, dropping ballads and slower tunes from their repertoire. Throughout this fallow period, Fariñas had supported himself as an assistant bricklayer, handyman, circus laborer, night watchman and various other trades, but in his heart he never left rock & roll.
Twenty years after founding Viento Solar and forty years after first performing in the netherworld of Cuban rock, in 1995 Fariñas was officially registered as a professional musician by the Cuban government. With Viento Solar officially incorporated as a band and his intellectual property protected by government documents, Fariñas could finally live his music every day, out in the open.
Having never been allowed to record their original compositions, in 1996 Fariñas and his crew made their first recording, producing 12 tunes under the title No hay plaza vacante (No Vacancy). In 1997 they taped their next demo, ten tracks called Posters cuarta dimensión (Fourth Dimension Posters), and in 1998 the band signed with Cuba's state music agency EGREM to record their first real album, Memorias con Iván Fariñas (Memories With Iván Fariñas). In 2001, Fidel Castro signed and personally presented Fariñas with a certificate recognizing his contributions to Cuban culture over the decades – overdue but nonetheless welcome appreciation for Fariñas's years of commitment to rock.
Viento Solar's recorded output across albums like Memorias (2000), Power Is Power (2005) and covers collection International Rock Hits (2009), runs the gamut of non-Cuban influences from metal, acid rock and punk to country, blues, rockabilly and grunge, even rap, funk and soul. There is also a smattering of Cuban flavors in the slower numbers. (One can hear the bolero, and the 1940s/'50s jazz ballad movement called filín, even the occasional use of bongos.)
Fariñas sings in both Spanish and English, and the overall sound is rough and rugged, somewhere between goth and psychedelic metal, sometimes angry and often darkly humorous or ironic. There is an originality and an outsider quality that somehow manages to blend the familiar with the foreign. Some of this may have to do with the limited equipment available, and some of it is the band's garage rock aesthetic and punk attitude. The Italian film director Claudio Calentano produced a documentary on Iván and the band in 2002 called ¡Quién es el último! (Who Is The Ultimate?), but aside from that, there is little foreign coverage. Viento Solar have continued to perform and participate in various festivals and concerts in Cuba; however, their music is virtually unknown in the USA.
In light of the warming relations between the US and Cuba, hopefully that obscurity won't last much longer. This aging rocker deserves a chance to be heard in the outside world, especially in the land of Elvis and Little Richard, the country that created his favorite music to begin with. When I left Cuba and Iván Fariñas, instead of carting home more of the usual acoustic son cubano or digital timba, I took with me Viento Solar's music, thus initiating what should become a committed effort to bring Fariñas's uniquely Cuban take on rock & roll back to the people whose music set him on his remarkable path in the first place.