Sonny Digital on the Tracks that Informed his Signature Sound
The international trap ambassador and wunderkind producer highlights his hometown with a collection of ATL jams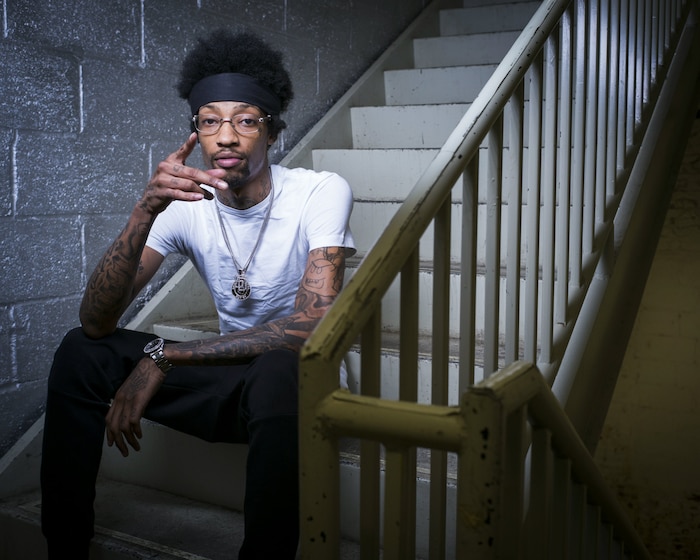 Born in Michigan and raised in Atlanta, Sonny Digital is one of modern hip-hop's most lauded producers, not to mention one of the key figures responsible for the spread of the trap sound. Though he's best known for creating bona fide anthems like YC's "Racks," ILoveMakonnen's "Tuesday" and Future's "Same Damn Time," his catalog runs much deeper – Digital has collaborated with a wide range of top-flight artists including Gucci Mane, 2 Chainz, Kanye West, 50 Cent, Rick Ross, Juicy J, Waka Flocka Flame, Wiz Khalifa and many more.
Digital also maintains some MC aspirations of his own – his initial music-making efforts as a teenager actually stemmed from a simple lack of beats to rap on. His natural production talent led him down the producer path, but even as the demand for his beatmaking services has continued to skyrocket, Digital has increasingly found time to slip behind the mic. Given his well-documented willingness to put in work, perhaps it's just a matter of time before his rap skills are being showered with praise as well. In this excerpt from his Headphone Highlights on RBMA Radio, Digital discusses the Atlantan tracks that shaped his own sound, from Gucci Mane to Gorilla Zoe and beyond. In his own words: "If these records weren't made, then I probably wouldn't be here."
Young Jeezy - "Trap Or Die"
This is one of my favorite records. It probably made me who I am today. I was about 15, 16 when it came out. He played a real significant part as far as defining the whole new sound. Shawty Redd had the beats and he had the stories, so it sounded amazing when it came out. It sounded like something that we never heard before. And it was real motivational, too, like, if you take away all the basic stuff about the drugs, it was just him talking about really making it. That kind of made me feel that I can do it. too. It was what it said it was. It was like thug motivation. For real.
OutKast – "She Lives in My Lap"
A lot of people don't know it, and a lot of people probably wouldn't even expect it, but I listen to this record a lot. It's just the essence of it, everything that's going on. The aesthetics of the whole track is just crazy.
Andre kind of has a rep for being one of the more leftfield artists from your city.
I don't know if it's leftfield. I think he just on a whole 'nother level than everybody else. He ain't going to a different side, he going above everybody. You know what I'm saying? It's kind of like, we see it, but we can't really get it like how he get it, though. He a legend, and I feel like everybody got to respect that.
He made timeless records. We could play that record any time, we can play "Hey Ya," we can play any of the OutKast tunes they did, and it still going to fit right in with the times right now. And it was keeping it real street. They made music that was understandable.
Were you with it when he made the shift to making full R&B records like that?
Yeah. I mean, I'm a creative myself. I don't want nobody to box me in. I ain't about to box him in. You know what I'm saying? You know, let him do his thing. You can't take away his talents. If he know how to play all these instruments, let him play them. If he know how to sing, let him sing. If he know how to act, which he does know how to do, let him act. You know?
Tell me about meeting Andre.
It was some weird shit. I barely go out, but when I do go out, it be cool. I went to the strip club. I went to the Blue Flame and he was standing in the lobby. I knew he had hit up Metro [Boomin] a while back. I knew he probably knew who I was, too. Metro, he bigger. That's the name that's ringing. I know a person like him, he do his research. I was sitting there, I seen him. At first I was hesitant. I was like, "I don't know, man. I don't really know if he know me. I ain't got a reason to walk up to him." I don't talk to people. I was like, "Man, this ni--a a legend, though. I can't just..." This is the first time I actually got to see him. I went up to him and I just shook his hand first, and then I told him who I was. His eyes lit up like, "Boy, I been looking for you." That's what he told me. I was like, "Man, what's up?"
We just stayed in contact. We been in cahoots. I've been sending him stuff. He cool. When I met him, though, I didn't feel no star about him. I just felt like he was regular. I met him in the lobby of Blue Flame, the strip club in Atlanta. Come on, man. We just chilling.
T.I. - "What Up, What's Haapnin'"
I was a real big fan of Shawty Redd and that tipped over to Drumma Boy. Really, I like this record moreso for the beat ... But the vocals came along and made it sound good, too, because of the content of what he was talking about. He didn't really say no names, but I'm guessing, just being from Atlanta, it was about Shawty Lo. It was a hard beat with some hard lyrics and I was like, "Dang, this is crazy right here."
Rocko - "You Don't Even Know It"
Rocko is one of my favorite artists. A lot of people don't know that Future signed to him. I ain't going to say this was keeping him afloat, though, because he got his own stuff that's keeping him afloat, but that's one major thing that he has going on that a lot of people probably don't know. From what I see, he just be on some boss type stuff, but on the low. Like, he ride around Atlanta, he got a Maybach. And he got a record on the ready right now. So it's like, he doing good. It's inspiring to me.
Gorilla Zoe - "What It Is"
Gorilla Zoe really kicked off my career, to be 110% honest. I was living in his basement, and he was facilitating a place for me to really just grow as a producer and he was doing records with me, too. It worked out. The shit worked out real good. The "Racks" record, we was together in his basement when it first came out. That's kind of how everything started. I started down there with him, but he plays a real significant role in my life, not even just my career. That's my ni--a for life. Give a damn what he got going on, I'm always fucking with him. He over there with Flo Rida and stuff now, so he ain't doing too bad. People don't know that either, though. I keep tabs on my bro, man. He looked out for me major league.
Me and him did 28 mixtapes, bro. When we first met, that's how we got together and linked up. It was in February. He dropped a mixtape every day and I produced on every single one of them. People didn't know that, though. That's at the beginning of my career, when people didn't really need to know me. I was just working it on up. To this day, I still rock with him.
Gucci Mane - "Freestyle"
This is an Atlanta classic. If you don't know this, you might not be from Atlanta, I promise you. You don't know this and you like trap music, you might not like trap music for real. This is real legendary.
There wouldn't be a lot of people if there wasn't no Gucci, because a lot of people seriously, seriously look up to Gucci, bro.
What did he do to help you and your career?
He just fucked with me. Just kept it real. You understand fucking with people like Gucci and stuff? At the time that we was at? Still, where we at, though, he got a platform for us to put music out. He just allow us to do that all the time. All his bad shit that he be doing, that really get publicized and put out to the public a lot more than the actual good shit that he does. That's a solid ni--a, man. For real.
I don't know where Atlanta would probably be without him. He's a real vital part of Atlanta. There wouldn't be a lot of people if there wasn't no Gucci, because a lot of people seriously, seriously look up to Gucci, bro. For real. Them, they're the whole new generation of rappers right now. They all baby Guwaps, bro. That's where they all derive from. We do, too. It go back that far.
Even when "Trap Or Die" came out, you got to understand, Gucci was out, too. He'd been influencing people, but when it first came out, Jeezy was that guy over there that slowly started to shift a little bit as time started going on. I ain't going to lie: Gucci's smart, too. He affiliated himself with a lot of the young ni--as. It kept him cool through every year.
Rich Kidz - "My Partna Dem"
Real classic. That opened up a lot of new doors in Atlanta. Shout to the Rich Kidz. Y'all need to do a reunion mixtape. When this came out, it changed a lot of stuff.
I saw an interview with you a while back where you talked about hoping that the trap sound would recede and the fun shit like that might make a comeback. Is that still where your head's at?
Not so much. I was probably speaking more business-wise. That type of stuff, it actually work on the radio if you do the right thing. The trap stuff only go so far. It's really good for the streets and stuff. If I'm doing mixtapes and stuff, that's when I'm in the trap mood. If I'm trying to go get some money, then you got to do stuff that people are going to move to.
Don't get it wrong. I think wherever that came from, when I said that, I feel like people probably got that twisted. The trap is where I came from. It ain't that I want to push it out. We do that every day. It's second nature, like breathing. Really, it's just we want to do something different instead of doing that all the time. Basically, that's what I was really trying to get at. Instead of just doing what we know we can do all day. That's why I listen to things like Andre 3000. "She Lives In My Lap" is different from Trap Or Die. My head just be all over the place, but that's how Atlanta is, you see?
Jagged Edge - "Let's Get Married"
This is a classic record. I'm not going to lie. In Atlanta, it still get played every day. Jermaine Dupri produced this. I remember the video clear as day. They was making videos that we never seen back in the day. Really, that's what made the song stick in my head, though, because the video looked crazy and then Greg Street will be playing it every day on the radio, bro. "Meet me at the altar..."
Young Thug - "Pull Up On a Kid"
It seems like there's a split decision, where half the people think he's a genius and half the people think the opposite.
I mean, he making hits. He on the radio. You not on the radio. Can't argue with that.
What's his studio process?
Man, that shit so crazy, bro. We did this record one time, the "Want Some More" record with Metro. It was me, Metro and TM88. We made the beat quick. Me and Metro went to Burger King to get some food – bro, this was probably a 15 minute trip. We came back and this ni--a had the whole song done. I was like, "Dang, bro, did I produce on this beat still?" I really forgot. He be moving, bro. He be going through them songs. I feel like all the people who don't think he a genius, when you actually see him do it, you be like, "Dang, this ni--a a genius." You can't do it like him. Nobody can, for real. I ain't even going to lie. He doing his thing. He doing it right, too.
T.I. - "What You Know"
What is it about Toomp's production that stands out to you?
He be having these samples in there that be pretty fucking amazing, though. He got an advantage on everybody. Toomp a little older. He actually was a DJ, too, and he got them crates, so he got shit from way back in the day. He got the real, real cheat code. He know music a little deeper than a lot of us.
He got this little distinct bass and his little distinct triangle hit that I really like. Him and T.I., they're like a perfect combination when they come together. They make great-ass songs. Toomp cool as hell, too. That's my ni--a. He one of the older producers that be embracing the young ni--as and be giving us knowledge and stuff. Some people don't want to tell us some shit. He be open to it. I fucks with him forever for doing that, though, because he ain't got to.